Visit the Luther Burbank Gardens in Santa Rosa, California

A little history on Luther Burbank pioneer horticulturalist
Luther Burbank was an American botanist who pioneered many agricultural advances and product introductions during his time at his farm and home in the Santa Rosa area of Northern California. In over 55 years of productive projects, Luther Burbank worked on over 800 strains and varieties of plants both ornamental and productive food products. This included a variety of grains, fruits, vegetables and more ornamental annual flowers and grasses
His work was an important science that contributed to the development of plant breeding into a modern science and way of food production in USA agriculture.
Exploring the Luther Burbank gardens and checking out what's blooming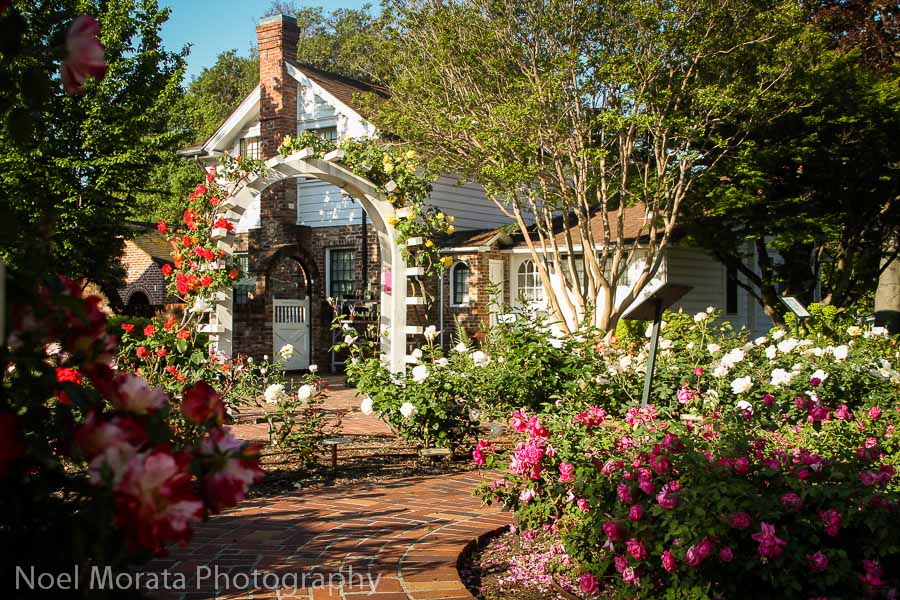 What's blooming and growing in Luther Burbank Gardens below
Annuals in bloom at Luther Burbank Gardens
The Luther Burbank gardens showcase many of his plant and flower introductions and includes a variety plant and flower species that grow very well in the Northern California landscape and throughout many regions of the world with similar micro-climates. One of the most colorful parts of the garden is the rose garden containing colorful displays of roses complete with white picket fences and arbors (Always a photo perfect moment). Close by is his home and greenhouse which is available to tour, but you do need to set up an appointment to tour the interiors.

Luther Burbank Gardens and home
The gardens include flower beds of his plant introductions, a section on various fruits and vegetables, a shade garden and an area of California natives. The walkways around the gardens are easy to navigate with brink or cement paving which is perfect for all age groups to explore the many different sections of garden rooms. Other garden areas to visit in his Santa Rosa garden include a medicinal garden, spineless cactus garden, edible landscape and a wildlife garden.
Close by to the Luther Burbank gardens is his real farm and experimental gardens in Sebastopol that are also worth visiting. The experimental garden showcases his introductions of fruit specimens that he planted and experimented with to develop specimens that would grow very well in a variety of environments and produce abundant and flavorful fruit, grains and vegetables.
Luther Burbank Gardens, the rose garden

Luther Burbank Gardens and private home
The Luther Burbank garden in Santa Rosa and the experimental garden in Sebastopol are open to the public to visit. You can find out more information on the links below if you are interested in learning more about the gardens, doing a self tour or touring with a docent.
Luther Burbank, check out the main Santa Rosa website here
Luther Burbank farm in Sebastopol, check out the main website here
To learn more about Luther Burbank and his contributions to the plant world, check out his biography here.
Here's a visit to Luther Burbank's home and farm below
Luther Burbank Farm in Sebastopol
Just three acres remain of Luther Burbank's experimental farm and garden here in Sebastopol. The area around Gold Ridge was used to conduct large scale experiments on this original 18 acre parcel. Burbank produced over 800 varieties of fruit trees and fruits, vegetables and grains here. His most famous introductions includes California plums and prunes, plumcots, thornless black berry and spineless cactus.
Check out these other related topics
Visiting Guerneville in the Russian River
Charles M. Shulz Sonoma County Airport
Conclusion to visiting the Luther Burbank Gardens
Hope you enjoyed your visit to the Luther Burbank Gardens Thank you for visiting and if you enjoyed the post, please do share it with any of the social media buttons below.