Experience the Best of Carmel by the Sea: Best 16 Things to Do and See!
Beautiful expansive sandy beaches, a European style and charming downtown area, gorgeous coastline roads to explore and wine country – It's all here at Carmel by the sea. There are so many fantastic things to do at Carmel by the sea and you can spread it out into a nice weekend getaway or even mid-week to enjoy the best of what Carmel and the Central California lifestyle and travel experience is all about here in Monterey County.
Carmel in Central California is a fantastic area to be based and explore this amazing region filled with such diversity of landscape, wonderful historic sites and outdoor adventure to experience in the area.
We share the best things to do around Carmel and surrounding Monterey County for you to enjoy in a logical fashion of activities and attractions in the city and surrounding areas to inspire you on your visit here to Central California.
A short guide to the best 16 things to do at Carmel by the Sea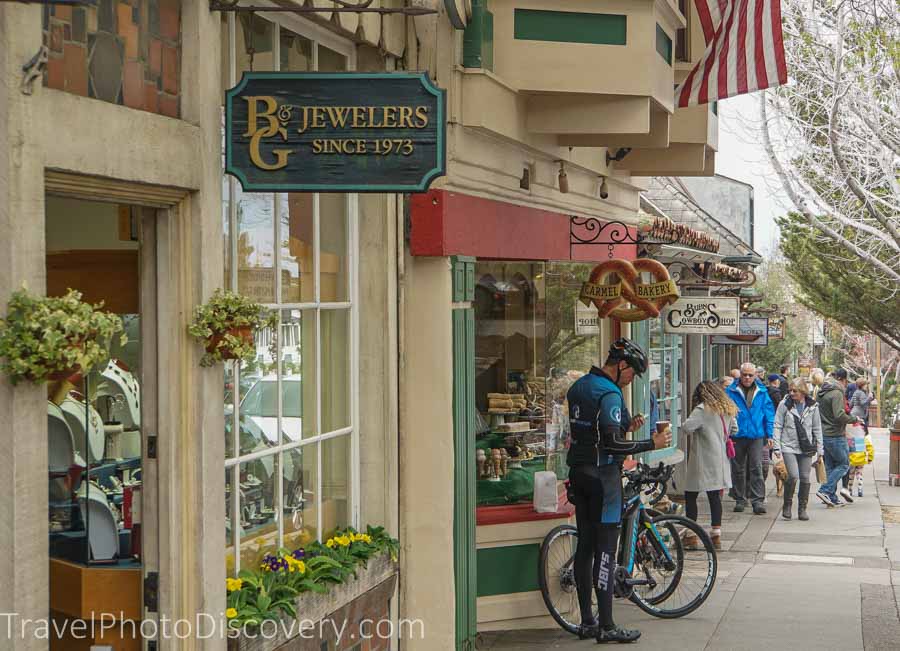 A brief history of Carmel by the Sea
Carmel is located in Monterey County by the central California Coastline and is about xxx miles from Monterey city which used to be the regional capital of Old California.
Carmel was established as the first regional capital of the Missions of Alta California by Father Junipero Serra at Carmel Mission and the city was established to support
Weather and best time to visit Carmel by the Sea
Carmel-by-the-Sea, often simply referred to as Carmel, is a charming coastal town located in California, USA. Its temperate Mediterranean climate makes it a pleasant destination to visit throughout the year, but the best time to visit depends on your preferences and what activities you plan to do.
Here's a breakdown of the weather and the best times to visit Carmel:
Spring (March to May): Spring is a beautiful time to visit Carmel. The weather is mild and pleasant, with daytime temperatures averaging around 60-70°F (15-24°C). The flowers are in bloom during this season, creating a picturesque atmosphere. It's a great time for hiking, beachcombing, and enjoying outdoor activities.
Summer (June to August): Summer is the peak tourist season in Carmel. The weather is generally sunny and warm, with temperatures ranging from 60-70°F (15-26°C) in June to 65-75°F (18-24°C) in July and August. It's perfect for beachgoers and outdoor enthusiasts, but be prepared for larger crowds and higher prices.
Fall (September to November): Fall is another fantastic time to visit Carmel. The summer crowds start to thin out, and the weather remains pleasant, with temperatures averaging 60-70°F (15-24°C) in September and gradually cooling down in October and November. The fall foliage in the nearby Big Sur region is particularly stunning during this time.
Winter (December to February): Carmel experiences its coolest and rainiest weather in the winter months. Daytime temperatures typically range from 50-60°F (10-15°C). While it's not the ideal time for sunbathing, Carmel's cozy atmosphere, boutique shops, and art galleries make it a charming destination for a quiet getaway. Be prepared for occasional rain showers.
In summary, the best time to visit Carmel by the Sea depends on your preferences. If you prefer warm, sunny weather and don't mind the crowds, summer is great. Spring and fall offer pleasant weather and fewer tourists. Winter is ideal for a quieter, cozy experience but may have some rain. Ultimately, the choice depends on what kind of experience you're looking for during your visit to this picturesque coastal town.
Best 16 things to do at Carmel by the Sea and Monterey County
1. Explore Carmel by the Sea downtown district
The downtown district of Carmel by the Sea has distinctive places to visit around the town from the storybook cottages, European styled village appeal, shopping and dining to enjoying the outdoors along the coastal areas of the town below.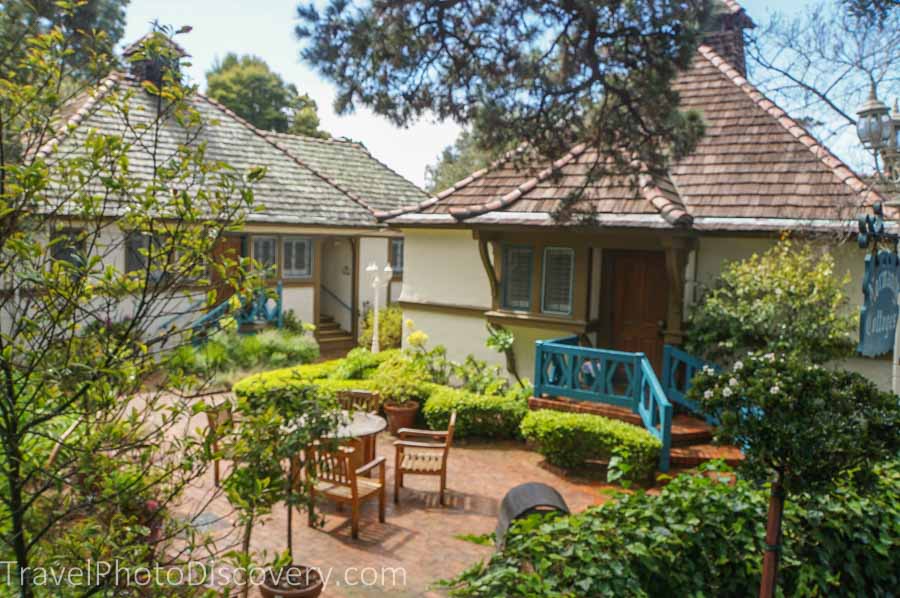 2. Stroll the art galleries and shops
Start your day just right with a nice pastry and coffee to go or eat at any of the fantastic bakeries in town. You'll enjoy strolling around the colorful European styled village filled with amazing art galleries, unique boutique stores, delicious delis and bakery shops, world class restaurants and so many other one of a kind local shops that are so much fun to explore in the downtown district.
Carmel just oozes with so much beautiful architecture, storybook buildings, cool and trendy shopping venues and just fun window shopping that appeals to all age groups.
If you're tired of shopping and looking, it's fun to just take a break for a snack or drink at any of the delicious food and drink venues in the area and just soak it all in, people watch or enjoy time with family or friends while visiting Carmel.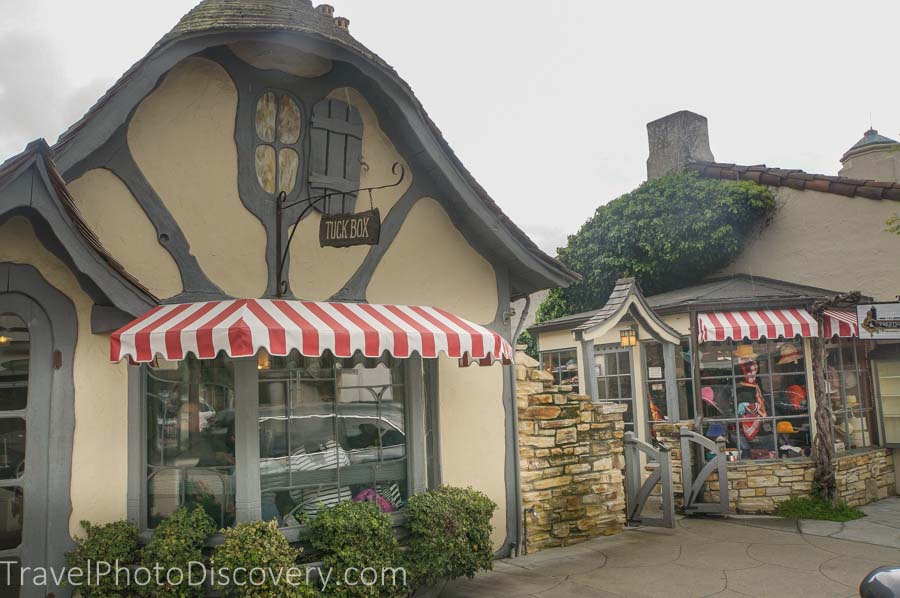 3. Discover the Unique storybook cottage style homes and hidden passageways
Carmel has a distinctive storybook look that is one of a kind in California and fantasy like come to life. Created by Hugh Comstock around the 1920s to 1930s to create this distinctive look with the cottages in Carmel, the homes like the Hansel Cottage and Gretel Cottage were a stage for his wife's doll making business.
Along the way he created more storybook styled homes with high pitched roofs with timber exterior details and paned windows and flower bedecked window boxes and gardens like some small English and European villages.
Over 21 of these buildings survive in Carmel with nooks and hidden gardens transformed into tea houses, stay at home cottages, art galleries and cafes for visitors to explore and enjoy this fun and unique look in Carmel.
4. Carmel State Beach
The glorious stretch of beach area at the end of Carmel on Ocean drive is stunning to see the large crescent shaped beach that extends all the way around Monterey Bay. Rugged Cypress trees line the white sandy beach with the softest sands to walk on. Dogs are allowed here in Carmel and even unleashed at the beach area. While other beaches do allow for dogs with leashes on and enjoy some time with your pets on the beach which is an amazing experience.
Wading and swimming is doable but very cold and there are no lifeguards stationed on the beach so proceed with your own caution in going into the water and look out for any rip tides or rogue waves.
You can experience a wonderful time on the beach and even the lovely sunsets on the beach here to enjoy end of day and some beautiful walks along the beach area.
5. Experience Carmel River State Beach
Around the corner from Carmel State Beach, Carmel River State Beach is located next to the Carmel River that ends into the ocean. You'll find a quieter beach area with various trails that you can walk through and enjoy the ocean scape and some of the quiet forest trails, river walks and other beautiful trails to experience in the area.
Outside of hiking areas you can walk your dogs on leashes, go kayaking, fly a kite or just enjoy the silence and sounds of the river emptying into the ocean.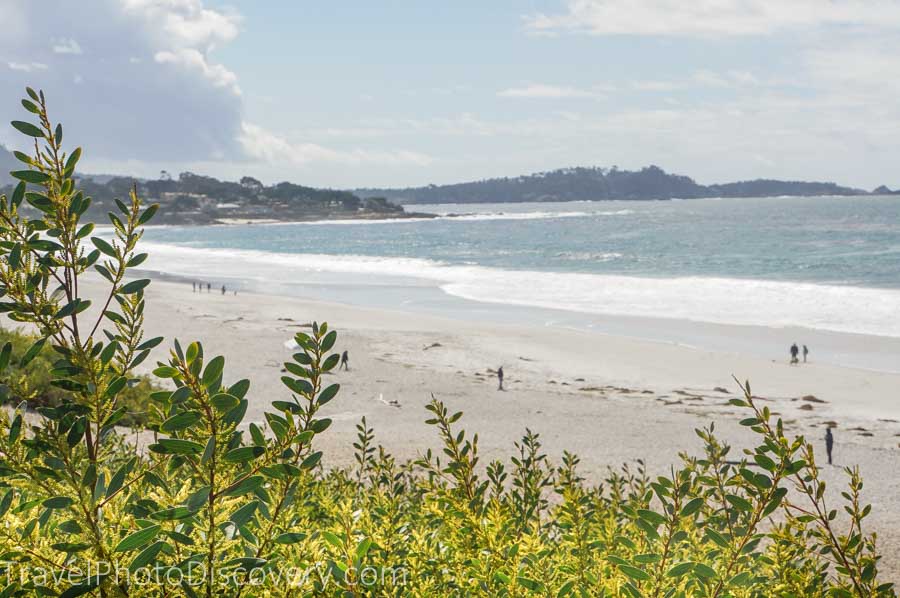 6. Enjoy a coastal drive or walk along Carmel's Scenic Road
From the start of Carmel State beach and driving the Scenic Road with wonderful landscape, wildflowers with stunning and expensive showcase homes on the other side facing the beach area.
This creates this wonderful experience to take in the gorgeous beach and ocean, all the beautiful homes lining the beach area all the way down to Carmel River State Beach and wind back through the outlying areas.
You can also walk a good distance on the Scenic Bluff Path and enjoy the gorgeous ocean, beach and views by foot.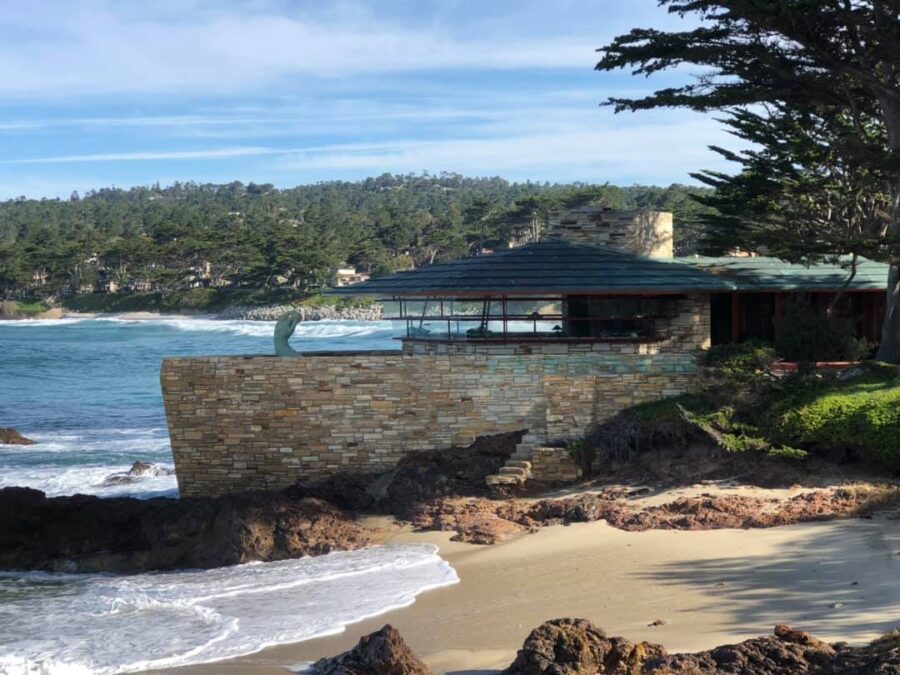 7. See the Frank Lloyd House – Della Walker House
Located at Carmel Point is the iconic Frank Lloyd House that juts out facing the ocean looking like the prow of a ship. This ocean front home showcases the best of Frank Lloyd Wright's homage to California lifestyle and you can view the home mostly from public views of this privately owned home.
Designed in 1948 and completed in 1951 with this small footprint just under 1200 square feet as a summer place for the Walkers and utilizing Wright's iconic aesthetic, details and use of local materials to create a place that really fits into the landscape.
Visits to the property are only open once yearly in June to benefit the Carmel Heritage Society and you can check the details here for more information.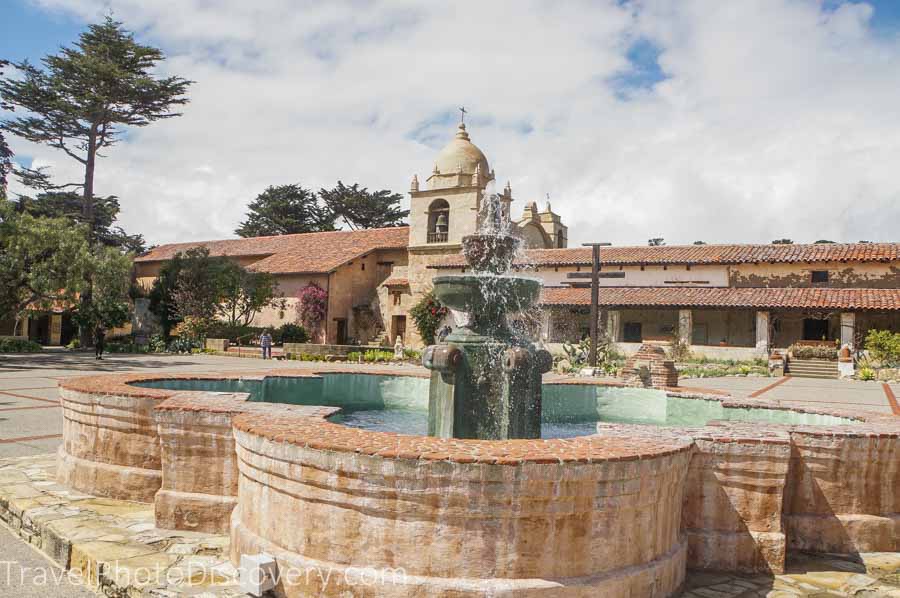 8. Explore San Carlos Borromeo de Carmelo or Carmel Mission
Located close to the Carmel River, the Carmel Mission is a National Historic Landmark that was the headquarters to the string of missions established in Alta California by Father Junipero Serra who lived and died in this mission. The basilica is still a functioning church with beautiful museum collections, cemetery and lovely outdoor gardens to explore and enjoy all the painstaking remodeling, detailed craftsmanship and Spanish colonial design the buildings and church is created in.
You can visit the entire Spanish Colonial complex with the ornate basilica, entrance courtyard and museum areas, cemetery and the grand courtyard area and gardens to the side of the church and gift store.
You can easily sign up for a docent tour or do your own tour with information placards located throughout the compound to educate and share the early missionary lifestyle, agriculture and assimilating the local population to the Catholic faith.
Check out this video walking tour around the Mission below
9. Visit the unique Tor House and Tower
A beautiful stone home and tower built with local rocks from the area from California Poet Robinson Jeffers with the Fairy tale Hawk Tower around 1919 as a creative space for his family for magical place. It is a wonderful place to tour and docent tours are available on Fridays and Saturdays for visitors to visit and learn about the family, home, gardens and area around the home.
You'll enjoy your visit to this gorgeous home and tour and even some musical tour programs, check out the details to visiting here for more information and availability.
Here's a look at the gorgeous home tour below
Explore the areas just outside of Carmel and surrounding areas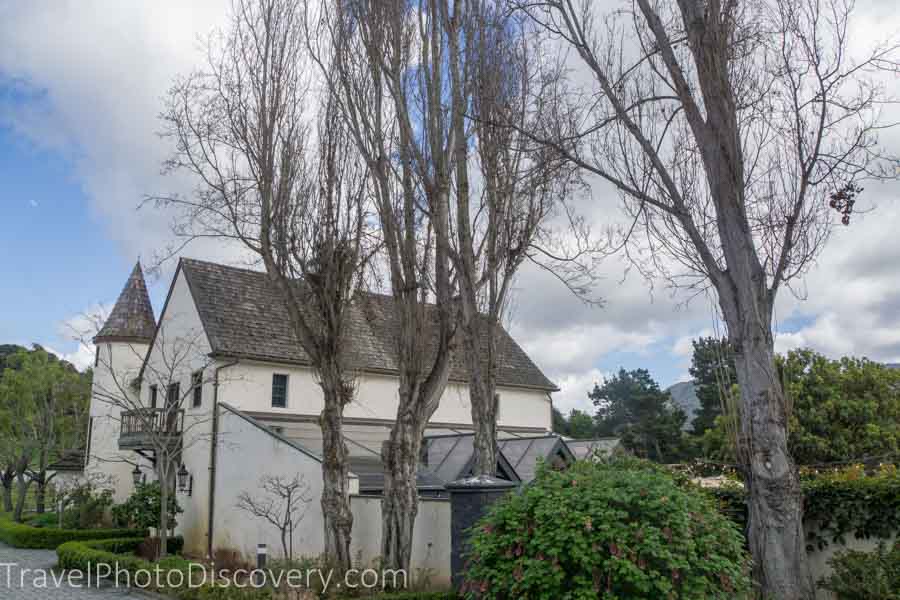 10. Wine Country experience in Carmel Valley
The scenic roadway that leads towards Carmel Valley from Carmel by the Sea is beautiful and easy to drive with small boutique wineries that showcase the best wines and vineyards that thrive in this Central Valley appellation.
It's an beautiful area and exploring the premiere vineyards and tasting rooms in Carmel Valley is an exceptional experience to eat, taste and drink your way through the regional wine country experience here. Check out the many wineries at Carmel Valley here to create your own visit and tasting tour experience to the vineyards in the area.
Enjoy this tour of Carmel valley and wine experience below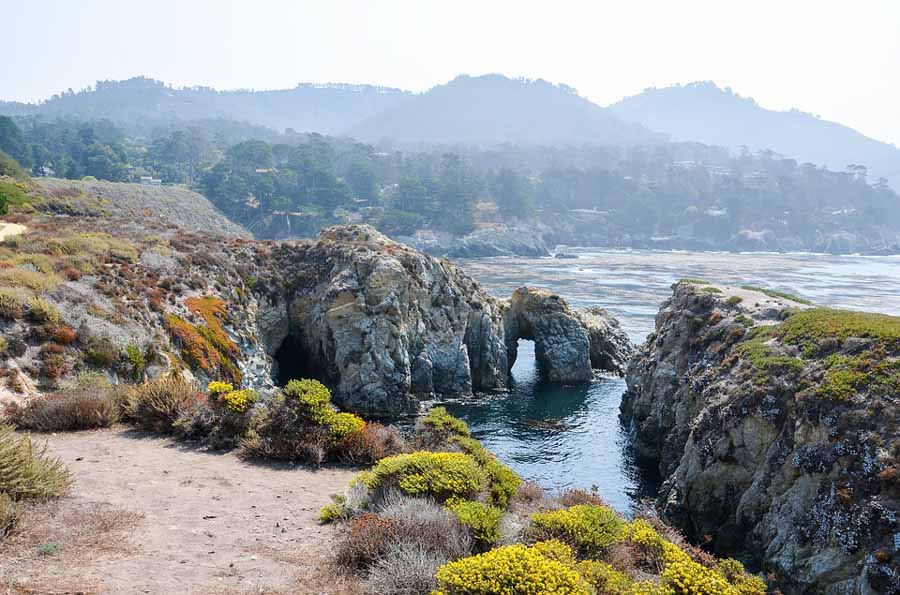 11, Point Lobos State Natural Reserve
A very short drive from Carmel along the Monterey coastline is the Point Lobos State Natural Reserve which is a spectacular state park to visit. With gorgeous coastlines, hiking trails and places to explore, you will enjoy all the outdoor experiences exploring this nature reserve.
A sheltered area to local birds and transitory wildlife and also marine life in the area that makes it a special discovery to see the native and transitory animals shelter in this wonderful reserve area. Striking cliffs and outcrops, meadows filled with native wildflowers in bloom, Cypress, pines and other native trees and scrub complement the hiking areas and spectacular views in the park.
You can spend a few hours to all day in this lovely nature reserve and explore at your own leisure through mostly easy to moderate trails that loop or go point to point around the scenic areas of the park.
Here's a gorgeous look and visit to the Point Lobos State Natural Reserve below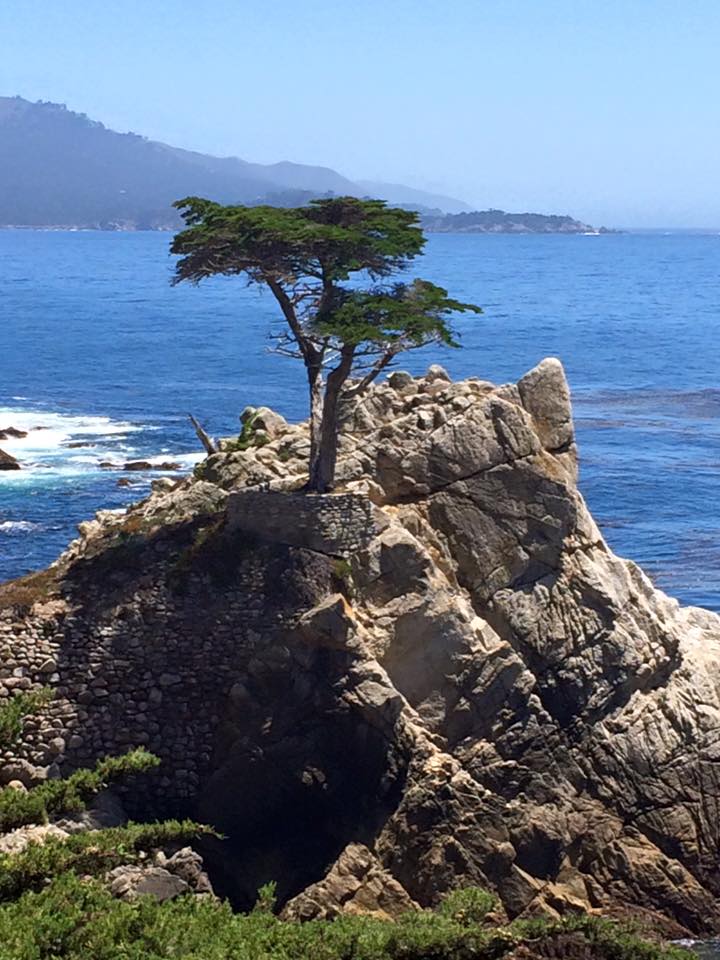 12. Visit 17 Mile Drive
Just outside Carmel by the Sea and stretching out to Lover's Point Park is the 17 Mile drive – a stunning coastal drive that showcases the coastline areas separating Carmel Bay and Monterey Bay with natural beauty.
Part of the Pebble Beach resorts with luxury homes, a first-tier gold course and resort and restaurants. There is a fee to enter the area and enjoy the resort area, drive to scenic spots including the iconic Monterey 200-year-old solitary cypress tree overlooking Pebble Beach. This is probably the number one tree photograph photographed in the area and probably the entire United States because of its location and solitary stature.
For a tour and map of 17-mile drive along with places to visit, check out their website here for more details and information to visiting.
Experience a virtual tour of 17 Mile Drive below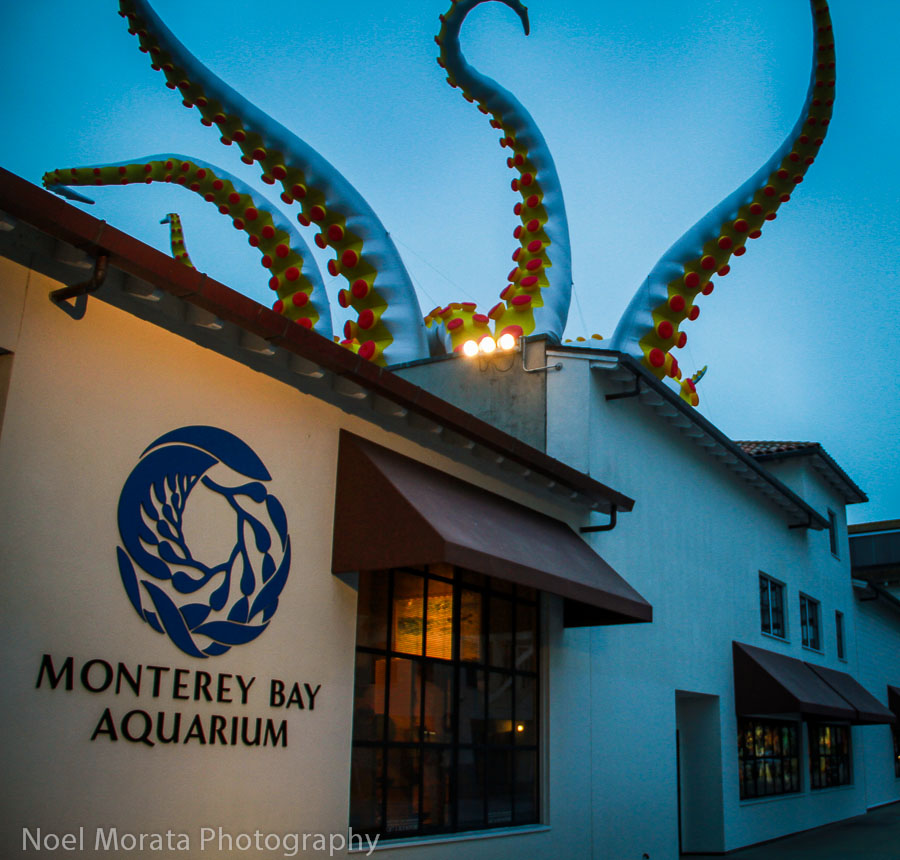 13. Visit Monterey Aquarium, Cannery Row and Fisherman's Wharf
Just a short drive from Carmel is Monterey with its iconic attractions to include Monterey Aquarium, Cannery Row, Fisherman's Wharf, historic downtown district and other local attractions to visit in this city. Less than a 10-minute drive from Carmel, you can enjoy all the attractions in Monterey or spend time enjoying the outdoor lifestyle and adventure activities to include snorkeling or diving, kayaking or sup boarding, bicycling, hiking or running and a variety of other outdoor pursuits in along the coastline and even mountain ranges surrounding Monterey.
The world class Monterey Bay aquarium hosts a variety of local marine life, playful otters, penguins, puffins, sea turtles and so many other amazing displays and rotating shows to enjoy.
This is the biggest attraction in Monterey and really a special visit that you will want to explore everything including the back-end operations to what makes this aquarium work. Check out a visit to the aquarium here for more details to visiting.
Here's a cool look to visiting the Monterey Bay Aquarium below
14. Explore the Big Sur region
A road trip through Big Sur will showcase the entire coastal region with stunning vistas, visits to iconic places like Bixby bridge, Garrapata state park, Point Lobos, McWay Falls and Pfeiffer beach along with so many wonderful attractions to visit in this scenic region.
Big Sur is an entire stretch of coastal areas and not a specific town or city that deserves more of a road trip experience or stay overnight in any of the lovely resorts areas or even camping for the budget minded to this beautiful area of Central California.
Take a look at this Big Sur guide for more inspiration to visiting the key places of interest in the region for you to plan and also experience.
Take a look at gorgeous Big Sur below
15. Experience Golfing around Carmel by the Sea
When it comes to golfing around Carmel-by-the-Sea, golf enthusiasts are spoiled for choice. Here are some notable golfing venues in the area:
Pebble Beach Golf Links: Renowned as one of the most iconic and breathtaking courses in the world, Pebble Beach Golf Links offers an unparalleled golfing experience. Located just a short drive from Carmel-by-the-Sea, this historic course boasts stunning ocean views and challenging fairways that have tested the skills of golfing legends.
The Links at Spanish Bay: Situated adjacent to Pebble Beach Golf Links, The Links at Spanish Bay is another must-play course. Inspired by the ancient links courses of Scotland, it offers a unique coastal setting with rolling dunes and sweeping ocean vistas. Golfers can enjoy the challenge of strategically placed bunkers and the occasional coastal breeze.
Carmel Valley Ranch: Nestled in the picturesque Carmel Valley, Carmel Valley Ranch provides a scenic and challenging golfing experience. This 18-hole championship course showcases stunning views of the surrounding hills and vineyards, while offering a variety of terrain to test golfers of all skill levels.
Quail Lodge & Golf Club: Located in nearby Carmel Valley, Quail Lodge & Golf Club features a championship golf course surrounded by majestic oak trees and serene lakes. The course offers a harmonious blend of beauty and playability, making it an ideal destination for both casual and serious golfers.
Pacific Grove Golf Links: Situated adjacent to the ocean and offering sweeping coastal views, Pacific Grove Golf Links is a delightful public course that provides an enjoyable golfing experience. Its natural beauty and affordable rates make it a popular choice for both locals and visitors.
!6. Enjoy a fabulous meal at Carmel by the Sea
Indulge your taste buds in a culinary journey like no other as you savor fantastic meals at the diverse venues scattered throughout Carmel-by-the-Sea. This charming coastal town is a haven for food lovers, offering an array of dining options that showcase the region's bountiful ingredients and culinary creativity. From upscale restaurants to cozy cafes, there's a perfect spot for every palate.
Discover the coastal flavors, fresh seafood delicacies, and farm-to-table delights that make dining in Carmel-by-the-Sea an unforgettable experience. Whether you're seeking a romantic dinner, a casual brunch, or a quick bite, prepare yourself for a gastronomic adventure that will leave you craving more. Get ready to treat yourself to mouthwatering dishes, sip on local wines, and immerse yourself in the vibrant food scene of Carmel-by-the-Sea.
Here are some of the best places to eat in Carmel:
La Bicyclette: This charming French bistro offers a cozy ambiance and delectable dishes inspired by the flavors of Provence. From their wood-fired pizzas to their classic French cuisine, La Bicyclette promises a memorable dining experience.
Aubergine: Located within the prestigious L'Auberge Carmel, Aubergine is a Michelin-starred restaurant known for its innovative and sophisticated cuisine. Indulge in an exquisite tasting menu crafted with locally sourced ingredients and paired with an impressive wine list.
Dametra Café: Experience the lively Mediterranean atmosphere at Dametra Café, where you can savor delicious Greek and Mediterranean dishes accompanied by live music and joyful dancing. This family-owned establishment offers a vibrant dining experience that combines great food and entertainment.
Cultura Comida y Bebida: Offering a modern take on Mexican cuisine, Cultura Comida y Bebida delights guests with its inventive dishes and handcrafted cocktails. From tacos and ceviche to flavorful salsas and mezcal, this vibrant eatery celebrates the vibrant flavors of Mexico.
Grasing's Coastal Cuisine: With a focus on sustainable seafood and local ingredients, Grasing's Coastal Cuisine showcases the best of California's coastal flavors. Enjoy expertly prepared dishes such as fresh seafood, tender steaks, and flavorful vegetarian options in an elegant setting.
Forge in the Forest: Known for its charming outdoor patio and cozy interior, Forge in the Forest offers a diverse menu featuring American comfort food favorites. Whether you're craving a juicy burger, hearty pasta, or a refreshing salad, Forge in the Forest has something to satisfy every appetite.
These are just a few of the exceptional dining options in Carmel-by-the-Sea. From fine dining establishments to casual eateries, the town offers a culinary scene that caters to all tastes and preferences. So, prepare your taste buds for an unforgettable culinary adventure and explore the diverse flavors of Carmel-by-the-Sea
Where to base yourself in Carmel area
It is easy to find a range of unique inns and local stays in the area for a perfect visit to Carmel by the Sea and visiting the surrounding region. Check these fantastic rated hotels and inns here for more details.
Tickle Pink Inn – An iconic inn to stay in Carmel with oceanfront estate and European flare, bedding and comfortable and spacious rooms to enjoy your visit to the area.
The Hideaway – a boutique and beautiful redesigned inn close to the beach area with wonderful appointments, comfortable features and outdoor spaces to enjoy your stay close to the ocean area of Carmel.
La Playa Carmel – a luxury property in Carmel with modern sensibiities and aesthetics, comfortable and clean rooms with public rooms, gardens,swimming pool and easy access to the beach areas of Carmel beach.
If you are looking for the best rated hotels and inns with Trip Advisor, check out these best reviews here for current prices, availability and their calendar for direct bookings.
Check out this fun scenic road trip around the Carmel area below
More inside tips to visiting Carmel by the Sea
When visiting Carmel by the Sea, a charming coastal town in California, there are some inside tips that can enhance your experience. Here are a few recommendations to make the most of your visit:
Explore Scenic Ocean Avenue: Take a leisurely stroll along Ocean Avenue, the main street of Carmel by the Sea. Admire the quaint architecture, browse through unique boutiques, art galleries, and charming cafes. Don't forget to stop by the famous Carmel Beach access points along Ocean Avenue for breathtaking views of the Pacific Ocean.
Visit the Carmel Mission: Discover the historic Carmel Mission, also known as Mission San Carlos Borromeo del Rio Carmelo. Founded in 1771, this beautiful Spanish mission is a significant cultural and historical site. Explore the peaceful gardens, learn about the mission's history, and appreciate the stunning architecture.
Discover Fairy Tale Cottages: Carmel is famous for its fairytale-like cottages. Take a self-guided walking tour through the residential streets and marvel at the unique and whimsical architecture. Admire the picturesque gardens, hidden courtyards, and charming details that make Carmel's cottages so enchanting.
Enjoy the Scenic Coastal Views: Carmel by the Sea offers stunning coastal vistas. Take a drive along the iconic 17-Mile Drive, a scenic road that winds its way along the coastline. Enjoy breathtaking views of rugged cliffs, pristine beaches, and the famous Lone Cypress. Be sure to have your camera ready for some incredible photo opportunities.
Indulge in Culinary Delights: Carmel by the Sea is a food lover's paradise. Sample gourmet cuisine at the numerous award-winning restaurants, cozy bistros, and charming cafes. Don't miss the opportunity to try local seafood specialties and savor the flavors of the region.
Explore Point Lobos State Natural Reserve: Just a short drive from Carmel, Point Lobos State Natural Reserve is a must-visit for nature enthusiasts. Embark on scenic hikes along the trails that offer breathtaking coastal views, abundant wildlife, and unique rock formations. Keep an eye out for sea lions, otters, and migrating whales.
Attend Cultural Events: Check the local events calendar for art exhibits, live performances, and festivals happening during your visit. Carmel by the Sea has a vibrant arts scene and hosts various cultural events throughout the year, offering a chance to immerse yourself in the town's creative ambiance.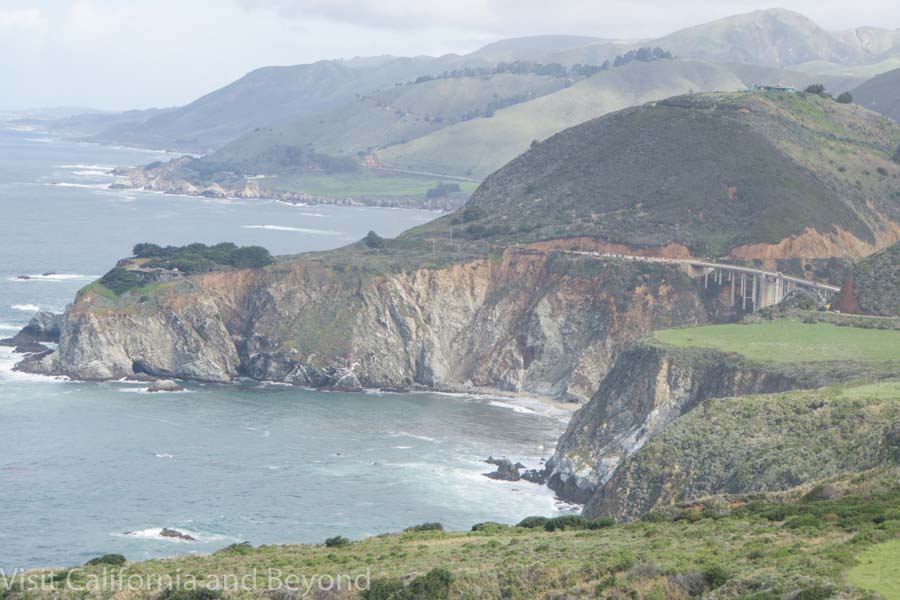 Check out these other places to visit in Central California
Explore Pfeiffer beach in Big Sur
Pin and save this for later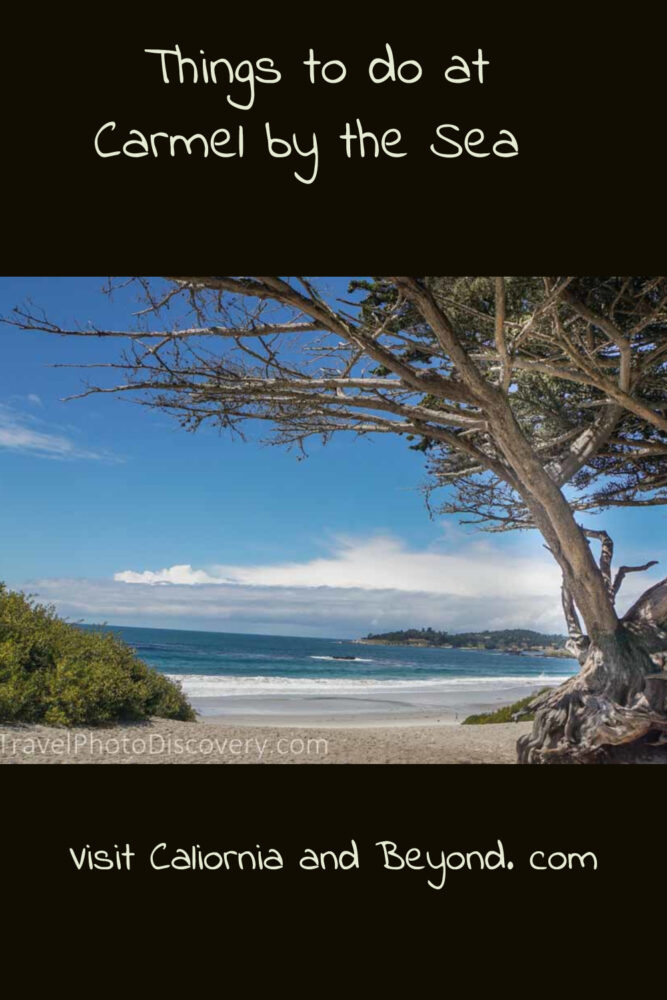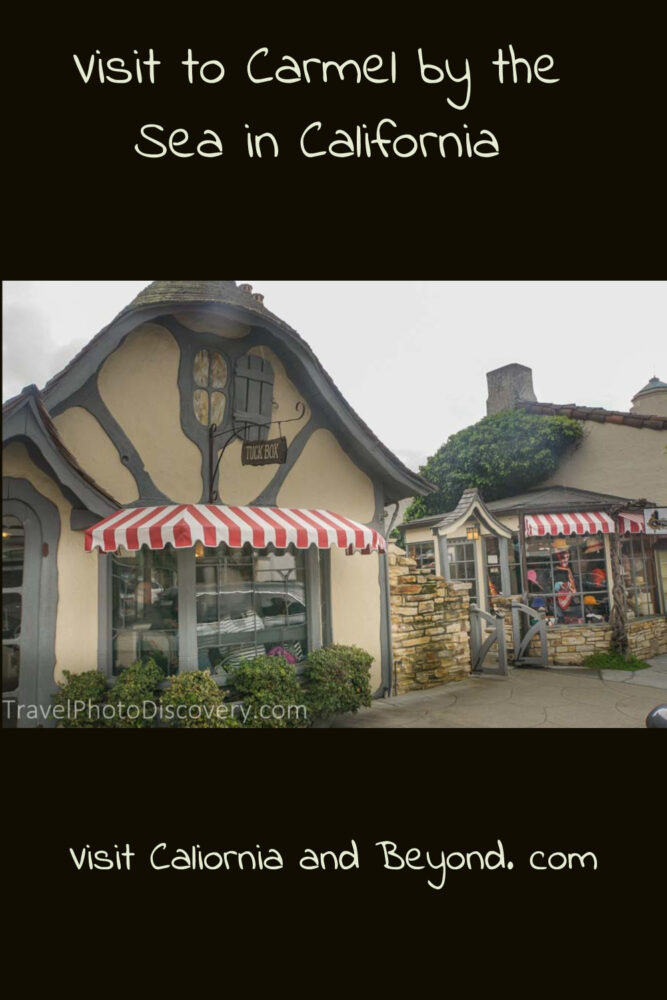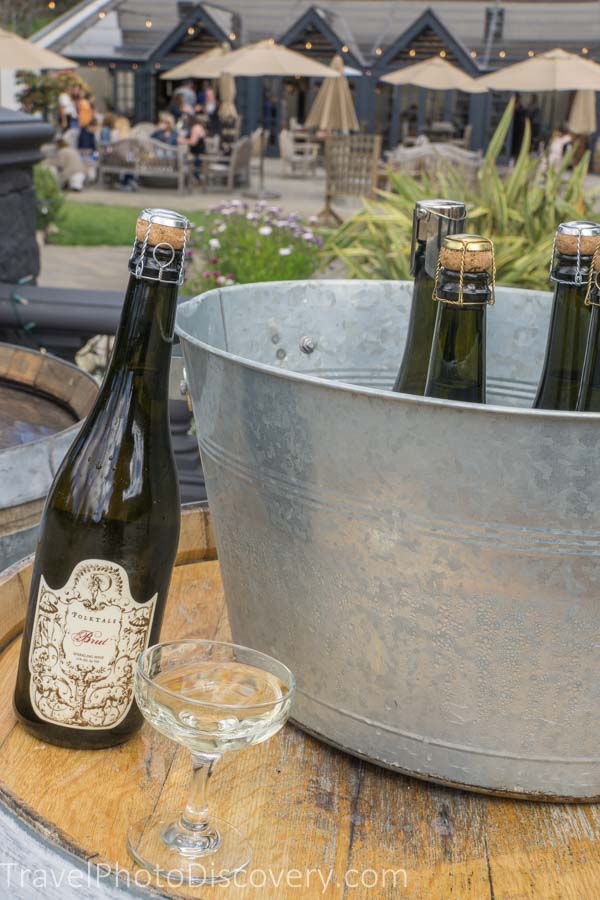 Have you visited these Things to do at Carmel by the Sea?
Please share your thoughts and other recommendations in the comments below with your recommendations.
Conclusion to visiting Carmel by the Sea
You will love your visit to the picturesque coastal town of Carmel-by-the-Sea, where charm, beauty, and relaxation seamlessly blend together. Nestled along California's stunning central coast, Carmel-by-the-Sea captivates visitors with its idyllic white-sand beaches, enchanting architecture, and a vibrant arts scene. Whether you're strolling along the cobblestone streets, indulging in delectable cuisine, or exploring the breathtaking coastline, every moment in Carmel-by-the-Sea is an invitation to immerse yourself in coastal bliss. Join us as we embark on a journey to uncover the hidden treasures and timeless allure of this captivating seaside village.
Thanks for visiting today and checking out this post on a Things to do at Carmel by the Sea. I hope you are inspired to plan a visit and enjoy these wonderful attractions. If you enjoyed the images and post, could you please share it with any of the social media buttons located around the post.
Disclosure – this post on Things to do at Carmel by the Sea may have affiliate related links to brand offers which helps our site keep operating – we appreciate any purchases through this link and your supporting Visit California and Beyond.