Unveiling the Enchanting Beauty of Pfeiffer Beach's Purple Sand: A Coastal Gem
A beach with real purple sand you ask? Yes, it is rare and you can find the purple sand beach at Pfeiffer Beach at Big Sur. Not only is the beach sand unique but the just offshore is the unique Keyhole Arch which is one of the photographed shots at Big Sur. Pfeiffer Beach is part of the Los Padres National Forest and not to be confused with Pfeiffer Big Sur or Julia Pfeiffer Burns Park which are both in different directions.
One of the most popular attractions to visit at Big Sur along with McWay Falls, Bixby Bridge and Point Lobos, Pfeiffer Beach is a must visit location that you actually can get on the beach and enjoy the unique features here. One of the hidden gems to explore at Big Sur, there are actually no signs or visibility of the beach location from Hwy 1 driving through the area.
Explore the Purple sand beach, Pfeiffer Beach at Big Sur in Monterey County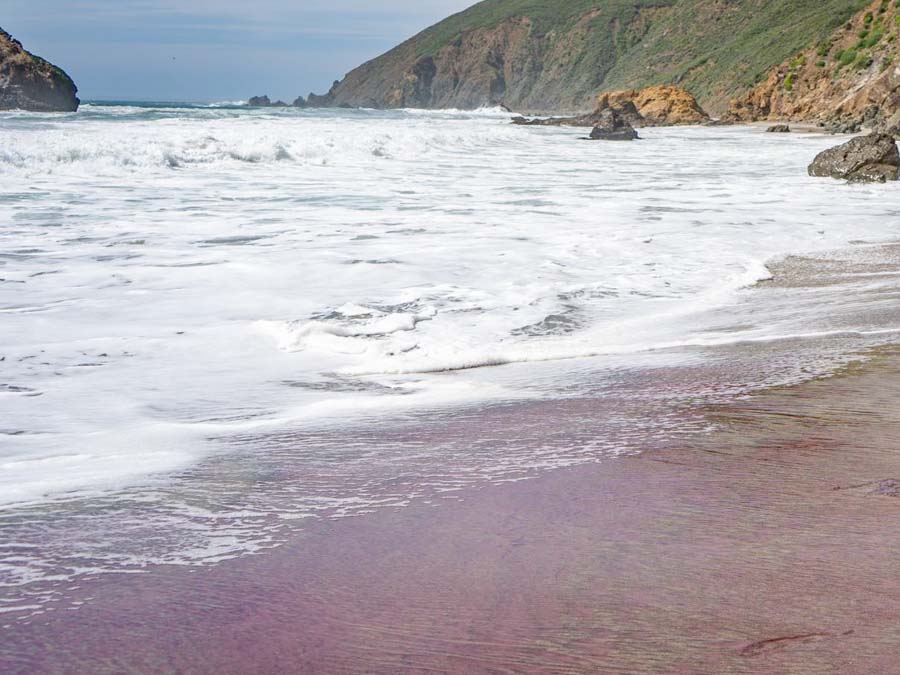 How did Pfeiffer beach get its purple sand from?
The purple sand gets its coloration basically from erosion from manganese garnet the area is is known for. Washing down from the nearby hills into the creeks and then into the beach area the manganese from the erosion is broken down into smaller sand particles that are heavy and stay on the beach areas as large swathes of color in between normal brown and black sand areas of the beach. With more rainfall in the area, there are more deposits of the minerals that get left into the beach areas compared to dryer days in the area.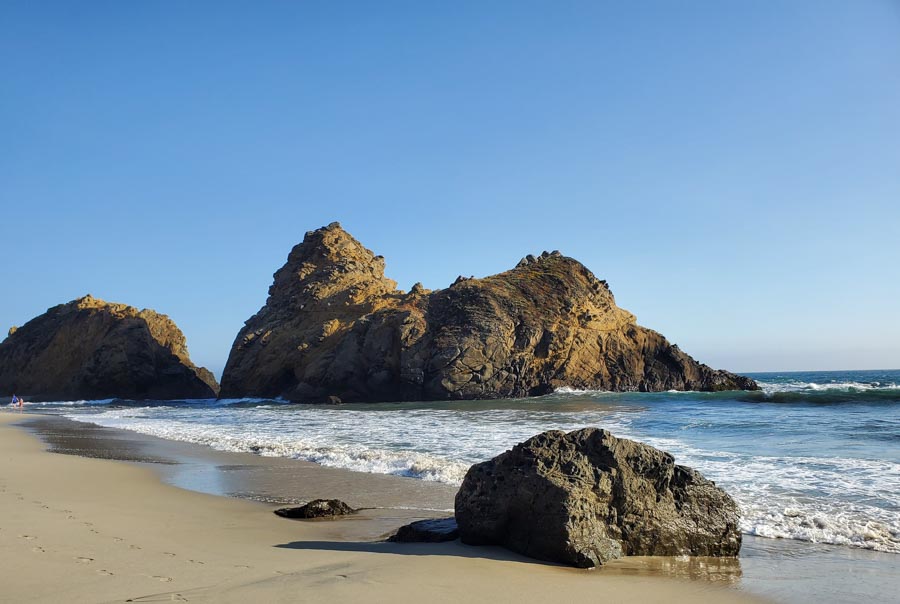 How to get to Pfeiffer Beach
It's a little tricky getting to Pfeffer beach because it isn't on many maps and directions are confusing but basically come north on Hwy 1, pass through Pfeiffer Big Sur State Park for 1.1 miles (mile marker 45.64) and take an immediate right onto Sycamore Canyon Road, follow that road and look out for a small yellow sign that says narrow road which leads directly to the beach after you pass another rock sign that says Pfeiffer beach. Keep driving down another two miles until you finally get to the beach parking area. From the south pass Nepenthe restaurant drive 1.8 miles to the turnoff and left and drive down directly to the beach area.
There is no cell service around Big Sur so make sure to print maps or save this beach location on your app so you can follow it offline. You will pass a stone sign that says Pfeiffer beach is another two miles downhill and eventually to a sandy road that opens into a parking lot.
Here's a video visit to the Magical beach area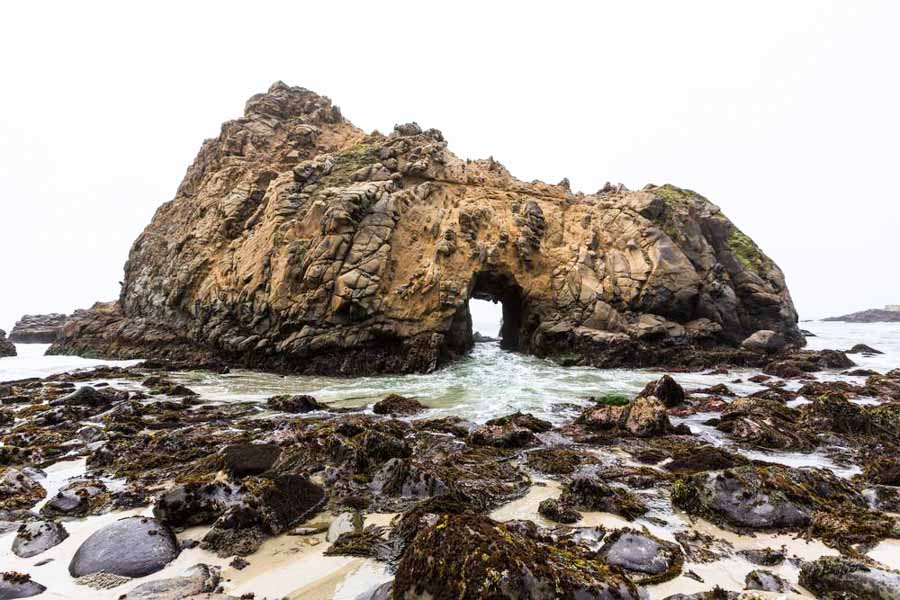 Best things to do at Pfeiffer beach
The beach area is a visual delight and fun to take a nice shoreline walk, enjoy the gorgeous scenery and take it all in. It's a fun beach to photograph and capture the purple sand, the impressive arch with the magic keyhole. If you're game beach time and swimming is an option but the waters are very cold and there are no lifeguards on duty, so be very careful. Also, staying for a magical sunset timeframe and capturing the sun's last rays peeking through the keyhole on the arch is a sight not to miss and photograph. Capturing the golden light imagery, sunset and into the night skies are what makes this worth staying longer into the night time on the beach.
What to bring to the beach?
Depending on if you plan on picnicking or enjoy a nice sunset, here are some essentials that would be nice to have
Food and drinks
There are no concessions so bring your own food and have a nice picnic on the beach
Beach gear
There is no shade at the beach so bring your blankets, umbrella or pop-up screen
Water shoes
If you plan on exploring around the rocks and do some rock climbing, water shoes are ideal to have so you don't hurt yourself feet while walking around
Binocular
Perfect for enjoying the scenes around the beach area birding action, wildlife or some marine life that you can spot along the coastline.
Weather and best time to visit Pheiffer Beach
Pfeiffer Beach, located in Big Sur, California, experiences a coastal climate influenced by the Pacific Ocean. The weather can vary throughout the year, so it's helpful to know what to expect:
Summer (June to August): Summers at Pfeiffer Beach are generally mild and pleasant, with average temperatures ranging from the mid-60s to low 70s Fahrenheit (around 18-23 degrees Celsius). However, fog and cool ocean breezes are common, so it's advisable to bring a light jacket or sweater.
Fall (September to November): Fall brings slightly warmer temperatures, with averages ranging from the mid-60s to mid-70s Fahrenheit (around 18-25 degrees Celsius). This season typically sees less fog and more sunshine, making it a favorable time to visit.
Winter (December to February): Winters at Pfeiffer Beach are cooler, with temperatures ranging from the mid-50s to low 60s Fahrenheit (around 12-16 degrees Celsius). Rainfall is more frequent during this time, and the ocean waters may be colder. It's advisable to dress in layers and carry rain gear if visiting in winter.
Spring (March to May): Spring brings milder temperatures, with averages ranging from the low to mid-60s Fahrenheit (around 15-18 degrees Celsius). The weather is generally pleasant during this time, with blooming wildflowers adding to the scenic beauty of the area.
Best Time to Visit: The best time to visit Pfeiffer Beach is during the fall and spring seasons when the weather is mild, and the chances of encountering fog are relatively lower. These seasons offer a more comfortable beach experience, allowing you to explore the area, take stunning photographs, and enjoy the picturesque purple sand beach to its fullest.
It's important to note that Pfeiffer Beach is a popular destination, and weekends and holidays can be busier. To avoid crowds and secure parking, consider visiting on weekdays or during non-peak hours.
Regardless of the season, it's always a good idea to check the local weather forecast before your visit and pack accordingly. Remember to bring sunscreen, hats, comfortable footwear, and layers to adapt to changing weather conditions.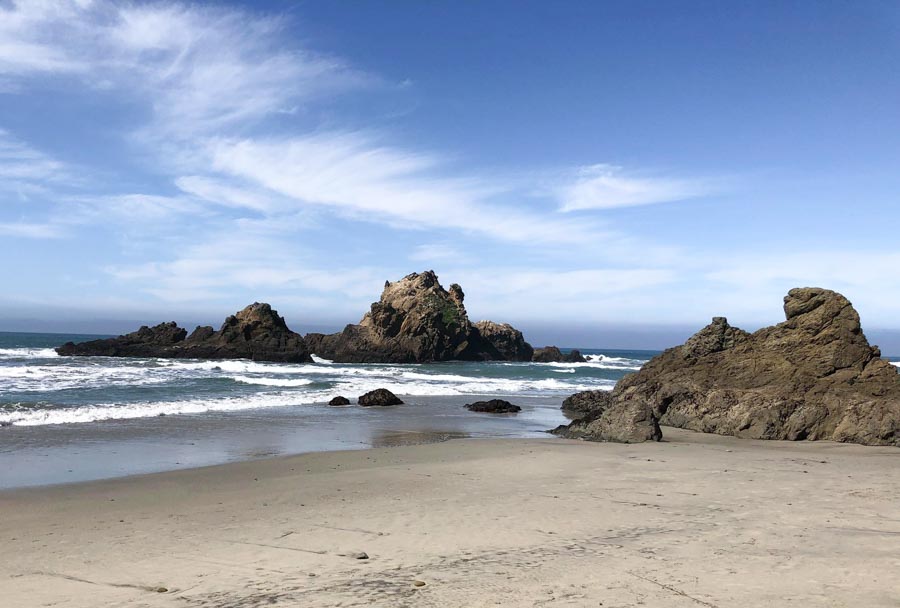 Other tips to visiting the beach area
The roadway is mostly one way direction and exiting cars do have the right of way so you have to pull to the side if you hit oncoming traffic
Beach area is open from 9am to 8pm daily
For more information and conditions, check out the website here for details
Bring cash to pay for the admission which is $10 for parking
Parking lot fills up early so go early or later in the afternoon to sunset time frame because of limited parking
GPS coordinates at the beach 3.2383, -121.8150
Dogs allowed on the beach area with leash
Picnicking – there are four tables located at the beach area
Accessibility – this beach area is accessible with bathroom access, find out more information here for details.
If you plan on camping, check out this video at Pfeiffer State Park
How to get around Big Sur and Pfeifer beach
Getting around Big Sur and reaching Pfeiffer Beach is an adventure in itself. While driving is the most common mode of transportation, it's important to note that the coastal highway can be narrow and winding. Here are a few options for getting around:
Car: Having your own vehicle provides flexibility and convenience for exploring Big Sur and reaching Pfeiffer Beach. Take Highway 1, which runs along the scenic coastline, and follow signs for Pfeiffer Beach. Keep in mind that parking is limited, so it's advisable to arrive early.
Shuttle Service: Some tour companies and shuttle services offer transportation to Pfeiffer Beach from designated locations. This option allows you to sit back and enjoy the stunning views without worrying about parking or navigating the narrow roads.
Bike: If you enjoy cycling, you can explore Big Sur and reach Pfeiffer Beach by bicycle. However, be prepared for steep hills and challenging terrain. Check local regulations and consider safety precautions before embarking on this adventure.
Hiking: For the adventurous and nature enthusiasts, hiking is an excellent way to experience Big Sur's beauty. Several trails lead to Pfeiffer Beach, such as the Valley View Trail or the Pfeiffer Falls Trail. Remember to carry water, wear appropriate footwear, and check trail conditions before setting off.
As you explore Big Sur and make your way to Pfeiffer Beach, be mindful of the area's natural beauty and respect any posted regulations. Enjoy the journey, breathe in the fresh coastal air, and take in the breathtaking sights that make this region so remarkable.
Check out this cool video to visiting the Purple sand beach at Pfeiffer beach
Best of the day to visit the beach
The best time of day to visit Purple Sand Beach at Pfeiffer Beach in Big Sur, California, largely depends on your preferences and what you want to experience. Here are some considerations for different times of the day:
Sunset: Sunset is arguably the most popular time to visit Pfeiffer Beach. The beach is known for its stunning sunsets, and the colorful sky combined with the purple sand creates a magical atmosphere. Arrive well in advance of sunset to secure a good spot, as it can get crowded, especially during weekends and holidays. Keep in mind that this is a popular time, so plan for crowds.
Late Afternoon: If you want to experience the beautiful colors of the beach and the ocean without the intense crowds, consider arriving in the late afternoon. You can enjoy the beach's unique features and take photos before the sunset rush.
Morning: Early morning is a peaceful time to visit Pfeiffer Beach. The beach is often less crowded, and you can have a serene experience with the waves and the purple sand. The soft morning light can also provide excellent photo opportunities.
Midday: Midday can be a good time for relaxation and picnicking on the beach. However, the midday sun can be quite strong, so be sure to bring sunscreen and shade, as there are limited natural shade options.
Evening: After sunset, the beach can become quieter, and you can enjoy the twilight and stars if the skies are clear. It's a peaceful time for stargazing and taking in the sounds of the ocean.
What are the other attractions to visit nearby?
There are several attractions near Pfeiffer Beach in Big Sur that are worth exploring. Here are a few notable ones:
Pfeiffer Big Sur State Park: Located nearby, this state park offers a variety of trails for hiking and exploring, including the popular Pfeiffer Falls Trail and Valley View Trail. You can immerse yourself in the beauty of redwood groves, enjoy picnicking, camping, and even spot wildlife.
Bixby Creek Bridge: This iconic bridge is one of the most photographed landmarks in Big Sur. Its graceful arches and stunning coastal backdrop make it a must-see attraction. You can admire the bridge and take breathtaking photos from designated viewpoints along Highway 1.
McWay Falls: Situated in Julia Pfeiffer Burns State Park, McWay Falls is a mesmerizing 80-foot waterfall that cascades directly onto the sandy beach below. The turquoise waters and scenic surroundings create a postcard-worthy sight.
Point Lobos State Natural Reserve: A short drive from Pfeiffer Beach, this coastal reserve is a haven for nature lovers. You can explore scenic trails, marvel at the rugged coastline, and observe diverse marine life, including seals, sea lions, and seabirds.
Andrew Molera State Park: Offering a blend of coastal and inland landscapes, this park features beautiful beaches, trails along the Big Sur River, and stunning meadows. It's an excellent place for hiking, horseback riding, and beachcombing.
Garrapata State Park: Just a few miles south of Pfeiffer Beach, this park boasts picturesque coastal views, sandy beaches, and scenic hiking trails. It's a great spot for nature photography, birdwatching, and enjoying the rugged beauty of the coastline.
These attractions offer diverse experiences, ranging from scenic drives and breathtaking vistas to hiking adventures and tranquil nature exploration. Make sure to plan your itinerary accordingly and savor the wonders that Big Sur has to offer.
Check out these other places to visit in Central California
Explore Pfeiffer beach in Big Sur
Pin and save this for later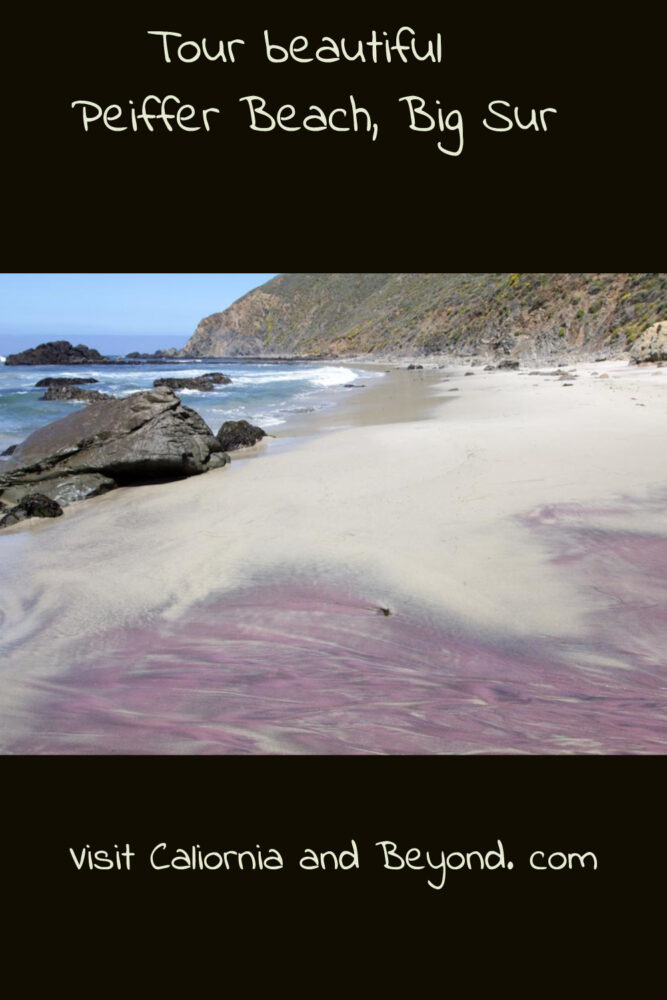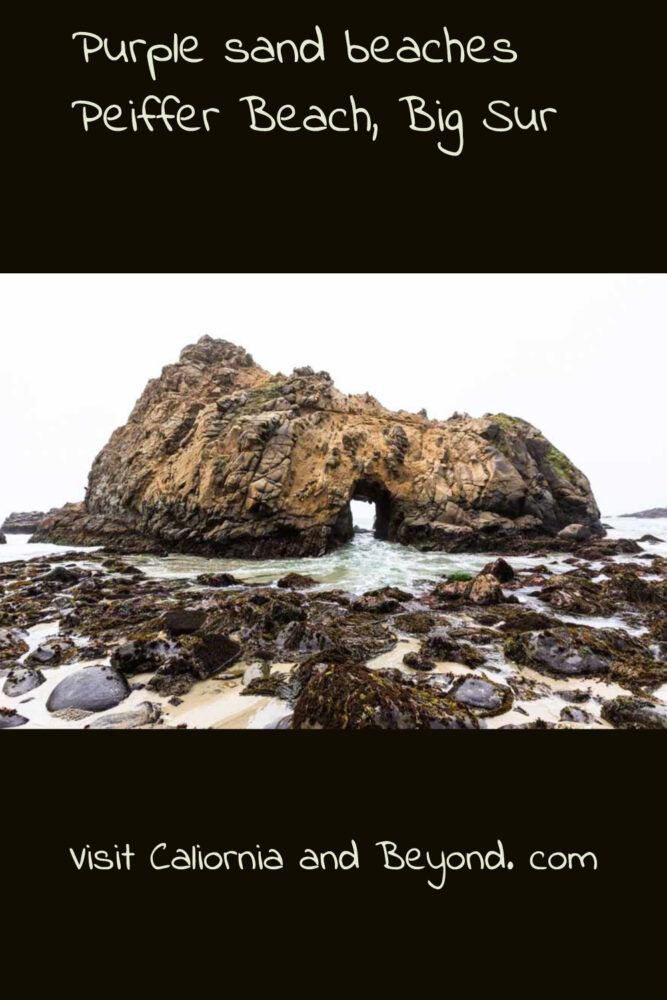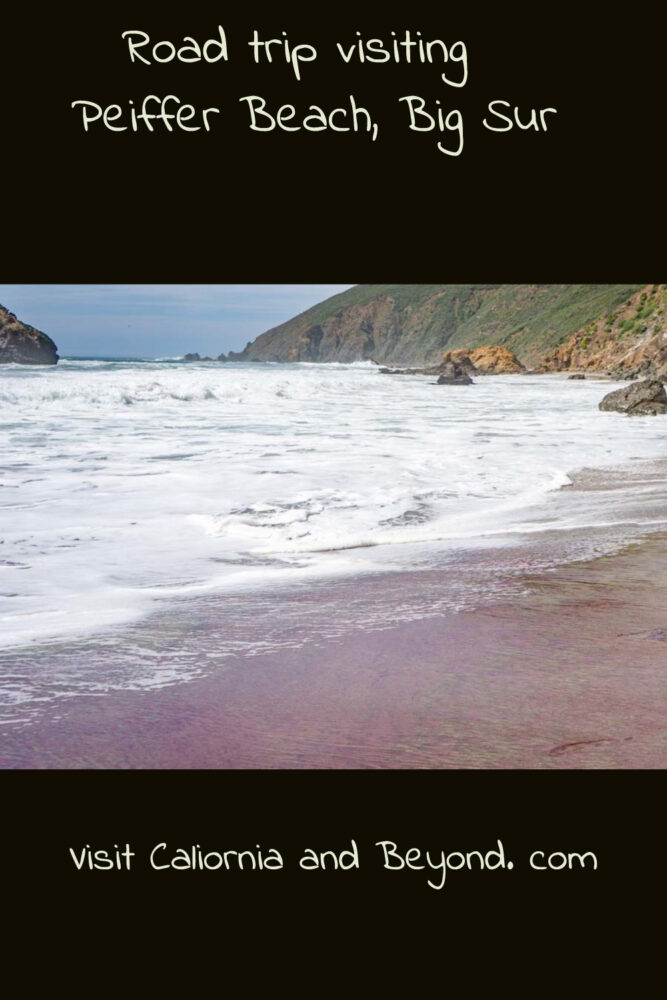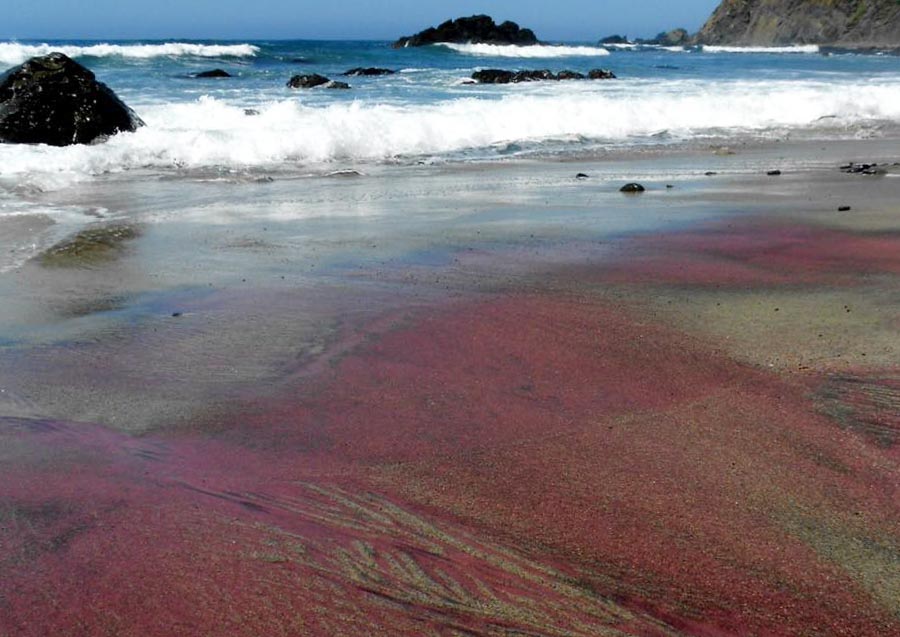 Have you been to the Purple sand beach Pfeiffer Beach?
Please share your thoughts and other recommendations in the comments below with your recommendations.
Conclusion to visiting Pfeifer beach and the purple sands
A visit to Pfeiffer Beach in Big Sur promises an unforgettable experience surrounded by natural beauty and tranquility. The allure of the purple sands, towering cliffs, and crashing waves creates a captivating atmosphere that is truly awe-inspiring. Whether you choose to drive along the scenic coastal highway, embark on a thrilling hike, or simply bask in the serenity of the beach, Pfeiffer Beach offers a sense of escape and wonder. Take a moment to breathe in the fresh ocean air, listen to the soothing sounds of the waves, and marvel at the stunning scenery. Pfeiffer Beach is a hidden gem that showcases the raw and untamed beauty of Big Sur, leaving you with cherished memories and a deep appreciation for the wonders of nature.
Thanks for visiting today and checking out this post on the Purple sand beach Pfeiffer Beach. I hope you are inspired to plan a visit and enjoy these wonderful attractions. If you enjoyed the images and post, could you please share it with any of the social media buttons located around the post.
Disclosure – this post on a Visit to the Purple sand beach Pfeiffer Beach may have affiliate related links to brand offers which helps our site keep operating – we appreciate any purchases through this link and your supporting Visit California and Beyond.