Unleash Your Wanderlust: Take the Ultimate Big Sur Road Trip!
Big Sur conjures all the best of California road trips and a getaway place to go to for the weekend or even an extended time frame. Located on winding roads, seaside bluffs and condors flying above, a Big Sur road trip stirs all the pure joys of getting away to the central coast of California.
Not only is the road trip fun and scenic, but there's so many cool outdoor activities, delicious food venues and nature inspired views to take it all in.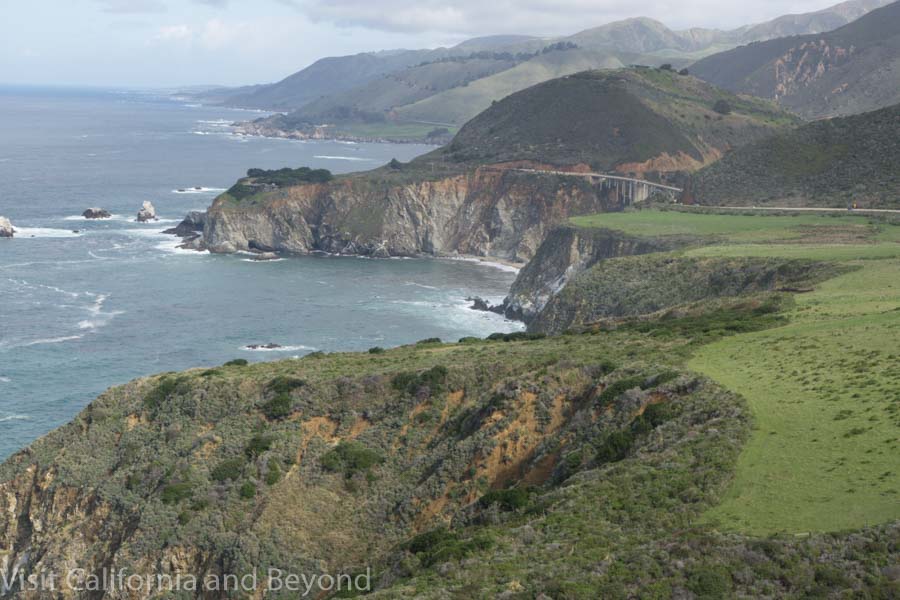 Big Sur Road trip (explore the best views, hikes and attractions)
Big Sur basic FAQs

From San Francisco, the drive is about 2.5 hours to get to the vicinity around Big Sur
The Closest airport is the Monterey Regional airport
Nearest city – Carmel which is about a 45-minute drive south on Hwy 101
From Los Angeles, the drive is about 6 hours to get to the vicinity around Big Sur
What is the best time to visit Big Sur
Even though Big Sur is a year-round destination, the best time for nice weather, wildflowers blooming all around the coastlines is from late spring until fall time frame. Spring to summer time does get weather patterns that includes foggy cloudy mornings that burn off mid-day to beautiful skies.
Early fall there tends to be less fog and the temperatures outside are still pleasant to enjoy exploring outdoors. Summer time frame is busiest with summer vacation season and people visiting the region from all around the world.
The least busy time to visit the Big Sur area is typically winter when weather patterns are unpredictable, more rain, fog and even road-block conditions can make it difficult to explore the area.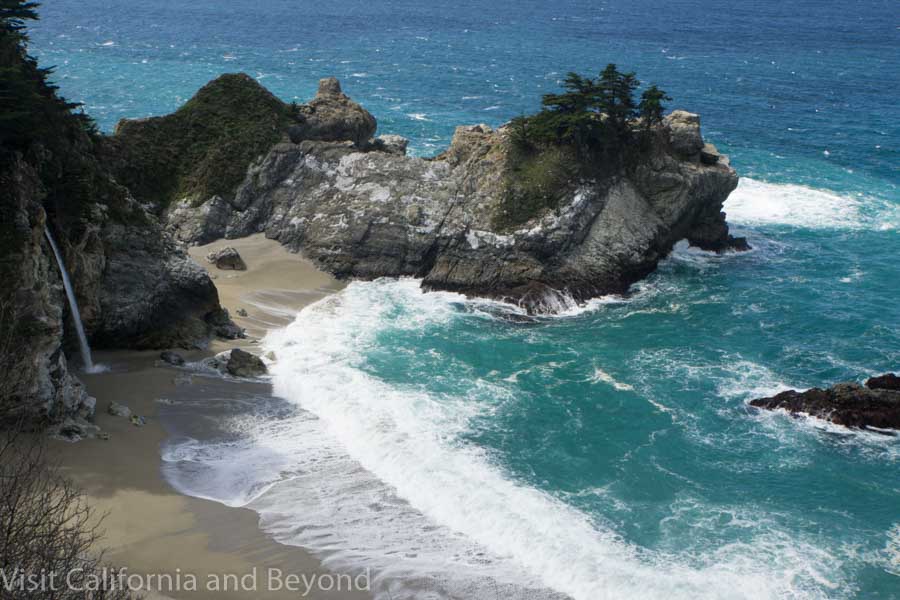 How to get to Big Sur
From San Francisco, Big Sur is a nice 2.5-hour drive taking Highway 101 and then to Hwy 1, also known as the Pacific Coast Highway and passing through Monterey and Carmel area into Big Sur.
From Los Angeles, Big Sur is about a 3.5-hour drive reach the Big Sur Vicinity starting from San Simeon and driving down Highway 101 to San Luis Obispo which is the entrance to Highway one route towards San Simeon and onto Big Sur area.
The closest airports to the area are at Monterey and San Jose airport which services regional and national brands that you can book a flight into.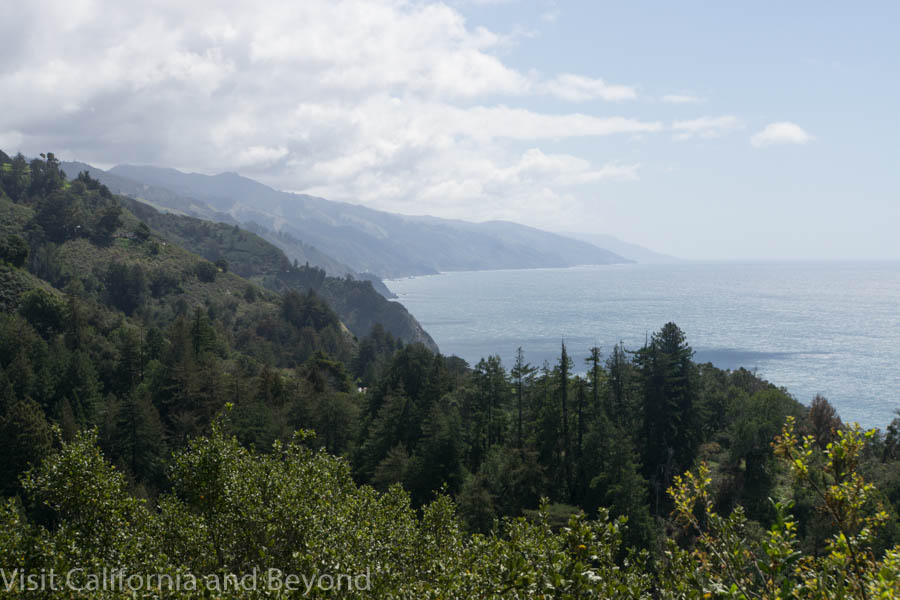 Where is Big Sur actually?
Surprisingly most visitors find that there is no real village or town of Big Sur but an area that incorporates a stretch of 90 miles of coastline South of Carmel running south all the way to San Simeon.
This area of Big Sur incorporates a stretch of land covering about 90 miles of coastline that make up the Big Sur name and place. This unspoiled and natural coastline draws in people to enjoy nature, do a road trip and visit many of the local parks in the area to breath the fresh air and natural surroundings.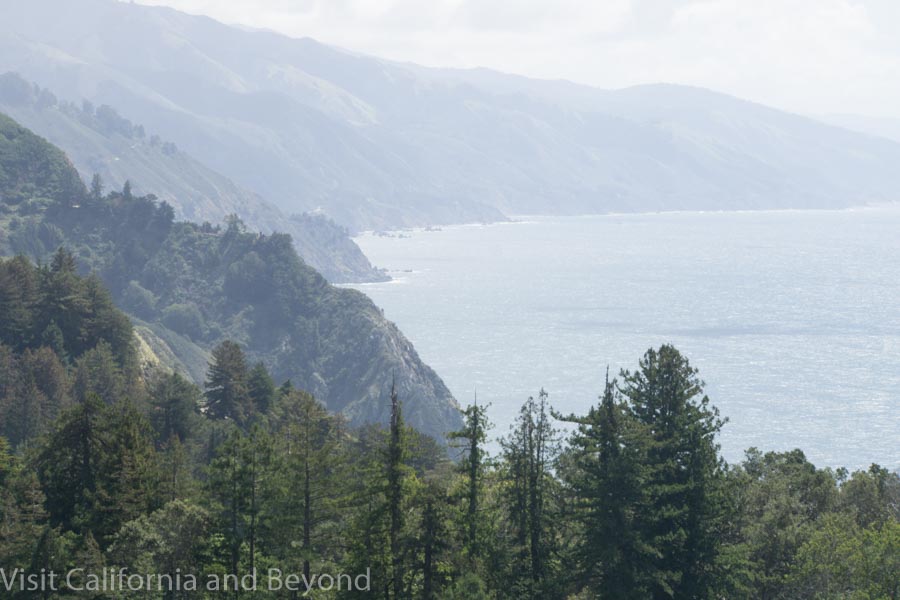 Some history on Big Sur
With windy cliffs that spontaneously create landslides into the ocean areas, creating a roadway through the stretch of Highway 1 was a long project in development and the stretch between San Simeon to Carmel was completed in 1932 and taking over 19 years to complete.
You can now travel the entire stretch of Hwy 1 starting from San Juan Capistrano in the south and Legget up in Mendocino County along the Pacific coastal highway or Hwy 1 or PCH as it is called locally There have been several landslides closing off the roadways around Big Sur even with one that closed off the area from landslides in 2019 and repaired.
Top things to do in Big Sur and surrounding area
It's all about being outdoors and active around Big Sur and exploring these favorite places, activities and delicious dining venues in this area.
The best way to explore all of Big Sur is to take a road trip driving the entire coastline area from North to South or the reverse route.
This is one of the joys of exploring the area on a road trip and stopping where you want if you see anything that interests you along the way. Following are some of the top attractions to explore along the way.
Point Lobos State Reserve
One of the most stunning scenic coastal areas and a state park, Point Lobos is wild, rugged and beautiful. The best thing to do here is hike all the coastal trails through the hidden coves, bluffs and cliffs zig zagging through the scenic points, overlook areas and dense forest that open majestically to stunning rocky outcrops and deep azure to blue ocean.
Two of the most attractive spots to visit include China Cove and Bird Island Lookout for some cool views and places to photograph and even do selfies if you like. You'll see harbor seals, sea lions and even whales in season around the coves and deep waters outside in the ocean. In winter time, you'll find the migrating whales come down from Alaska and skirt the areas off Point Lobos which is a perfect area to whale watch along the coastline.
Other popular activities to do in the are include diving, kayaking, hiking, bird watching or just enjoy the nice coatline views close to the parking area if your timeframe is more limited.
Visit the Point Lobos website here for more details to visiting.
Point Lobos area is simply stunning on these amazing hike below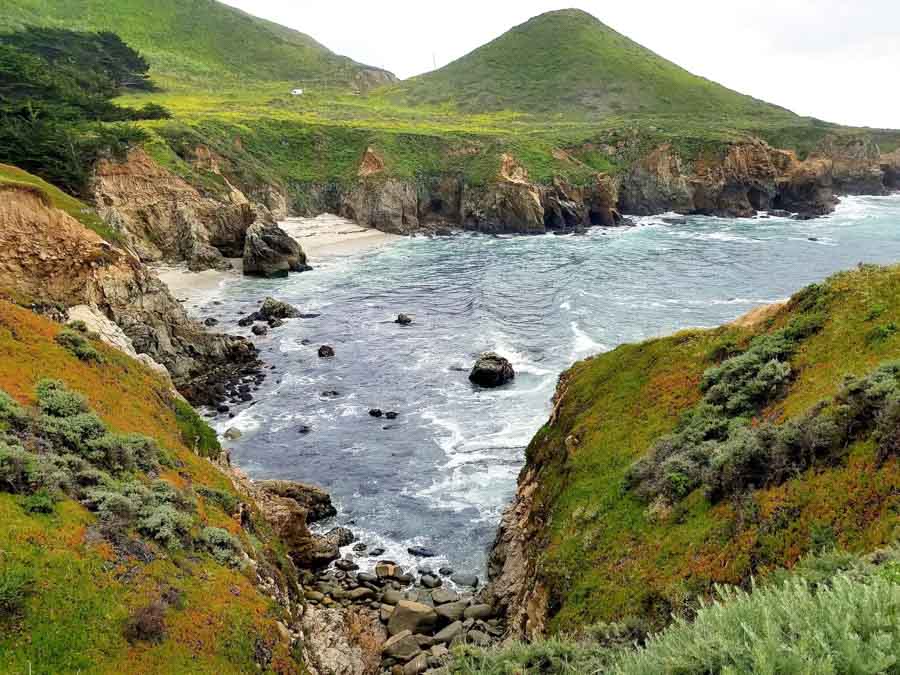 Garrapata State Park Bluff
This area has so many beautiful overlook areas into the coastline and ocean that demands a stop to enjoy the views. You'll enjoy taking some of the coastal trails into woody forests and even fields of wildflowers and calla lilies blooming in large swaths around the park area. The main Garrapata bluff trail takes you on a loop trail through gorgeous coastal terrain, rocky coastlines and beautiful vista point. You have access to Garrapata beach here to enjoy some beach time fun even though the water is freezing cold with the Pacific Ocean.
You can easily hike the Soberanes Canyon Trail which is a very scenic coastal trail that overlooks the various bluffs and coastline views and is perfect for photo opportunities.
Here's a look at the Garrapata State Park Bluff in video below
Calla Lilly Valley
You can continue from the Soberanes trail to Calla Lilly Valley for all the wild calla lilies that bloom from February to May time frame and dotting the entire landscape with white calla lilies. The scene here is perfect for capturing a unique part of the wild flowers in bloom here.
Check out the gorgeous Calla Lilly Valley area below for inspiration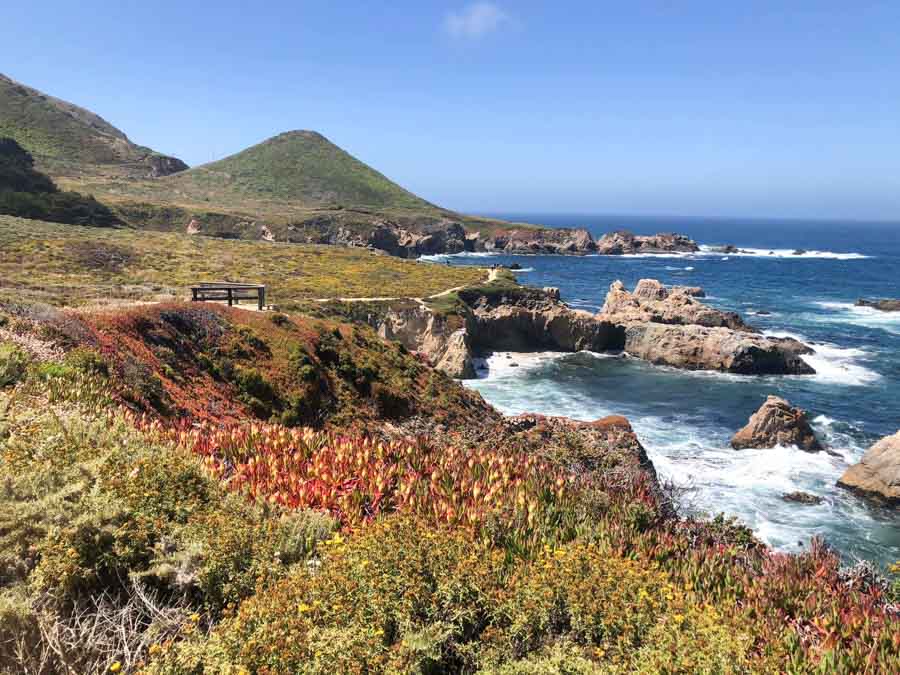 Garrapata Beach
You can access the long stretch of beach here directly from the parking lot area and next to Calla Lilly Valley. Not to be confused with Garrapata State Park, the beach trail is scenic with wild flowers that bloom in the spring time and a perfect time to visit the area.
Get out and explore the beach area of Garrapata Beach below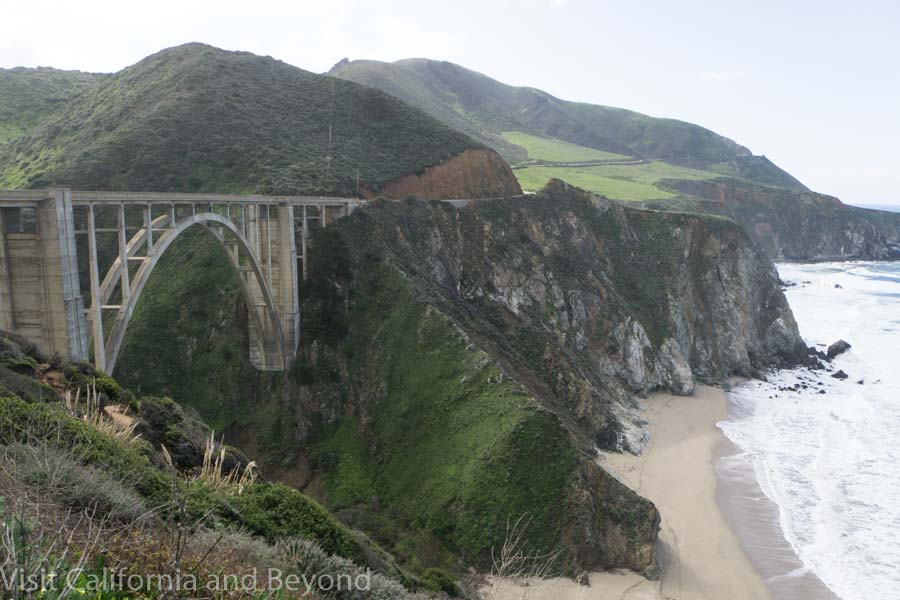 Bixby Bridge
One of the most photographed spots of Big Sur is Bixby Bridge that spans a large gulch that fronting the ocean check out the views from each side to get a different vantage point to the bridge and coastline. There is a turnout point for parking and you can enjoy the views, wait for sunset or look out for groups that are searching for the rare endangered California Condors that were released in this area to breed.
Built in 1932, the bridge is one of the largest single span bridges over a height of 280 feet, which was impressive to build in its day. The bridge has been used in numerous commercials, TV shows and movies worldwide so it is a well-recognized landmark in the TV and movie industry.
Here's a gorgeous view of the Bixby bridge from above
Old Coast Road
This stretch of road is about 11 miles in length and was originally Hwy 1 before the new highway was built. The Old Coast Road is and old dirt road, it is slow and winding with rolling hills, livestock eating away and is exactly California of the past that you'll love taking it all in.
The Old Coast Road is rugged and beautiful to experience this off the beaten path experience below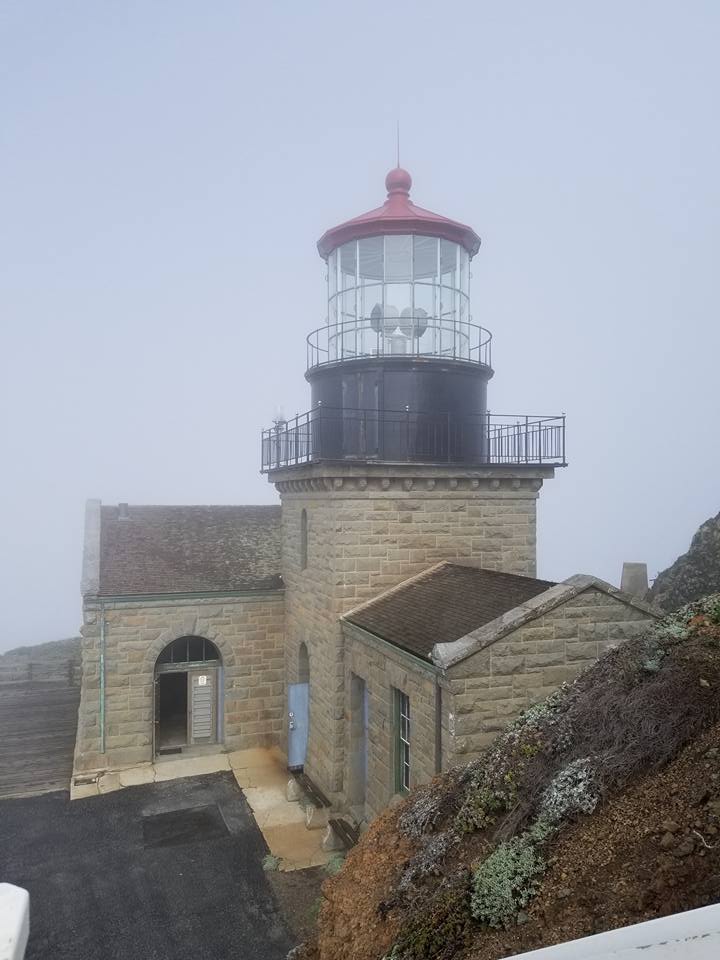 Point Sur State Park and Point Sur Lighthouse
You can enjoy the trails and hiking around the state park and exploring the fun tidepools by the ocean. Also, you can reserve a tour at the lighthouse which only takes 40 people per 3-hour tour with a guide sharing the history, facts and other trivia about the area.
Check out this gorgeous video on the Point Sur State park and lighthouse
Pfeiffer Beach
A really fascinating beach that actually has purple sand, Pfeiffer beach is a fun destination to explore and scoop up the sand between your fingers (just don't take it home for your souvenir) There's an entrance fee of $10 to enter the beach but it is worth it for something rare that you'll not find in any other beach in California. Located off Sycamore Canyon road, go down the narrow and winding road until you get to the entry point to pay your fee. The wide stretch of beach is beautiful and the purple sand found in concentrations of the beach is made from eroding minerals with garnet that wash down from the hillsides into the beach area. There is a cool ocean rock with an open hole that is fun to check out.
The purple sand beach at Pfeiffer beach is stunning especially on rainy run off days below
Pfeiffer State Park in Big Sur
You can hike a variety of trails in the park mostly in forested and open hills and meadows to include the Pfeiffer falls trail hiking trough redwood forest into a waterfall that cascades 60 feet from the top or the Gorge trail that lets you take a dip in the many swimming holes in the area. You can also camp at Pfeiffer camp grounds here for a reasonable fee per night.
Check out the highlights to visiting Pfeiffer State Park in Big Sur
Henry Miller Memorial Library
The famous writer who wrote scandalous books involving sex and was banned in the USA during the early 1900s live in the Big Sur area from 1944 to 1962 and the library was built in his honor.
This bookstore/library is unique with his old typewriters, artwork, foreign currency on the ceilings and a cool forest garden to explore around the library.
Check out the Henry Miller Memorial Library below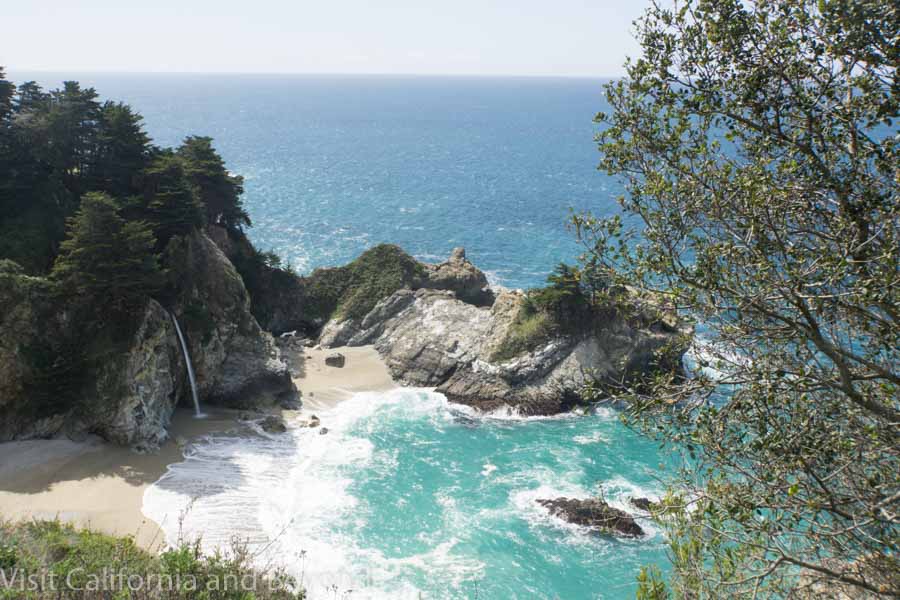 McWay Falls
Just as popular as the famous Bixby Bridge the McWay Falls are an iconic landmark that is captured in photographs from almost every visitor to the area. From the overlook area that's marked you can see it from above or even walk through the short trail to the viewing area. You can only capture the falls from this vantage point above on the viewing areas and there is no access to the beach areas below unfortunately. Watching the falls empty out into the Pacific Ocean is magnetic and easy to watch for a long time.
Check out the hike and views of McWay Falls below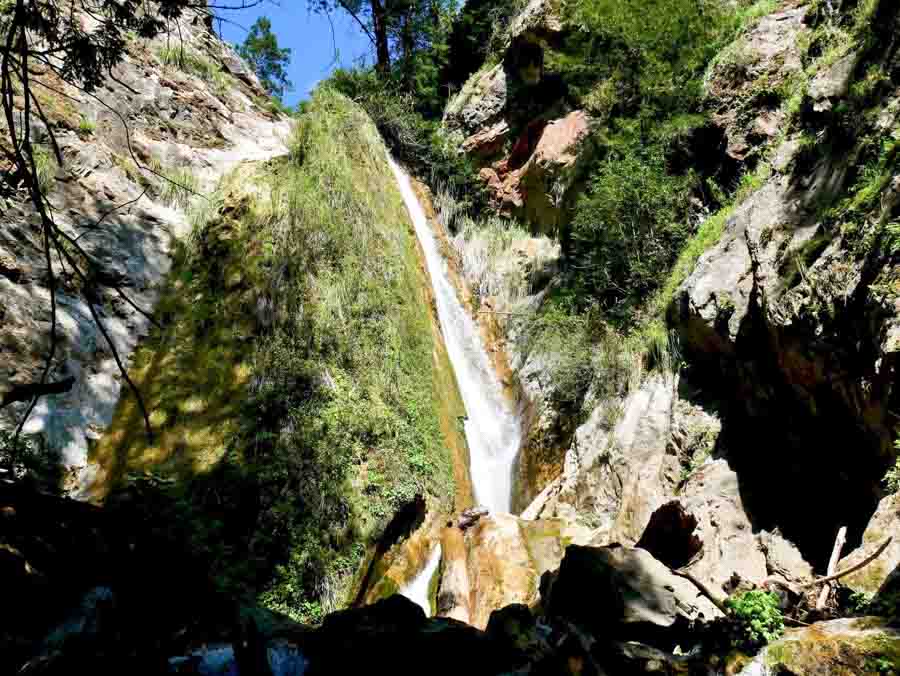 Limekiln Falls
Located in Limekiln State Park, the hike to the falls is less than 1.7 miles on moderate rated trail and you view the 100-foot waterfall into Limekiln Creek, there's also a series of small waterfalls you can view along the way. Campers might want to consider staying at Limekiln Falls State Park overnight to camp or RV park in the grounds. Interesting enough if you hike the Kiln trail, you'll come across some of the four old kilns on site that were used to extract lime during the late 1800s.
Check out this fun tour of Limekiln Falls below
Place's worth stopping to eat at Big Sur
There's a lot of iconic places to eat, some old, some new and few pretty kitschy to enjoy and know that you are in Big Sur.
Big Sur River Inn – A hotel restaurant and bar where you can dine in or eat out on the large grassy area or even eat your lunch on the stream bed which is a very popular activity. Serving bistro fare with salads, chicken, fish and chips and easy takeout food.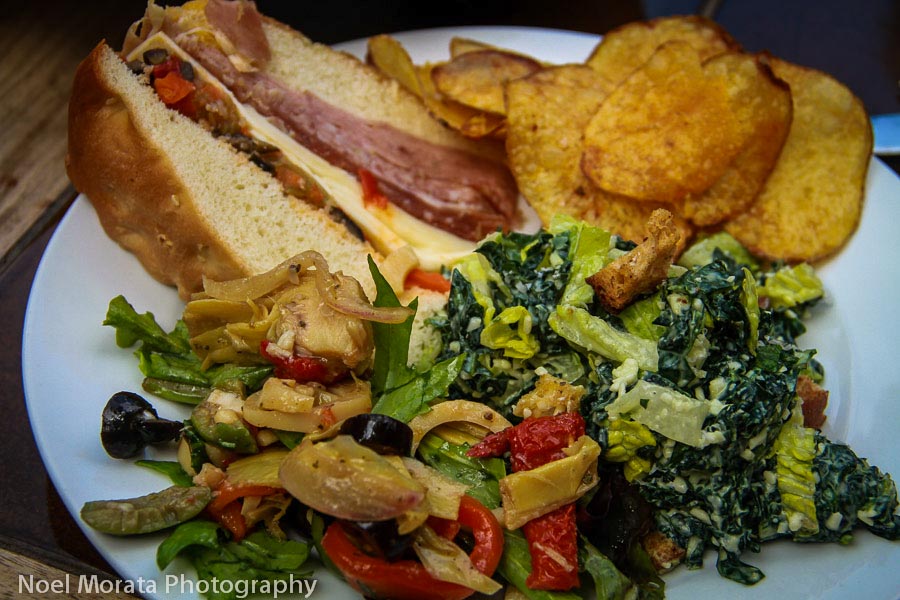 Big Sur Road House – a cool and hip vibe with delicious food in a home-grown modernism style with California cuisine, farm to table, organic and local ingredients with nice sized foods with salads, entrees, sandwiches and pub style fare.
Big Sur Bakery – fantastic pastries, breakfast food to healthy salads, fried chicken, pastas and other California inspired dishes.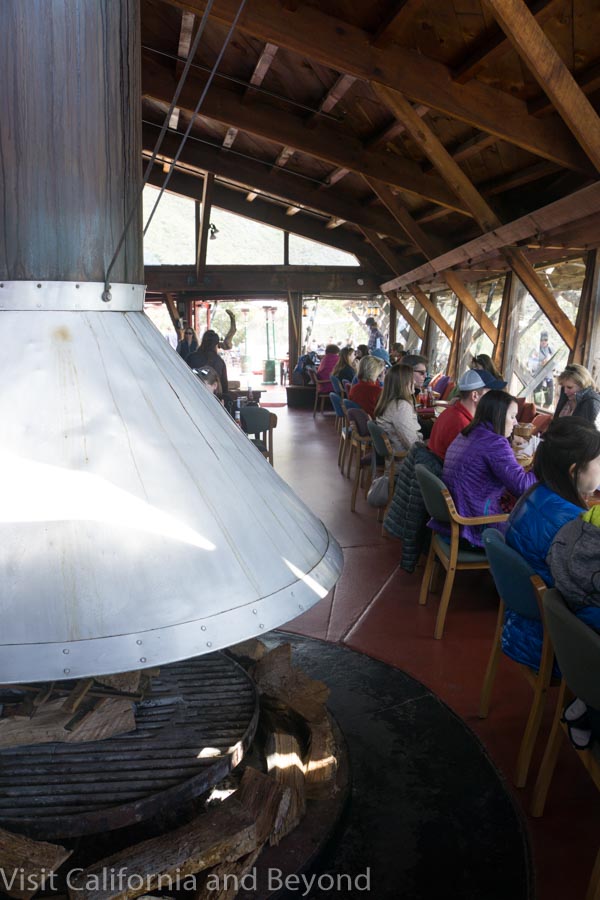 Nepenthes Restaurant – an iconic restaurant located on a bluff overlooking the entire stretch of coastline line all the way down to San Simeon on a clear day. Serving organic sales, bistro foods in a farm to table concept of healthy and delicious foods. Make reservations in advanced your wait will be very long.
Check out these top things to do and places to see around Big Sur below
Places to stay in Big Sur
Most accommodations tend to go in the expensive range unless you camp or glamp. Another option is to stay in less expensive areas closer to Monterey and Carmel
There are camping options to stay in Big Sur area – still pricey for camping but cheaper than the hotels in the area
Stay at Tree bones resort for Glamping fun
Limekiln State Park Camp ground – basic camping information
Big Sur Camp Ground and cabins – choice of camping, RV or renting out one of their cabins
Pfeiffer Big Sur State Camping – Camping and RV standard camping spots
Hotels and inns at Big Sur are pricey but worth it so you can take your time and explore the area in more detail. Check out these top rated hotels and inns here for updated information.
Fernwood Resort – friendly, comfortable and spacious rooms with a woodsy and tree secluded vibe and quiet cabins that are attractive and cozy. Priced well for the area.
Ventana Big Sur – Luxurious and rustic combined modernism and nature inspired. An Allila property in a luxurious setting with gorgeous suites, attentive service and perfect amenities to compliment your stay.
Post Ranch Inn – Ultra luxurious and contemporary, fantastic food, service and impeccable stay and experience in this top notch resort.
Check out these best reviewed places to stay through Trip Advisor here for updated calendar, availability and prices.
Take a look and see how the all inclusive Ventana experience looks like below
Can you camp around Big Sur?
Yes, camping is a popular activity in the Big Sur area. There are several campgrounds and camping options available for visitors to enjoy the natural beauty of the region. Some of the notable campgrounds include:
Pfeiffer Big Sur State Park: This state park offers a campground with sites nestled among redwood trees. Amenities such as restrooms, showers, and fire pits are available. Reservations are recommended, especially during peak seasons.
Andrew Molera State Park: This park provides primitive camping options along the Big Sur River. Campers can enjoy the peaceful atmosphere and explore the park's hiking trails. Facilities are limited, so visitors should come prepared.
Julia Pfeiffer Burns State Park: While this park does not have camping facilities, it offers a hike-in environmental campground known as the "Saddle Rock Camp." Campers can enjoy ocean views and the tranquility of the coastal surroundings.
Kirk Creek Campground: Located on a bluff overlooking the Pacific Ocean, this campground provides stunning views and a peaceful camping experience. It offers basic amenities and is known for its beautiful sunsets.
It's important to note that camping regulations and availability may vary, and reservations are often required. Additionally, it's recommended to check for any temporary closures, fire restrictions, or permit requirements before planning your camping trip in Big Sur.
Weather and best time to visit Big Sur region
Weather Overview: The weather in Big Sur is influenced by its coastal location, creating a mild and temperate climate. Here's an overview of the different seasons:
Spring (March to May): Springtime brings pleasant temperatures, with average highs ranging from the 60s to 70s Fahrenheit (15-25°C). It's a beautiful time to witness colorful wildflowers blooming along the coastline.
Summer (June to August): Summers in Big Sur are generally dry and warm, with average highs in the 70s to 80s Fahrenheit (25-30°C). It's the peak tourist season, so expect larger crowds. The coastal breezes provide a refreshing respite from the heat.
Fall (September to November): Fall offers mild and pleasant weather, with temperatures ranging from the 60s to 70s Fahrenheit (15-25°C). It's an excellent time to visit, as the summer crowds start to diminish, and you can enjoy the region's natural beauty in a more tranquil setting.
Winter (December to February): Winters in Big Sur are cooler and moister, with average highs in the 50s to 60s Fahrenheit (10-20°C). Rainfall is more common during this time, creating lush greenery and cascading waterfalls along the coastal cliffs.
Best Time to Visit: The best time to visit Big Sur depends on your preferences and interests. Here are some factors to consider:
Weather: If you prefer mild temperatures and want to engage in outdoor activities like hiking and exploring the beaches, the spring and fall months are ideal. The weather is pleasant, and the landscapes are vibrant.
Crowd Levels: If you prefer a quieter experience with fewer tourists, consider visiting during the shoulder seasons of spring or fall. These times offer a more serene atmosphere and better opportunities to appreciate the natural surroundings.
Whale Watching: If you're interested in whale watching, plan your visit during winter or early spring. Gray whales migrate along the coast during these months, providing a fantastic opportunity to witness their majestic presence.
Ultimately, the best time to visit Big Sur depends on your personal preferences and the experiences you seek. Regardless of the season, Big Sur's natural beauty and dramatic coastline are bound to captivate you throughout the year.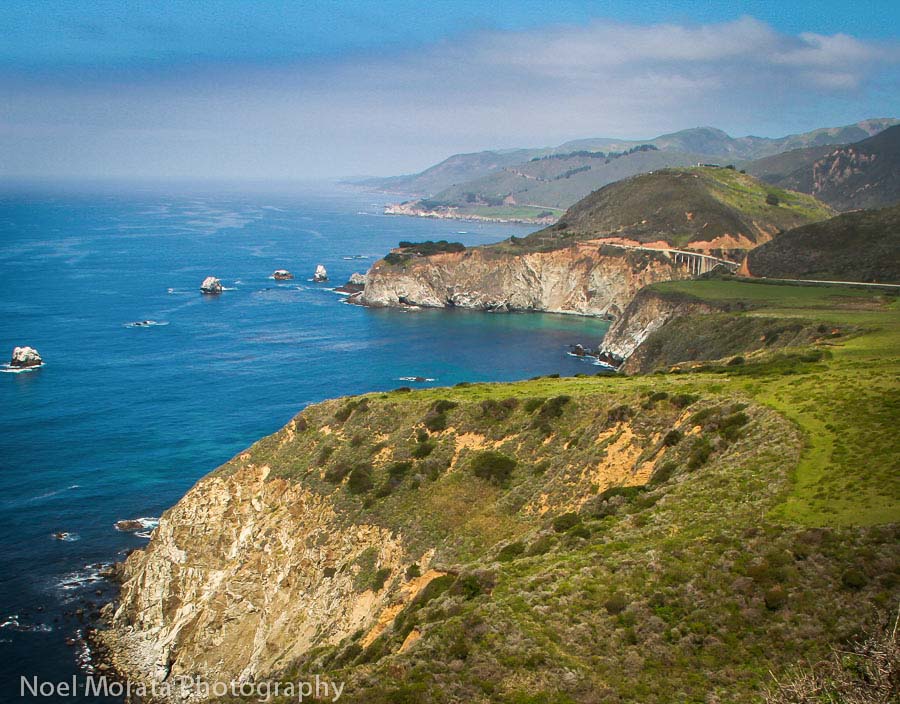 Other tips on visiting Big Sur
Cell service and internet is poor and almost none existent in the area with minimal towers, so grab a map to map down all the places you want to stop along the way to enjoy
Wear layers or bring extra clothes for those foggy and cold nights and mornings, the coastline areas are chilly at night to the late morning when the fog typically burns off
Pick up a tourist map at any venues to show you the places you might want to visit and where they are located old school especially when cell service is poor
Bring binoculars to spot those wild condors, grey whales or illusive brown bears in the backwoods areas
Everything books up quickly in the peak months so always have your reservations set for sleeping and dining arrangements in the area.
There are drop dead gorgeous beaches along this stretch but many are out of reach to non-locals that know how to reach these beaches safely, so view them safely from above.
You need to rent your own car since public transportation is not available. There are also tours that take you through Big Sur and surrounding attractions from San Francisco or Los Angeles routes to the central California coast.
Things to have with you on your road trip, hand sanitizers wipes and Kleenex along with water, snacks and other essentials for sun, hiking and beach time.
That's it, enjoy your trip to Big Sur!
Check out these other places to visit in Central California
Explore Pfeiffer beach in Big Sur
Pin and save this for later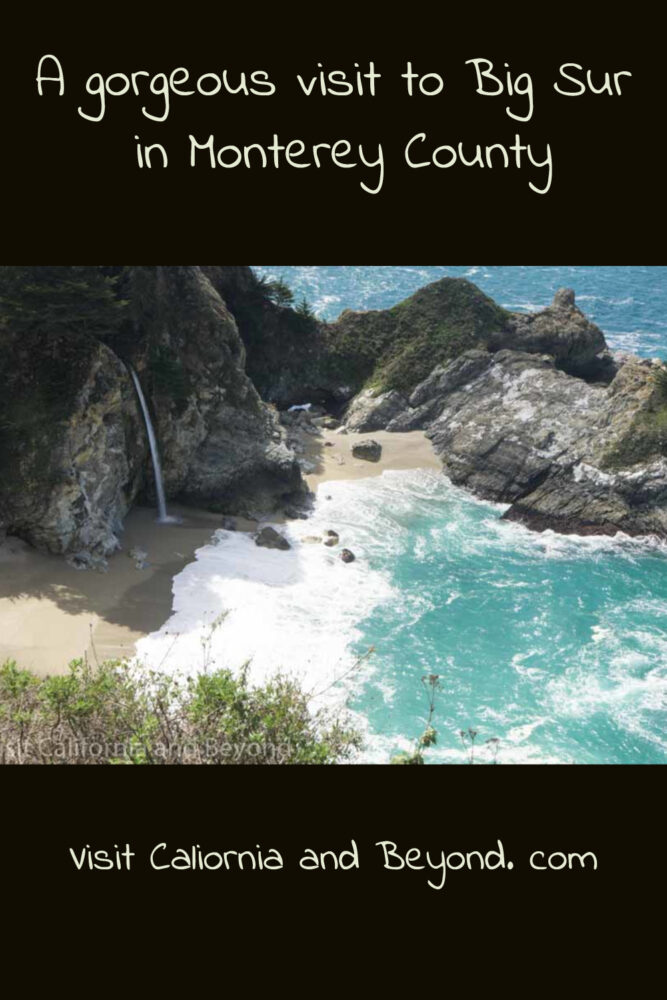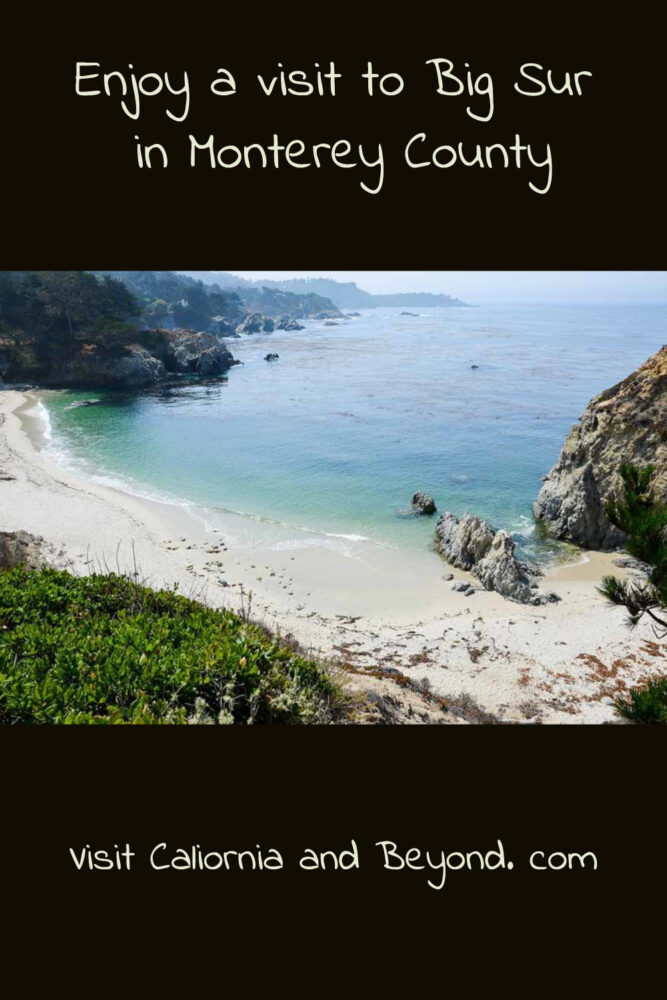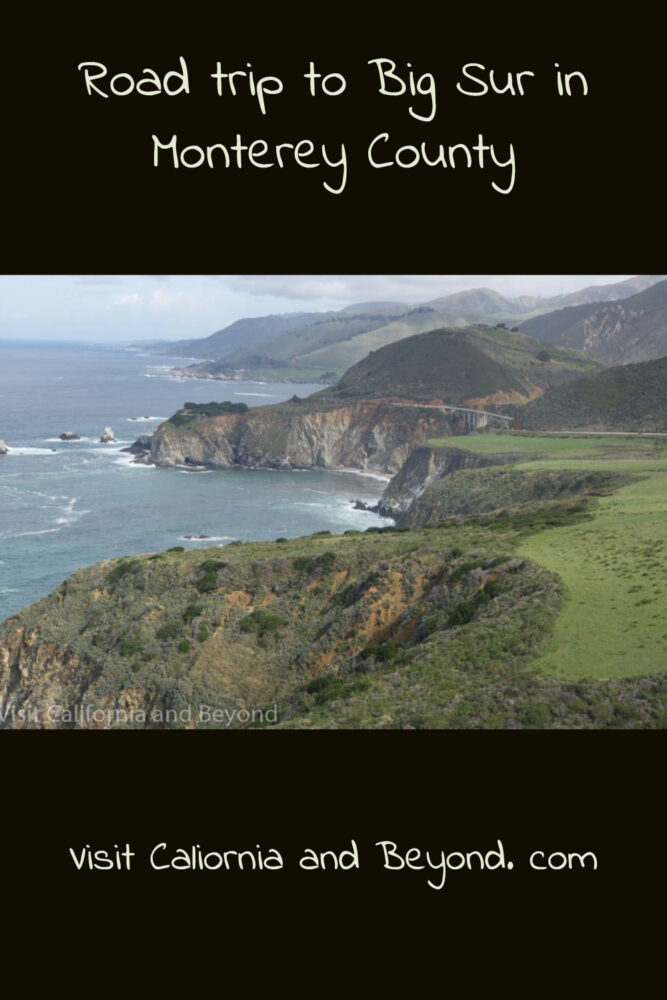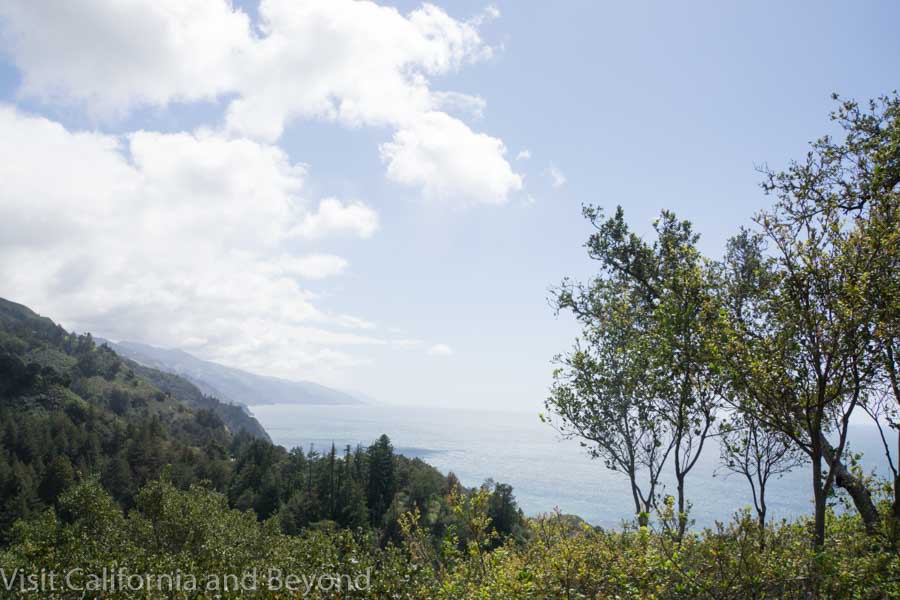 Have you been on a Big Sur Road trip?
Please share your thoughts and other recommendations in the comments below with your recommendations.
Conclusion on a Big Sur Road Trip
You will absolutely love doing a road trip through Big Sur and create memories that will last a lifetime. Whether you're driving along the scenic coastal highway, camping under the starlit sky, or embarking on a thrilling hike, let Big Sur captivate your heart and ignite your wanderlust. Unleash your inner explorer and seize the opportunity to discover the untamed wonders of this extraordinary destination.
Don't wait any longer—start planning your Big Sur adventure today. Embrace the wild, embrace the beauty, and let Big Sur ignite your passion for exploration. The wonders of Big Sur await you, ready to be explored and cherished.
Thanks for visiting today and checking out this post on a Big Sur Road trip. I hope you are inspired to plan a visit and enjoy these wonderful attractions. If you enjoyed the images and post, could you please share it with any of the social media buttons located around the post.
Disclosure – this post on a Visit to Big Sur Road trip may have affiliate related links to brand offers which helps our site keep operating – we appreciate any purchases through this link and your supporting Visit California and Beyond.