Road trip to Point Lobos State Natural Reserve (look out points, hikes & cool attractions)
One of the most scenic stretches of coastline in Monterey County, Point Lobos State Park Reserve is stunning and worth visiting some of the gorgeous trails and lookout points on the coastline here. The entire stretch of the state reserve is stunning with gorgeous hikes, hidden coves, diverse wildlife and wildflowers blooming along with the abundant marine life you can safely spot from the coastal bluffs and trails that skirt the scenic coastlines.
From Carmel, Point Lobos State Reserve is less that 4.2 miles or less than 9 minutes driving down Highway CA – 1 S.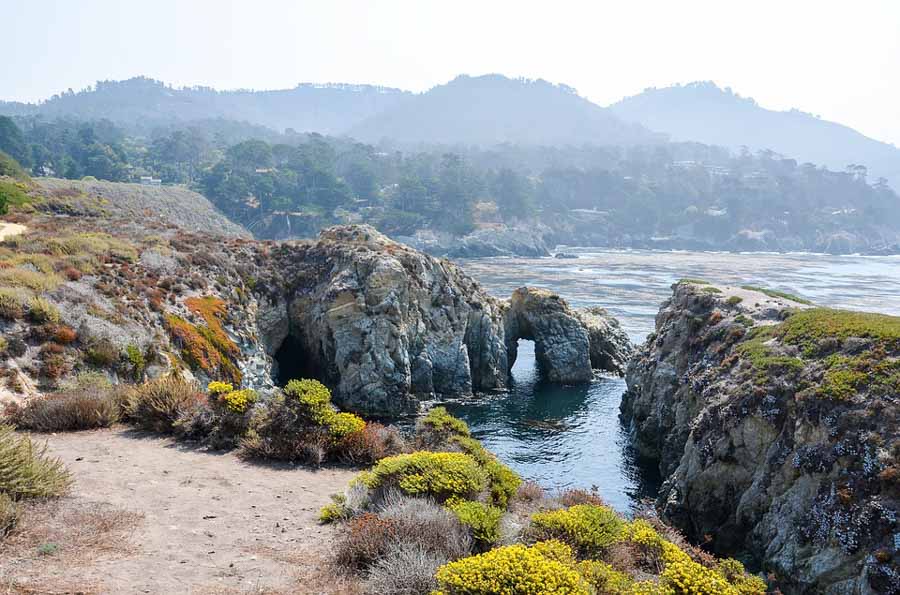 How to get to Visit Point Lobos State Natural Reserve
Located just a short drive from downtown Carmel, take Highway 1 about 10 minutes' drive until you see the sign for Point Lobos State Natural Reserve on the right. Entry to the park area and parking areas is $10 per car and fills early. If that is the case, you can also park on the surface road and just walk into the park grounds.
When you get to the parking entrance, the attendant will hand you a Point Lobos State Natural reserve map with all the main hiking trails and other popular attractions to visit around the park area.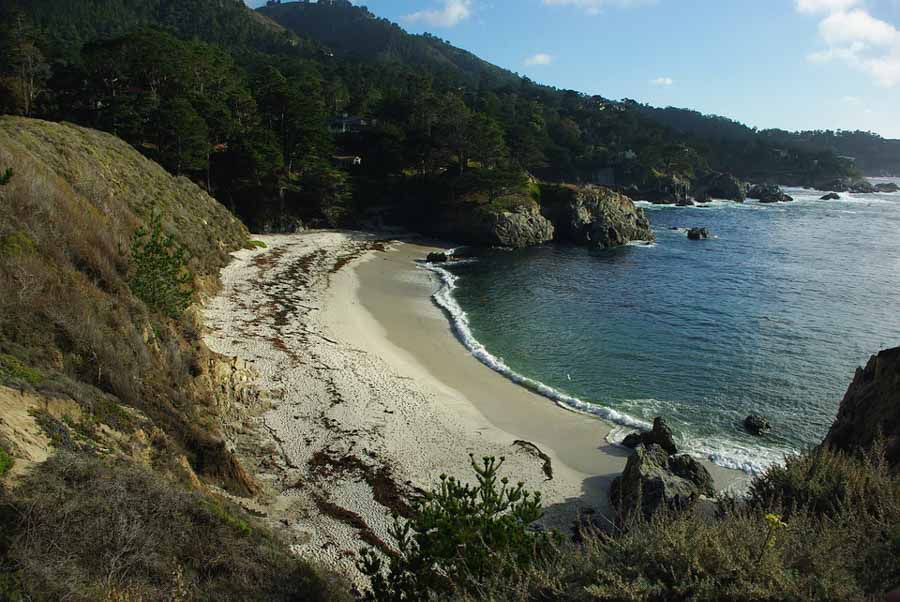 How much time to visit and what to see at Point Lobos State Reserve
A visit to Point Lobos State Reserve is a must when you are exploring Monterey County and the gorgeous coastline areas. You can easily see some of the major scenic spots driving around Point Lobos and also taking in some of the short trails in a half day.
But if you have more time, a full day will give you a lot of opportunity to explore many of the scenic trails, beaches and hidden coves along with stunning landscape, wildflowers and the gorgeous cliffs and majestic rocks on the coastlines of the park. This is an easy day trip from Monterey, San Jose or the greater Bay Area to explore the park.
There's no best time to visit Point Lobos which tends to hit the same coastal temperatures year-round but visiting timeframes are probably best in the spring when wildflower season is just starting around April to May.
With more time like a long weekend, you can spend more time here along with explore fun areas in Carmel, Big Sur and Monterey County.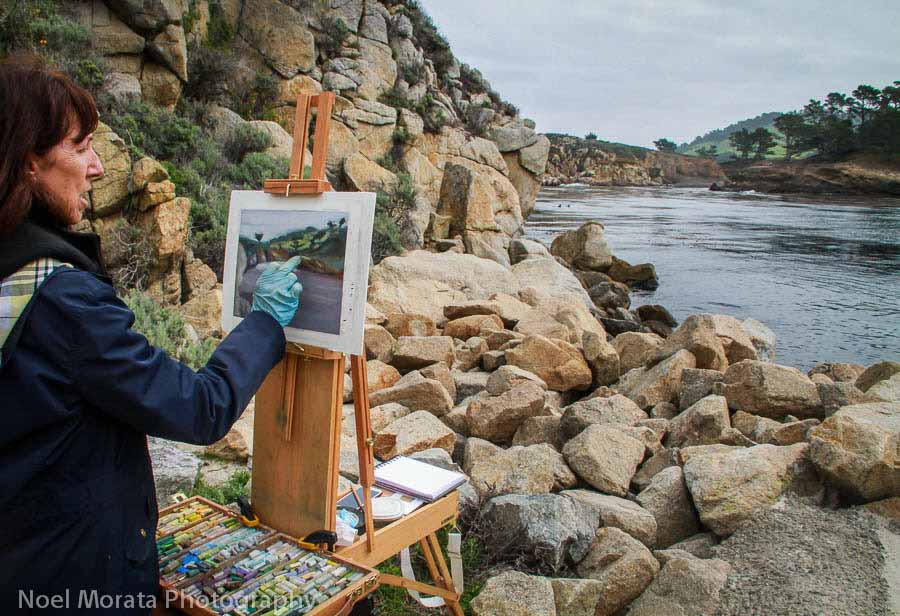 Under the Sea
Diving around Point Lobos is allowed with permits and a very popular diving spot to see some amazing California fish, corals and other marine life in the area.
Check out how cool the corals and marine life look like in ocean on this ocean dive at Point Lobos
Here are the best Point Lobos trails to explore
Point Lobos is a hiking paradise and you can't go wrong doing any of the scenic trails in the park grounds. But if you only have a limited time frame to explore, there are quite a few coastal Point Lobos trails to experience that are easy and fast to do.
You will find trail maps that the check in attends will hand out or also at the various trail heads, maps will be at the start to show where the trails are located around the park area.
Point Lobos Hike Difficulty
There are multiple trails that combined can be a nice loop walk from start to end. Most of the trails are on dirt and gravel and relatively easy to some moderate hikes around the reserve. Here are some of the recommended hikes to go on to see the best vistas and areas of the park.
The most scenic and popular Point Lobos trails to visit on a short timeframe
Cypress Grove Trail, Gibson Beach and China Cove.
Popular Point Lobos hikes and trails to visit
Point Lobos Loop Trail
Length – 5 miles
Elevation gain – 741 feet
Route – coastal loop trail
Difficulty – easy to moderate
This trail circles the coastline areas of Point Lobos State Reserve and the entire loop is 5 miles roundtrip. It is a great way to see the highlights of the area instead of individual trails around the park.
Best parking area – start at Bird Island and you can catch the trail from that location and the Pot Lobos Loop trail combines the Bird Island, South Plateau, Cypress Grove, Seal Rock and the coastal trail combined.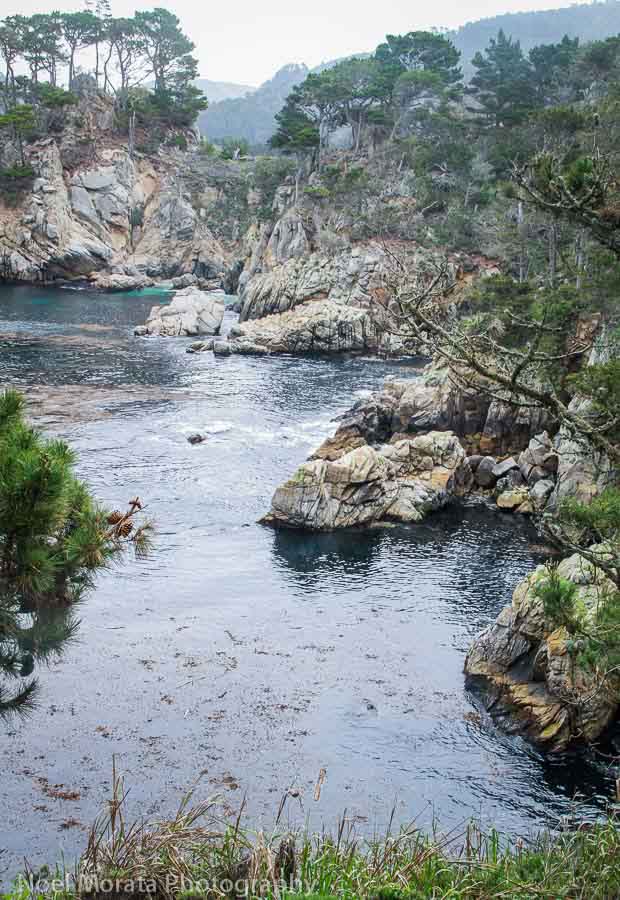 South Shore Trail
Length – 2.5 miles
Elevation gain – 150 feet
Route – Loop trail
Difficulty – Easy
This scenic trail takes you through the southern portion of the state reserve on a loop trail. It covers various observation points and stops to include: Sea Lion Point, Weston Beach and Hidden Beach.
Parking at Bird Island area and look for the trail head with great ocean and coastal views and is a kid friendly hike.
Bird Island and China Cove Trail
Length – .8 miles
Elevation gain – 75 feet
Route – coastal loop trail
Difficulty – easy
This easy and fast to do trail combines both Bird Island and the China Cove Trail in a loop for beginners or those with not much time to explore the park area. This is a great trail to watch marine life like sea lions, otters, pelicans and other birds living in the sanctuary. Best spot for a view is at Pelican Point to China Cove view point. One of the easiest of the Point Lobos beach to get to and explore, you will enjoy beach combing here and even catch some rays if the day is sunny.
North Shore Trail
Length – 2 miles
Elevation gain – 70 feet
Route – out and back
Difficulty – Moderate
This hike on the North Shore Trail can be started at the Cannery Point Parking lot and head up the incline to check out the views of the Whalers cove area, Coal Shute Point and then into Bluefish Cove. You'll pass through a shaded pine forest and also check out the Old Veteran Cypress which is a short detour from the trail.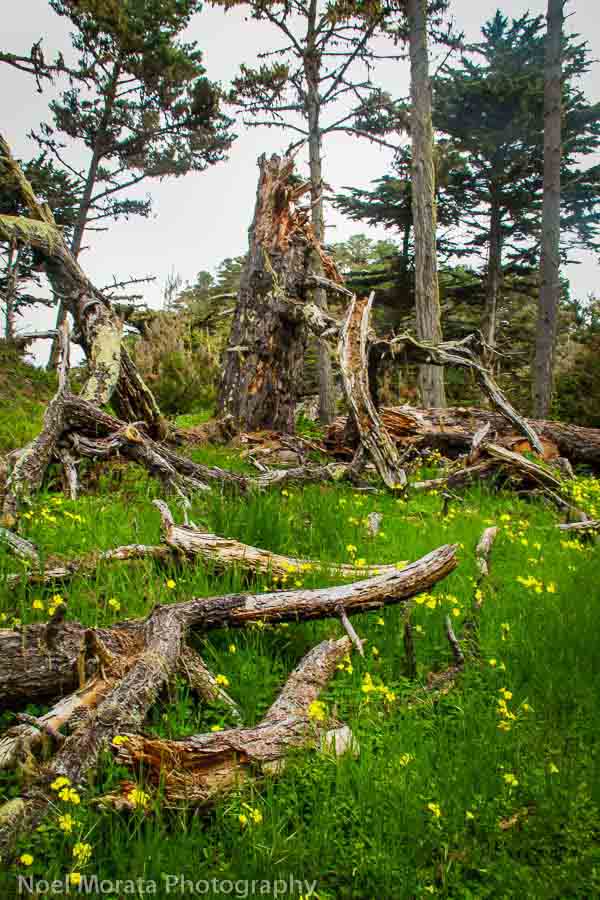 South Plateau Trail
Length – 1.4 miles
Elevation gain – 30 feet
Route – out and back
Difficulty – Easy
This hike takes you from the park entrance to Gibson Beach. From the highway, the trail is .7 miles before you get to hike through the coastal areas along the south side of the park
Granite Point Trail
Length – 2.8 miles
Elevation gain – 70 feet
Route – Out and back
Difficulty – Easy
You'll get to see all the highlights of the park covering ocean views, grassy and wildflower meadows to forested and shady woods along this trail. Start the hike from Whaler's Museum and onto the bluff at Whaler's Cove. Follow this through a grove and meadow up to Coal Chute Point. You can go through the ravine area on the way back to get a closer look at otters and harbor seals in the areas below.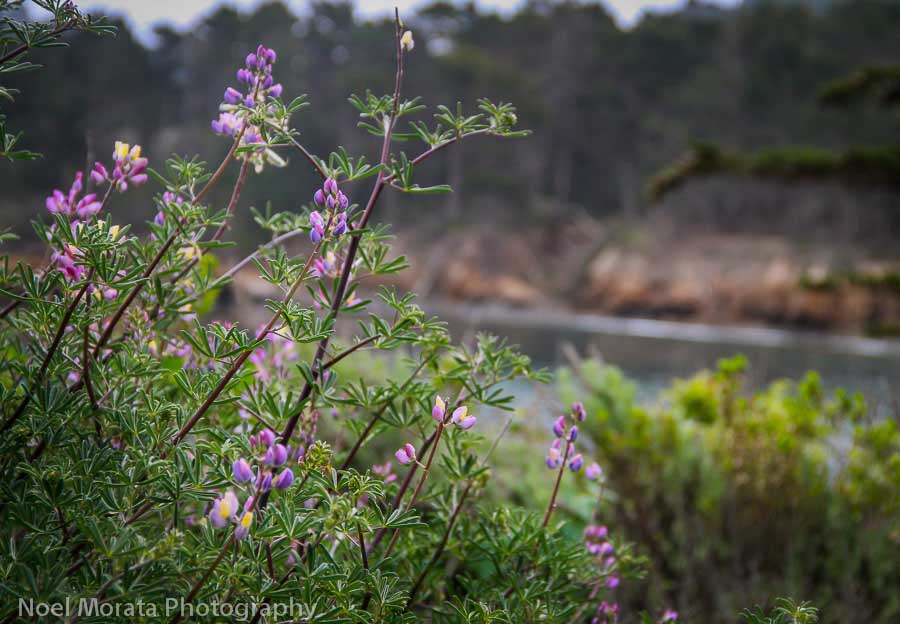 Here are some of the favorite trails to do around Point Lobos below
More tips to visiting Point Lobos State Natural Reserve
What to bring to Point Lobos
Weather is always variable here from cloudy, windy, rainy to nice sunny skies so it is advisable to wear layers that you can easily take off if conditions get warmer. Essentials to having on your visit include:
Rain Jacket or warm jacket that you can pack away easily if it is warmer
Back pack – perfect for storing jackets, snacks, drinks and other essentials
Drinks and snacks – good to pack some food, water or energy drinks to keep you hydrated while visiting the park
Sneakers – most of the trails are easy or slopping so having sneakers to grip rock, gravel or loose dirt is essential along the coastal trails.
Sunglasses – good for hot and sunny days
Sunscreen – good for those extra sunny and hot days hiking
Binoculars – perfect for viewing marine life, birds and other wildlife at a distance and closer up but safely at a distance.
Bring food and drinks since there are no concessions here if you want to spend the entire day here.
Point Lobos is also wheelchair accessible
Additional notes and tips to visiting Visit Point Lobos State Natural Reserve
Point Lobos parking does fill up in the later morning time frame, plan to arrive early to get a parking spot in the parking areas or you can park just outside on the main road and walk into the state park.
The scenic trails are rolling and involve some stairs and incline hikes, be prepared and wear sneakers or strong gripping shoes
The is poison oak in the park and along the trails so keep on the lookout and avoid touching these plants
The reserve is open from 8am to 5pm and closes promptly, so do watch your time in the later afternoon
Check out more information here to visiting Point Lobos State Natural Reserve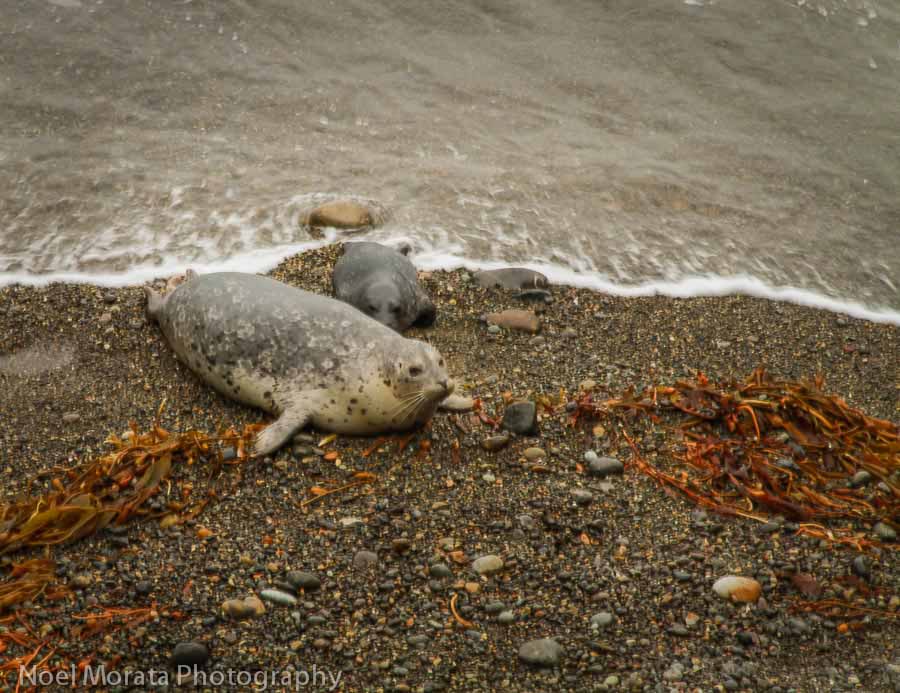 Other fun things to do at the park
If you are bold enough to try, snorkeling and scuba diving is popular and the coastal waters are filled with sea life, kelp and other marine life
Check out all the marine life in the hidden coves and shoreline areas that are inaccessible to reach
The tidepools and also fun to explore along the shoreline access areas and beaches. Best tide pool area is just off Weston Beach
Some of the protected coves and beaches are perfect for sun bathing and beach time even though the water may be freezing cold.
Swimming is allowed at the beaches as long as conditions are safe – look around the area first to check your surroundings before you head into the water.
Kayaking is popular around the beach and cliff areas of the park, check out this exciting tour experience below.
Where to stay around Point Lobos and Monterey County
There are plenty of accommodations close to Point Lobos and Carmel area with easy drives to the reserve so you can spend more time exploring the area. Check out these top rated accommodations here for updated prices and availability.
Carmel River Inn – Sitting at a river and close to the marine reserve and 10 acres of gardens, trees and privacy, the cabins and inn rooms are comfortable, modern with artfully designed rooms.
Carmel Mission Inn – Comfortable and spacious, in a convenient location with heated pool and hot tub. Affordable price range and friendly service.
Pine Inn – great location in the heart of Carmel with a European flare, great breakfast service, comfy rooms and easy parking.
Check out these best reviewed places to stay through Trip Advisor here for updated calendar, availability and prices.
Check out these other posts on visiting Central California
Monterey Tours in Central California
Explore Pfeiffer beach in Big Sur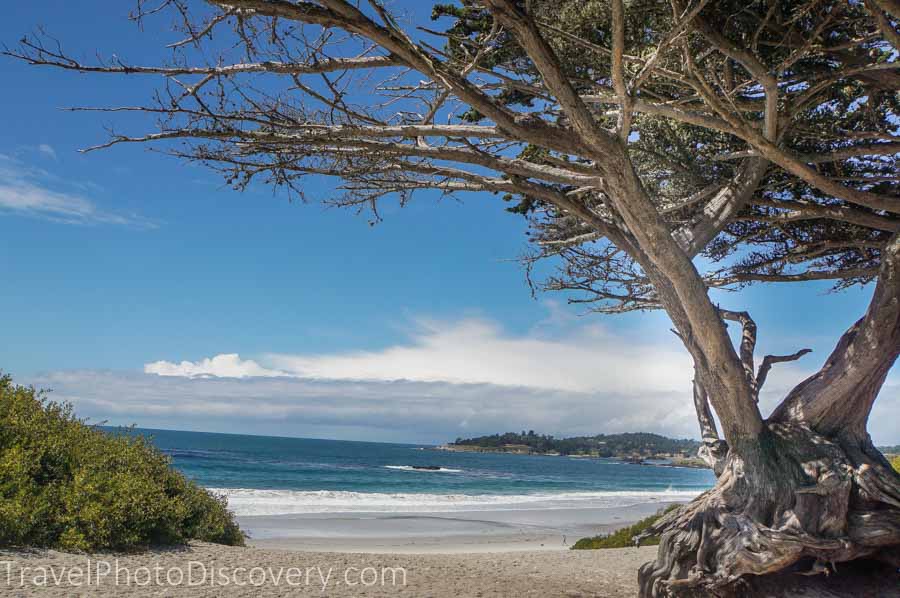 Have you Visited the Point Lobos State Natural Reserve?
Please share your thoughts and other recommendations in the comments below with your recommendations.
Thanks for visiting today and checking out this post on a Road trip to Point Lobos Natural Reserve. I hope you are inspired to plan a visit and enjoy these wonderful attractions. If you enjoyed the images and post, could you please share it with any of the social media buttons located around the post.
Disclosure – this post on a Visit Point Lobos State Natural Reserve may have affiliate related links to brand offers which helps our site keep operating – we appreciate any purchases through this link and your supporting USA Road Trip Now.