Discover the Majestic Beauty of McWay Waterfall in Big Sur
One of the most Iconic spots to visit and photograph in Big Sur area is McWay waterfall. A visit to McWay falls is easy with a short trail hike to an observation area above the falls. The iconic Big Sur Waterfall is a popular spot to visit and photograph and do some selfies at this popular venue.
An easy to drive to venue with a short hike to the viewing area, this scenery is a must stop to capture and enjoy this gorgeous view that you can only see from above.
Where is McWay Waterfall falls located?
Located at Julia Pfeiffer Burns State Park, McWay Falls in Big Sur is one of the most scenic falls in the state and cascades from the cliffs and lands directly on the beach area facing the ocean area in a dramatic view to the ocean. As you travel on Highway One around the park area of Pfeiffer Burns State Park and it curves to the right, look out for the McWay Falls sign and parking areas.
One of the most iconic waterfalls, McWay Waterfall in California stands out because it empties directly into the Pacific ocean from the cliff top.
Here's a drone video experience of McWay Falls below
The weather and best time to visit McWay Falls
McWay Falls in Big Sur experiences a mild coastal climate throughout the year. Summers are generally cool with temperatures ranging from 60 to 70 degrees Fahrenheit (15 to 21 degrees Celsius), while winters are mild with temperatures averaging between 45 to 55 degrees Fahrenheit (7 to 13 degrees Celsius).
The best time to visit McWay Falls is during the spring and fall seasons. These seasons offer pleasant weather conditions with milder temperatures and less fog, allowing for clearer views of the waterfall and the surrounding coastal scenery. Spring, especially April and May, showcases lush greenery and blooming wildflowers, adding to the beauty of the area. Fall, from September to November, offers a tranquil ambiance and the possibility of catching colorful autumn foliage.
While McWay Falls can be visited year-round, it's important to note that weather conditions can be unpredictable, and fog is common in the area. It's advisable to check the weather forecast before your visit and dress in layers to adjust to changing temperatures.
To make the most of your experience, plan to visit McWay Falls during weekdays or early in the morning to avoid crowds and secure parking. Take your time to admire the majestic waterfall, listen to the soothing sounds of the ocean, and embrace the serene coastal atmosphere that surrounds McWay Falls in Big Sur.
How to get to the observation area
This Big Sur waterfall hike is very easy and capable for all age groups to walk the short distance to the observation area. Basically, follow the signs on Hwy 1 and you'll pass through Julia Pfeiffer Burns State Park which curves to the right and you'll see signs for McWay Falls with just parking on the road or in the small turnout parking spot and small tunnel you can walk under the road way to the short cliffside walk. Turn right after the tunnel and walk your way to the end for perfect views of the McWay Falls in California. Access to the beach area is illegal, ha and there is no easy access to the bottom, if you are caught by rangers, you get a hefty ticket for trying to do so.
Interesting fact – you'll see some sandy areas below that the McWay waterfalls directly fall into and this was originally created by a massive landslide in 1985 that added tons of debris and soil to the beach area and created the beach area around the waterfall base.
It's a quick walk from the parking lot area and under a tunnel to get to the trail on the other side.
Here's a highlight video experience below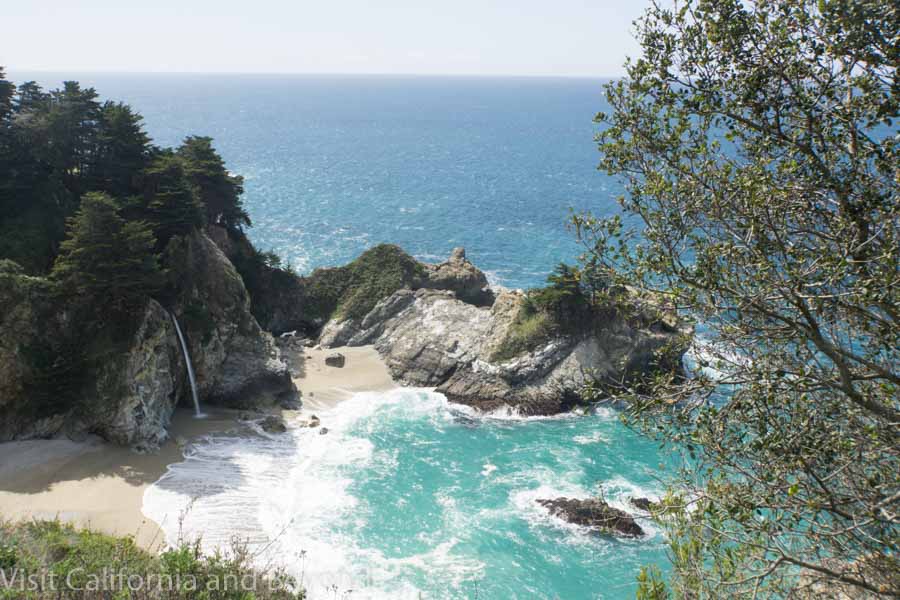 A Brief History of McWay Waterfalls
Fairly straight forward the falls, creek and canyon area are named after Christopher McWay an early settler and farmer in the area who came here in the 1870s with his son. The other well known name Julia Pfeiffer came here with her husband James B. Burns and were also early settlers and pioneers that ran the ranch at McWay Canyon. Mc Way falls in Big Sur was dedicated to Mc Way as one of the pioneer farmers in the area.
Interesting note – You'll see the remains of the Waterfall House which was a summer seaside home of socialites Lathrop and Helen Brown built in the 1940s and left the property after 16 years and donated it to the state in 1961 and dedicated to Julia Pfeifer Burns, an early pioneer of the area. The state demolished the home and left the foundations and gardens standing.
Here's a different look at the waterfalls from a water view and approach below
Other details to the McWay waterfalls hike
Cost – free
Hike details – .5 miles roundtrip hike to observation area of McWay falls
Difficulty – easy
There is no access to the beach area and you can just view the beach and waterfall from above and in the observation area. This is definitely better for crowd control and keeping the beach area pristine without people trying to enter the area. The Big Sur waterfall is always a must on your check list of places to visit at Big Sur and is relatively easy to get to from the highway.
If you want to do some additional hikes close by, check out the park website here for more details to visiting and what is currently open for day hikes in the area.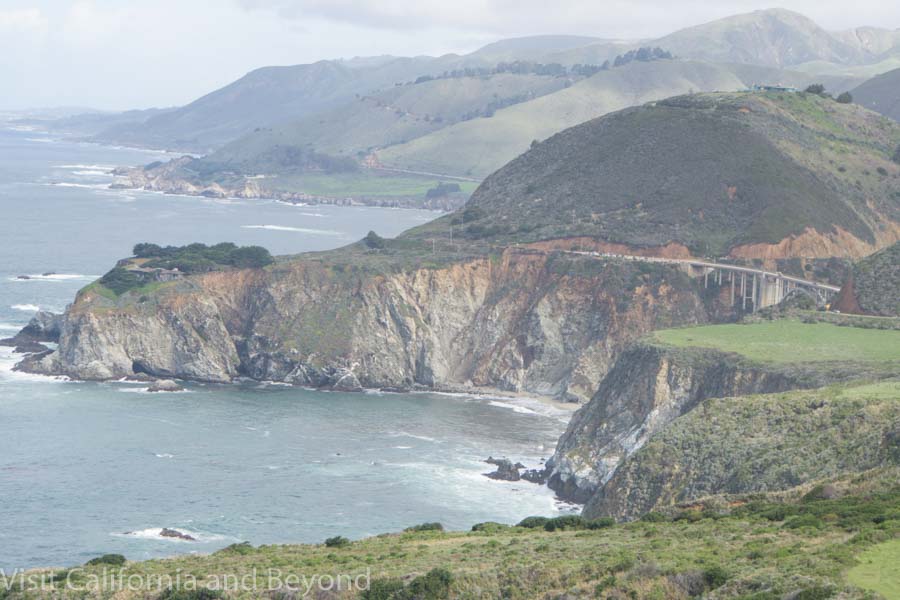 Other nearby places to explore around Big Sur
Explore the natural wonders that surround McWay Waterfall in Big Sur by visiting these nearby attractions:
Pfeiffer Big Sur State Park: Just a short distance away, this state park offers stunning redwood forests, picturesque hiking trails, and a chance to connect with nature. Don't miss the iconic Pfeiffer Beach and its distinctive purple sands.
Bixby Creek Bridge: Marvel at the architectural beauty of Bixby Creek Bridge, an iconic landmark on Highway 1. Stop at the designated viewpoints to capture breathtaking photos of this magnificent coastal bridge.
Julia Pfeiffer Burns State Park: Discover the scenic trails and coastal views within this state park. Visit McWay Cove to witness the enchanting McWay Falls as it cascades onto the sandy beach below.
Point Lobos State Natural Reserve: Venture a bit further south to this pristine reserve, renowned for its diverse marine life, captivating coastal landscapes, and abundant hiking trails. Keep an eye out for seals, sea lions, and seabirds.
Garrapata State Park: Embrace the rugged beauty of Garrapata State Park, where you can hike through lush landscapes, explore hidden coves, and revel in panoramic ocean views. Be sure to stop by Soberanes Point for spectacular vistas.
Andrew Molera State Park: Embark on a scenic hike or horseback ride through meadows, along the Big Sur River, and onto the beach at this picturesque state park. Enjoy the tranquility and natural beauty that surrounds you.
These attractions near McWay Waterfall offer a diverse range of experiences, from coastal drives and stunning viewpoints to hiking adventures and opportunities to appreciate the region's rich natural heritage. Embark on an unforgettable journey, soak in the breathtaking scenery, and create cherished memories amidst the beauty of Big Sur.
Where to stay around Big Sur area
If you are looking to stay around Big Sur at McWay Falls, there's plenty of options
Most of the lodgings in the area can be relatively affordable if you camp or RV to more moderate and then very expensive luxury experiences here around Big Sur.
Ventana Big Sur – Luxury resort with Alilla brand with amazing service, amenities, delicious food and stunning luxury resort at Big Sur.
Big Sur Lodge – classic style lodge and rooms and located at Julia Ffeiffer State Park. Moderate prices to this lodge in a great location.
Contenta Inn – located at Carmel Valley and value priced for the area and easy access to highway and other attractions in the immediate area.
Check out all these well reviewed places at Big Sur here for updated prices, availability and calendar
Or if you are into camping how about camping at the Ventana campground below for a view of the campsites
Places to eat around Big Sur area
When it comes to dining in the Big Sur area, you'll find a variety of culinary delights that showcase the region's natural beauty and flavors. Here are some notable places to eat around Big Sur:
Nepenthe: Nestled on a cliff overlooking the Pacific Ocean, Nepenthe offers breathtaking views and a relaxed atmosphere. This iconic restaurant serves up a delectable menu featuring fresh seafood, gourmet burgers, and flavorful salads. Don't miss their famous Ambrosia Burger or the irresistible lemonade cake.
Sierra Mar: Located within the Post Ranch Inn, Sierra Mar provides a luxurious dining experience with panoramic ocean views. The menu features a blend of contemporary and California cuisine, highlighting seasonal and locally sourced ingredients. Indulge in dishes like seared scallops, roasted lamb, or their acclaimed tasting menu.
Big Sur Bakery: This charming bakery and café is a local favorite, known for its artisanal bread, pastries, and delectable dishes. Enjoy a leisurely breakfast or lunch on their outdoor patio, or grab a freshly baked treat for a picnic. From their wood-fired pizzas to their mouthwatering sandwiches, Big Sur Bakery offers a delightful culinary experience.
Deetjen's Big Sur Inn Restaurant: Set in a historic inn surrounded by lush gardens, Deetjen's Restaurant offers a cozy and rustic ambiance. Their menu features comfort food with a European flair, showcasing dishes like roasted duck, rack of lamb, and vegetarian options. Don't forget to try their homemade desserts, including the famous Olallieberry pie.
Coast Gallery Café: Combining art and cuisine, Coast Gallery Café offers a unique dining experience. Located in an art gallery, this café serves up a range of dishes, including salads, sandwiches, and fresh seafood. Enjoy your meal while surrounded by stunning artwork and the scenic coastal beauty of Big Sur.
Rocky Point Restaurant: Situated along the rugged coastline, Rocky Point Restaurant offers spectacular ocean views and a diverse menu. From seafood specialties like Dungeness crab cakes to prime steaks and vegetarian options, there's something to satisfy every palate. Be sure to try their signature clam chowder for a taste of the sea.
These are just a few of the noteworthy dining establishments around Big Sur. Each place showcases its unique charm, flavors, and breathtaking surroundings. Whether you're seeking fine dining, casual café fare, or stunning coastal views, Big Sur's culinary scene is sure to leave you satisfied and craving for more.
Check out these other places to visit in Central California
Explore Pfeiffer beach in Big Sur
Pin and save this for later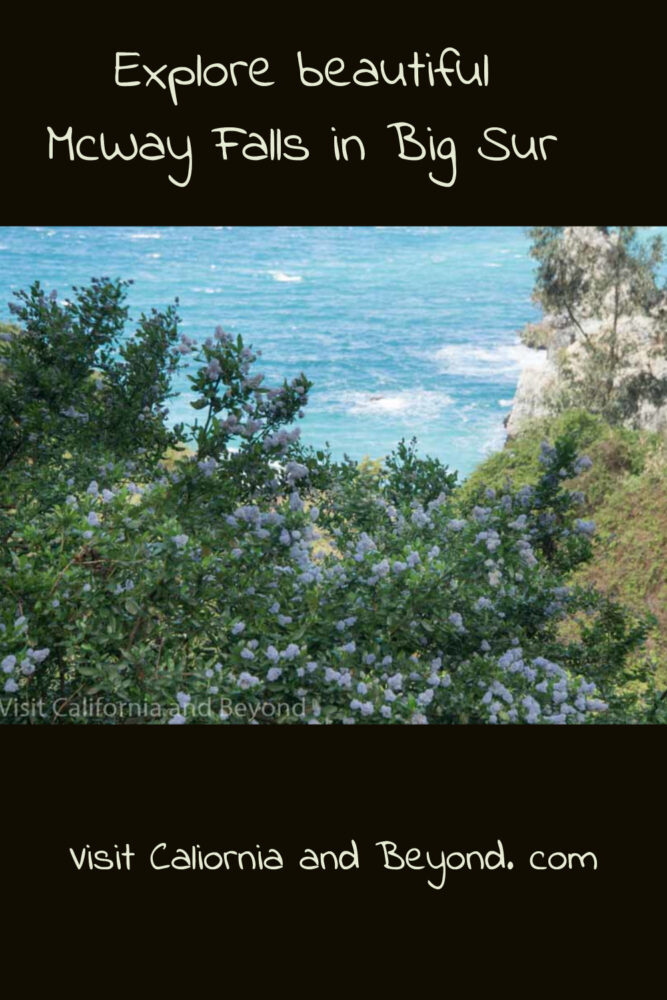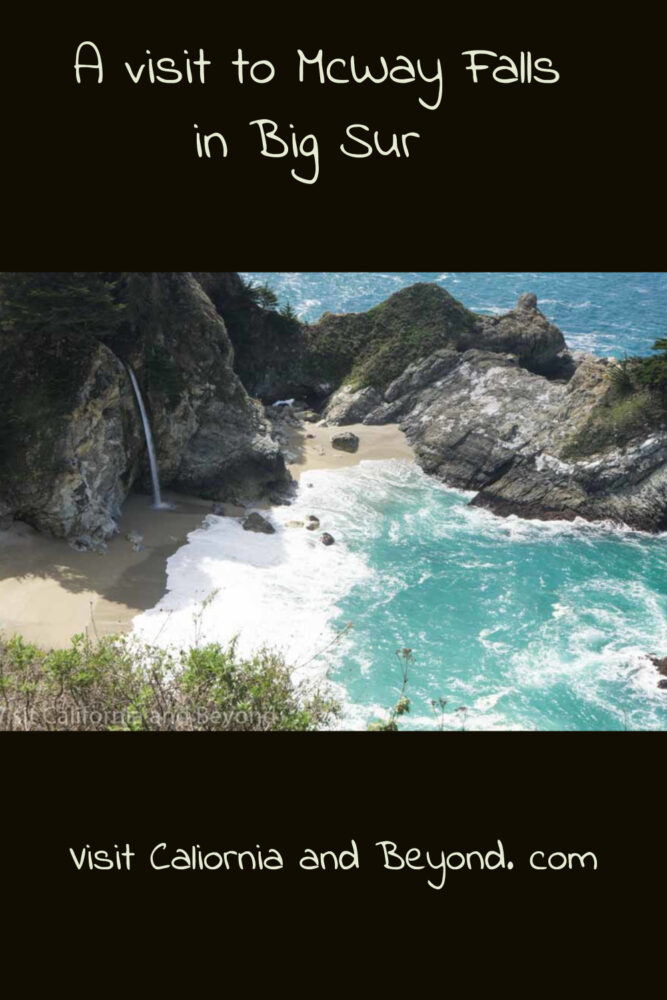 Check out this inspiring video on a road trip through Big Sur and the top things to do here
Have you been visited McWay waterfall at Big Sur?
A visit to McWay falls is a must at Big Sur. Please share your thoughts and other recommendations in the comments below with your recommendations.
Conclusion to visiting McWay waterfall at Big Sur
A visit to McWay Falls in Big Sur promises a captivating and awe-inspiring experience amidst nature's splendor. As you stand in awe of the majestic waterfall cascading onto the pristine beach, you can't help but feel a sense of wonder and tranquility. The breathtaking coastal scenery, combined with the soothing sounds of crashing waves, creates a serene ambiance that is truly unforgettable.
Thanks for visiting today and checking out this post McWay waterfall at Big Sur. I hope you are inspired to plan a visit and enjoy these wonderful attractions. If you enjoyed the images and post, could you please share it with any of the social media buttons located around the post.
Disclosure – this post on McWay waterfall at Big Sur may have affiliate related links to brand offers which helps our site keep operating – we appreciate any purchases through this link and your supporting Visit California and Beyond.