Explore the best beaches in Southern California beaches for a fun beach day
Southern California and spending a fabulous day on the beach and enjoying the SoCal vibe is what it's all about here. Finding some of the best Southern California beaches to explore and hang out in is part of the fun and discovery of the gorgeous coastline areas in Los Angeles and San Diego areas driving down the famous Pacific Coast Highway running down the entire state.
Check out these local favorite beaches by travel writers and bloggers sharing the best spots to visit and spend a beach day in Southern California.
These beaches are all an easy drive from Los Angeles or San Diego and are must visit beaches to explore and enjoy a swim, stroll on the beach or even a more active adventure experience like kayaking or surfing on the beach.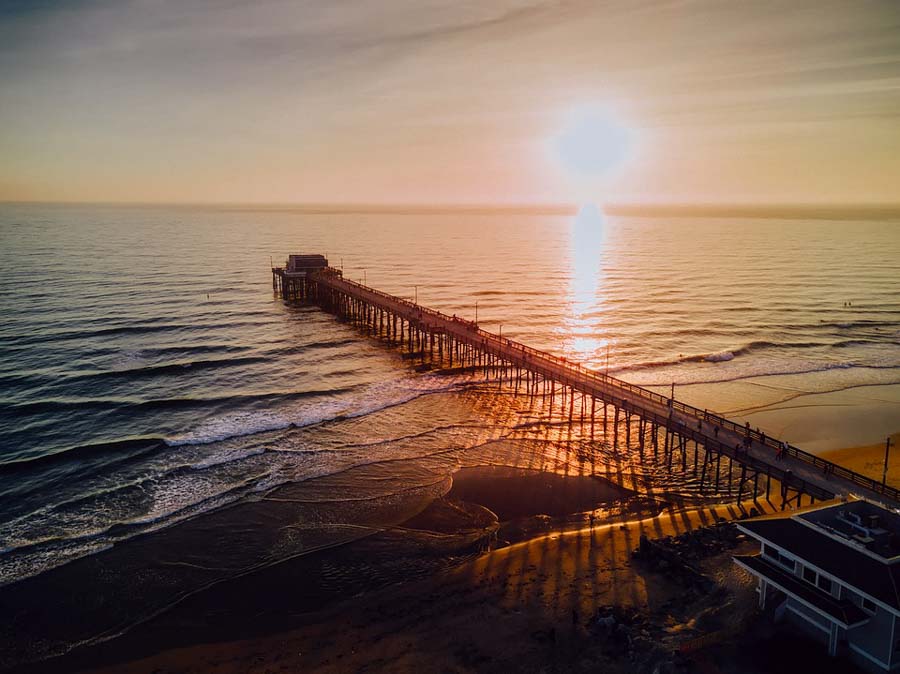 Weather and best time to visit Southern California
Southern California is known for its pleasant climate and diverse range of activities. The best time to visit Southern California largely depends on your preferences for weather and the type of experiences you're seeking. Here's an overview of the weather and the best times to visit:
Spring (March to May): Spring is a fantastic time to visit Southern California. The weather is mild and comfortable, with daytime temperatures ranging from 60-75°F (15-24°C). This season offers beautiful blooming landscapes and is ideal for outdoor activities such as hiking, beach trips, and exploring the region's national parks. It's also a great time to avoid the larger crowds of summer.
Summer (June to August): Summer is the peak tourist season in Southern California, especially along the coast. Expect warm and sunny weather with temperatures averaging 70-80°F (21-27°C) at the coast and hotter temperatures inland. It's perfect for beach vacations, water sports, and amusement park visits (e.g., Disneyland). Just be prepared for larger crowds and higher prices, especially in popular tourist destinations.
Fall (September to November): Fall is another great time to visit Southern California, particularly if you prefer fewer crowds. The weather remains pleasant, with temperatures ranging from 65-80°F (18-27°C). It's an excellent season for outdoor activities and exploring without the summer crowds. The water is still warm for beachgoers.
Winter (December to February): Winter in Southern California is generally mild and offers a good escape from colder climates. Coastal areas have temperatures ranging from 50-65°F (10-18°C), while inland areas can be slightly cooler. It's a suitable time for hiking, sightseeing, and visiting attractions without the summer crowds. However, it may not be the best time for beach activities unless you don't mind cooler water temperatures.
In summary, the best time to visit Southern California depends on your preferences for weather and crowd levels. Spring and fall are typically the most pleasant seasons, offering comfortable weather and fewer tourists. Summer is great for beach and outdoor activities but can be crowded. Winter is a good choice for escaping cold weather, but beach activities may be limited. Choose the season that aligns with your interests to make the most of your visit to Southern California.
Beaches close to San Diego Area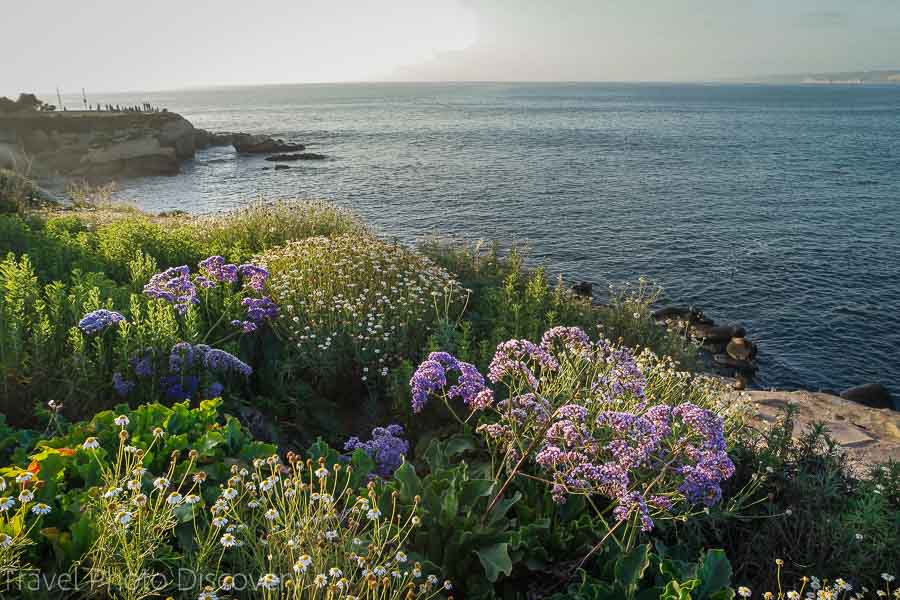 La Jolla
The beaches at La Jolla really ooze with Southern California beach vibe from the small beach at La Jolla Cove to the larger beach area further out of the cliff areas at La Jolla Shores.
There's plenty of parking spots with free parking and access to the beach areas. For families there are picnic tables, grass areas and a nice playground. The ocean waters on the beach are relatively calm and a perfect spot for kayaking along the cave openings, snorkeling and boogey boarding fun.
The beaches here in La Jolla area are perfect spots to end your day with a gorgeous sunset experience on the beach and then a brilliant night sky where you will see bright stars up in the skies against the dark sky.
Afterwards, you'll find some fantastic brew pubs, casual bars and fine dining venues to enjoy late into the evening.
Noel With This Hawaii Life
Coronado Beach
To find the best southern California Beach, look no further than Coronado Beach. Located on Coronado Island, just outside of San Diego is one of the most gorgeous beaches anywhere in the USA.
One of the things that makes Coronado Beach so spectacular is its unique sand. An element in the sand called mica creates a gold glitter effect. It quite literally shimmers in the sunlight and is exquisite during sunset! For a short 2-day visit to San Diego or a longer week trip, this is a must on any itinerary.
While visiting Coronado Beach, travelers should witness the iconic Hotel del Coronado. At over 130 years old, this red-roof hotel is full of history. Presidents and royalty have stayed there, it's such an icon.
Because this beautiful beach is nestled on an island with limited space, parking can be a bit of a challenge. Visitors who arrive early in the morning later in the day – after 4pm to find parking parallel to the beach. Parking is free near the beach and walking may be necessary if the beach is full, such as holidays or weekends.
Before or after a visit to Coronado Beach, the restaurants on Orange Avenue will satisfy any craving. Find everything from quick bites to ice cream, full-service meals and more right near Coronado Beach.
Recommended by Nikki of She Saves She Travels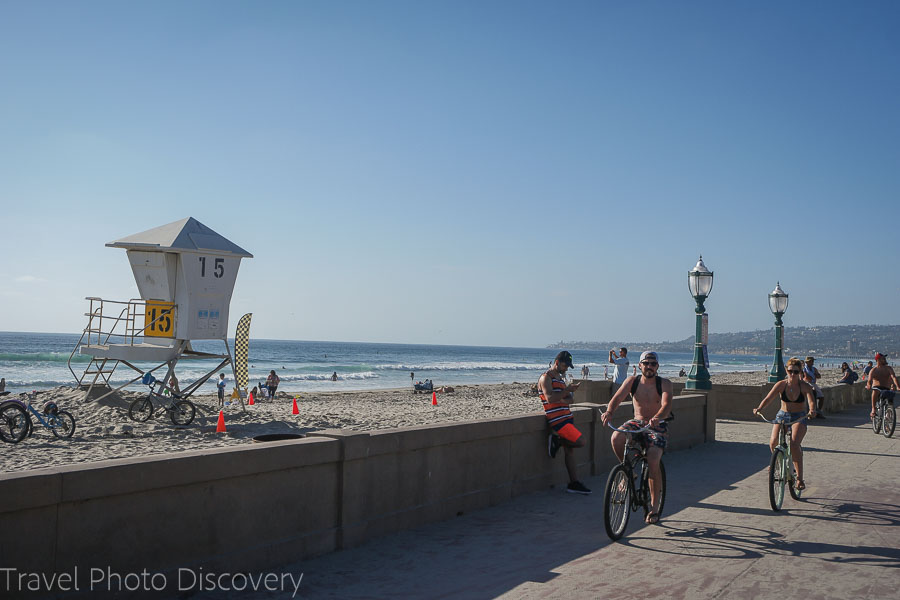 Mission Beach Belmont Park
Located close to SeaWorld, Belmont Beach is the typical SoCal beach with a long beach promenade boardwalk and lively amusement park area and Long beach area with lifeguard stations set up at strategic intervals.
A fun pass time with family is to rent bicycles to go down the paved promenade or even skate, jog or walk the promenade to enjoy the views, people watching and just being outdoors on Mission Beach. For water fun, you can SUP, kayak, swim or even take a surfing lesson on the beach if you feel challenged to trying this fun sport.
There's a lot of fun amusement games, rides, food venues and other entertainment at Belmont park amusement park that is family friendly and very colorful to see at night time. Parking is free and easy with plenty of parking spaces at Belmont park area.
Noel with The Mature Traveler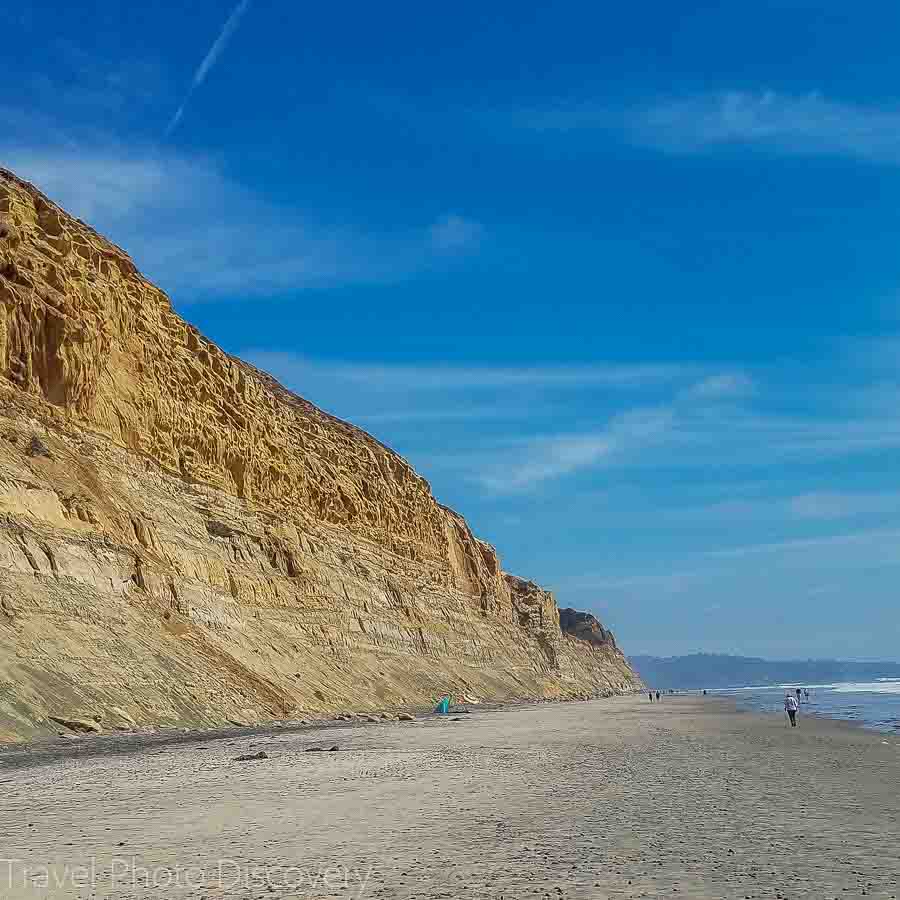 Torrey Pines State Park
Located north of La Jolla at Torrey Pines, the state beach park here is lined with tall cliffs with a long sandy beach area. One of the most popular state park beaches in San Diego, Torrey Pines also has a 2,000 acre state park reserve with hiking trails, pine forested areas, sandstone canyons and dirt trails that is accessed mostly on the north end of the park.
You can get a day use pass by paying at the automated pay stations and costs for day passes vary from 15-$25 based on demand pricing. Parking spots fill up early at the park so you should come early or later in the day or wait on the side until a spot opens up and you can enter.
The north area of the park is rugged and good for swimming or surfing and other traditional beach activity while the area of the southern part at Blacks Beach is a naturalist spot geared towards nudists, gays and even surfers that like the swells that are popular.
Check out the Torrey Pines website for details and conditions here for more information to visiting the park area.
Beaches close to Los Angeles Area
You'll enjoy all these popular and fun beaches to explore and enjoy a beach day in the LA area. A fun beach day here is the thing to do in the area.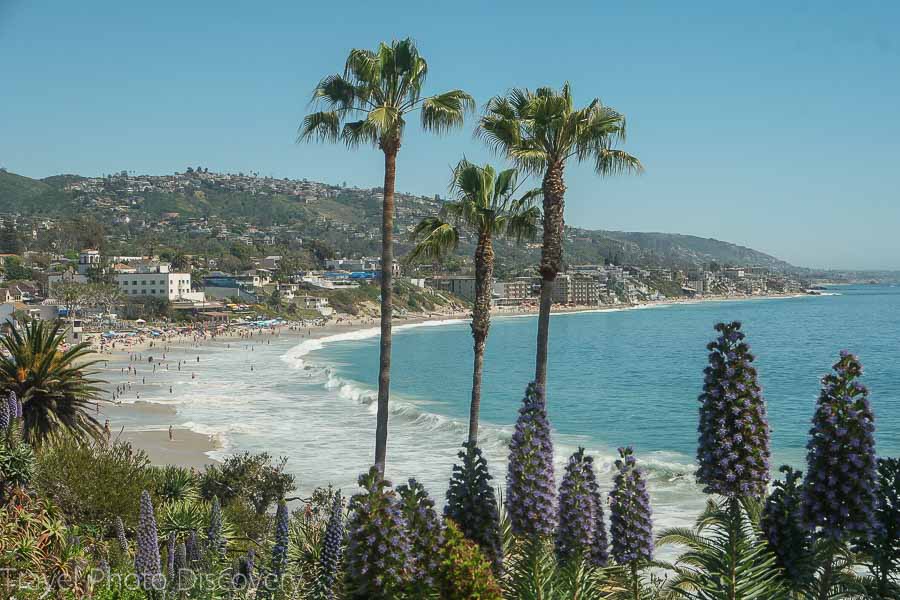 Visit Laguna Beach
California has so many amazing places to visit and Laguna Beach is one of the top. Located in Orange County, just an hour south of LAX, its nine miles of waterfront beaches there are 36 named beaches. It is one of the only places in Southern California where you can stay in a hotel literally on the beach.
The parking is not terrible, as there is metered and street parking available. If you are coming on a weekend you may want to get there early to get a spot, for both the parking and for a spot on the beach. The beaches are clean and spacious, but they too can fill up very fast.
The most popular things to do are to enjoy swimming, surfing, hiking and watching the sunsets. Motorized water sports are prohibited by Laguna Beach as it is a Marine Life protected area. This means that there are not boats blocking the view of the beautiful sunsets. Victoria Beach has an old lighthouse that makes for some great sunset pictures. Heisler Park is also a great spot for sunset and for posting up for the day.
There are two major spots you may want to hit while in Laguna Beach. The first is shopping along the South Coast Highway for all the cute local shops, your money makes such an impact when you shop small and these shops have some amazingly cool stuff. The second stop is to visit the smallest church in Southern California, it once was the smallest cathedral, according to the Guinness book of world records, it lost that title, but now remains as a National Landmark. It is quite the hike up to it, but totally worth the climb to see this super cute church, this is incredibly tiny!
Rebecca McKellips with Whatever Packs Your Bag. Com
Beach time at Hermosa Beach
Hermosa Beach is one of the best beaches in Southern California for a number of reasons. Located just south of Los Angeles, it's a lesser-known beach that always has plenty to do. The beach here is large and sandy, so there's plenty of room to sunbathe, play games, or just relax.
The nightlife is vibrant and the pier is lined with fun bars and places to grab a drink with ocean views, sing karaoke, or dance the night away. Plus, Hermosa Beach has a rich history of music and surfing that gives it a unique atmosphere compared to other beaches in the area.
The Hermosa Beach Pier is a great place to take in the sights and sounds of the ocean, and there are always events and activities happening there. It's a great place to celebrate the holidays – especially the 4th of July and St. Patrick's Day! Additionally, the Hermosa Beach Volleyball Open Tournament and the International Surf Festival take place in the summer and are both fantastic, unique events to attend.
If you're flying into Los Angeles International Airport (LAX), it's easy to get to Hermosa Beach. You'll just need to take Sepulveda Blvd. south for about 20 minutes. Or, it's not far off the 405 freeway and right along the Pacific Coast Highway.
Parking consists of metered spots along the streets, a few public parking lots to either side of the pier, and a few additional lots up towards PCH.
Whether you're looking for a place to party or just want to soak up some sun, Hermosa Beach has many great things to do and is the perfect southern California beach.
Janelle with Make the Trip Matter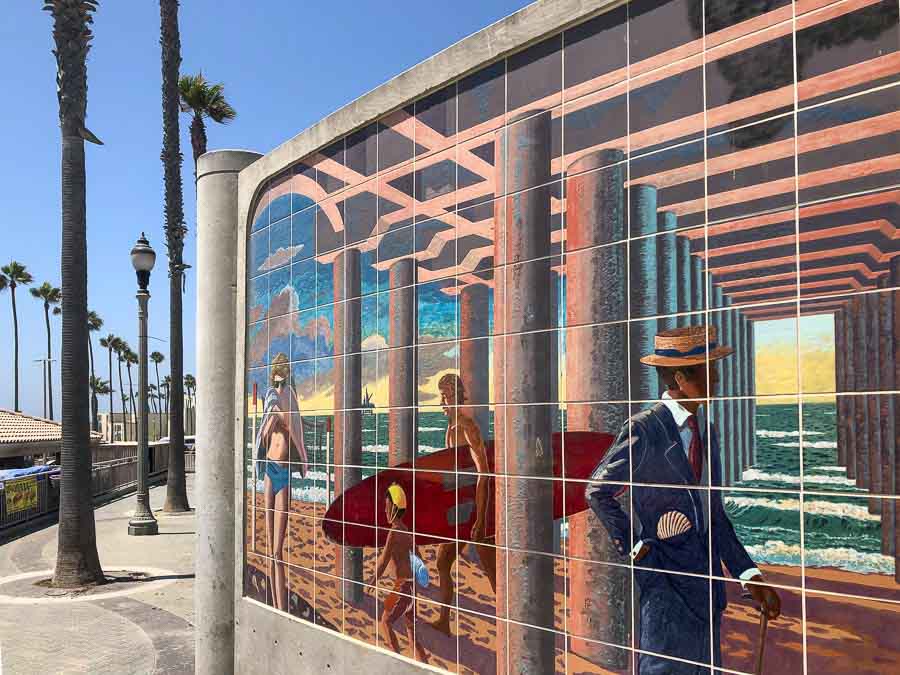 Huntington Beach
Voted a Reader's Choice "Best California Beach" in USA Today in 2018, Huntington Beach is the quintessential year round beach destination in southern California — perfect for summer fun in the sun, and one of the best warm places in the US to spend the winter.
Located just a 50-minute drive from Los Angeles on I-605 S or 1 1/2 hours north of San Diego on I-5 N, Surf City USA is a popular beach getaway for the day or longer.
Huntington Beach is famous for its soft, super wide 8.5-mile-long beach, and even more famous as a mecca for surfers of all skill levels. There are over 500 designated fire pits right on the beach that can be had on a first come, first served basis along with volleyball courts, and a wide cement pathway that runs the length of the beach with casual walk-ups to grab a bite and a cold drink.
The big draw here is surfing. The surf culture has a long history that is on full display along the Surfing Walk of Fame and at some of the coolest fun surf shops found anywhere. You'll find more surf shops than you can imagine. If you can't find a piece of surfing gear here, it no doubt doesn't exist.
But surfing and the beach are not the only reason to visit. Right across the street from the beach and the famous Huntington Beach pier, you'll find parking, upscale shopping, excellent restaurants and unique eateries to fit any budget, and beautiful hotels.

Even if you're not inclined to try your hand at surfing, Huntington Beach is a great place to just chill out.
Lori with Travelin Mad.com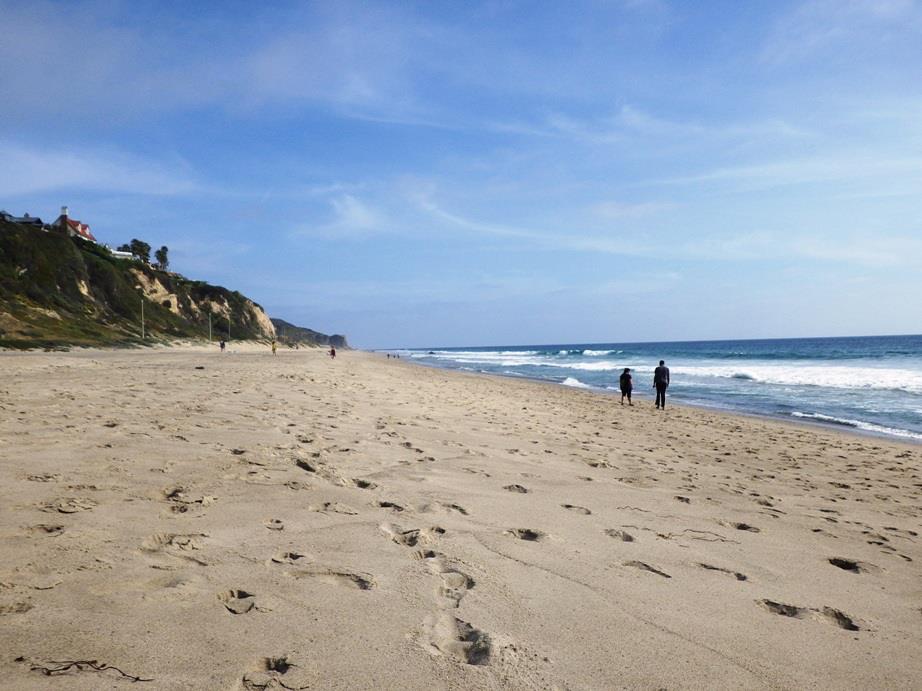 Zuma Beach
A popular local surfing beach and strikingly natural with the Zuma cliffs in the background, Zuma Beach is gorgeous. This sandy is nice, wide with gorgeous coastline and real surf. The beach is located about an hours drive from downtown LA and parking is free on the Pacific Coast Highway unless you use the parking lot.
This is a surfing beach with strong currents and rip tides so it's good if you are a strong swimmer or surfer. Or you can enjoy the beach and just chill out, people watch or do some fun active beach activities.
This is definitely a cleaner beach and family friendly with lifeguards stationed around the beach area.
Noel with The Mature Traveler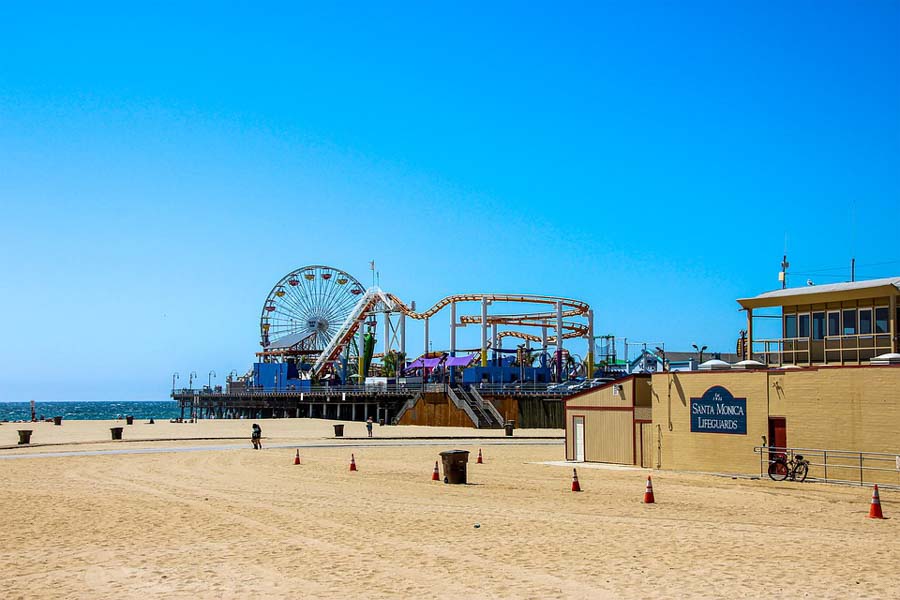 Santa Monica State Beach and Santa Monica Pier
One of the most popular LA beaches at Santa Monica Beach and Piers is well loved by LA locals enjoying a day on the beach and also the pier and amusement park. There is no fee to enter the pier and the beach area has various parking lots is typically maintained and cleaned daily. The paved promenade is popular with joggers, bikers and walkers on the pave trail enjoying time outdoors on the beach area. Swimming, boogey boarding and surfing are popular water options on the cool Pacific Ocean waters.
The beach area is large at 3.5 miles and wide beach with nice sandy beach that is maintained daily. Also the beach area is accessible by local hotels, restaurants and the pier with other tourist venues, amusement park, playground and stores.
The expansive Santa Monica pier is a popular tourist attraction with an aquarium, restaurants, shopping and an amusement park that is family friendly and fun to explore. You'll also get nice views and photo ops of the water and coastal areas off the pier. Check out additional information to visiting Santa Monica State Beach here for more information.
Redondo Beach
Redondo Beach is well known for its laidback and carefree beach atmosphere. The central location makes it a prime spot between LA and the beach cities of Hermosa and Manhattan Beach. It is a popular attraction for outdoor activities such as surfing, bike riding, paddleboarding, kayaking, and volleyball just to name a few.
The beach is easy to get to with plenty of transportation options. If you can have your own car or a rental you can take the 405 freeway, which is the most direct way to get yourself to the sandy beaches. Taking the metro line of Los Angeles is another good way to get here. The Metro C Line (Green) has the last stop at Redondo Beach.
Once you arrive, you may need to find yourself parking. The beach pier has multiple parking lots and there is plenty of free and metered street parking. Be sure to double check the signs as some streets are only permitted for residents.
Stop and make time at the pier at some point where you can take a break from the day and enjoy the bars, restaurants, and little shops. Or just go exploring where you can find plenty of locally owned foodie options along with art walks, yoga classes, fitness camps, and everything in between
Probably the highlight of the Redondo area is the 1.5-mile sandy beach and the adjacent walking path. Taking a leisurely stroll here really tells you what this town is all about. Locals and tourists come here all the time throughout the year. You can also find whale watching tours going on throughout the year.
Whatever you decide to do, choosing to come here will be one of the best decisions you made while in Los Angeles.
Nicholas with The World Overload
Sands Beach
Sands Beach in Goleta, California is a truly hidden gem. Located just outside of Santa Barbara, this is the perfect beach for nature lovers looking for a remote and relaxed beach. Conveniently, it is not too far from Santa Barbara, a popular town with all of the proper amenities.
A large part of this beach's uniqueness is its remoteness, although it is not too difficult to find. To get there, one must simply take the Storke Road exit off Highway 1 and drive straight up until a street called Camino Mallorca. On Camino Mallorca there is a long row of parking. Once parked, there is a trail that runs cliffside above the ocean, that leads down to the beach. The parking and entrance to this beach is completely free, although it is important to note there are no amenities.
Sands Beach is the perfect spot to escape the hustle and bustle of Southern California, and simply embrace its beautiful nature. California's endangered and protected bird species, the Snowy Plover nests here, and the Snowy Plovers are a beautiful delight to watch at Sands Beach- from a safe distance of course!
Dolphins also frequently play at Sands Beach, and relaxing on the beach with eyes on the ocean is a great way to see them splashing and playing around in the surf! Speaking of surf, surfing is one of the best activities to do at Sands Beach. The waves are fun and gentle, and your chances of spotting dolphins are that much greater while in the ocean itself!
By Haley from Gathering Waves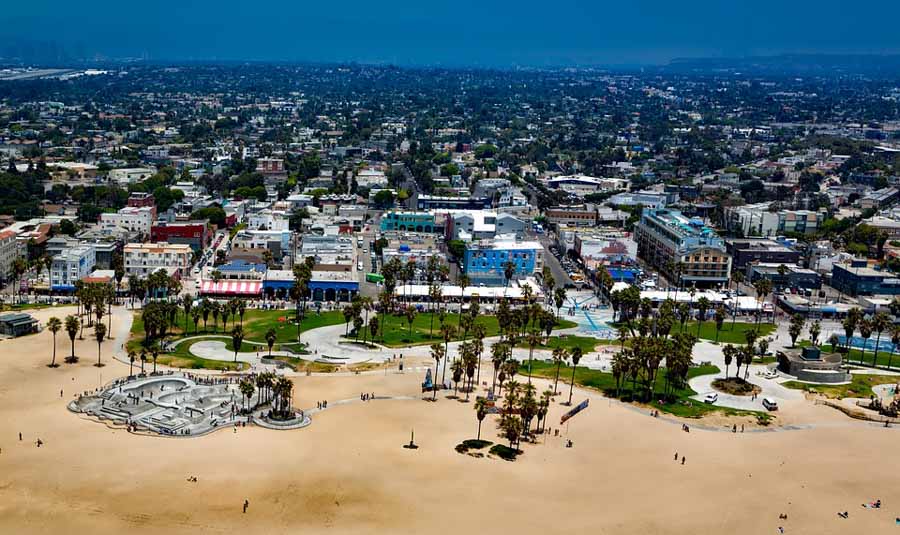 Visiting the colorful and wacky on Venice Beach
A visit to Venice Beach delivers to the SoCal vibe, colorful characters and skimpy bath suits and outdoor strolling and people watching fun.
The main walking promenade through the beach is made for enjoying a nice walk, bike, roller blade or some outdoor activity through the wide pathways which are full all morning to late afternoon timeframe. But don't spend all your time just enjoying the boardwalk area, hit the beach and enjoy the swimming, boogie boarding or surfing fun on the water. Or you can work out at the outdoor gym at Muscle Beach, go hang out at the cool skateboard park or play some vicious sand volleyball if you're challenged.
Venice Beach is fun, wacky and eclectic, just what you would expect and LA type of beach and SoCal cruising the boardwalk to be. You can also find some cool rooftop Lounges to hang out above the beach, Visit iconic Menotti's Coffee stop with the artsy vibe, check out the Venice beach lagoons or do your own walking tour of the Venice Beach murals around the board walk area. For something really one of a kind, check out the mosaic house at Venice Beach here where this couple mosaic tiled their entire home, inside and out.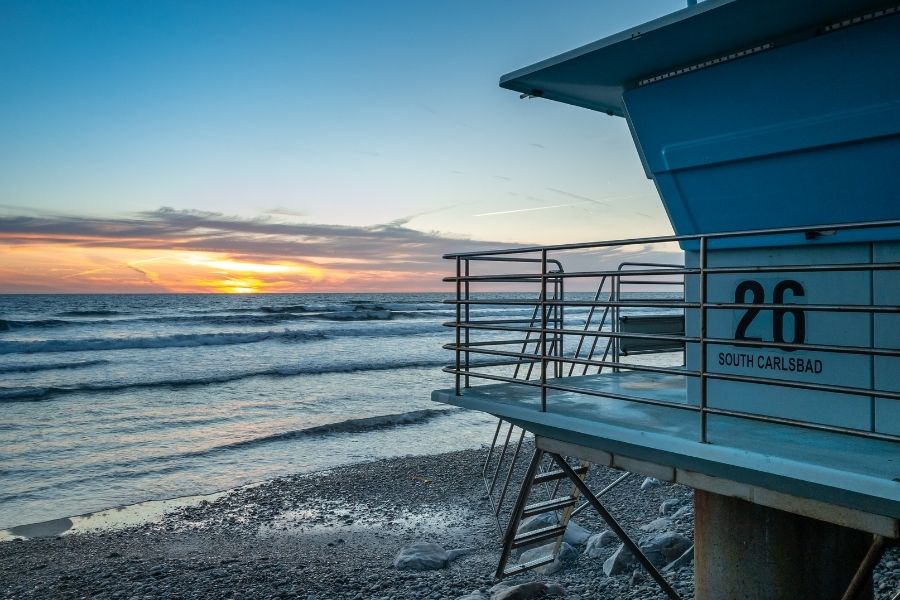 Carlsbad State Beach
Carlsbad is located about 40 minutes north of downtown San Diego. It is home to attractions including LEGOLAND® California Resort, SEA LIFE Aquarium®, The seasonal Flower Fields, K1 Speed and of course, gorgeous beaches!
The most popular and accessible beach is Carlsbad State Beach, also known as Tamarack Beach. It stretches from just south of Tamarack Avenue, to Frazee Beach, near Carlsbad Village Drive. Standup paddle boarding, kayaking, surfing, skim boarding, swimming, scuba diving, windsurfing, fishing and beachcombing are some of the most popular beach activities in Carlsbad.
Tamarack Beach is incredibly popular for skimboarding; using a board (much smaller than a surfboard) to glide across the water's surface and sand to meet an incoming breaking wave, and ride it back to shore.
A section of this beach includes the Carlsbad Seawall, a paved 4-mile walking path along the coast that extends from Carlsbad Village drive to Cannon where you can walk, jog, rollerblade and cycle.
Carlsbad State Beach is famous for it's sunset view. Every night people gather on the bluff at the north end of the beach to watch the sun sink into the Pacific Ocean.
A plus to Tamarack Beach are the amenities which include restrooms, a picnic area with five picnic tables and lifeguards in towers 21-28. The easiest parking is found on Carlsbad Blvd and on the surface streets near the beach. Another parking option is Ponto Beach, which is just south of the campground and has a pay lot.
Check out Alexa's post on Top things to do in Carlsbad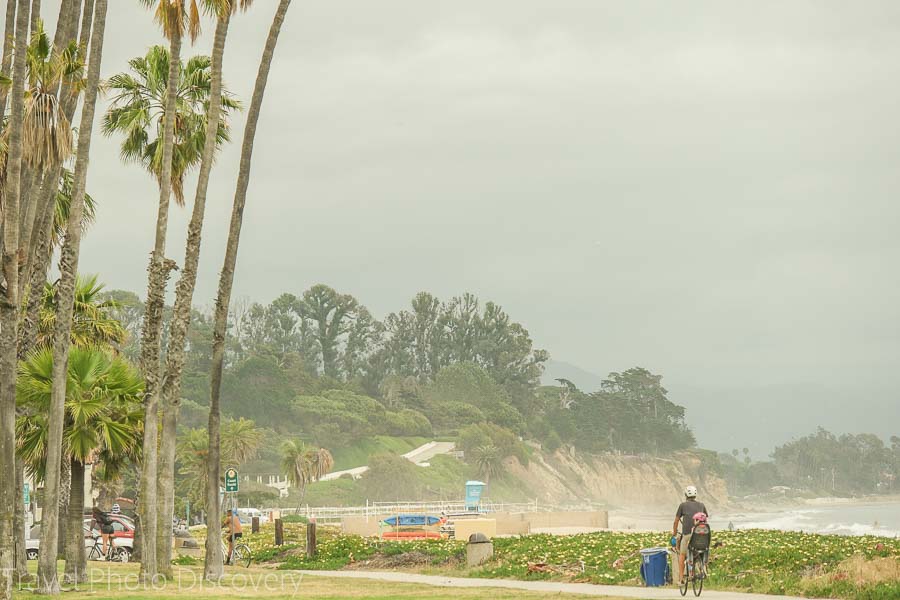 West and East beach in Santa Barbara
With long stretches of wide beach areas, a paved walking/biking trail area, the West and East Beach areas of Santa Barbara close to downtown is where most locals go for accessible parking and enjoying the beach areas.
Sundrenched and sandy coastline with almost perfect sunny weather, the beaches here in Santa Barbara are fantastic with gorgeous conditions, beautiful sunsets and lots of space to spread out between the seven beach areas in Santa Barbara area.
On East beach is Stern's Wharf which is a boardwalk and working wharf over the Pacific ocean with restaurants, shops and water tour outfitters to explore, eat and enjoy the views from the pier into the beach and coastal areas. Lifeguard stations around all the beach parks are set for watchful guards that are always checking conditions in the area and surf changes.
Other popular beach areas to explore and spend some time in Santa Barbara include: Butterfly beach, Leadbetter beach, Goleta Beach, Arroyo Burro Beach and 1000 steps beach, just a short drive from downtown. Check out the Santa Barbara beach scene here for more information to visiting any of the beaches in the area.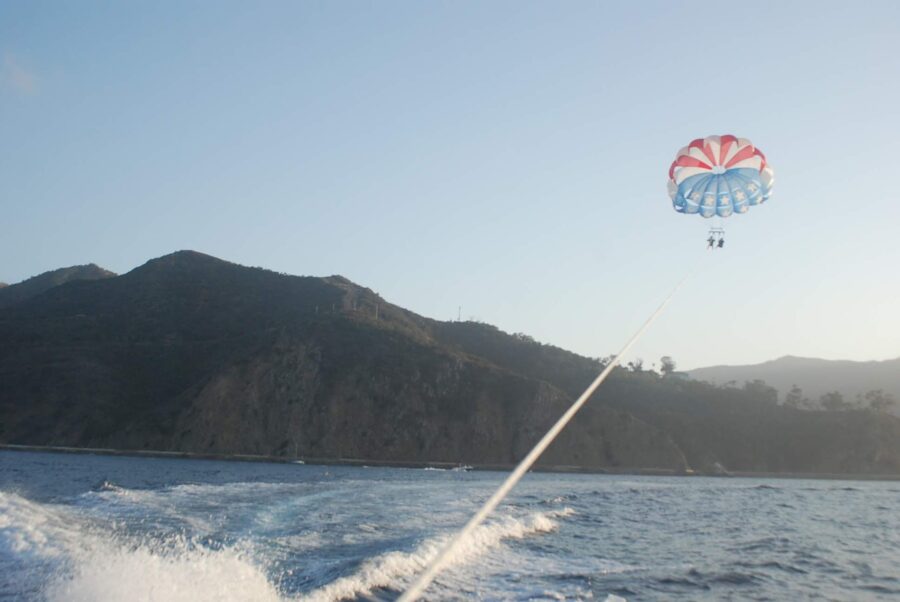 Avalon Bay at Catalina Island
Avalon bay at Santa Catalina Island is one of the greatest tourist attractions. It contains both Green Pleasure Pier and extends to Avalon Bay beach also known as Crescent beach. You can enjoy breathtaking sightseeing at the coastline of the beach, especially if you go uphill to a mountain.
Fauna and flora are extravagant in their numbers and verities. As a matter of fact, Avalon is known as the fisherman's paradise because it is rich with fish marine habitats. You can snorkel and scuba dive around Crescent beach to see what I mean. You can also enjoy whale watching and feed the sealion at the pier near the beach.
There are many other water activities at Crescent beach. However, my favorite activity of them all is parasailing where you can enjoy a mesmerizing view of Avalon while being towed by a motorboat. The best time of the year to do it is during summer because it might be too cold for you during winter.
How to get there? Since Catalina is an island, you can only get there by helicopter or a passenger ferry from Long Beach Port. There you will take about by passenger ferry and only 15-20 minutes by helicopter. If it is far for you, you can book a ticket at your location to Catalina's airport
Ossama with Awesome Traveler.com
More inside tips to visiting these top Southern California beaches
Visiting Southern California's top beaches can be a fantastic experience, but to make the most of your trip, it's helpful to know some inside tips. Here are some tips for visiting the region's popular beaches:
Arrive Early: Southern California beaches can get crowded, especially during weekends and holidays. To secure a good spot and avoid parking hassles, arrive early in the morning.
Check the Weather and Tides: Before heading to the beach, check the weather forecast and tide schedule. This information can help you plan activities like swimming, surfing, or tidepool exploring. Be cautious of strong currents and rip tides.
Pack Essentials: Don't forget essentials like sunscreen, sunglasses, hats, beach towels, and plenty of water. If you plan to swim or surf, bring appropriate gear, such as swimsuits and surfboards. Also, consider packing a beach umbrella or shade tent for some relief from the sun.
Respect Local Rules: Pay attention to and follow local beach rules and regulations. These may include leash laws for dogs, no-alcohol policies, and restrictions on campfires or barbecues. Keeping the beach clean is also essential—pack out all trash.
Parking and Transportation: Parking near popular beaches can be a challenge. Look for nearby public parking lots or explore options like bike rentals or public transportation to avoid parking issues.
Timing Matters: If you're looking for a quieter beach experience, consider visiting during the off-peak hours. Beaches are often less crowded in the early morning or late afternoon.
Water Safety: Always be cautious in the water. Swim near lifeguard stations when available, and if you're not a strong swimmer, consider using a flotation device. Pay attention to warning signs and flags indicating water conditions.
Food and Refreshments: Some beaches have nearby concessions or restaurants, but it's a good idea to pack some snacks and drinks, especially if you plan to spend the whole day. Be mindful of seagulls; they can be quite bold when it comes to stealing food.
Respect the Environment: Southern California's beaches are beautiful, and it's important to protect them. Avoid disturbing wildlife, especially during nesting seasons. Don't collect shells, rocks, or other natural features, as this can harm the ecosystem.
Explore Beyond the Sand: Southern California offers more than just sun and sand. Explore nearby attractions, hiking trails, or scenic viewpoints to make the most of your visit. Popular beaches often have shops, restaurants, and entertainment nearby.
Remember that each beach in Southern California has its own unique charm and features, so researching and planning your visit according to your interests and preferences will help you have a memorable and enjoyable experience.
Check out these other posts to visiting SoCal areas
Things to do in Old Town San Diego
Visit the Carlsbad Flower Fields
Point Lomo Lighthouse in San Diego
Pin and save this for later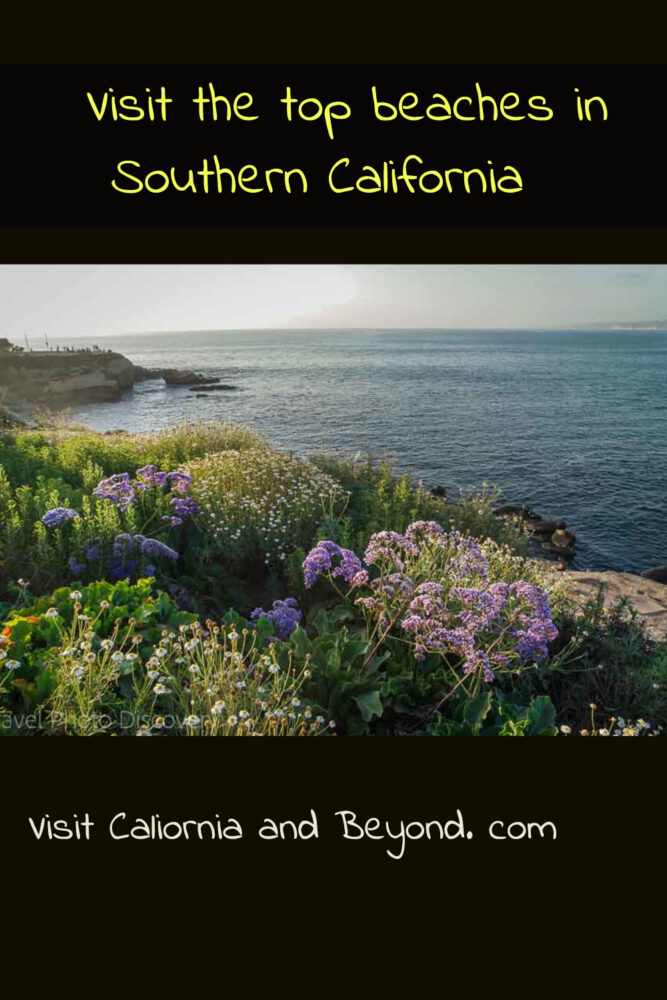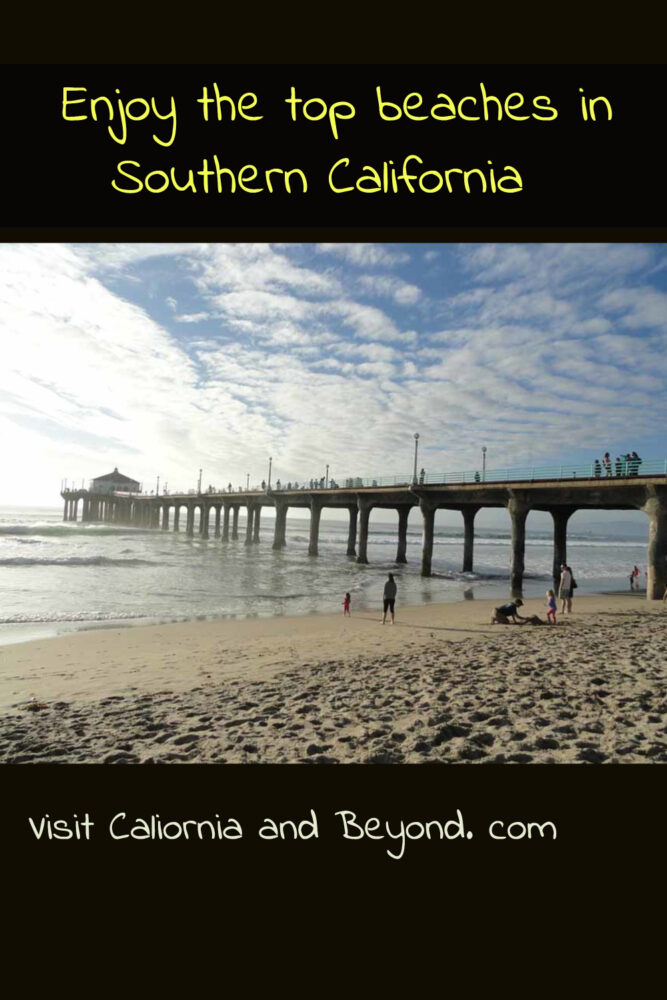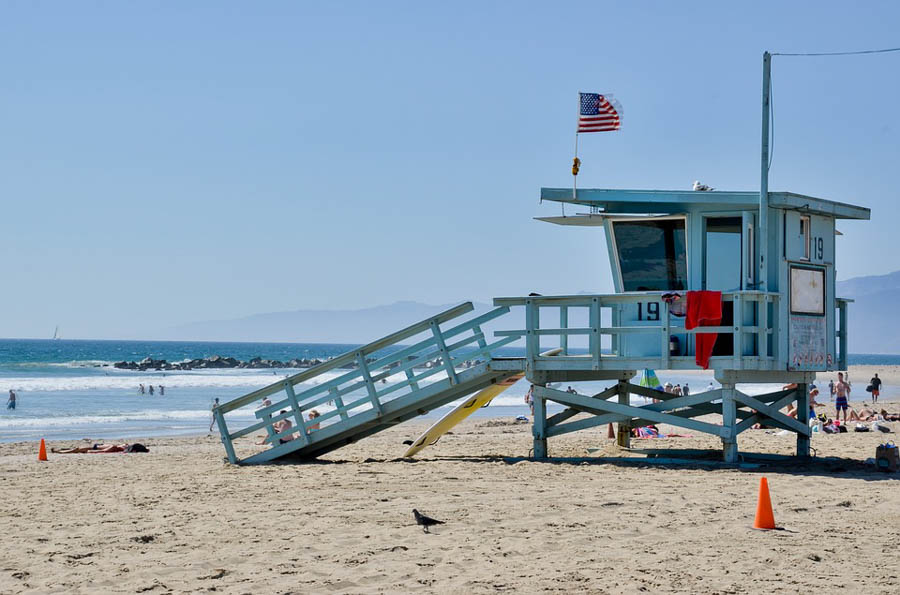 Have you visited any of the best beaches in Southern California
These SoCAl beaches in California are impressive raw or more urban seaside beaches with amenities, dining and drinking venues and walking promenades. But they are fun to hang out and enjoy a beach day, explore and hike and even on a few enjoy tidepool areas or do some type of outdoor adventure on the beach.
If you have visited any of these wonderful beaches do you have any comments or tips to share? Please share on the comments below.
Thanks for checking out this post on visiting Best beaches in Southern California. Hope the post was informative and a must read article – if so please do share it with any of the social media buttons around the page.