Step Back in Time and Experience the Best Things to Do in Old Town San Diego
The old town section of San Diego is colorful, easy to walk around and very historic. The district is both a California State Historic Park and also a National historic monument that features the actual look and feel of what San Diego was like in its early days with stores that showcased the typical wares, day to day functions and staff dressed in period outfits with knowledge about each of their represented storefront and sharing day to day life around the Old Town area.
You'll enjoy visiting this historic district, the cool shopping venues, eateries and the actual shops that are set up for you to visit with dressed store keepers to give you a real insight to those early days in San Diego.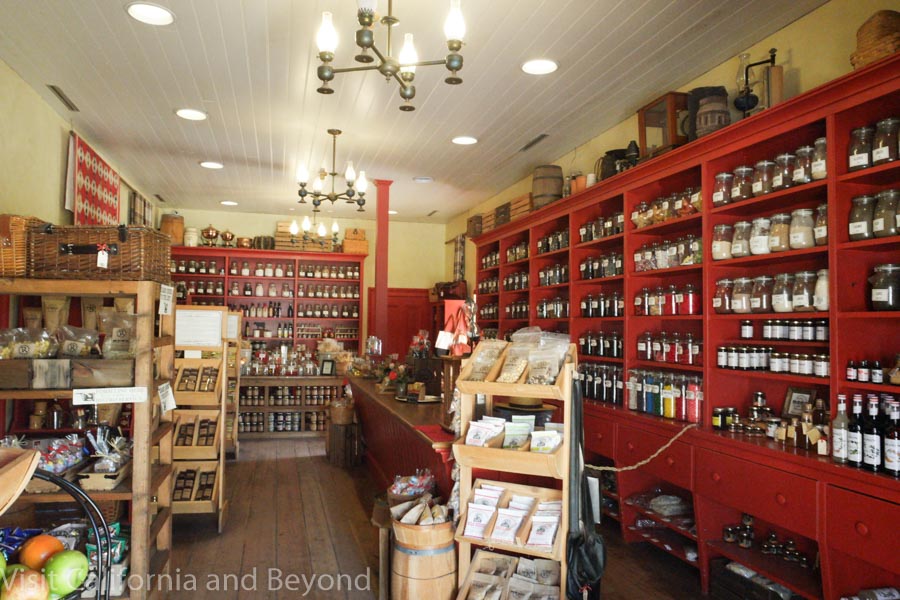 History of Old Town San Diego
Old town is the recognized origin of the City of San Diego and this is also where Father Junipero Serra set up the first mission of California called Mission San Diego de Acala in 1789. It was here that he had his 21 visions and spearheading the colonization of California
The favorable year round weather, safe harbor area and rapid growth had made this an attractive area to settle down and create a vibrant community.
Today many of the preserved historic buildings and museums in Old town commemorate the early days of San Diego's beginnings from the 1820s to 1870s. These buildings have been converted into living museums, shops and restaurants. Next to Old Town is the recreated Old Town Village which houses more restaurants, shops and galleries for visitors to explore with some restored and new buildings built to match the same look and feel to the entire Old Town ambiance of the area.
Here's a profile of the Old Town San Diego history and community
How to get to Old Town San Diego
To get to Old Town San Diego, you have a few options depending on your starting point and preferred mode of transportation:
By Car:

If you're coming from downtown San Diego, take Interstate 5 North and exit at Old Town Avenue.
If you're coming from areas north of San Diego, take Interstate 5 South and exit at Old Town Avenue.
Follow the signs to Old Town San Diego State Historic Park or any specific destination within Old Town.

By Public Transportation:

San Diego Metropolitan Transit System (MTS) operates buses and trolleys that can take you to Old Town. You can use the MTS Trip Planner or MTS app to find the best route and schedule.
The Old Town Transit Center is a major transportation hub, served by the Green Line trolley, several bus routes, and the Coaster commuter train.

By Bike:

Old Town San Diego is easily accessible by bike. There are bike lanes and paths throughout the city, and bike racks are available in Old Town for parking.

By Walking:

If you're in the nearby vicinity, you may choose to walk to Old Town San Diego. However, keep in mind that the distance may vary depending on your starting point.
Once you arrive at Old Town San Diego, you can explore the historic sites, visit museums, enjoy Mexican cuisine, and experience the vibrant atmosphere of this charming neighborhood.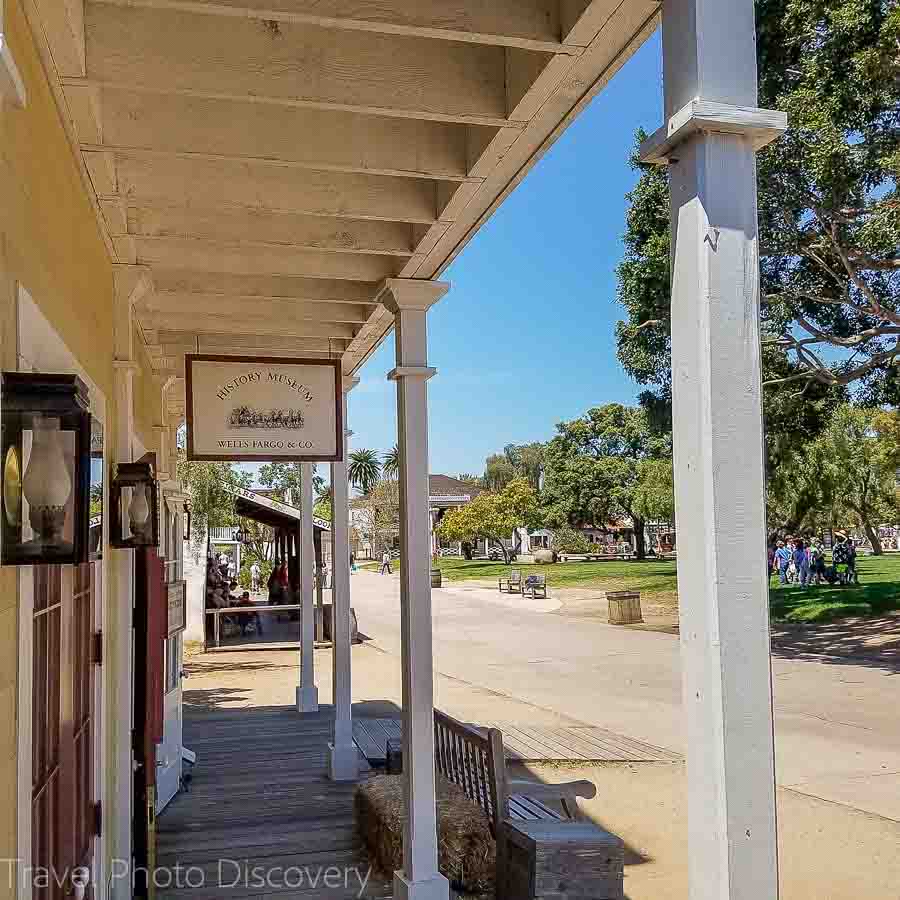 Visit the historic buildings of Old Town
Some of the historic old buildings to visit at around the Old Town of San Diego includes the following buildings and areas: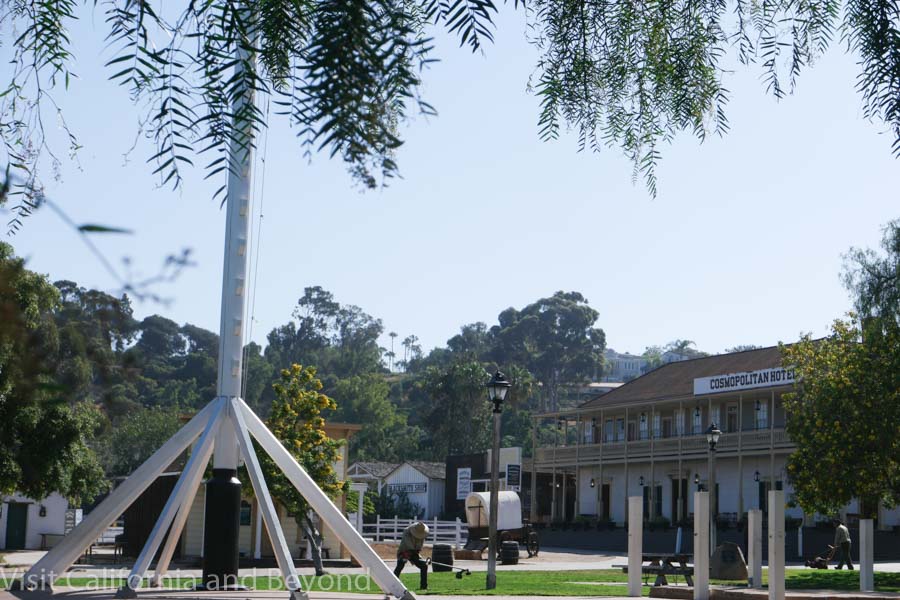 Old Town State Historical Park
The main square and park area of old town is line on the perimeter with 20 original homes and businesses that were typical of the early Spanish Colonial timeframe. Places to explore here includes: the school house, Old Adobe house and cemetery. Sun dried adobe brick was the typical building material used for these adobe homes. Other historic buildings include an adobe mansion that was now converted into the Cosmopolitan Hotel, the wooden built public school and the first brick building built in 1847. Other historic buildings include the sheriffs building, a boarding house, general store and restaurant.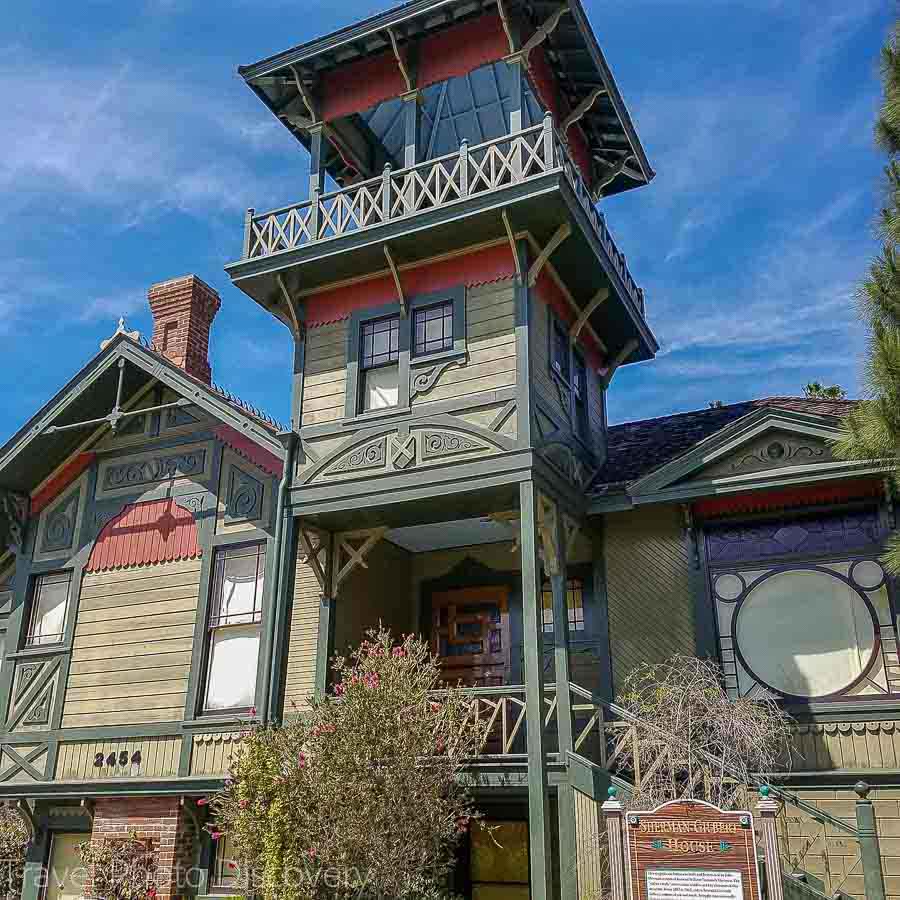 Other attractions and things to see around Old Town
The Whaley House – Designated as an actual haunted house in California, the Whaley House was built on a gallows site in 1856 and was the family home for the Whaley family one of the first settlers and influential families in the area. The home became a San Diego's first theater and was also once used as a county courthouse.
Junipero Serra Museum – located in the Old Town's Presidio Park which has a museum house collections of Father Junipero Serra and the first mission of San Diego with gorgeous views of downtown and the coastal areas of San Diego. Serra built the first mission next to the Presidio out of a total 21 in Alta California.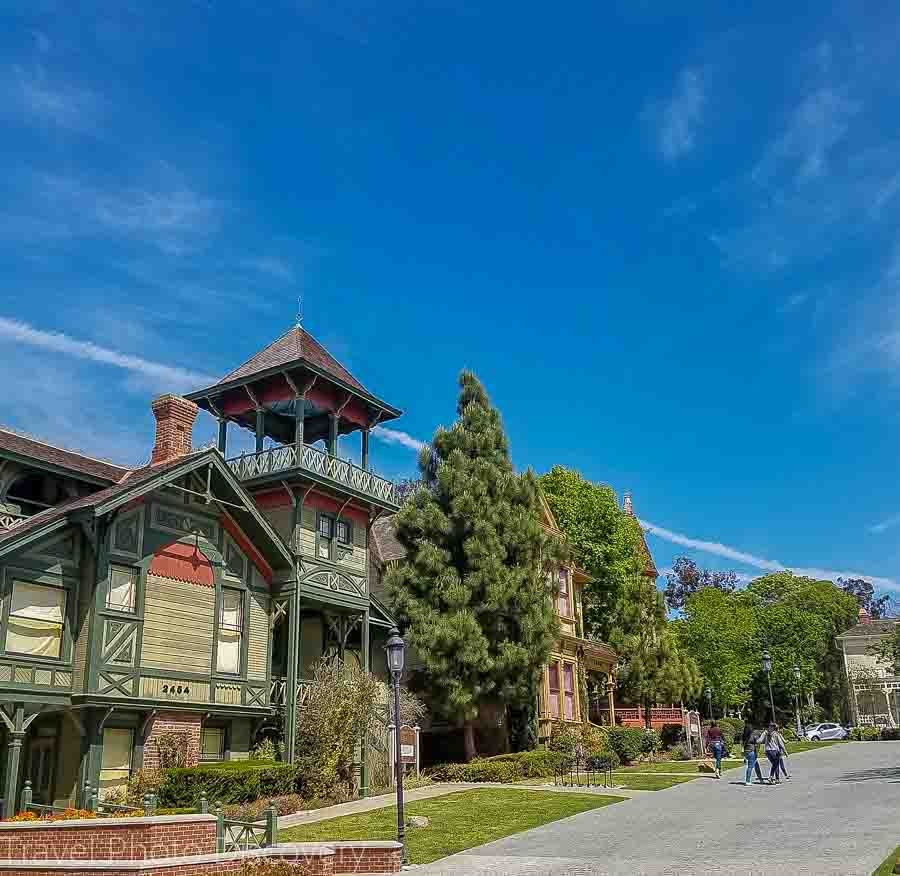 Heritage Park – showcases six restored Victorian era homes of local families in the 1800s including the city's first synagogue
Presidio Park has some beautiful formal gardens, walking trails like the Old Historical trail and a nature preserve.
Experience a Taste of Mexico at the area of the Fiesta De Reyes, a grouping of 19 shops, galleries and restaurants around a small square that is filled with outdoor seating, lush gardens and a stage for performances. The Fiesta De Reyes evokes the typical fiesta feel of the square with mariachi bands, live performances and other events in the square.
Here's a video tour of Heritage Park and the Victorian homes that were moved here to represent a historic San Diego village.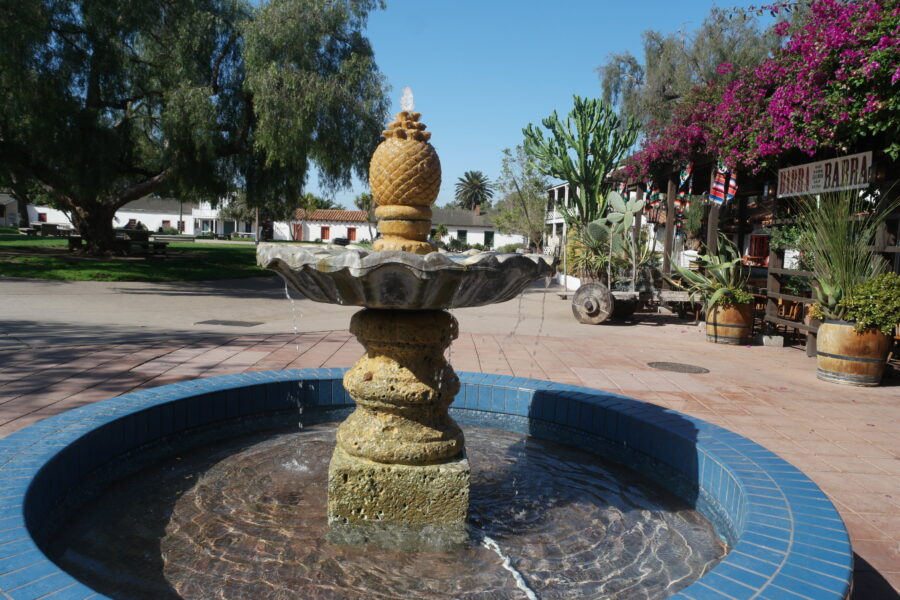 Cygnet Theater Group – showcases 6 to 7 event productions yearly covering different types of entertainment from Broadway musicals, Classical music and world premiere performances in the 202-seat theater.
The Story of the Mormon Battalion
Located at the Mormon Center, a group of 500 members from Council Bluffs Iowa traveled to San Diego and join the local militia army in 1846 to fight in the Mexican American war. The center displays historical artifacts and collections with an interactive video tour and live demonstrations of brick making and gold panning.
Check out the Robinson Center which is a visitors' center with displays and information about Old Town and guides to help explain the Old Town and layout in more detail. Or you can pick up a brochure and do your own DIY tour of the historic park grounds.
Stay at the Victorian Cosmopolitan hotel or have a delicious meal – the historic hotel used to house an adobe mansion and later converted to the hotel which was the popular hang out spot in the Old Town and restored to the 1870s look and feel down to the wall paper on the walls.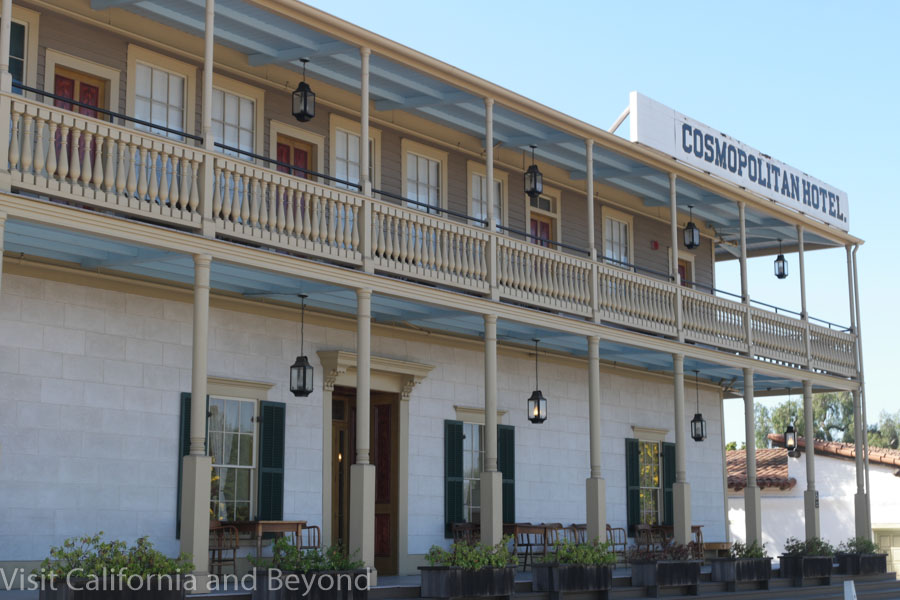 La Casa de Estudillo Museum – done in traditional Spanish Colonial architecture, this traditional adobe home was constructed in 1827 of the wealthy Estudillo family with reproductions of the period of furniture, collections and décor of its day. There are local crafters in period dress to show various crafts like looms and tool making presentations.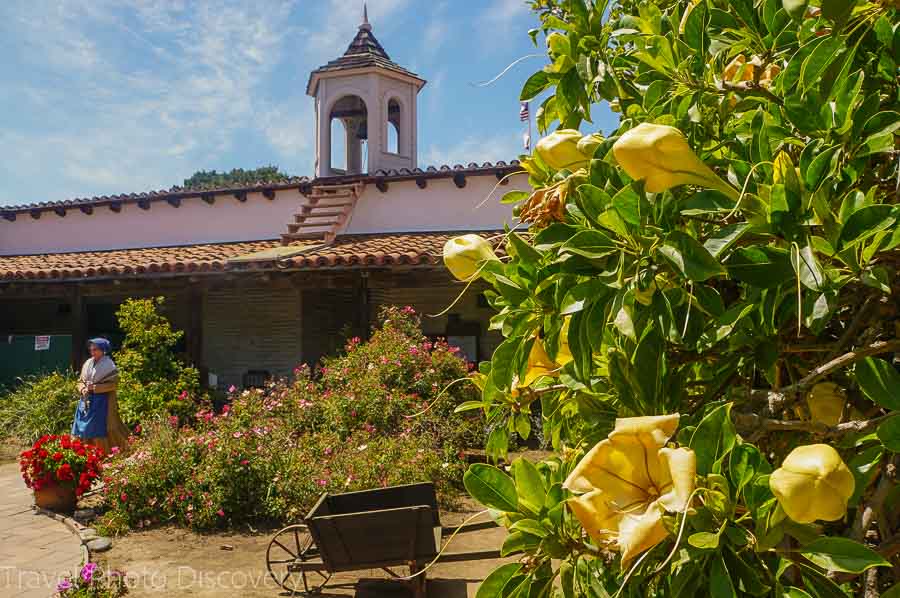 Seeley Stable Museum – an enlarged barn houses rare artifacts and 19th century vehicles along with carriages, carts, wagons and a wagon freighter showing how people got around in the early 1800s with a variety of collections showcased at the museum.
Harney Street artisan market – on weekends Harney Street has an art vendor fair with arts and crafts, jewelry and hand made products from local artisans for sale.
El Campo Santo Cemetery – the 2nd oldest cemetery in the historic district and was reduced in size with the building of a street that divided the cemetery and has a haunted presence in the Old Town
Wells Fargo History Museum – with a large and vintage Wells Fargo stagecoach in the original Colorado House which displays artifacts and other collections of coins and other historical imagery and stagecoach pieces.
An actual Wells Fargo Carriage in good condition.
San Diego's haunted Cemetery – find out why below
Here's an actual walking tour of the Old Town district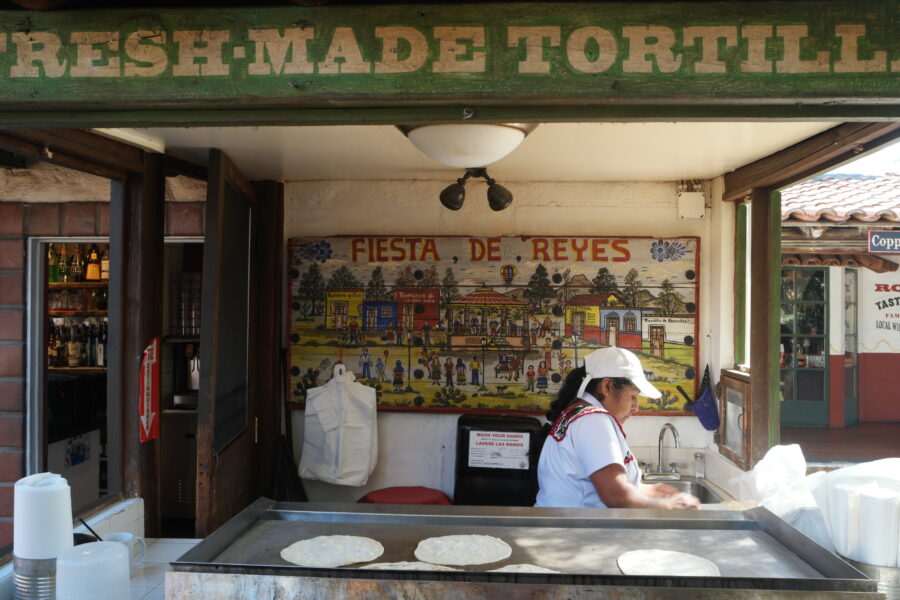 Places to eat around Old Town
With so many delicious food venues around the Old Town, you have an extensive choice of eating venues here covering traditional Mexican cuisine, American dining and many other popular bistro fare foods with delicious local drinks and specialties.
Cosmopolitan Restaurant – the Victorian area hotel built in 1827 and is still functioning also has a restaurant done in vintage style and serving American and Mexican cuisine
Fiesta De Reyes – Mexican food is the popular eats in the plaza area with the open-air Casa Reyes with outdoor dining in the main plaza delicious Mexican food and drinks
Miguel's Cocina – Mexican food with the best tacos in town and other tasty Mexican dishes and you can eat outdoors in their patio area
Cafe Coyote – serving traditional Mexican cuisine for over 30 years and recognized as one of the consistent and best restaurants in Old Town.
Old Town Tequila Factory – located high above Heritage Park, this Mexican restaurant with fantastic views of the area and delicious Mexican food.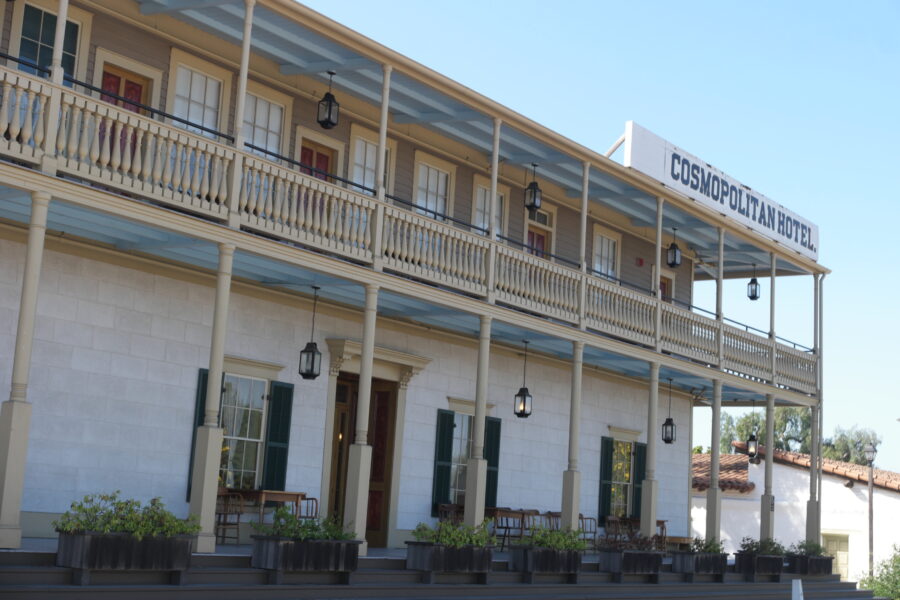 Where to stay around Old Town San Diego
With so many different types of accommodations covering different price points, you have you choice of well reviewed hotels and inns here for updated prices, availability and calendar.
Westin San Diego Downtown – easy convenient location in the Gaslamp district, modern, quiet and spacious rooms and comfortable beds.
Legasy Resort Hotel and Spa – value priced and good location close to old town, fantastic customer service, clean and comfortable rooms with a resort vibe.
The Lafayette Hotel – Clean and spacious old heritage hotel with excellent service, great location and easy walking to shops and dining.
Check out all these top review sites in the San Diego through TripAdvisor here with current prices, availability and booking calendar.
Weather and best time to visit San Diego

San Diego generally enjoys a mild and pleasant climate throughout the year, making it a great destination to visit at any time. Here's some information about the weather and the best time to visit:
Weather in San Diego:
San Diego has a Mediterranean climate characterized by warm, dry summers and mild, wet winters.
Average temperatures range from around 65°F (18°C) in winter to 75°F (24°C) in summer.
The city receives most of its rainfall between November and March, with relatively dry conditions during the rest of the year.
San Diego benefits from abundant sunshine, with more than 260 sunny days annually.
Best Time to Visit:
San Diego is a year-round destination with favorable weather, but the best time to visit depends on your preferences.
Summer (June to August) is peak tourist season, with warm weather, plenty of sunshine, and various outdoor activities. However, it can get crowded, and hotel rates may be higher.
Spring (March to May) and fall (September to November) offer pleasant temperatures, fewer crowds, and lower hotel prices. These seasons are ideal for outdoor activities and exploring the city.
Winter (December to February) is mild, and although it's the rainy season, the rainfall is generally moderate. It's a great time to visit if you prefer fewer tourists and want to take advantage of lower hotel rates.
Ultimately, the best time to visit San Diego depends on your personal preferences, desired activities, and tolerance for crowds. No matter when you go, San Diego's mild climate ensures enjoyable experiences throughout the year.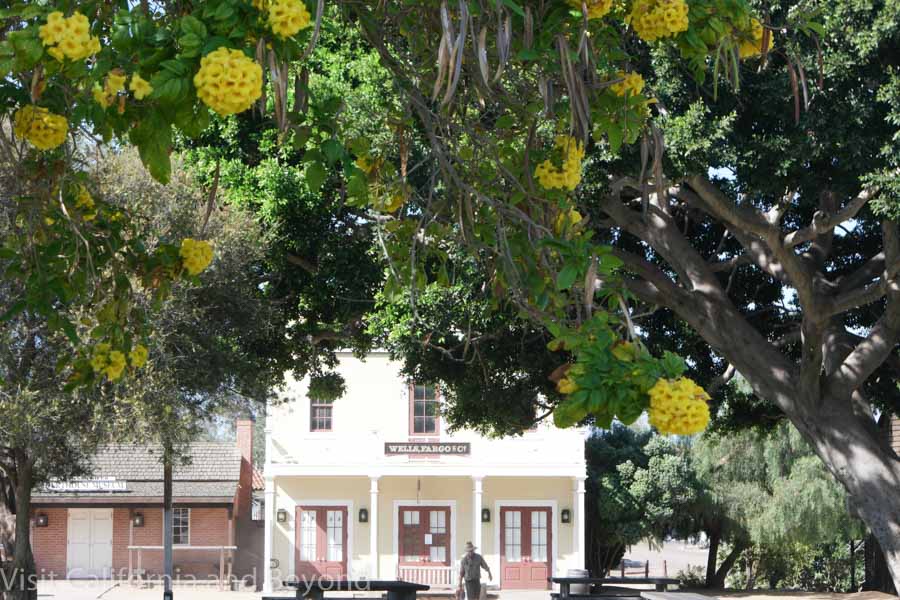 Directions on getting to Old Town San Diego
Old Town San Diego is located in central San Diego, California. Here are some directions to help you get there:
If you are coming from Los Angeles or points north, take I-5 South to San Diego.
Take Exit 19B for Old Town Avenue and continue for about 0.2 miles.
Turn left onto Old Town Avenue.
If you are coming from San Diego International Airport or points south, take I-5 North to San Diego.
Take Exit 19 for Old Town Avenue and continue for about 0.3 miles.
Turn right onto Old Town Avenue.
Once you arrive, there are several parking options available, including street parking and paid parking lots.
Old Town San Diego is also easily accessible via public transportation, with several bus and trolley routes serving the area
Some more tips to visiting Old Town in San Diego
Take a guided tour: There are many guided tours available in Old Town San Diego, including walking tours, trolley tours, and ghost tours. These tours can provide you with a wealth of knowledge about the area's history and culture.
Visit the museums: Old Town San Diego is home to several museums, including the Whaley House Museum, the Old Town San Diego State Historic Park, and the Casa de Estudillo. These museums offer a glimpse into the past and provide fascinating insights into life in early San Diego.
Sample the Mexican cuisine: Old Town San Diego is known for its delicious Mexican food, so be sure to try some while you're there. There are many restaurants to choose from, ranging from casual taquerias to upscale eateries.
Shop for souvenirs: Old Town San Diego has numerous shops and boutiques offering a variety of souvenirs, including traditional Mexican crafts, clothing, and jewelry.
Attend a festival or event: Old Town San Diego hosts many festivals and events throughout the year, including Cinco de Mayo celebrations, Dia de los Muertos events, and the Old Town Art Festival. Check the calendar to see what's happening during your visit.
With its rich history, delicious food, and unique shopping opportunities, Old Town San Diego is a must-visit destination for anyone traveling to the area.
Details to visiting Old Town

The address of Old Town San Diego can vary depending on the specific location you are referring to. However, the general address for Old Town San Diego State Historic Park is:
Old Town San Diego State Historic Park 4002 Wallace Street San Diego, CA 92110
Admission: Free except for the shows
Visitors Center
Old Town San Diego State Historic Park Visitor Center 3985 Harney Street San Diego, CA 92110
The Visitor Center serves as a helpful resource for tourists, providing information about the attractions, events, and historical significance of Old Town San Diego. It's a great starting point to gather maps, brochures, and any additional assistance you may need to enhance your visit to the area.
Check out these other posts to visiting SoCal areas
Things to do in Old Town San Diego
Visit the Carlsbad Flower Fields
Point Lomo Lighthouse in San Diego
Best beaches in Southern California to visit
Pin and save this for later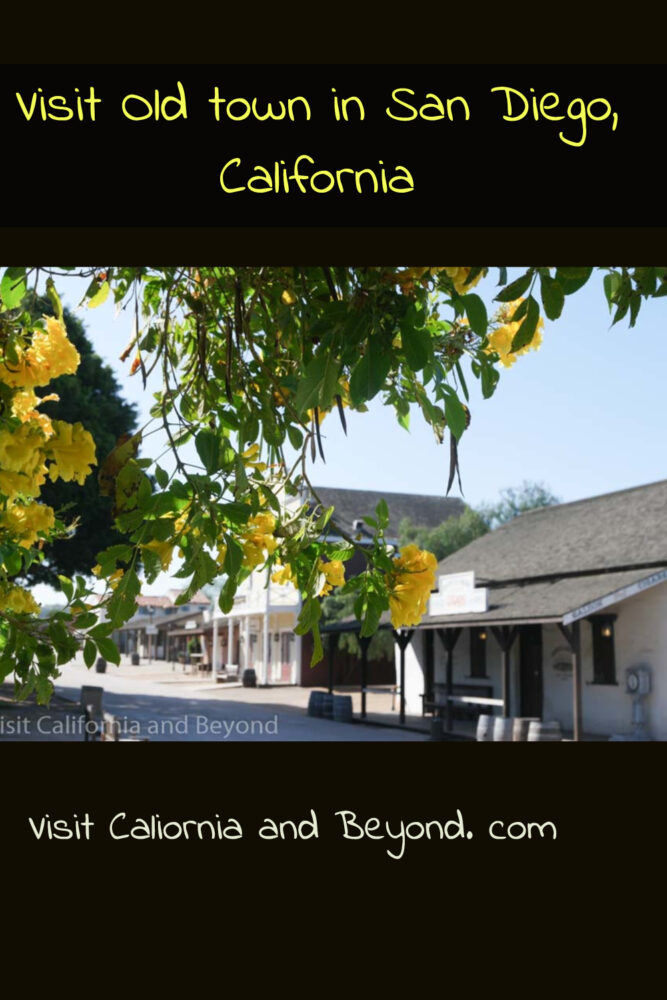 Have you visited the Old Town San Diego?
Looking forward to visiting again, or anything fantastic happen during your visit here? Please share your thoughts in the comments below.
Conclusion to Visiting Old Town in San Diego
In conclusion, visiting Old Town San Diego is a wonderful way to step back in time and experience the rich history and culture of the city. From exploring the preserved architecture and museums to indulging in delicious Mexican cuisine and browsing unique shops, there is no shortage of things to do in this charming neighborhood. Whether you're a history buff, foodie, or simply looking for a unique and enjoyable experience, Old Town San Diego is a destination not to be missed.
If you like what you see, come and check out my other social media channels for more updates, including Instagram, Pinterest and Twitter
Disclosure – some of the links above are to affiliate sites that are either reviews or recommendations if you book helps to keep our site running. We appreciate your supporting our website meanwhile