Visit the most famous streets of San Francisco and unique neighborhoods.
The many popular streets of San Francisco are fun to explore from the well-known Market street that dissect the city, wind through many crooked streets like Lombard or panoramic streets like California Street which runs downhill with panoramic views across this amazing city and bay far below. You'll love visiting the most famous streets of San Francisco to walk, drive through or even take a cable car ride through the area.
The famous streets of San Francisco are the veins of the city bringing us to all the wonderful places and neighborhoods to hang out and explore around the city by the bay.
Weather and the best time to visit San Francisco
San Francisco, located in California, experiences a mild and temperate climate throughout the year due to its proximity to the Pacific Ocean. However, it's important to note that San Francisco's weather can be quite variable, with microclimates that can lead to different conditions in different parts of the city. Here's a breakdown of the seasons and the best times to visit San Francisco:
Spring (March to May): Spring is a fantastic time to visit San Francisco. The weather is generally pleasant, with daytime temperatures ranging from the mid-50s to the mid-60s Fahrenheit (13-20°C). You can expect relatively fewer crowds during this time, making it a great season for sightseeing and outdoor activities.
Summer (June to August): Summer in San Francisco is characterized by cooler temperatures compared to other parts of California. Average daytime highs range from the mid-60s to low 70s Fahrenheit (18-24°C). While it's summer in most places, San Francisco often experiences fog and cool breezes, especially in the western parts of the city. Be prepared for some chilly evenings, and don't forget to bring layers if you plan to visit during this season.
Fall (September to November): Fall is another excellent time to visit San Francisco. The weather remains pleasant, with daytime temperatures in the 60s to low 70s Fahrenheit (18-24°C). September and October are particularly pleasant months with fewer crowds, making it ideal for exploring the city's attractions.
Winter (December to February): San Francisco's winters are mild, with daytime temperatures typically ranging from the mid-50s to the low 60s Fahrenheit (13-17°C). Rainfall is more common during the winter months, but it's generally not too heavy. While it's a good time to avoid crowds, be prepared for some rainy and chilly days.
In summary, the best time to visit San Francisco depends on your preferences. Spring and fall are generally considered the most pleasant and less crowded times to explore the city. However, if you enjoy cooler temperatures and don't mind the possibility of fog, summer can also be a great time to visit. Winter is the least popular season for tourists, but it can still offer a unique experience if you're prepared for occasional rain and cooler weather.
How to get around San Francisco
San Francisco offers various transportation options to help you get around the city conveniently. Here are some of the main ways to navigate San Francisco:
Public Transportation:

BART (Bay Area Rapid Transit): BART is a commuter rail system that connects San Francisco with neighboring cities and suburbs. It's an efficient way to travel between San Francisco and places like Oakland, Berkeley, and the San Francisco International Airport (SFO).
Muni: The San Francisco Municipal Railway (Muni) operates buses, trolleys, cable cars, and light rail (Muni Metro) throughout the city. You can use the Muni system to get around within San Francisco itself. Single-ride tickets and day passes are available for purchase.

Cable Cars:

San Francisco's iconic cable cars are not only a mode of transportation but also a popular tourist attraction. They primarily operate in the downtown and waterfront areas. Be prepared for long lines, especially during peak tourist seasons.

Buses and Trolleys:

The Muni system includes an extensive network of buses and trolleys that cover the entire city. It's a convenient way to reach various neighborhoods and attractions.

Light Rail (Muni Metro):

Muni Metro operates underground and aboveground light rail lines that serve different parts of San Francisco. It's a great option for reaching destinations like Fisherman's Wharf and the Mission District.

Ride-Sharing Services:

Services like Uber and Lyft are readily available in San Francisco and can be a convenient way to get around, especially if you're traveling with a group or need to reach destinations not well-served by public transit.
Explore and visit the iconic streets of San Francisco
Lombard street – the Crookedest street in San Francisco
This is probably the city's most famous street in San Francisco called the "Crookedest street in the world" and it looks like it from the bottom or top driving down. Located in the Russian Hill neighborhood, the one block street has over eight hairpin turns before it reaches the bottom. You can drive down the street or better yet walk down to capture some nice photo views and also admire the beautiful gardens that line the curves and sides of the street.
An instant icon in the streets of San Francisco, Lombard street is easily recognized and everyone wants to do a photo op here.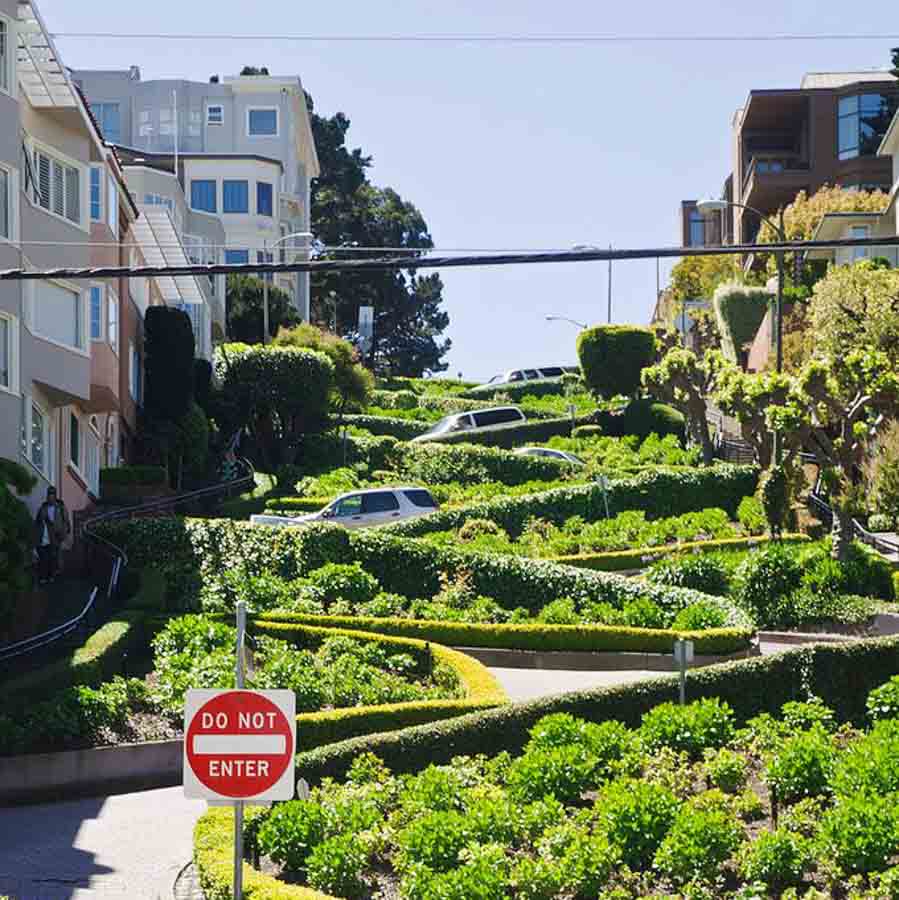 Here's a fun drive experience of the crookedest street at Lombard
Castro Street
A popular and famous street in San Francisco, Castro street is named for Jose Castro, a California Politician is the gay neighborhood in the city with lots of flare, rainbow flags and fun shops to explore. There is even a rainbow honor walk and crosswalk you'll find on the two major blocks that mark the district area.
One of the busiest San Francisco streets and corridor, The Castro and Castro street are historically and culturally one of the significant districts where everyone is encourage to be themselves and be a part of an active community neighborhood
Check out this walking tour of the Castro street and district
Explore the main corridor of Market Street
This large and main street that serves as the corridor from the commercial center with the Ferry Building at the end and running uphill towards the Twin Peaks area. The busy famous road in San Francisco passes through the Financial district, Union Square area, the Soma district and past the Castro District and then uphill all the way to Twin Peaks area.
Check out the heart of the city on Market Street below
The famous hippie haven at Haight Street
The streets of San Francisco had such a unique past including Haight street which was famous for Hippy's and Bohemians hanging out in the 60s here. The famous street in San Francisco once a place for flower children and free spirits has morphed into designer brand labels and trendy boutique stores mixed in with consignment clothing stores in a fun and enjoyable place to explore in the city.
Haight street has become more gentrified with hip boutique stores and trendy upcycled clothing exchange outlets in a popular shopping venue. It's both upscale and cutting edge crowds that love to shop, eat and hang out in this famous street. Surprisingly the hippie vibe is still alive with rock poster shops, thrift stores, divvy bars and the resurgence of tie-dye in the groovy shops on the street.
Now a popular San Francisco street and neighorhood to spot hip, trendy and old school venues around the neighborhood. Visitors to this famous street love to check out the coolest stores and eateries along with vintage shops and memorabiilia in this famous street in the city.
Here's a fun visit to Haight street below
Grant Avenue in Chinatown
Grant Avenue with the Chinatown gate welcomes visitors through this district with cheap souvenir shops, dim sum restaurants and kitschy shops on the oldest street in the Chinatown area. The real working Chinatown is parallel to Grant with markets, produce stalls and real grocery shopping on Stockton street which is the heart of shopping for locals who come for fresh produce, meats and other products.
Grant Avenue remains a popular street in San Francisco that tourist love to explore and visit the many bakeries and eateries, cheap tourist shops with fun, cheap trinkets and colorful photo ops of this historic area and neighborhood.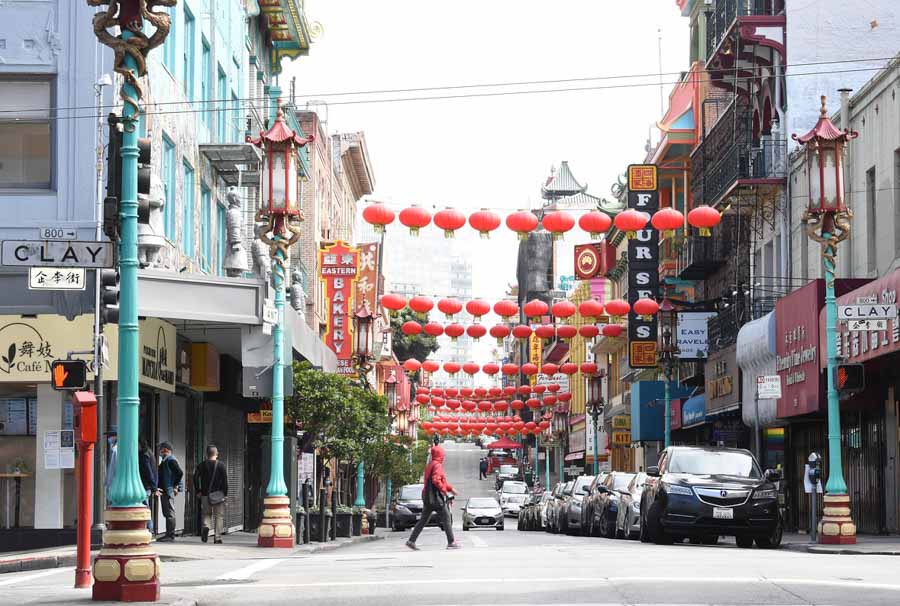 Here's a quick visit to Grant street in Chinatown
The Divisadero
One of the newer and popular street in San Francisco to visit is the Divisadero. The new trendy hang out area on Divisadero street is lined with uber restaurants, bars and shops, coffee shops and bakeries that draw a local and international crowd of visitors to check out the hip hang out spots around Divisadero area. Visitors love to window shop, browse and people watch in this see and be seen busy thoroughfare. The street passes through the Castro district and into the outer Filmore area off California and Geary Boulevard.
The new Divisadero neighborhood is vibrant, hip and fun to explore day time to evening when things kick up a notch with locals and visitors looking for something cool for hangouts and delicious food venues that cater to sophisticated foodies.
Here's a quick drive through the Divisadero below
The Embarcadero
This wide roadway on the waterfront areas with the Ferry Terminal and other port terminals along with popular tourist venues like Fisherman's Wharf and Pier 39 further down. On the national historic register, the street is a major thoroughfare driving past the tourist districts to the financial center of the city. The big thing that happens regularly is the Farmers Market at the Embarcadero Plaza happening on Tuesday, Thursday and the big market day on Saturdays around the plaza and back pier areas of the Ferry Plaza. It's the place to be on the weekends to buy fresh produce, artisanal foods and other delicious food truck vendors and shops selling a bevy of international foods and fresh farm to table food for takeout.
Now the Embarcadero continues to the newer parts of the city all the bay to the new Base Stadium in the China Basin and eastern side of the city with new and old being repurposed into living and multi complex lifestyles.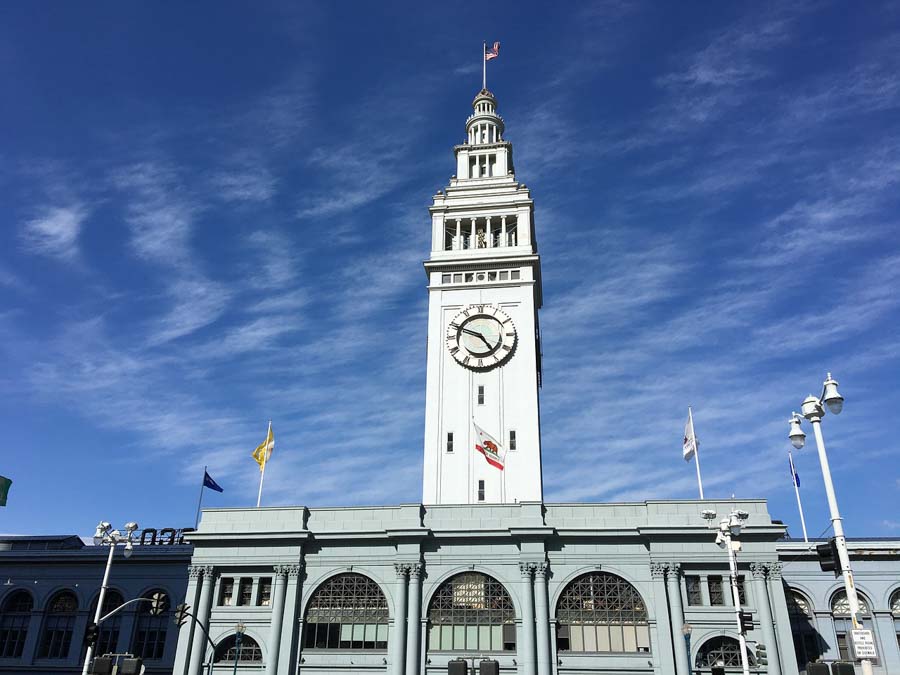 Filmore Street
The street transitions through several neighborhoods from the Haight to Tenderloin district with hip jazz and night club scene to uber trendy Fillmore district area of hip shops, eateries and high-end stores and going through more hills and down to another fun area called Union Street and then Chestnut Street in the Marina.
Filmore street is frequented by hipsters, urban professionals to family-oriented shoppers throughout this long and popular street to visit and explore with its many districts from start to end with fun shopping, eating and hang out spots to enjoy the local vibe and scene of this famous street in San Francisco.
Check out this walking tour of the Filmore district
Mission Street
A popular street in San Francisco for amazing Mexican and varied Latin inspired eateries, hip shops and trendy bars, the Mission is getting more gentrified for being in an area that is warmer and fun for hipsters and urban city dwellers that love to hang out in the mixed neighborhood with cool street art, street performers and a bevy of snacking venues and artisanal foodie shops, too many to count coffee shops and bakeries in the popular hangout neighborhood in the streets of San Francisco.
The Mission one of the most popular streets in San Franisco to visit and filled with locals and visitors coming to the neighborhood to relax, eat, hang out and check out the local scene, people watching and just enjoying a sunny day in the district.
The Mission is always changing and fun to explore below
Inside tips to visiting San Francisco's famous streets
Lombard Street: When visiting the world-famous "Crookedest Street," it's best to arrive early in the morning or on weekdays to avoid large crowds. Consider walking or taking public transportation to reach the area, as parking can be challenging. Be respectful of residents in the area and avoid blocking driveways or private property.
Market Street: Explore the vibrant heart of San Francisco by walking along Market Street. Take advantage of the city's historic streetcar line, known as the F-Market & Wharves, for a charming and convenient way to travel. Keep an eye out for unique street performers and diverse shops along this bustling thoroughfare.
Haight Street: Dive into San Francisco's counterculture history by strolling down Haight Street. This iconic street is known for its bohemian atmosphere and eclectic shops. Immerse yourself in the vibrant street art, vintage clothing boutiques, and alternative music scene. Don't forget to visit Haight-Ashbury, the famous intersection that symbolizes the 1960s hippie movement.
Union Street: Experience the charm of Union Street, lined with trendy boutiques, cozy cafes, and inviting restaurants. Explore the boutiques for unique fashion finds and enjoy a leisurely meal at one of the sidewalk cafes. Don't miss the opportunity to relax at the beautiful nearby Marina Green Park, offering stunning views of the Golden Gate Bridge and the bay.
Valencia Street: Discover the hip and artistic Valencia Street in the Mission District. This dynamic street is known for its thriving food scene, trendy bars, and independent shops. Sample delicious cuisine from a variety of international eateries, browse through local artisan shops, and immerse yourself in the area's vibrant street art.
Fillmore Street: For a sophisticated shopping and dining experience, head to Fillmore Street. This upscale neighborhood offers a mix of high-end boutiques, elegant galleries, and fine dining establishments. Explore the neighborhood's jazz history and catch a live performance at one of the renowned jazz clubs in the area.
Chinatown's Grant Avenue: Step into the vibrant cultural enclave of Chinatown by exploring Grant Avenue. Discover traditional Chinese shops, markets, and restaurants offering authentic cuisine. Don't forget to visit the ornate Tin How Temple and explore the nearby Dragon's Gate entrance for a memorable experience.
Castro Street: Immerse yourself in LGBTQ+ history and culture by visiting Castro Street. Known as the heart of San Francisco's LGBTQ+ community, this street offers a welcoming and inclusive atmosphere. Explore the local shops, vibrant bars, and iconic landmarks such as the Castro Theatre.
Embarcadero: Enjoy breathtaking waterfront views and iconic landmarks by strolling along the Embarcadero. This scenic street offers access to attractions such as the Ferry Building Marketplace, the Exploratorium, and the Bay Bridge. Rent a bike or simply take a leisurely walk along the waterfront promenade while enjoying the refreshing sea breeze.
Public Transportation: San Francisco's famous streets are easily accessible by the city's reliable public transportation system, including buses, streetcars, and cable cars. Consider purchasing a reusable Clipper Card to conveniently navigate the city's transportation network.
By keeping these inside tips in mind, you can make the most of your visit to San Francisco's famous streets and immerse yourself in the vibrant culture and rich history of the city.
Check out these other cool San Francisco spots
Visit the San Francisco Botanical Garden
Enjoying Stow Lake in Golden Gate Park
The Japanese Tea Garden highlights
Famous mosaic steps at 16th Avenue
HIdden Filbert Steps experience in the Embarcadero
Love this post – Pin it for later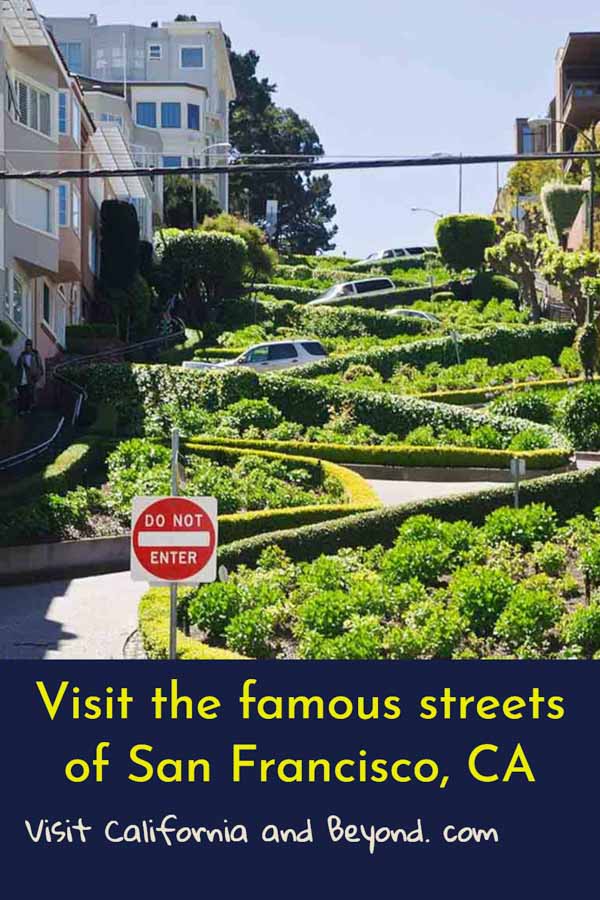 Conclusion to famous streets in San Francisco
So, these are all the most popular and well-loved streets and neighborhoods that are the heart of the areas these main streets dissect or end up in. You'll love walking, driving or taking public transportation through these fun, busy and important streets of San Francisco.
Thanks for visiting California and Beyond, if you enjoyed the post, please do share it with any of the social media buttons located on the site, thanks so much!