Exploring the Tranquil Beauty of Stow Lake: A Serene Oasis in the Heart of the City
Stow Lake in Golden Gate Park is breath taking especially during the spring to summer timeframe when the entire area around the lake is filled with California native wildflowers in bloom along with some other perennial die hards that color to the walkways around the lake.
Nestled amidst the bustling cityscape, Stow Lake stands as a serene oasis that beckons visitors to immerse themselves in its tranquil beauty. Located in the heart of San Francisco's Golden Gate Park, this picturesque lake offers a captivating escape from the urban hustle, inviting both locals and tourists alike to embark on a peaceful journey through its enchanting surroundings. Locals and visitors alike walk the perimeter trails, jog or even rent boats to paddle or row around the various parts of the lake area.
With its scenic vistas, charming boathouse, and rich history, Stow Lake promises a memorable experience for those seeking a serene retreat within the vibrant city.
History of Stow Lake
Boating around Stow Lake has been a favorite pass time in Golden Gate Park since 1893 when a man-made lake was created around Strawberry Hill and became an instant success in the park. The added boathouse with the charming Alpine features were created in 1946 and housed all the various boats that you can currently rent to go around the lake.
Listen to the legend of Stow Lake at night
Explore Stow Lake in Golden Gate park (lake walk & exercise, wildflowers, meditative & beautiful)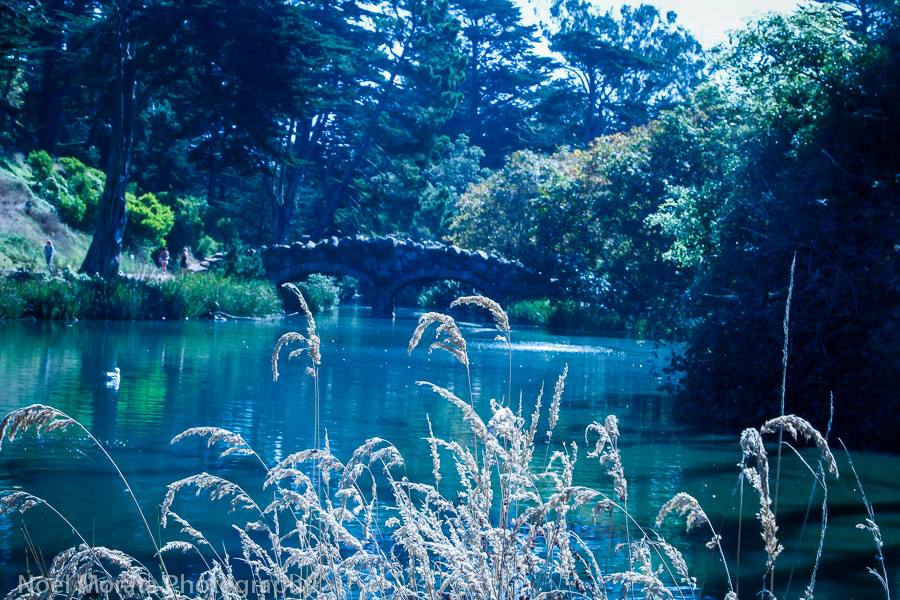 What to do and see around Stow Lake?
The man-made lake is beautiful and fun to walk around the shoreline parts of the lake and also to climb Strawberry Hill up to the high areas to get some wonderful views of the surrounding park
You can also do some fun boating on the lake with a variety of peddle boats, electric boats and row boats for those inclined for a better workout on the lake.
You can take the many trails for walking or running around the lake for exercise
There is a beautiful pagoda with seating area that you can visit along the lake
Enjoy all the wildflowers and perennials in bloom around the lake year-round.
There is a man-made waterfall on the lake, 110-foot Huntington Falls which is fun to pass through or view closer when you climb up Strawberry Hill
Also, there is a gorgeous stone bridge that is beautiful and worth a photo op in this area of the lake.
Directions to Stow Lake
Stow Lake is located at 50 Stow Lake Drive near John F. Kennedy Drive in San Francisco's Golden Gate Park. There is easy parking all around the road that circles around the entire lake or closer to the boathouse if you plan on doing some row boat fun.
The Stow Lake Boathouse is open daily, 11 am to 5 pm Monday through Thursday and 11 am to 6 pm Friday through Sunday.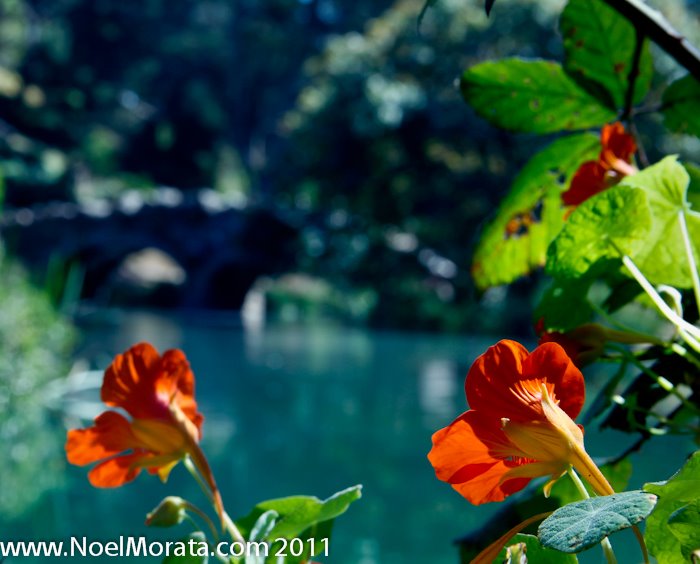 Renting a boat at Stow Lake
You can rent boats by the hour with peddle boats at $28.50 per hour and row boats at $22.50 per hour, there are 4 -6 man peddle boats and some assisted boats that you can also rent for $38.50 on an hourly basis at the boat house.
All riders are required to wear life vests and the boats and parts are sanitized each time for Covid cleaning.
Check out the hidden gems around Stow lake below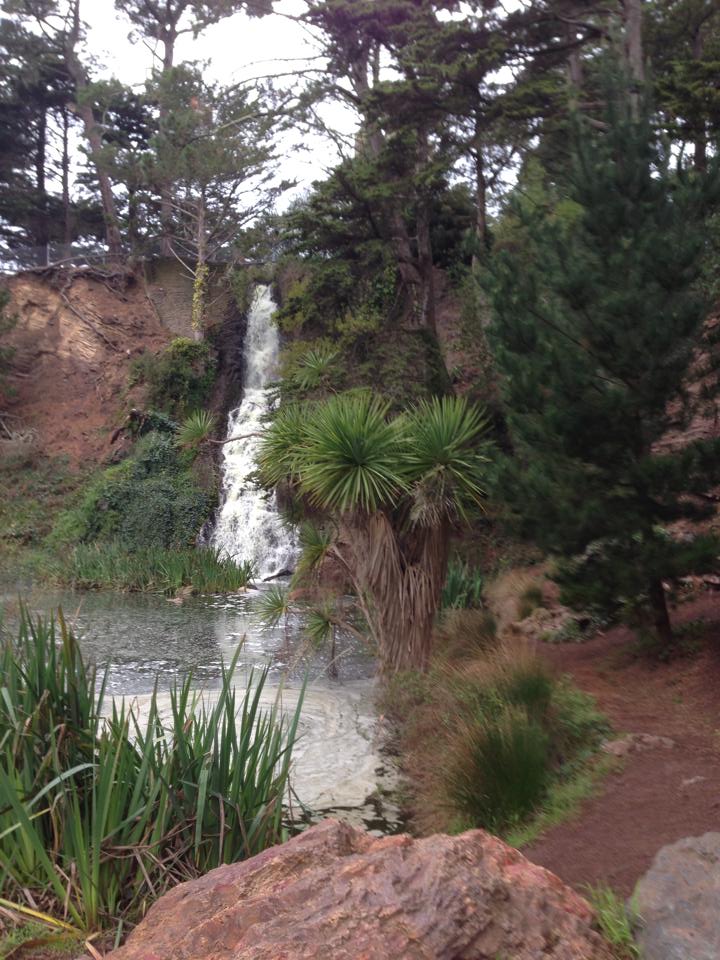 Here's a sweet tour of the Stow lake area below for inspiration
How to get to Stow Lake by transportation
To get to Stow Lake in San Francisco by public transportation, follow these steps:
Use Public Transportation: San Francisco has an extensive public transportation system operated by the San Francisco Municipal Transportation Agency (SFMTA), known as Muni. You have several options to reach Stow Lake:
Exit the Bus or Light Rail: Get off the bus or light rail at a stop near Golden Gate Park. Be sure to check your specific route for the closest stop.
Walk to Stow Lake: From the bus or light rail stop, you'll need to walk into Golden Gate Park to reach Stow Lake. The lake is located near the eastern end of the park. Follow the signs to Stow Lake, or you can use a mapping app or ask locals for directions.
Enjoy Stow Lake: Once you arrive at Stow Lake, you can enjoy the scenic surroundings, take a leisurely walk around the lake, rent a rowboat, or visit the nearby attractions like the Chinese Pavilion and Strawberry Hill.
Please note that public transportation schedules and routes may change, so it's a good idea to check the latest information, including bus and light rail schedules and routes, on the SFMTA website or use a transit app before your visit. Enjoy your time at Stow Lake in Golden Gate Park!
Weather and best time to visit Golden Gate Park
Golden Gate Park, located in San Francisco, experiences a moderate coastal climate characterized by cool summers, mild winters, and the possibility of fog. The park's weather is influenced by the marine layer that frequently rolls in from the nearby Pacific Ocean.
The best time to visit Golden Gate Park largely depends on your preferences and the activities you plan to engage in. The park offers different attractions and experiences throughout the year.
Spring, from March to May, is generally a pleasant time to visit. The temperatures range from the mid-50s to low 70s Fahrenheit (12-23°C), and the park comes alive with vibrant blooms and blossoming trees. It's an ideal time for picnics, leisurely walks, and enjoying the park's various gardens.
Summer, from June to August, can be cooler and foggier compared to other parts of the city. Daytime temperatures typically range from the mid-60s to low 70s Fahrenheit (18-23°C), occasionally reaching the 80s Fahrenheit (27-30°C) during heatwaves. It's a great time to explore the park's attractions, such as the Conservatory of Flowers or the Stow Lake Boathouse, and attend outdoor concerts or events.
Fall, from September to November, brings milder temperatures and fewer crowds. The weather is often pleasant, with temperatures ranging from the mid-60s to mid-70s Fahrenheit (18-24°C). The park's foliage transforms into beautiful autumn colors, making it a picturesque time for strolling, cycling, or visiting the de Young Museum or the California Academy of Sciences.
Winter, from December to February, tends to be the coolest and wettest season in Golden Gate Park. Temperatures range from the mid-50s to low 60s Fahrenheit (12-16°C). Rain showers are more frequent during this time, but the park retains its greenery, and the indoor attractions, such as the Japanese Tea Garden or the Conservatory of Flowers, offer shelter and beauty.
Overall, Golden Gate Park can be visited year-round, but spring and fall generally offer the most comfortable temperatures and pleasant weather for outdoor activities. It's always a good idea to check the weather forecast before your visit and dress accordingly, including layers and a light jacket or sweater, as the temperatures can vary throughout the day.
What else to see around Stow Lake and Golden Gate Park
In addition to Stow Lake, there are several other attractions worth exploring in the vicinity. One such attraction is the de Young Museum, a renowned art museum that showcases a vast collection of American art, international contemporary art, textiles, and more. The California Academy of Sciences is another popular destination nearby, offering a fascinating blend of a natural history museum, aquarium, planetarium, and rainforest exhibit all under one roof.
For nature enthusiasts, the Japanese Tea Garden provides a serene and meticulously manicured landscape, featuring traditional Japanese architecture, tea ceremonies, and vibrant flora. Just a short distance away, the iconic Golden Gate Bridge awaits, offering breathtaking views of the city and the Pacific Ocean.
These nearby attractions add further depth and variety to the overall experience of visiting Stow Lake and provide ample opportunities for exploration and discovery in the vibrant city of San Francisco.
Golden Gate park has so many wonderful public areas and gardens to explore in the park for you to enjoy including:
Check out these other posts on Golden Gate Park and the surrounding areas.
Visit the Japanese Tea Garden
Enjoy the Conservatory of Flowers
San Francisco Botanical Garden

Pin and save this for Later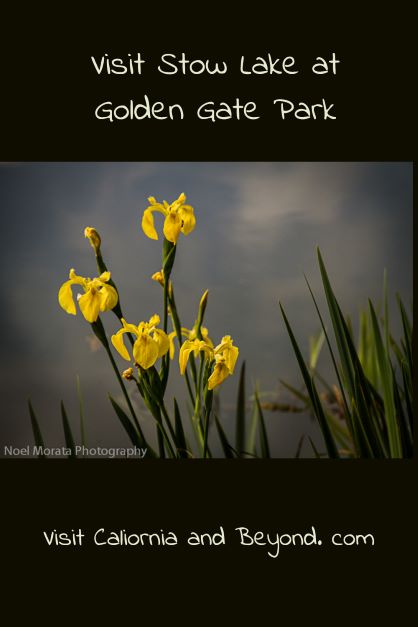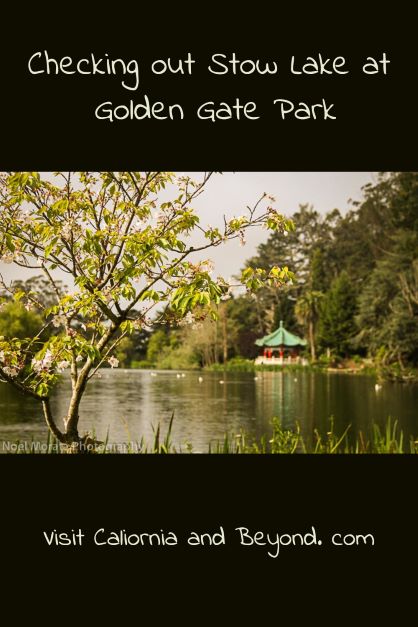 Have you been to Stowe Lake?
If you have been here, we would love to hear your thoughts or inside tips to visiting the area.
Conclusion to visiting Stow Lake
So, these are all the most popular and well-loved parts of Golden Gate Park that locals and visitors enjoy including Stow Lake.
In conclusion, a visit to Stow Lake offers a captivating escape from the bustling city, providing a serene and picturesque experience for all who venture there. Whether you choose to leisurely stroll around the lake, rent a paddleboat or rowboat, or simply find a peaceful spot to relax and soak in the beauty of nature, Stow Lake never fails to enchant its visitors. With its idyllic setting, charming boathouse, and the surrounding lush greenery of Golden Gate Park, this hidden gem invites you to unwind, reconnect with nature, and create lasting memories. A visit to Stow Lake is a delightful retreat that offers a refreshing respite from the urban landscape and reminds us of the tranquil beauty that can be found even in the heart of a bustling city.
Thanks for visiting California and Beyond, if you enjoyed the post, please do share it with any of the social media buttons located on the site, thanks so much!