Visit The gorgeous Dahlia garden at Golden Gate park in San Francisco
The Dahlia Del located next to the Conservatory of Flowers at Golden Gate park is breath taking to visit especially if you are in the vicinity of Conservatory of Flowers. Situated in the lower right section below the Conservatory in the circular driveway, the Dahlia garden in San Francisco is center stage in a ringed area that is bursting with colors, textures and visual delight to experience in person.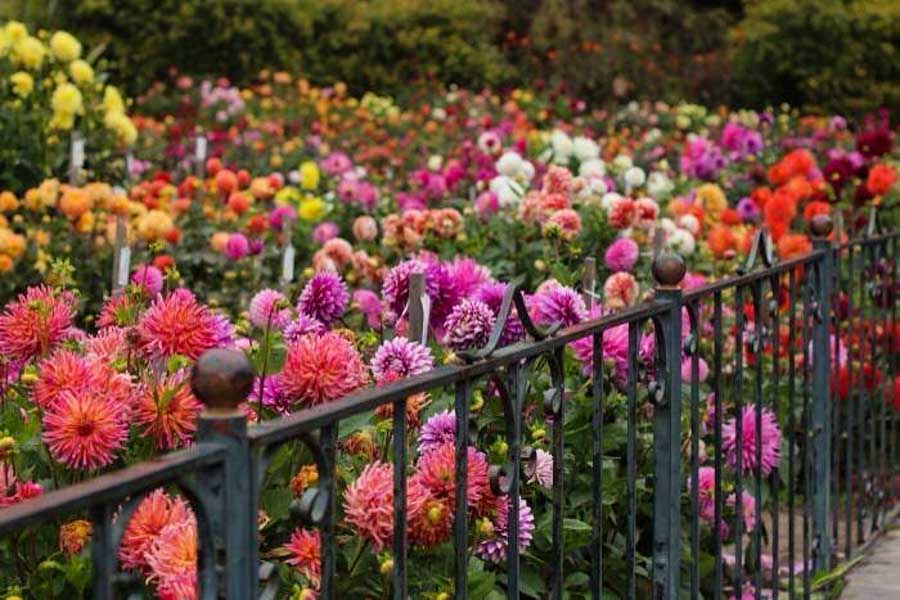 Where is the Golden Gate Park Dahlia garden located?
The Dahlia del in Golden Gate Park is situated on the right side of the Conservatory of Flowers. Just a short walk past the conservatory and stairs down to the beautifully presented dahlia garden circle.
Location – close to the entrance of Golden Gate Park at the Conservatory of Flowers on 100 John F Kennedy Drive San Francisco, CA 94118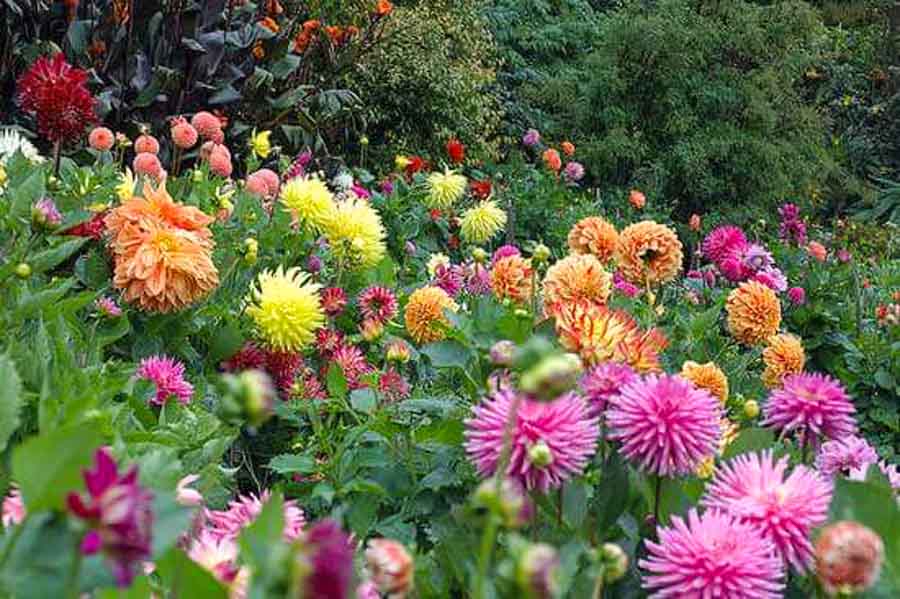 A little history on the Dahlia garden at Golden Gate Park
The beautiful dahlia is the official flower of San Francisco and it lovingly represented in this garden at Golden Gate Park in the city. The San Francisco Dahlia garden was created originally in 1940 with the collaboration of park superintendent John Malaren and director Richard Eddy to cultivate dahlia species from all around the world to display in this garden located in the driveway area leading to the Conservatory of Flowers.
The Golden Gate Park Dahlia dell is organized and run by the local Dahlia garden society and is lovingly maintained by volunteers with the over 1000 dahlia tubers that bloom late summer to fall time frame.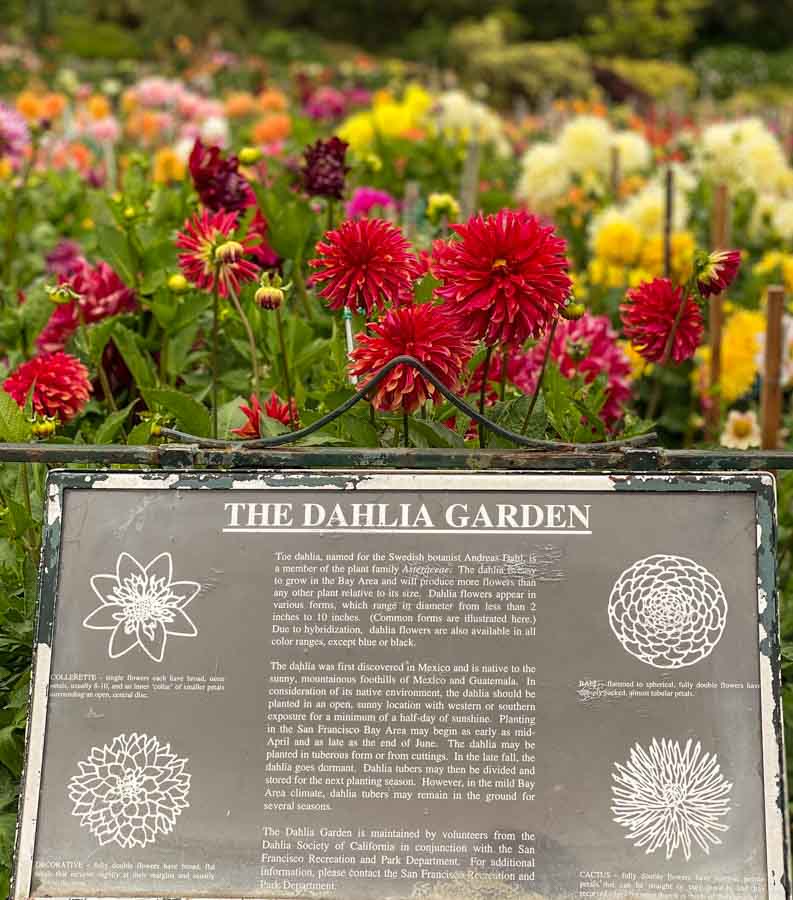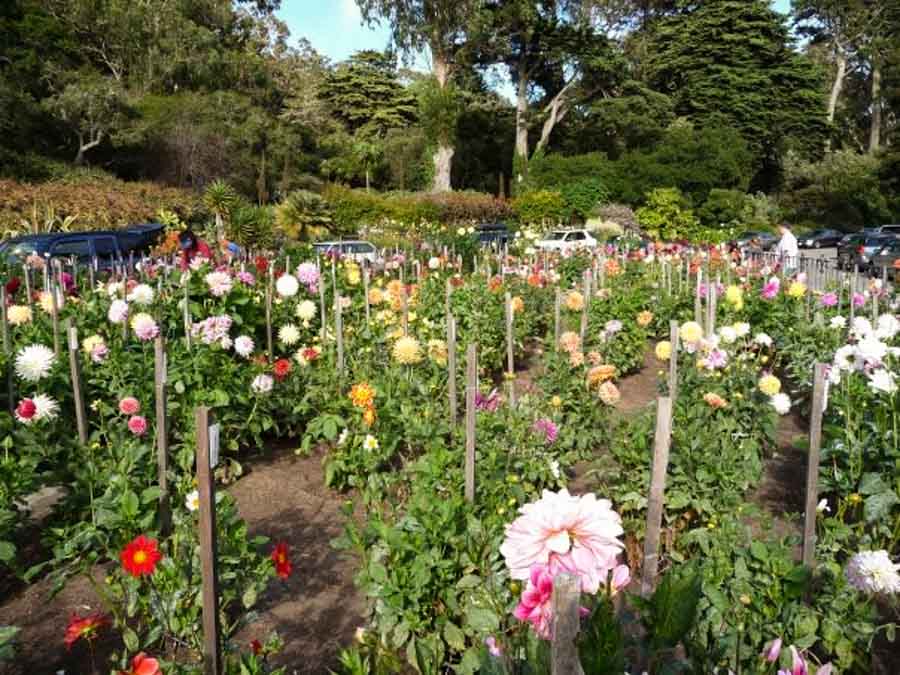 Details to visiting and hours to visiting the dahlia garden at Golden Gate Park.
The Dahlia garden starts to bloom in June and reach their peak level of beauty in late August and September to fall time. However, you can still enjoy the radiance of the blooms all the way into October and even November if the temperatures are mild for the winter time.
The dahlia garden area is open to visiting all day long
The San Francisco Conservatory of Flowers next door is open for visitors throughout the week and for visiting information check their website here.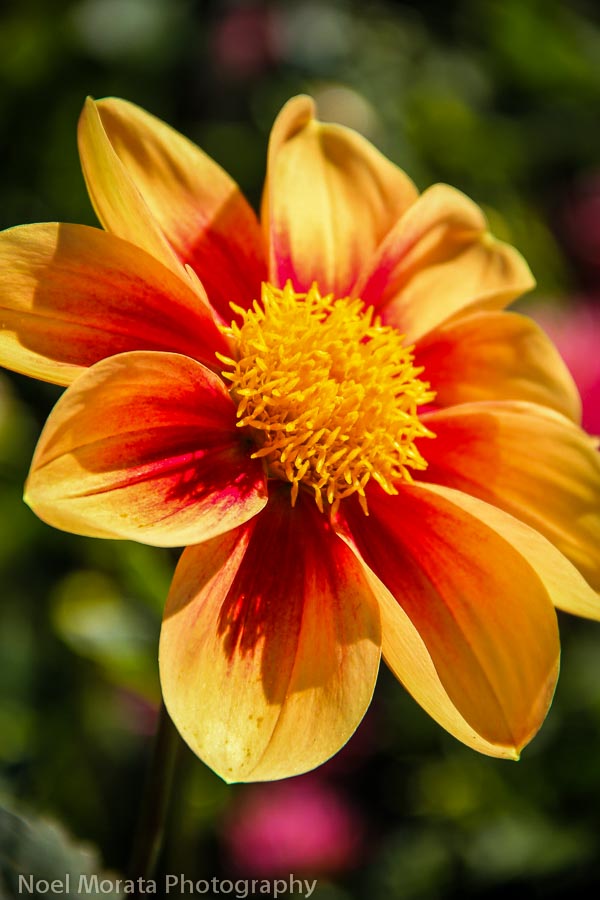 Places to visit around the Dahlia garden and the Conservatory of Flowers
Visit the Conservatory of Flowers – the gorgeous glass houses of San Francisco are an iconic site and filled with stunning gardens and special exhibits to explore inside.
The Conservatory entry gardens – the entry gardens are changed annually and creates a colorful display and entry to the main glass houses. It is always a surprise to see the changes in season with the different plantings and arrangements done in the front gardens for all to enjoy and photograph with the Conservatory in the backdrop
The Arid and cactus garden – Surrounding the Conservatory on one side and next to the Dahlia dell is an upward sloped garden containing a variety of arid, succulent and cactus plants that thrive in this sunny part of the garden. It's fun to walk uphill in the sculptured beds to view the massive plantings and also a nice view of the gardens below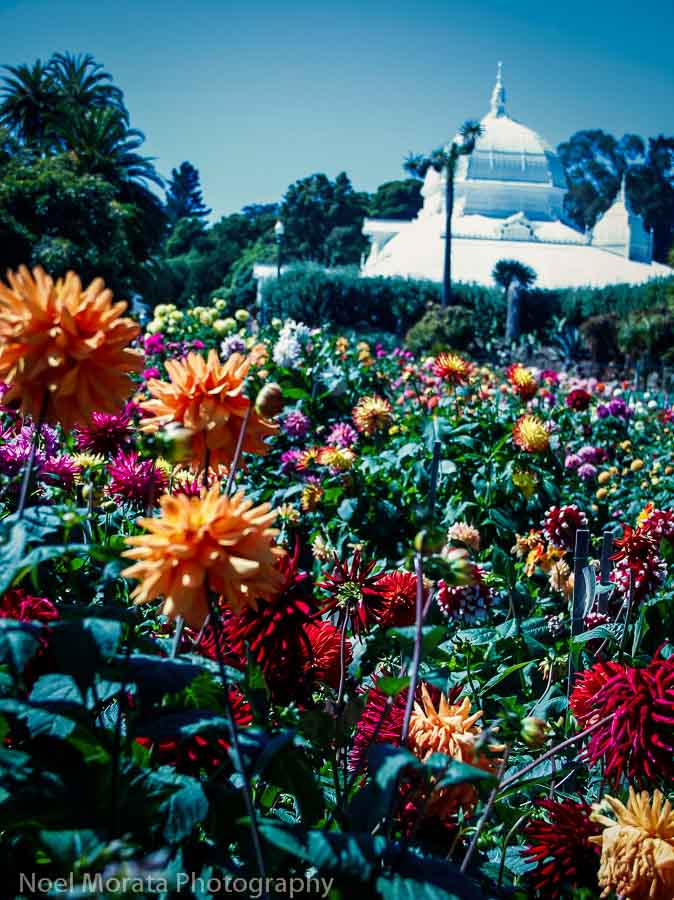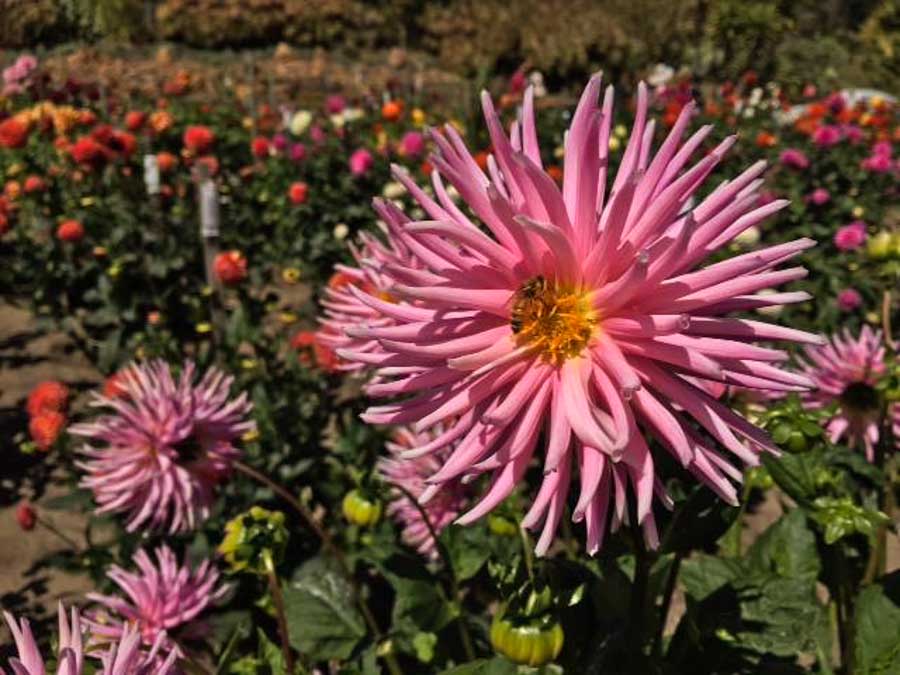 What else to see around Golden Gate Park
Golden Gate park has so many wonderful public areas, gardens, museums and water features and lakes to explore in the park for you to enjoy including:
San Francisco Botanical Garden
McLaren Rhododendron dell