Visit Carmel Mission: Explore the Historic San Carlos Borromeo de Carmelo Mission
A visit to Carmel isn't complete without touring San-Carlos-Borromeo-de-Carmelo-mission or in short Carmel Mission which was once the headquarters and gem of the California missions. Founded in 1770 and completed in 1797, this gorgeous mission and church contains significant artwork, original artifacts and fun displays to see in the museum area along with the beautifully decorated church.
Carmel Mission has a captivating story, stunning Spanish Colonial Revival architecture, and cultural artifacts. Immerse yourself in the tranquility of its gardens and reflect on the region's rich heritage. Experience the blend of history and spirituality at Carmel Mission and leave with a deep appreciation for its enduring legacy.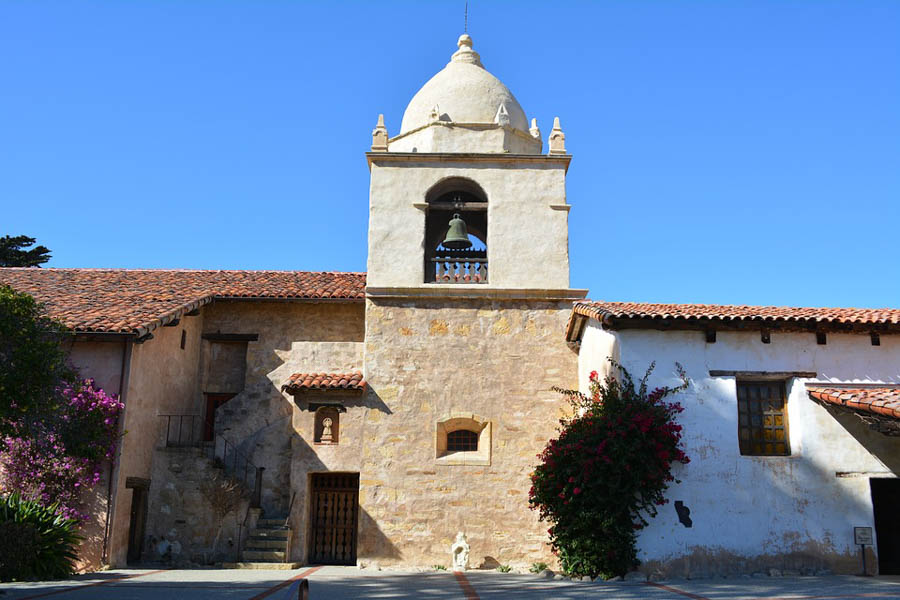 How to get to Mission San-Carlos-Borromeo-de-Carmelo
If you're traveling by car from the north or south, take Highway 1 (also known as Cabrillo Highway) to Carmel-by-the-Sea. From there, head east on Rio Road, which will lead you directly to the mission. The address of the mission is 3080 Rio Road, Carmel, CA 93923.
By Public Transportation: If you prefer to use public transportation, you can take a bus to Carmel and then reach the mission on foot or by taxi. Several bus lines serve the area, including Monterey-Salinas Transit (MST) and Greyhound. Check the schedules and routes to plan your trip accordingly.
Entrance to the mission grounds is in the gift shop area to enter the church courtyard and surrounding museum and grounds.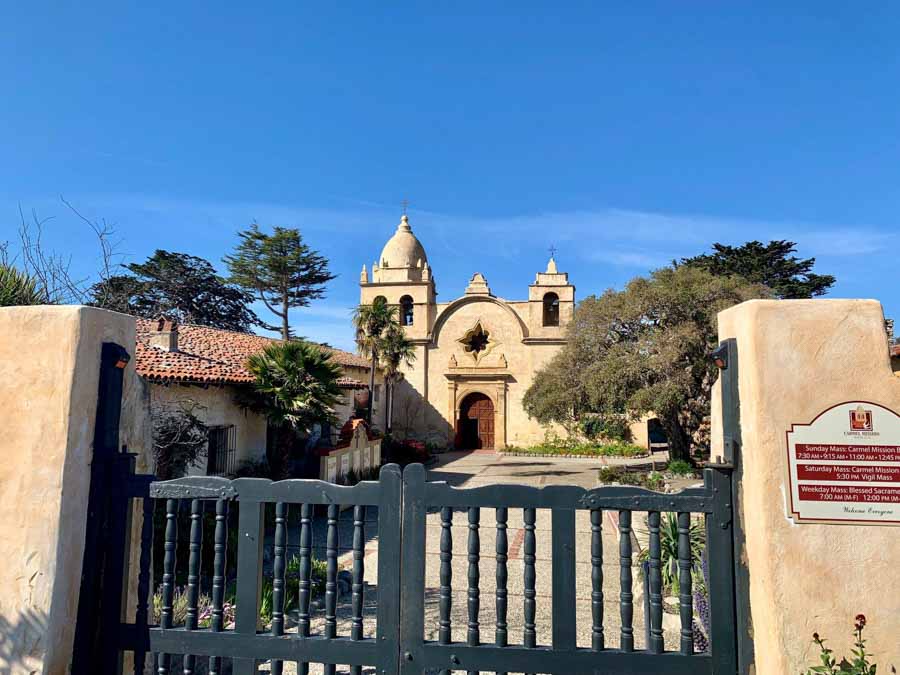 History of Carmel Mission
Established in 1770, Mission San Carlos Borromeo de Carmelo is on the National Historic places and a Historic Landmark. Originally the main headquarters of Alta California, the mission was headed by Father Junipero Serra from 1770 until his death in 1784. Named for Saint Carlo Borromeo who was the Archbishop of Milan, this was the first Christian site confirmed in Alta California.
Located near the mouth of the Carmel River, the site was ideal for growing food for the church and local population. Located close to the regional capital at Monterey, Mission Carmel was a favorite mission for Father Serra who chose it as his headquarters who helped to establish 7 additional missions throughout California.
The mission became a strong agricultural base with production of grain, corn, beans, 2180 horses and cattle and over 500 sheep and cattle around its peak in 1797. The establishment of the missions were created to convert the native Indian population into Christianity, along with cities and forts to establish Spanish lands and rule in Alta California.
The next founding father Fermin Francisco de Lasuen was charged with establishing nine more mission churches in California. After California was changed from Mexican to American rule, by the mid-19th century the mission fell into disrepair and ownership was transferred to Franciscans with the local Diocese of Monterey with Carmel church being the parish within this Diocese.
Restoration work began again in 1931 and was continuous for 50 years. The funds for entry are used for ongoing restoration projects around the mission grounds.
Here's a video tour and history of Carmel Mission below
Weather and best time to visit Carmel
Carmel enjoys a moderate coastal climate throughout the year, making it an inviting destination for visitors. The best time to visit Carmel is during the months of April to October, when the weather is generally pleasant and conducive to outdoor activities.
In the spring and fall, from April to May and September to October, Carmel experiences mild temperatures with highs in the 60s to 70s Fahrenheit (15-25 degrees Celsius). These seasons offer comfortable weather for exploring the Carmel Mission and enjoying the scenic beauty of the area.
During the summer months of June to August, temperatures can reach the 70s to 80s Fahrenheit (20-30 degrees Celsius), providing ideal conditions for beach visits and outdoor adventures. However, it's worth noting that summers in Carmel can be foggy and cooler compared to inland areas.
Winter, from November to March, brings cooler temperatures to Carmel, with highs ranging from the 50s to 60s Fahrenheit (10-20 degrees Celsius). While it may not be the warmest time to visit, it still offers a serene atmosphere and the opportunity to enjoy Carmel's cultural attractions without the crowds.
Overall, Carmel is a year-round destination, but for optimal weather and outdoor exploration, the spring, summer, and early fall months are recommended. Remember to check the specific weather conditions and pack accordingly for your visit to make the most of your time in this beautiful coastal town.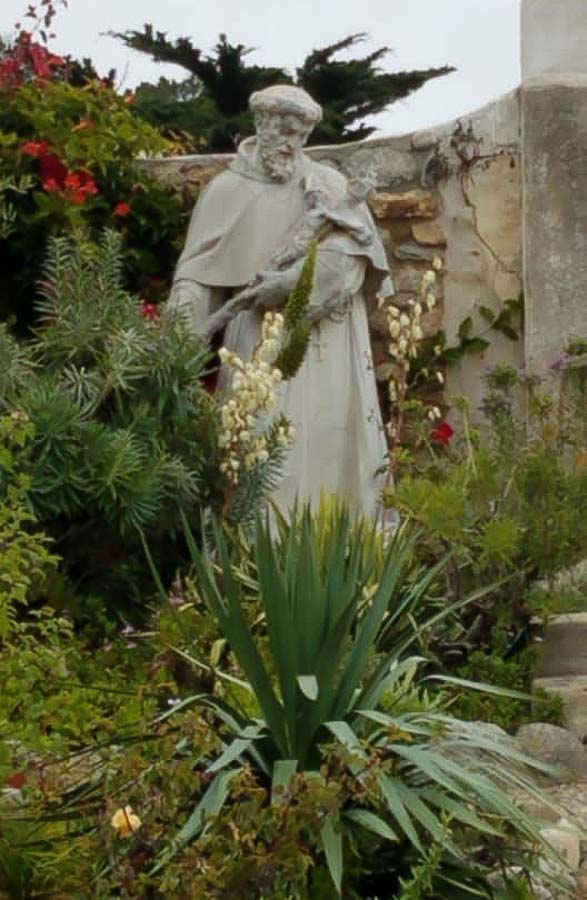 What to see at Carmel Mission
One of the most authentically restored California Missions, Carmel Mission is still an active church of the Monterey Diocese. The center offers tours, events, art exhibits, lectures and other community events. You can visit all of the grounds around the mission including these main attractions: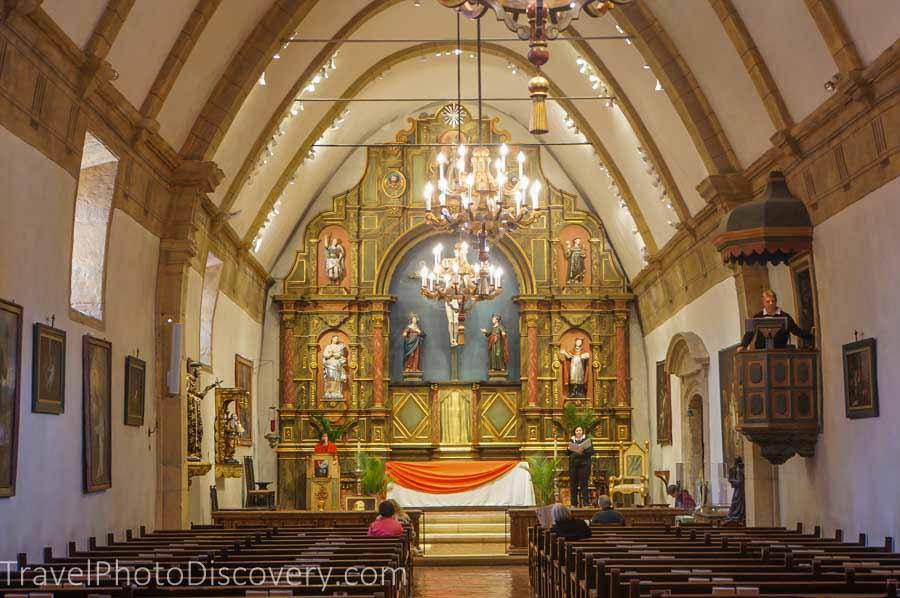 The Basilica of Carmel Mission – a beautifully restored church with custom made chandeliers, hand painted murals, Spanish Colonial oil paintings and other important artwork. The vestments of the church and Father Serra are stored and on display on the side chapel area of the Basilica that you can also explore and visit.
Here's a video tour of Carmel Mission below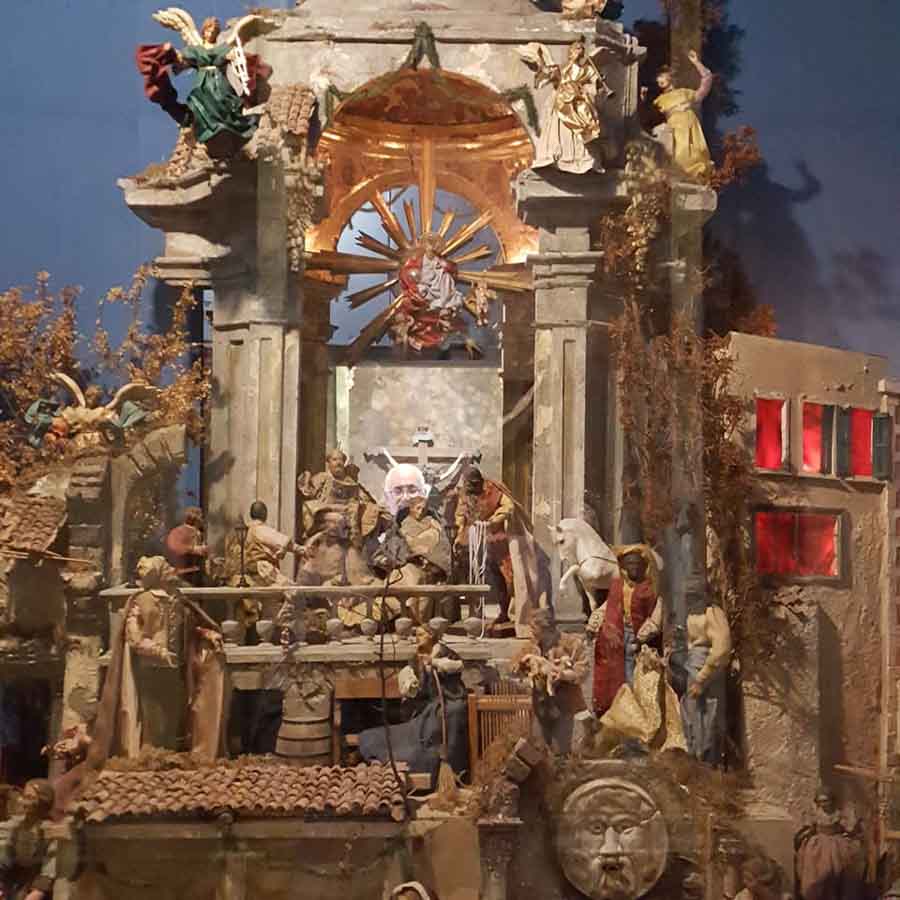 Check out the museum and shop
Carmel Mission Museum – there are four museum galleries that contain interpretive displays, relics, the bronze and travertine Cenotaph, Mission vestments and other holy collections of the mission. You can also visit the main private chambers of Father Serra from the museum grounds. There are side chapels that are beautiful to see an in the process of being currently restored.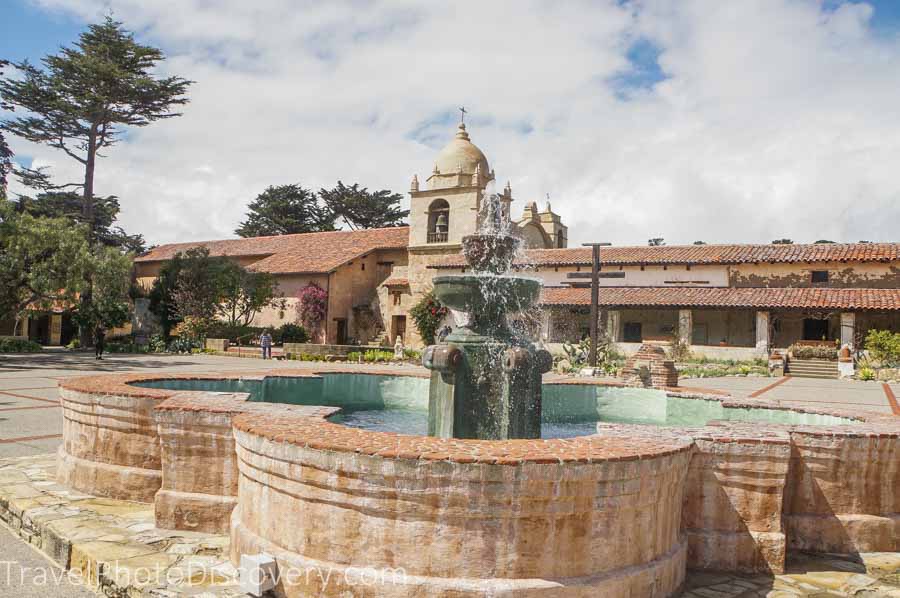 Quadrangle courtyard – the expansive outdoor courtyard with elaborate fountain is festooned with gorgeous Mediterranean plants and flowers that accent the beautiful exterior of the grounds. A colorful area to enjoy and capture some beautiful shots of the mission grounds and basilica in the background.
The side cemetery adjoining the basilica – a really unique cemetery that is decorated with local abalone and shells around each plot along with tombstones and Indian grave stones are represented in this small cemetery grounds
Details to visiting San-Carlos-Borromeo-de-Carmelo-mission
Still functioning as a church, museum and visitors center, Mission San Carlos Borromeo de Carmelo is a wonderful site to visit and located just outside of the town center.
The Mission is open from 9:30 to 5pm from Monday to Saturday, 10:30 to 5pm on Sunday
Admission price to the grounds is $10 for adults, $7 for seniors and $5 for children
You can do a self-tour or sign up for a docent lead tour
All entry funds help to maintain the grounds and other restoration projects.
Check out more information to visiting the mission here for hours, calendar or events and other notices to visiting.
more inside tips to visiting Mission Carmel and the village area
Visiting Mission San Carlos Borromeo de Carmelo (commonly known as Mission Carmel) and the surrounding village area in Carmel-by-the-Sea, California, provides a glimpse into the region's rich history and charming atmosphere. Here are some inside tips to enhance your experience:
Visit Early in the Day:

Arrive early in the morning when Mission Carmel opens. This allows you to explore the mission and its grounds before it gets crowded, providing a more serene experience.

Learn About the History:

Take the time to learn about the history of Mission Carmel, which was founded in 1770. You can do this by taking a guided tour or using self-guided resources available at the mission. Understanding the mission's role in California's history will deepen your appreciation.

Respect the Mission Grounds:

While exploring the mission and its gardens, be mindful of the rules and respect the peaceful atmosphere. It's a place of worship and historical significance.

Attend Mass or a Ceremony:

If you're interested in the religious aspect, consider attending a mass or ceremony at the mission. Check the mission's schedule for the times of religious services and events.

Explore the Basilica Museum:

Inside the mission, you'll find the Basilica Museum, which houses a collection of religious artifacts and historical items. Take some time to explore the exhibits and learn more about the mission's history.

Gardens and Courtyard:

Wander through the mission's gardens and courtyard. It's a peaceful setting with lush greenery and historic buildings. The central courtyard often hosts events and weddings, providing a picturesque backdrop.

Photography:

Mission Carmel offers many photo opportunities. Capture the beautiful architecture, gardens, and historical elements, but be respectful of any photography restrictions during religious services.

Carmel Village Exploration:

After visiting the mission, explore the charming village of Carmel-by-the-Sea. The streets are lined with art galleries, boutique shops, and cozy cafes. Take your time to stroll and discover hidden courtyards and unique shops.

Carmel Beach:

Don't miss the opportunity to visit Carmel Beach, which is just a short drive from the mission. It's known for its stunning scenery, white sands, and picturesque sunsets. It's a great place for a leisurely walk along the shore.

Reserve Dining:

If you plan to have lunch or dinner in Carmel, consider making reservations in advance, especially during peak tourist seasons. The village has a diverse culinary scene, offering various cuisine options.

Pet-Friendly Destination:

Carmel-by-the-Sea is known for its pet-friendly policies, so if you're traveling with a furry friend, you'll find many establishments that welcome dogs. Some even provide water bowls and treats for pets.

Local Events:

Check for local events, art exhibitions, and cultural festivals happening in Carmel during your visit. These events can add extra charm and entertainment to your experience.
By following these inside tips, you'll have a more enriching and enjoyable visit to Mission Carmel and the charming village of Carmel-by-the-Sea, immersing yourself in history and local culture.
Where to stay in Carmel area
There are plenty of accommodation to base yourself while visiting Carmel Mission and other attractions in the area. Check out these top-rated hotels and inns here for current prices and availability.
The HIdeaway – beautiful boutique hotel and close walk to the beach and downtown Carmel with comfortable, clean rooms, charming details and appointments, boxed breakfast meals.
Wayside Inn – Next to Carmel Plaza and easy walk to the main shops and restaurants, comfortable rooms, clean, friendly staff and priced well for the area.
Tickle Pink Inn – Oceanfront property, lots of nice perks, amenities, plush rooms with ocean views, breakfast service and friendly staff, value priced for the area.
Check out these best reviewed places to stay through Trip Advisor here for updated calendar, availability and prices.
Explore these nearby attractions around Carmel
While Carmel itself offers a wealth of attractions, there are also several noteworthy destinations in its vicinity that are worth exploring. Here are some nearby attractions that will further enrich your visit to Carmel:
Pebble Beach: Located just a short drive from Carmel, Pebble Beach is renowned for its picturesque coastline, world-class golf courses, and stunning views. Take a scenic drive along the famous 17-Mile Drive, marvel at the Lone Cypress tree, and soak in the beauty of the rugged shoreline.
Point Lobos State Natural Reserve: Situated south of Carmel, Point Lobos is a breathtaking coastal reserve known for its dramatic cliffs, abundant wildlife, and scenic hiking trails. Immerse yourself in nature as you wander through cypress groves, observe seals and sea lions, and capture the beauty of the coastal landscape.
Big Sur: Just a short drive south of Carmel lies Big Sur, an awe-inspiring stretch of coastline renowned for its rugged beauty. Explore iconic landmarks such as Bixby Creek Bridge, McWay Falls, and Pfeiffer Beach. Hike through the enchanting redwood forests of Julia Pfeiffer Burns State Park or enjoy panoramic coastal views along Highway 1.
Carmel Valley: East of Carmel, Carmel Valley offers a serene escape with its rolling vineyards, charming wineries, and picturesque countryside. Indulge in wine tasting at boutique wineries, savor farm-to-table cuisine, and unwind in the tranquil ambiance of this hidden gem.
Monterey Bay Aquarium: Just a short drive north of Carmel, the Monterey Bay Aquarium is a world-class marine conservation institution. Immerse yourself in the fascinating underwater world as you observe sea otters, sharks, penguins, and a myriad of other marine species.
Cannery Row: Located in nearby Monterey, Cannery Row is a vibrant waterfront district with a rich history. Explore trendy shops, indulge in fresh seafood, and learn about the area's cannery past at the fascinating Monterey Bay Aquarium.
Pacific Grove: Adjacent to Monterey, Pacific Grove boasts beautiful coastal scenery and charming Victorian-era architecture. Stroll along scenic paths, admire the historic homes known as "Butterfly Town, USA," and visit the Monarch Grove Sanctuary, where monarch butterflies gather during their winter migration.
Weather and best time to visit Mission Carmel
Mission Carmel, located in Carmel, California, enjoys a coastal climate influenced by the Pacific Ocean. The weather can vary throughout the year, so it's helpful to know what to expect:
Summer (June to August): Summers in Carmel are generally mild and comfortable, with average temperatures ranging from the mid-60s to low 70s Fahrenheit (around 18-23 degrees Celsius). However, cool ocean breezes are common, so it's advisable to bring a light jacket or sweater, especially in the evenings.
Fall (September to November): Fall brings slightly warmer temperatures, with averages ranging from the mid-60s to mid-70s Fahrenheit (around 18-25 degrees Celsius). This season often experiences pleasant and stable weather, making it an ideal time to visit Mission Carmel.
Winter (December to February): Winters in Carmel are cooler, with temperatures ranging from the mid-50s to low 60s Fahrenheit (around 12-16 degrees Celsius). Rainfall is more frequent during this time, and the weather can be somewhat unpredictable. It's advisable to dress in layers and carry rain gear if visiting in winter.
Spring (March to May): Spring brings milder temperatures, with averages ranging from the low to mid-60s Fahrenheit (around 15-18 degrees Celsius). The weather is generally pleasant during this season, with blooming flowers adding to the beauty of the mission's surroundings.
Best Time to Visit: The best time to visit Mission Carmel is during the fall and spring seasons when the weather is mild, and the chances of encountering rain are relatively lower. These seasons offer comfortable conditions for exploring the mission, strolling through the gardens, and learning about its historical significance.
It's important to note that Mission San Carlos Borromeo de Carmelo is a popular tourist destination, and it can get crowded, especially during weekends and holidays. To avoid large crowds, consider visiting on weekdays or during non-peak hours.
Check out these places to visit in the area
Explore Pfeiffer beach in Big Sur
Pin and save this for later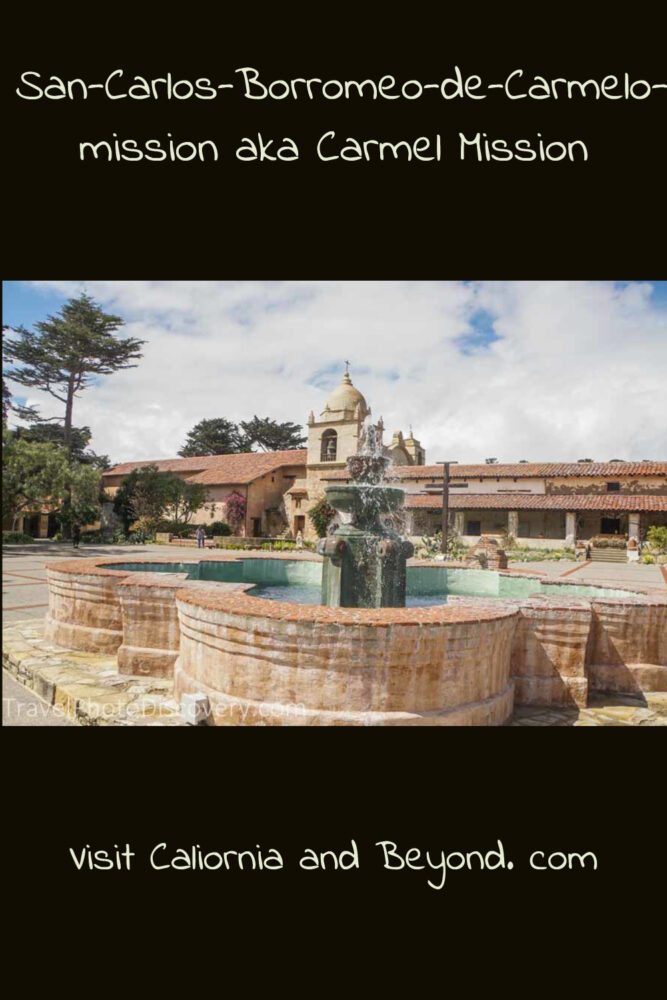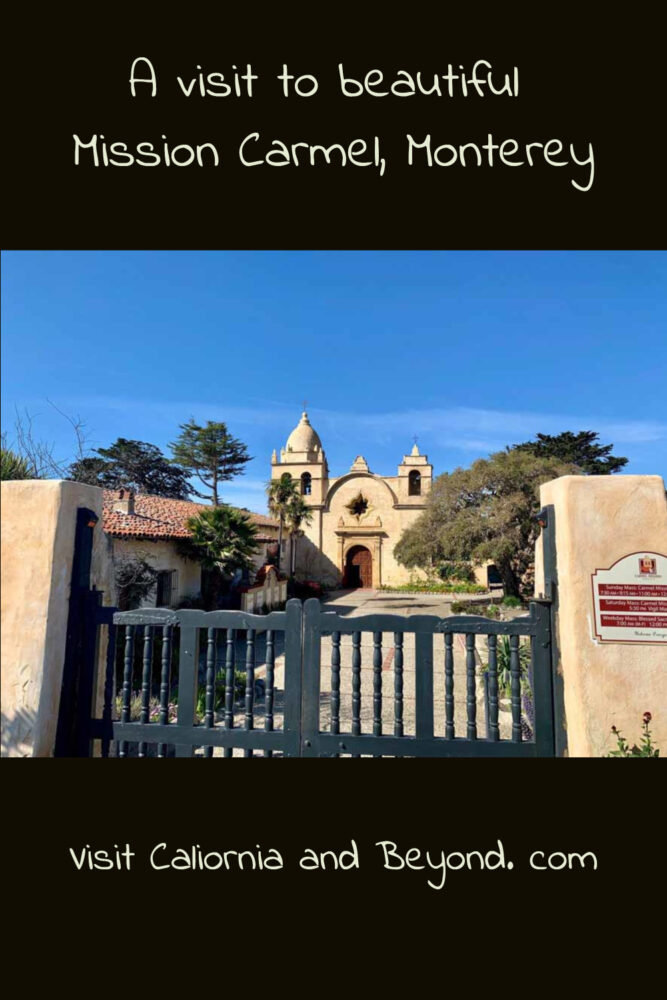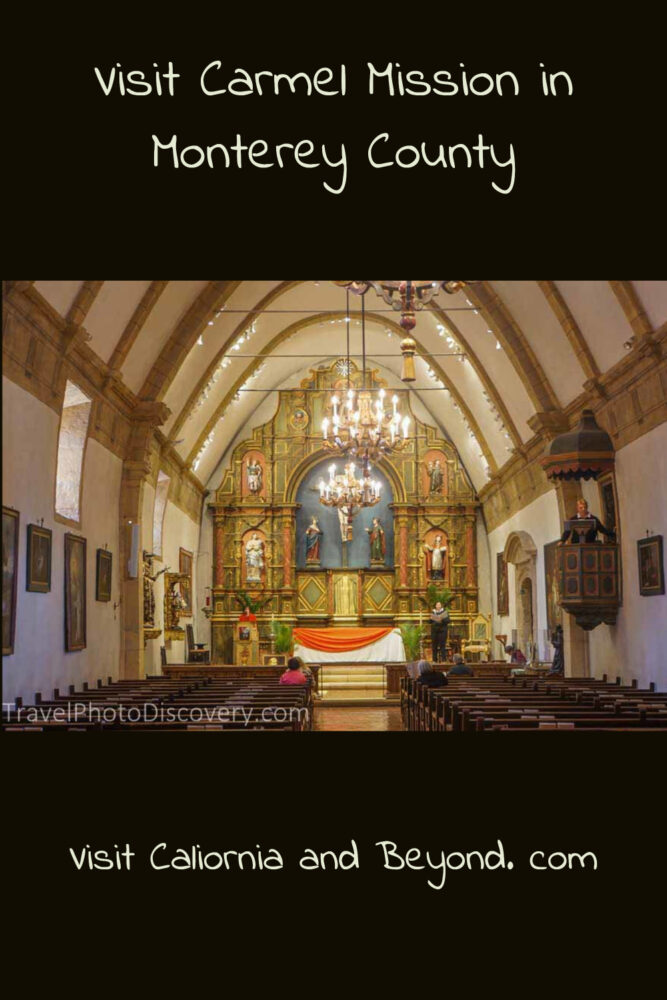 Have you been visited San-Carlos-Borromeo-de-Carmelo-mission?
Please share your thoughts and other recommendations in the comments below with your recommendations.
Conclusion to Visit San-Carlos-Borromeo-de-Carmelo-mission
In conclusion, a visit to Carmel Mission promises a captivating journey through time, culture, and spirituality. As you step into the historic grounds of San Carlos Borromeo de Carmelo Mission, you'll be immersed in the rich heritage of California's Spanish colonial past. The mission's architectural splendor, coupled with its fascinating artifacts and religious treasures, offer a profound glimpse into the lives of indigenous communities and Spanish missionaries.
Beyond its historical significance, Carmel Mission invites you to embrace tranquility amidst its serene gardens, providing a serene respite from the bustling world. Whether you're an avid history enthusiast, a seeker of spiritual solace, or a lover of architectural marvels, Carmel Mission offers an experience that will captivate your senses and leave a lasting impression.
Thanks for visiting today and checking out this post on a Visit San-Carlos-Borromeo-de-Carmelo-mission. I hope you are inspired to plan a visit and enjoy these wonderful attractions. If you enjoyed the images and post, could you please share it with any of the social media buttons located around the post.
Disclosure – this post on a Visit San-Carlos-Borromeo-de-Carmelo-mission may have affiliate related links to brand offers which helps our site keep operating – we appreciate any purchases through this link and your supporting Visit California and Beyond.