Luther Burbank Gardens: A Horticultural Haven Celebrating Nature's Splendor
Why visit the Luther Burbank Gardens?
A visit to the Luther Burbank Home and Gardens in Santa Rosa, California, provides an enriching experience celebrating the life and achievements of Luther Burbank, a pioneering horticulturist. These meticulously preserved gardens showcase his groundbreaking work in developing hundreds of plant varieties, offering a unique opportunity to witness botanical diversity and historical preservation. The site not only educates visitors about plant breeding and sustainability but also serves as an inspirational oasis, with vibrant blooms and lush landscapes that captivate the senses.
Beyond its educational and historical value, the Luther Burbank Gardens serve as a source of inspiration for gardeners of all levels, making it an ideal destination for those seeking a deeper connection with horticultural innovation and the beauty of nature. Whether you're interested in plant science, gardening, or simply appreciating the tranquility of a well-preserved historic site, a visit to these gardens in Santa Rosa promises a memorable and enlightening experience.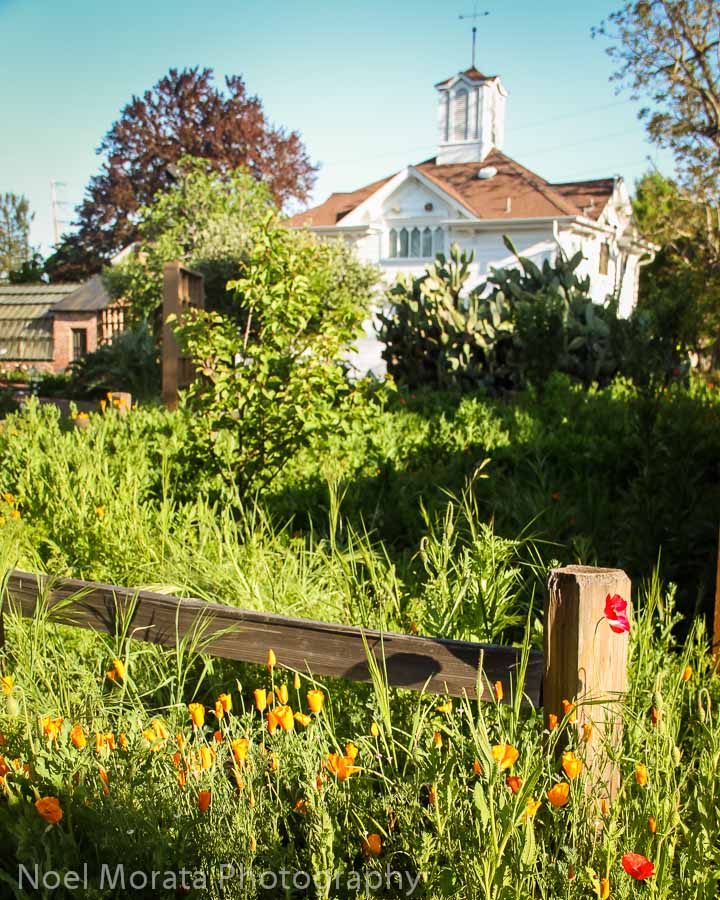 A little history on Luther Burbank pioneer horticulturalist
Luther Burbank was an American botanist who pioneered many agricultural advances and product introductions during his time at his farm and home in the Santa Rosa area of Northern California. In over 55 years of productive projects, Luther Burbank worked on over 800 strains and varieties of plants both ornamental and productive food products. This included a variety of grains, fruits, vegetables and more ornamental annual flowers and grasses
His work was an important science that contributed to the development of plant breeding into a modern science and way of food production in USA agriculture.
Exploring the Luther Burbank gardens and checking out what's blooming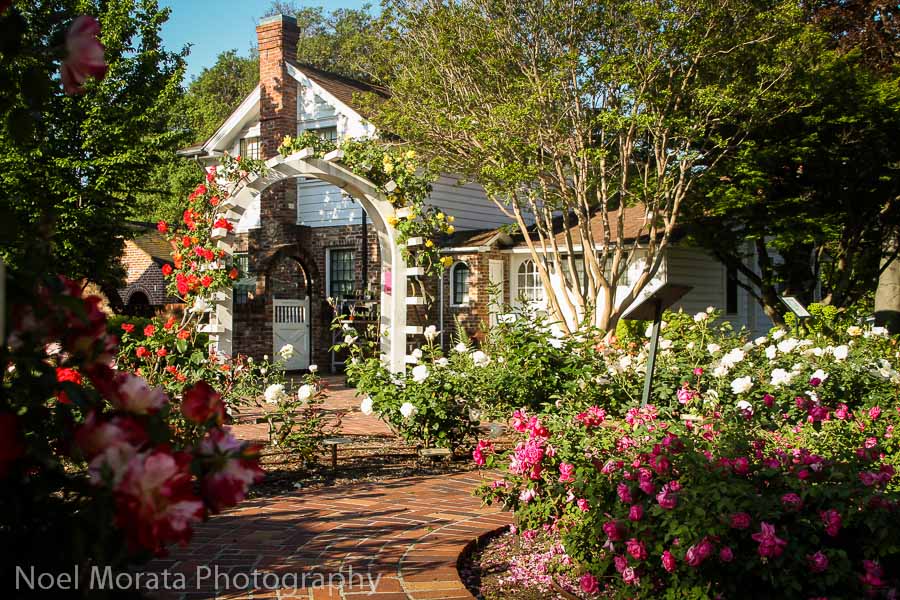 What's blooming and growing in Luther Burbank Gardens below
Annuals in bloom at Luther Burbank Gardens
The Luther Burbank gardens showcase many of his plant and flower introductions and includes a variety plant and flower species that grow very well in the Northern California landscape and throughout many regions of the world with similar micro-climates. One of the most colorful parts of the garden is the rose garden containing colorful displays of roses complete with white picket fences and arbors (Always a photo perfect moment). Close by is his home and greenhouse which is available to tour, but you do need to set up an appointment to tour the interiors.
Luther Burbank Gardens and home
The gardens include flower beds of his plant introductions, a section on various fruits and vegetables, a shade garden and an area of California natives. The walkways around the gardens are easy to navigate with brink or cement paving which is perfect for all age groups to explore the many different sections of garden rooms. Other garden areas to visit in his Santa Rosa garden include a medicinal garden, spineless cactus garden, edible landscape and a wildlife garden.
Close by to the Luther Burbank gardens is his real farm and experimental gardens in Sebastopol that are also worth visiting. The experimental garden showcases his introductions of fruit specimens that he planted and experimented with to develop specimens that would grow very well in a variety of environments and produce abundant and flavorful fruit, grains and vegetables.
Luther Burbank Gardens, the rose garden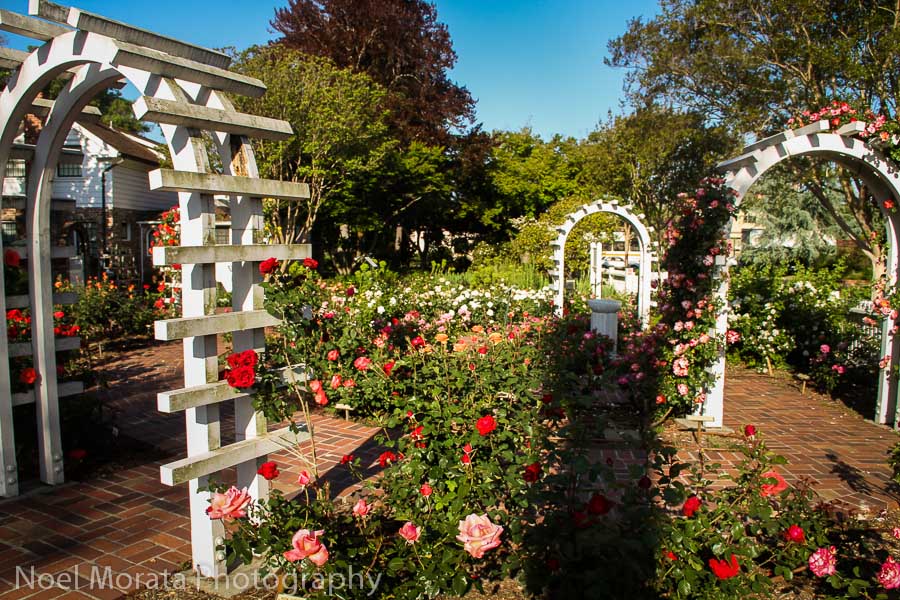 Luther Burbank Gardens and private home
The Luther Burbank garden in Santa Rosa and the experimental garden in Sebastopol are open to the public to visit. You can find out more information on the links below if you are interested in learning more about the gardens, doing a self tour or touring with a docent.
Luther Burbank, check out the main Santa Rosa website here
Luther Burbank farm in Sebastopol, check out the main website here
To learn more about Luther Burbank and his contributions to the plant world, check out his biography here.
Here's a visit to Luther Burbank's home and farm below
Luther Burbank Farm in Sebastopol
Just three acres remain of Luther Burbank's experimental farm and garden here in Sebastopol. The area around Gold Ridge was used to conduct large scale experiments on this original 18 acre parcel. Burbank produced over 800 varieties of fruit trees and fruits, vegetables and grains here. His most famous introductions includes California plums and prunes, plumcots, thornless black berry and spineless cactus.
Directions to the Luther Burbank Gardens
Luther Burbank Gardens is located at 2050 Yulupa Avenue in Santa Rosa, California. Here are directions to get there:
If you are coming from San Francisco or Oakland, take US-101 North to Santa Rosa.
Take Exit 488 for CA-12 East toward Sonoma.
Merge onto CA-12 East and continue for about 3 miles.
Turn left onto Farmers Lane and continue for about 0.6 miles.
Turn right onto Montgomery Drive and continue for about 0.5 miles.
Turn left onto Yulupa Avenue and continue for about 0.6 miles.
The Luther Burbank Gardens will be on your left-hand side.
There is a parking lot available at the gardens, and admission is free.
Weather and best time to visit Santa Rosa area
Santa Rosa, located in Sonoma County, California, enjoys a Mediterranean climate with mild, wet winters and warm, dry summers. The best time to visit the Santa Rosa area depends on your preferences for weather and the type of activities you'd like to enjoy:
Spring (March to May): Spring is a lovely time to visit Santa Rosa. The weather is mild, with daytime temperatures ranging from 60-70°F (15-24°C). This season brings blooming wildflowers and lush landscapes, making it an ideal time for outdoor activities such as hiking, wine tasting, and exploring the beautiful gardens in the area.
Summer (June to August): Summer is the peak tourist season in Santa Rosa, with warm and dry weather. Daytime temperatures average around 80-90°F (27-32°C). It's a great time for outdoor festivals, picnics, and enjoying the region's wineries and vineyards. However, accommodations may be pricier, and popular attractions can be crowded.
Fall (September to November): Fall is another excellent time to visit Santa Rosa. The weather remains pleasant, with temperatures ranging from 70-80°F (21-27°C) in September and gradually cooling down in October and November. The grape harvest season (known as "crush") in the nearby wine country adds excitement and opportunities for wine tasting.
Winter (December to February): Winter in Santa Rosa is mild, with daytime temperatures averaging around 50-60°F (10-15°C). While it's the wettest season, it's still a suitable time to visit, especially if you want to avoid crowds and enjoy the region's indoor attractions, including museums, galleries, and cozy wine tasting rooms.
In summary, the Santa Rosa area offers something special year-round. Spring and fall are popular for their pleasant weather and outdoor activities. Summer attracts visitors with its warm climate and outdoor events, while winter provides a quieter, more affordable experience. Regardless of when you visit, Santa Rosa's welcoming atmosphere and proximity to wine country make it a delightful destination in Northern California.
Check out these other related topics
Visiting Guerneville in the Russian River
Charles M. Shulz Sonoma County Airport
Conclusion to visiting the Luther Burbank Gardens
It's a good time to explore and visit the Luther Burbank Gardens, a captivating destination that showcases the beauty and diversity of nature. Stroll through curated gardens, admire blooming roses and tranquil landscapes, and capture the essence of serenity. Engage in educational activities and workshops, savor local produce on a picnic, and find inspiration in the transformative power of plants. Immerse yourself in a memorable experience that celebrates the wonders of our natural world.
Hope you enjoyed your visit to the Luther Burbank Gardens Thank you for visiting and if you enjoyed the post, please do share it with any of the social media buttons below.