Visit this purple sand beach at Pfeiffer Beach at Big Sur, California
A beach with real purple sand you ask? Yes, it is rare and you can find the purple sand beach at Pfeiffer Beach at Big Sur. Not only is the beach sand unique but the just offshore is the unique Keyhole Arch which is one of the photographed shots at Big Sur. Pfeiffer Beach is part of the Los Padres National Forest and not to be confused with Pfeiffer Big Sur or Julia Pfeiffer Burns Park which are both in different directions.
One of the most popular attractions to visit at Big Sur along with McWay Falls, Bixby Bridge and Point Lobos, Pfeiffer Beach is a must visit location that you actually can get on the beach and enjoy the unique features here. One of the hidden gems to explore at Big Sur, there are actually no signs or visibility of the beach location from Hwy 1 driving through the area.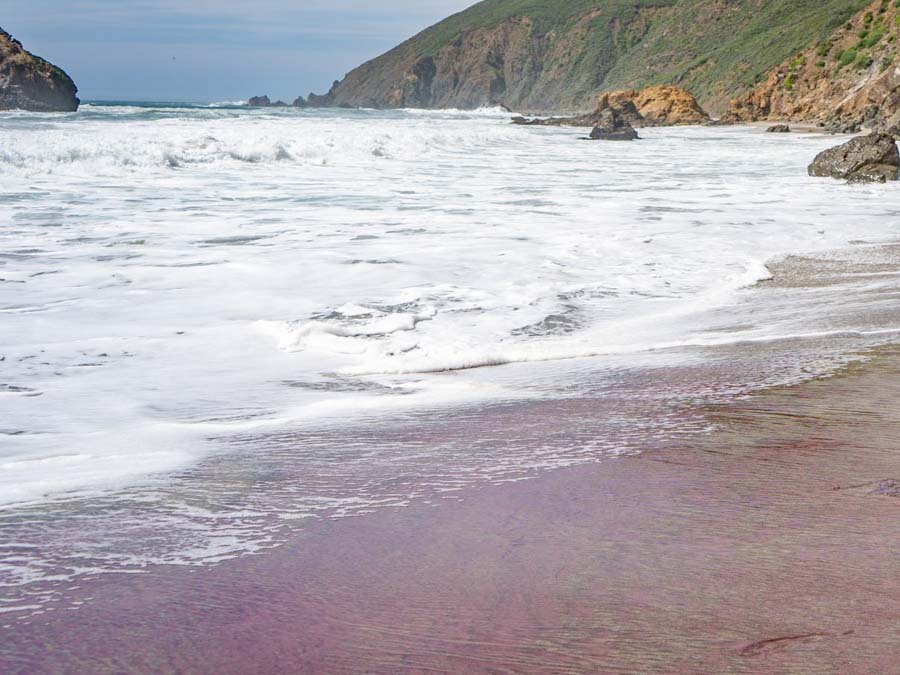 How did Pfeiffer beach get its purple sand from?
The purple sand gets its coloration basically from erosion from manganese garnet the area is is known for. Washing down from the nearby hills into the creeks and then into the beach area the manganese from the erosion is broken down into smaller sand particles that are heavy and stay on the beach areas as large swathes of color in between normal brown and black sand areas of the beach. With more rainfall in the area, there are more deposits of the minerals that get left into the beach areas compared to dryer days in the area.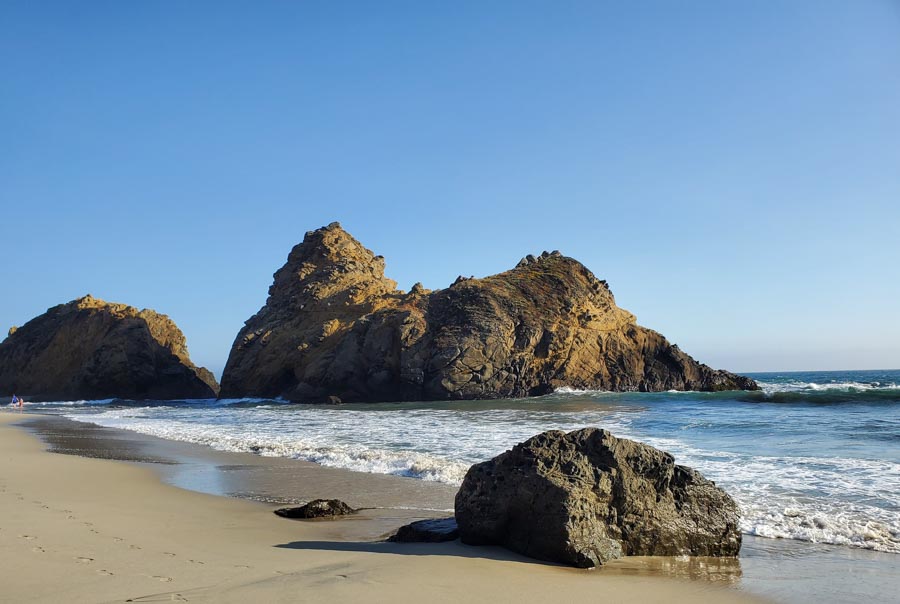 How to get to Pfeiffer Beach
It's a little tricky getting to Pfeffer beach because it isn't on many maps and directions are confusing but basically come north on Hwy 1, pass through Pfeiffer Big Sur State Park for 1.1 miles (mile marker 45.64) and take an immediate right onto Sycamore Canyon Road, follow that road and look out for a small yellow sign that says narrow road which leads directly to the beach after you pass another rock sign that says Pfeiffer beach. Keep driving down another two miles until you finally get to the beach parking area. From the south pass Nepenthe restaurant drive 1.8 miles to the turnoff and left and drive down directly to the beach area.
There is no cell service around Big Sur so make sure to print maps or save this beach location on your app so you can follow it offline. You will pass a stone sign that says Pfeiffer beach is another two miles downhill and eventually to a sandy road that opens into a parking lot.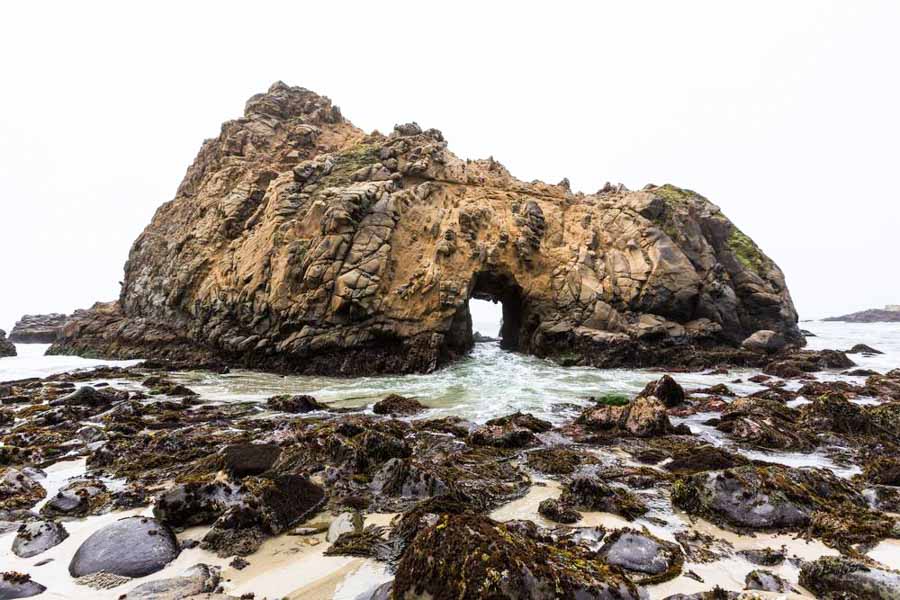 Best things to do at Pfeiffer beach
The beach area is a visual delight and fun to take a nice shoreline walk, enjoy the gorgeous scenery and take it all in. It's a fun beach to photograph and capture the purple sand, the impressive arch with the magic keyhole. If you're game beach time and swimming is an option but the waters are very cold and there are no lifeguards on duty, so be very careful. Also, staying for a magical sunset timeframe and capturing the sun's last rays peeking through the keyhole on the arch is a sight not to miss and photograph. Capturing the golden light imagery, sunset and into the night skies are what makes this worth staying longer into the night time on the beach.
What to bring to the beach?
Depending on if you plan on picnicking or enjoy a nice sunset, here are some essentials that would be nice to have
Food and drinks
There are no concessions so bring your own food and have a nice picnic on the beach
Beach gear
There is no shade at the beach so bring your blankets, umbrella or pop-up screen
Water shoes
If you plan on exploring around the rocks and do some rock climbing, water shoes are ideal to have so you don't hurt yourself feet while walking around
Binocular
Perfect for enjoying the scenes around the beach area birding action, wildlife or some marine life that you can spot along the coastline.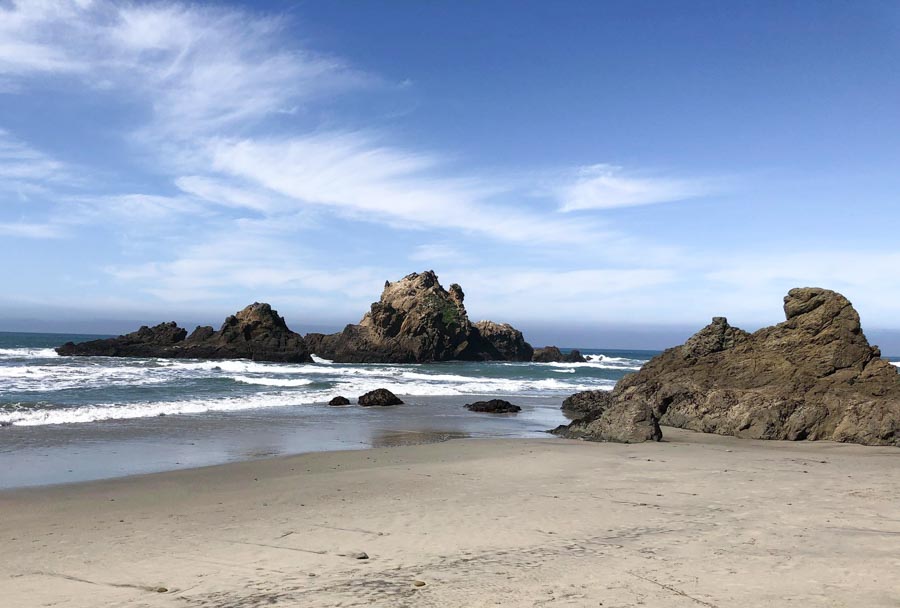 Other tips to visiting the beach area
The roadway is mostly one way direction and exiting cars do have the right of way so you have to pull to the side if you hit oncoming traffic
Beach area is open from 9am to 8pm daily
For more information and conditions, check out the website here for details
Bring cash to pay for the admission which is $10 for parking
Parking lot fills up early so go early or later in the afternoon to sunset time frame because of limited parking
GPS coordinates at the beach 3.2383, -121.8150
Dogs allowed on the beach area with leash
Picnicking – there are four tables located at the beach area
Accessibility – this beach area is accessible with bathroom access, find out more information here for details.
Check out this cool video to visiting the Purple sand beach at Pfeiffer beach
Check out these other things to do in the area
A visit to San Carlos Borromea de Carmelo or Carmel Mission
Visit to Point Lobos and popular hiking trails
A complete guide to a Big Sur road trip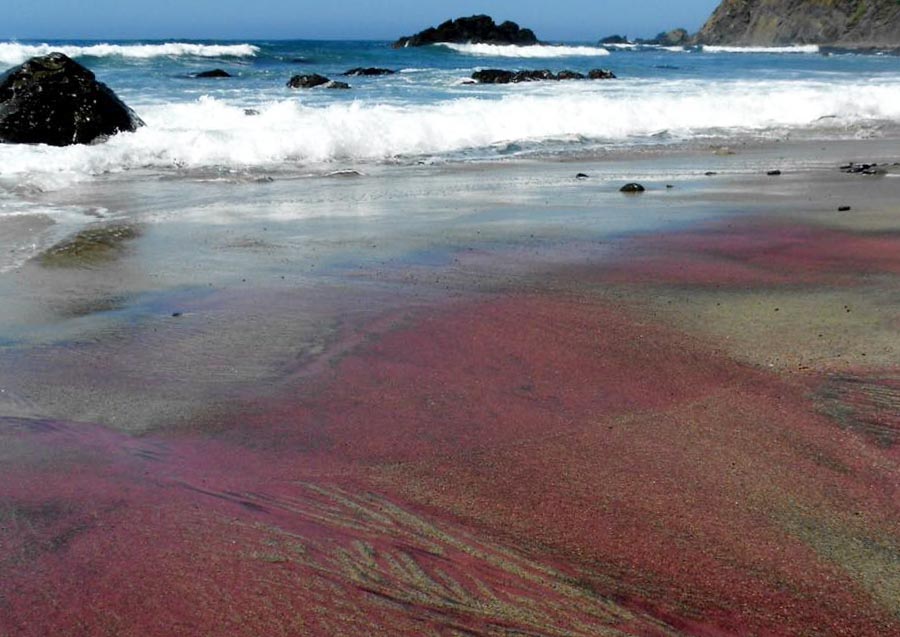 Have you been to the Purple sand beach Pfeiffer Beach?
Please share your thoughts and other recommendations in the comments below with your recommendations.
Thanks for visiting today and checking out this post on the Purple sand beach Pfeiffer Beach. I hope you are inspired to plan a visit and enjoy these wonderful attractions. If you enjoyed the images and post, could you please share it with any of the social media buttons located around the post.
Disclosure – this post on a Visit to the Purple sand beach Pfeiffer Beach may have affiliate related links to brand offers which helps our site keep operating – we appreciate any purchases through this link and your supporting Visit California and Beyond.