Visit Mendocino: Embrace the Coastal Charm of this Enchanting Destination
A place where the river meets the sea amid rugged cliffs and coastline, Mendocino sits majestic if not quiet in its historic charms. There are so many fantastic things to do Mendocino hugging the coastlines and rugged cliffs that the town sits on top off. An enchanting, small town with a western rustic vibe around the historic downtown district, Mendocino is eclectic, colorful and fun to explore on this weekend visit to Mendocino. It's just what the doctor ordered for you to do soon!
If you are looking for a short weekend getaway to Mendocino to relax and unwind, you'll love exploring the cool and artsy town, walk along the cliffs to discover the hidden coves, marine life or even beach combing for treasures on the coastline or if your more adventurous do some kayaking or hiking in the many state parks round town.
Why visit Mendocino city?
Mendocino, a picturesque coastal city located in Northern California, beckons visitors with its undeniable charm and stunning natural beauty. Nestled between lush forests and the rugged Pacific coastline, this idyllic destination offers a unique blend of tranquility and adventure. The primary draw of Mendocino is its dramatic coastal scenery, where towering cliffs meet crashing waves and hidden coves await exploration. Hikers and nature enthusiasts will find solace in the Mendocino Headlands State Park, offering miles of scenic trails and breathtaking vistas. Moreover, the town itself boasts a quaint, Victorian-era ambiance, with charming cottages, art galleries, and locally-owned boutiques lining the streets. It's a haven for artists and artisans, making it a delightful place to discover one-of-a-kind treasures. Whether you're strolling along the rugged coastline, savoring artisanal cuisine, or simply seeking refuge from the hustle and bustle, Mendocino's enchanting allure will leave you captivated.
Moreover, Mendocino's reputation as a wine country gem adds to its allure. The nearby Anderson Valley is renowned for its boutique wineries and vineyards, specializing in cool-climate varietals like Pinot Noir and Chardonnay. Wine aficionados can embark on a delightful tasting journey, sipping world-class wines amidst the rolling vine-covered hills. Furthermore, Mendocino's commitment to sustainability and organic farming is reflected in its farm-to-table dining scene. Locally-sourced ingredients shine in the town's restaurants, offering a delectable taste of the region's culinary creativity. Whether you're sipping wine, indulging in coastal cuisine, or simply unwinding by the sea, Mendocino city invites you to embrace a slower pace of life and savor the natural wonders of California's North Coast. It's a destination where the timeless beauty of the Pacific meets the vibrant spirit of a welcoming community, making it an unforgettable retreat for travelers seeking a blend of coastal elegance and rural charm.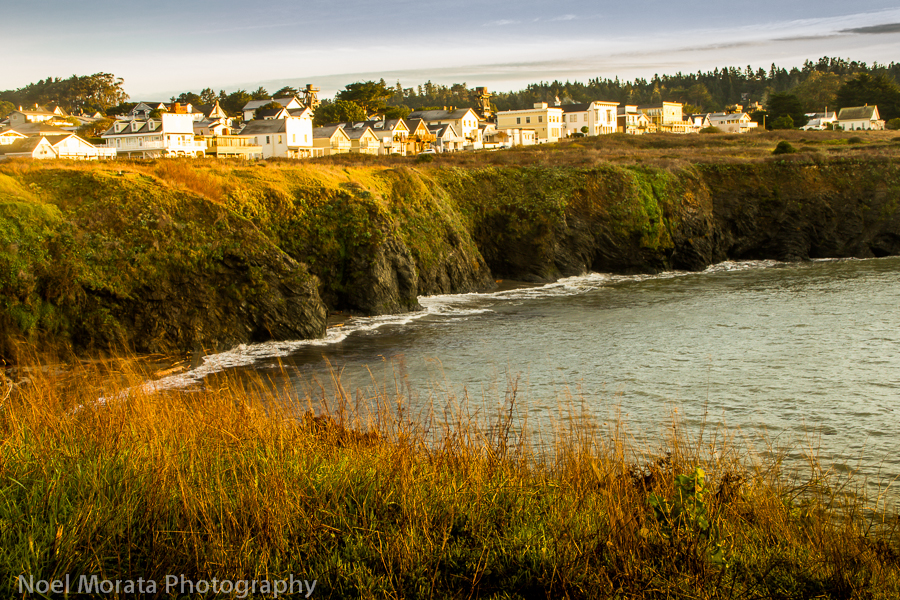 Check out these Mendocino attractions and places to discover around town
Here are the top attractions and places to visit around Mendocino town below.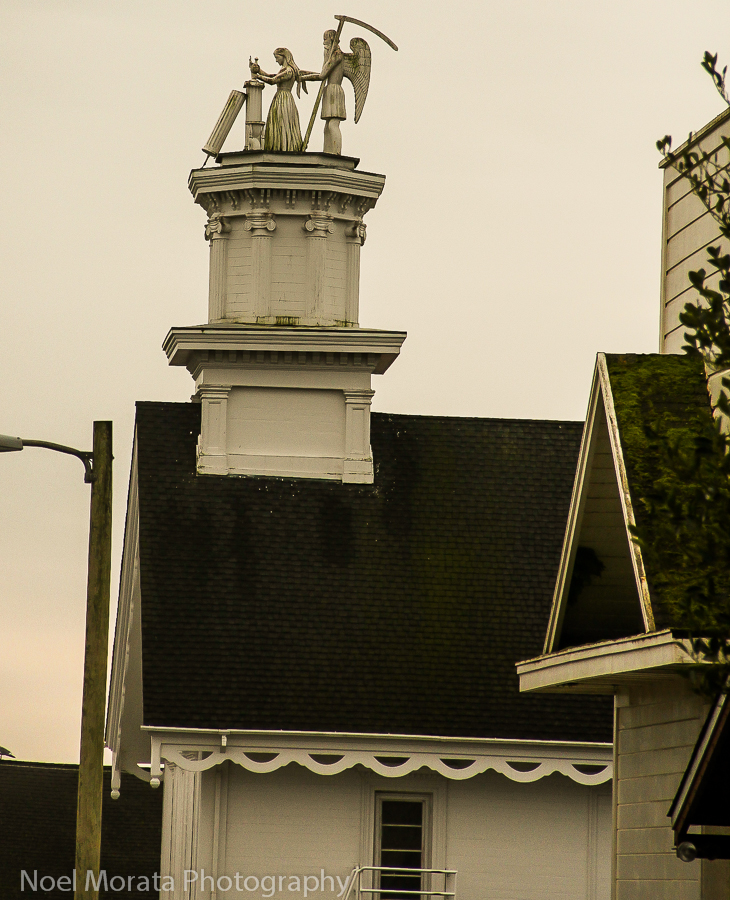 Wander around Mendocino's downtown district
The historic district of Mendocino is basically two long parallel streets with some side streets to explore. Easy to walk through, the beautiful architecture is western style with interesting architectural details and houses a variety of art galleries, home stores, clothing boutiques and unique mom and pop operations like bakeries, artisanal foodie shops and coffee houses along with some delicious eateries around town.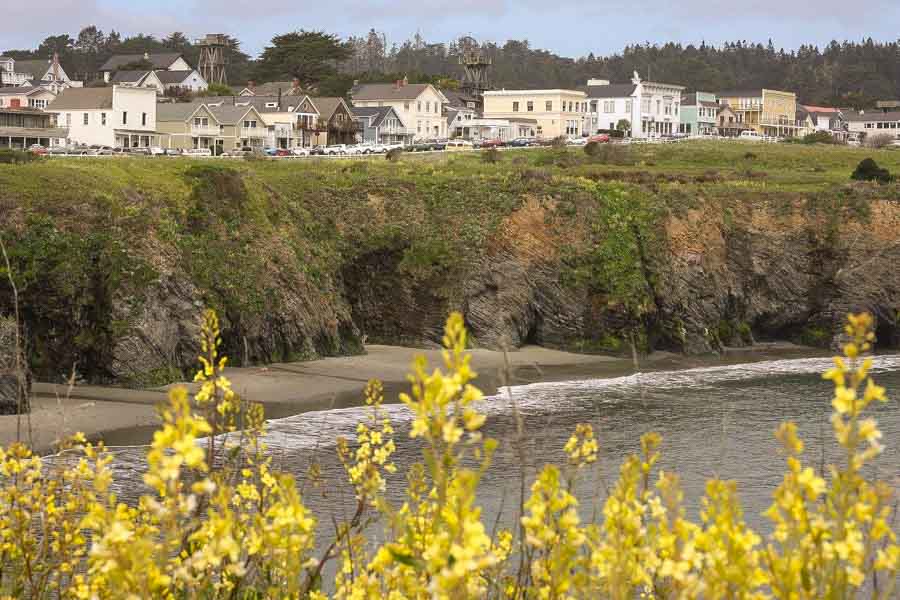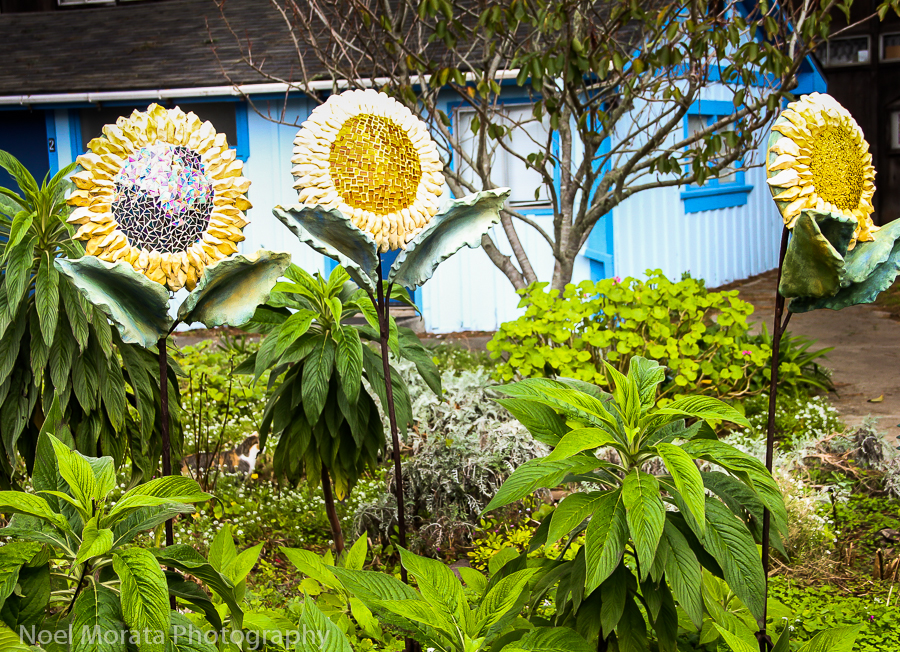 Check out the art scene in Mendocino
With a plethora of local artists that live in the surrounding area there's a lot of galleries and shops supporting local artisans in town. Also, you can visit the Mendocino Art Center the local art hub which serves as a gallery coop, art and craft school and performance/events center to local activities in the area. The center is located on the grounds of the Preston Mansion that feature the very popular James Dean movie – East of Eden. The actual mansion burned down with only the carriage house intact and converted into the current art center that you can visit now. You can even take a short and easy class covering drawing, ceramics, jewelry making, painting and a variety of different mediums. Check the website above for more details to participating in the local programs offered there or new shows happening.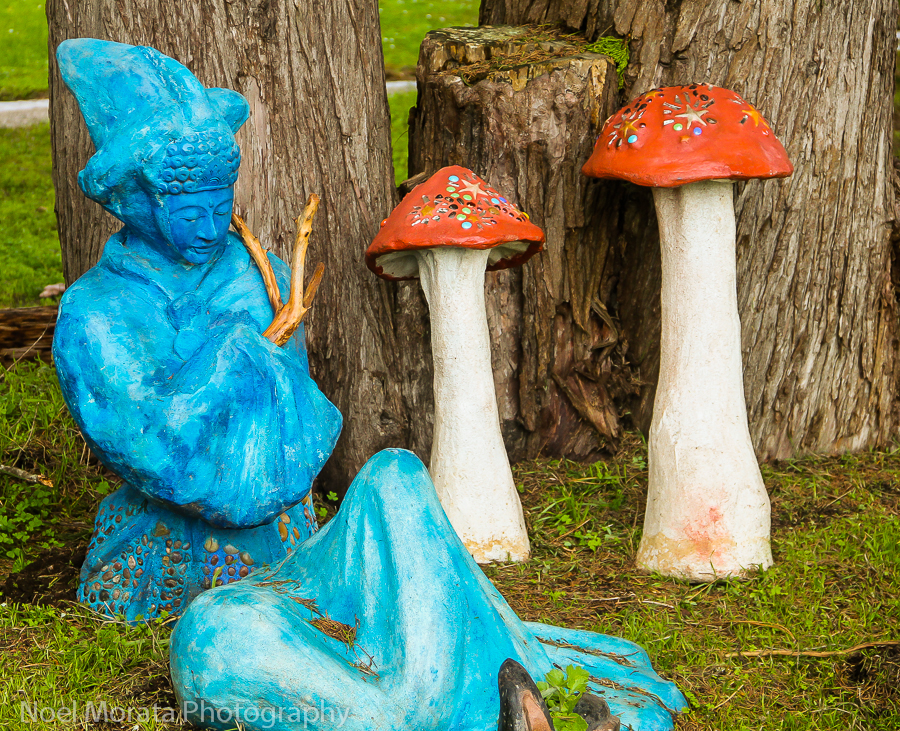 Visit a sweet garden filled with Art
Visit this sweet garden that surrounds the Mendocino Art Center is filled with gorgeous sculpture, quirky objects and sitting areas, along with fountains, found object art and even some cool fantasy figures that will make you laugh and enjoy the whimsical journey walking through this garden.
Visit the state parks surrounding Mendocino town
There are so many beautiful places to explore around town and just outside and with so many wonderful state parks to visit, you'll get your fill of exploring the natural treasures in the area with these state parks to visit.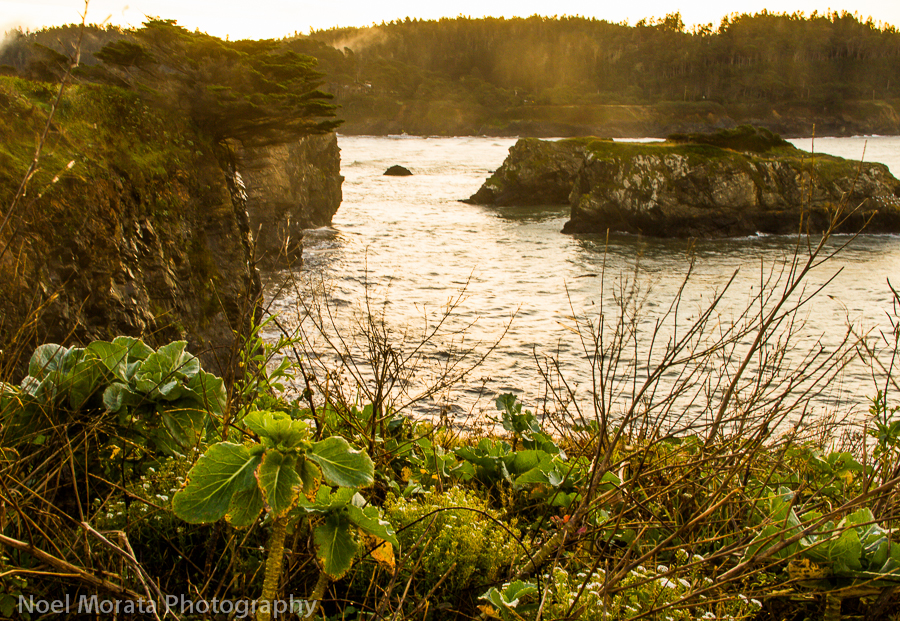 Explore Mendocino Headlands State Park
Walking from river bluff areas to the jagged cliffs that line the state park trails, it's fun to explore nature at its best. The Mendocino Headlands State park borders the town on three sides and offers excellent trails that area gentle, easy and fun to check out the secluded beaches, rugged headlands, tide pools and sea arches in the area. Head to the Ford Museum House which currently is visitors center for the state park to get oriented and see what's available and currently happening along with the variety of trails you can visit in the area. The Cliff trail is only .9 miles on the town perimeter, but you can extend it to include the entire 4-mile Mendocino Headlands trail.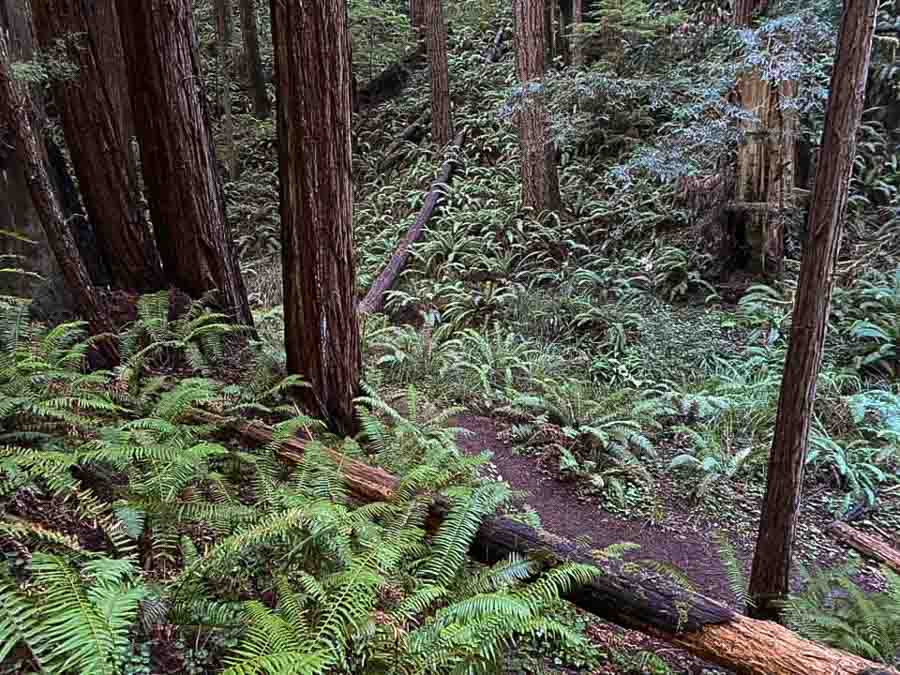 Visit the Russian State Gulch Park
One of the prettiest and diverse state parks to visit around Mendocino is the Russian State Gulch Park which weaves beautiful canyons filled with ferns and a nice waterfall, headland views and hiking trails to enjoy. Some of the more popular trails to try out include the easy .75-mile Headlands trail or the 5.4 to 6.3 Fern Canyon to Falls loop trail that ends up at the waterfall cascading 36 feet from the top.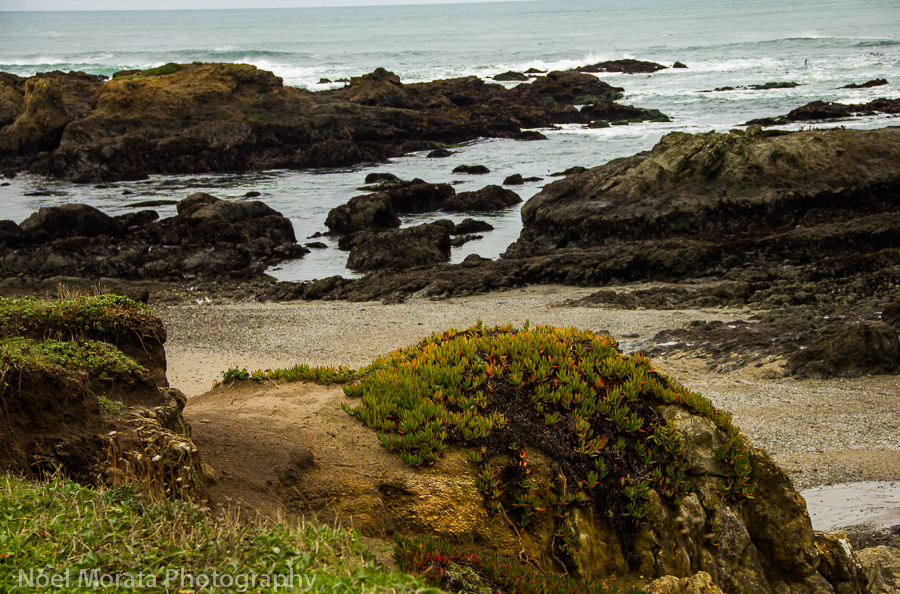 MacKerricher State Park and the Sea Glass beach
Located in Fort Bragg about 15 miles north of Mendocino, MacKerricher State Park is pretty cool to visit with its Sea Glass beach and the Museum. You can experience a diversity of scenery here from dunes, wetlands, bluffs and headlands within the park and explore the beaches and tidepools in the area. The park is also very popular with the Sea Glass Beach and Sea Glass museum close by with the entire beach made of glass that was a dump site a long time ago and tumbled by the surf into particles and glass treasures for some who explore the beaches just for this experience.
Go wine tasting in Mendocino
There are some fine wines that Mendocino county boasts for you to experience and check out the local wine scene up here. Most are located in the interior areas along Highway 128 which includes Philo Ridge, Barra, The Madrones, Navarro and a slew of vineyards ready for you to explore their tasting rooms. Check out this winery website here for more details and a complete list of wineries that you can visit along the way to Mendocino or while you are in town exploring the area.
Ride the Skunk Train or Railbike Tour
Located in Fort Bragg at the downtown train station, the Skunk Train Railway was originally founded in the 1880s to transport timber from the forest areas into town. Now you can take the train on a scenic route through the redwood forests into the Pudding Creek Estuary and ending up at the Glen Blair Junction and then returns back. You also have the cool option of doing your own railbike tour which allows passengers to travel down the old lines through self- powered two-man railbikes with guides that lead you along these tours.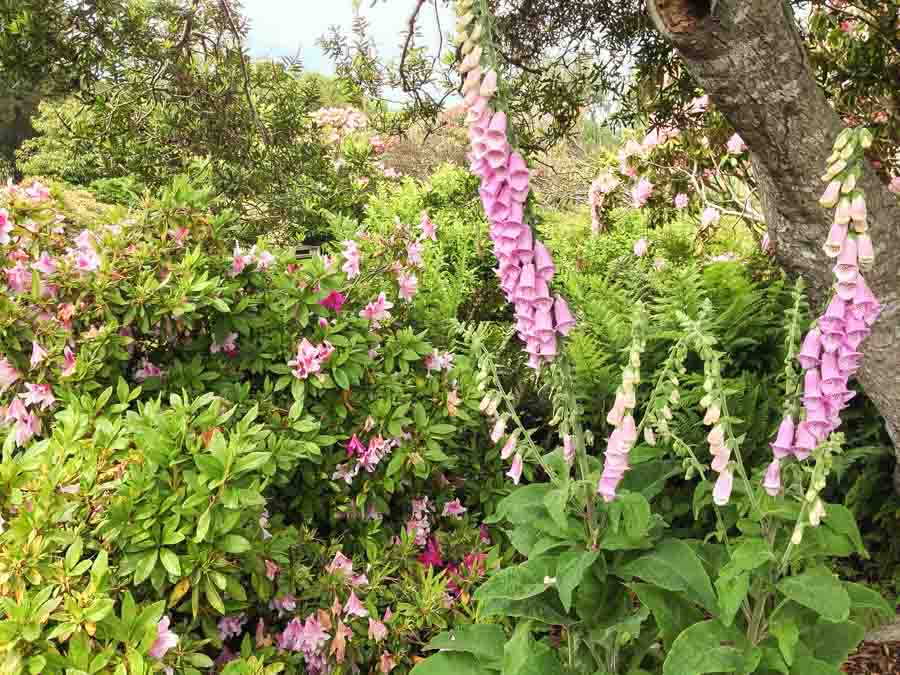 Check out the Mendocino Botanical Gardens
The Mendocino Botanical Gardens are fun to explore the myriad of local California native flowers that thrive in the area along with a variety of perennials and annuals that adapt well to this type of environment and display a colorful palette of flowers for all to enjoy when the garden is in full bloom. The 47 acres botanical garden is expansive and covers the gamut of wetlands and coastal bluffs, canyon trail areas and pine forest and beautiful gardens that transitions from the wild into more curated gardens filled with floral displays, fruits and vegetable gardens and other botanical treasures for you to discover through the various gardens.
Weather and best time to visit Mendocino
The weather in Mendocino can vary throughout the year, so it's important to plan your visit accordingly.
In general, Mendocino experiences a cool and mild coastal climate, heavily influenced by the Pacific Ocean. The summers are typically foggy and cool, with temperatures ranging from 55°F (13°C) to 70°F (21°C). The winters are cool and wet, with temperatures ranging from 40°F (4°C) to 55°F (13°C).
The best time to visit Mendocino depends on your preferences and the activities you plan to engage in. Here are some considerations for each season:
Spring (March to May): Springtime in Mendocino brings lush green landscapes and blooming wildflowers. The weather starts to warm up, and you can expect temperatures between 50°F (10°C) and 65°F (18°C). It's a great time for hiking, exploring coastal trails, and enjoying the scenic beauty of the area.
Summer (June to August): Despite being foggy, summer is the peak tourist season in Mendocino. Temperatures range from 55°F (13°C) to 70°F (21°C), making it ideal for outdoor activities like beachcombing, tidepooling, and whale watching. However, it's advisable to bring layers as the coastal fog can make the evenings chilly.
Fall (September to November): Fall brings cooler temperatures and fewer crowds. The weather remains pleasant, with temperatures ranging from 50°F (10°C) to 65°F (18°C). It's a beautiful time to visit if you prefer a quieter atmosphere and want to witness the fall colors in the surrounding forests.
Winter (December to February): Winter in Mendocino is characterized by rainfall and cooler temperatures. It's a quieter time to visit, and you can enjoy dramatic storm-watching along the coast. Temperatures range from 40°F (4°C) to 55°F (13°C), so be prepared for wet weather and bring appropriate clothing.
Kayak the scenic Big River
You'll enjoy a quiet and pleasant time on the water on the Big River and kayak or even SUP board on the 8 mile long estuary leading to the open ocean waters. You can opt for a guided tour of the area or just DIY on your own and ask the operator for some cool places to explore in the estuary area. To rent a kayak, canoe or SUP board with Catch a Canoe or even rent a bike for the day to explore the area on bicycle.
Where to eat in Mendocino
Casa Del Sol – A delicious seafood inspired restaurant that offers Latin inspired and bistro style food that are fresh, wholesome and reasonably prices.
Café Beaujolais – located in a farmhouse built in 1893 and focuses on organically grown produce, local seafood and other farm to table sourced ingredients. A beautiful rose garden greets you at the entrance of the Victorian home to this iconic restaurant.
Trilium Cafe – Casual dining, modern California cuisine, fresh and good quality ingredients.
Goodlife Care & Bakery – whole organic, gluten free pastries, desserts and wholesome American style dishes
MacCallum House Restaurant – Classic victorian setting with organic, locally sourced seafood, meats, pasta dishes in beautifully presented dishes.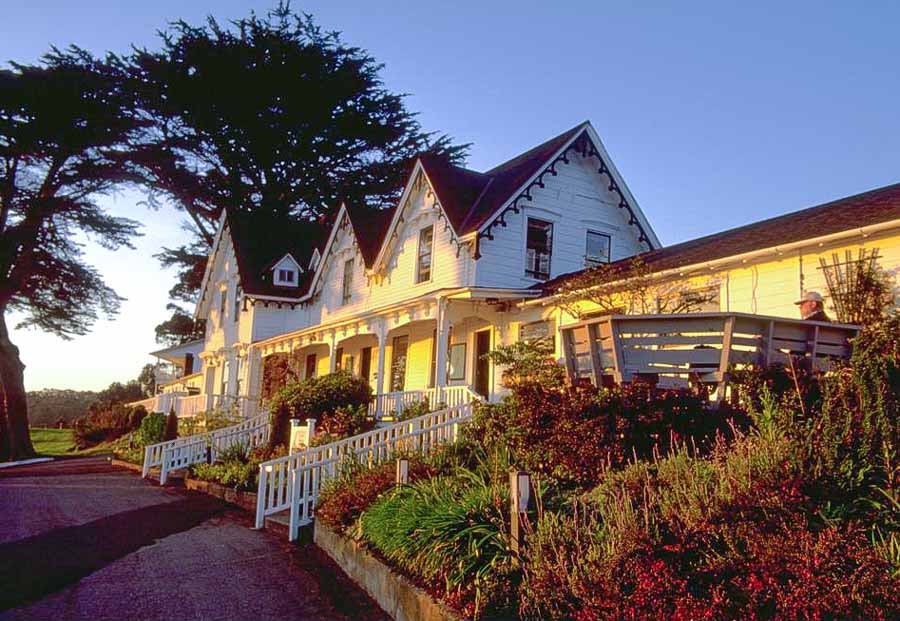 Where to stay in Mendocino
With a variety of local inns, Bnb and some mom-and-pop hotels located in and around Mendocino, you'll have some fantastic choices of places to stay in the area.
Headlands Inn Bed and Breakfast – a top rated little Victorian New England style with great breakfast and comfortable rooms
Mendocino Hotel and garden suites – charming, comfortable and friendly service at this inn
Heritage House Resort and spa – worth the splurge for this magnificent property, excellent service and amazing views.
For reviews of the top places to stay in Mendocino, check out these best reviewed sites on TripAdvisor here for more details and current prices.
Other places to explore around Mendocino
Enjoyed this post – pin it for later
I'd like to hear from you!
If you have visited Mendocino, please share your experiences in the comments below for everyone to enjoy. Or even if you have any questions about visiting, I would be more than happy to answer them below.
Conclusion on a visit to Mendocino
A visit to Mendocino offers an unforgettable coastal experience that captivates the senses and leaves a lasting impression. With its breathtaking natural beauty, charming Victorian architecture, and vibrant artistic scene, this coastal gem has something for everyone. Whether you explore the rugged coastline, wander through the picturesque village, indulge in delectable cuisine, or simply relax and enjoy the tranquility of the ocean breeze, Mendocino promises a rejuvenating and enriching getaway.
The warm hospitality of the locals, coupled with the abundance of outdoor activities and cultural attractions, make Mendocino a destination that truly embodies the essence of coastal living. So, pack your bags, immerse yourself in the coastal charm, and create cherished memories in this coastal haven called Mendocino.
Thanks for checking out Visiting California and beyond and reading this post on Visit to Mendocino.
If you enjoyed reading this post, please do share it with any of the social media buttons right below, thanks.