15 Must-Do Activities in Fort Bragg: Experience the Best of this Charming Destination!
If you're looking to do a nice road trip from San Francisco or the Bay Area, Fort Bragg makes a nice weekend getaway or longer for you to enjoy the ocean and slow down and unwind from the daily pressure. You'll love being outdoors and enjoying the simple things like a walk on the beaches lined with wildflowers, cruising the downtown district or just lounging over a delicious seafood meal is always a great way to enjoy the vibe and easy lifestyle here. You'll love exploring all the fun things to do in Fort Bragg, California now.
Fort Bragg, California is also a fantastic base to explore other areas in Northern California including; Mendocino wine country and tasting experiences, Mendocino, Eureka, Crescent city, state parks in this region and a fun road trip along the Hwy 1 coast highway.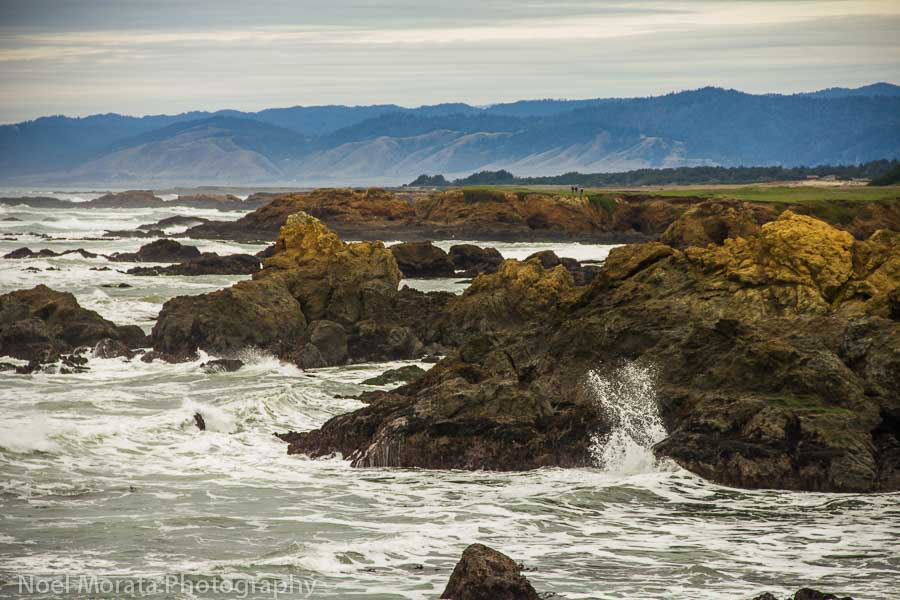 Where is Fort Bragg Located?
Located about a 3 ½ hours drive from San Francisco, you can take Highway101 and cut through to inland through Anderson Valley on CA 128 or take the slow scenic drive Highway 1 to reach the Mendocino town and a little further down to reach Fort Bragg, Calfornia.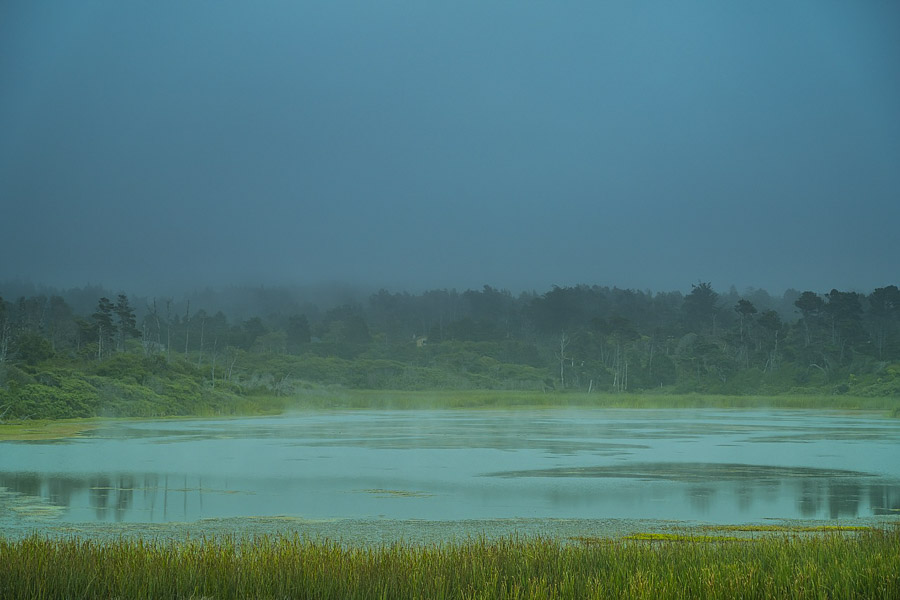 Best time to visit Fort Bragg
Being a year-round destination, it is hard to pick and ideal time but the weather does have an effect on what you can do and see in the area. Temperatures along the coast are cool between the mid 50s to 60s degrees and summer tends to bring more foggy days and winters are miserable with storms and windy weather. The shoulder season in spring and fall tend to be the best times when the weather is nicer with some warm skies in the area. Foggy days is typical in the mornings and later burn off into beautiful skies for the rest of the day.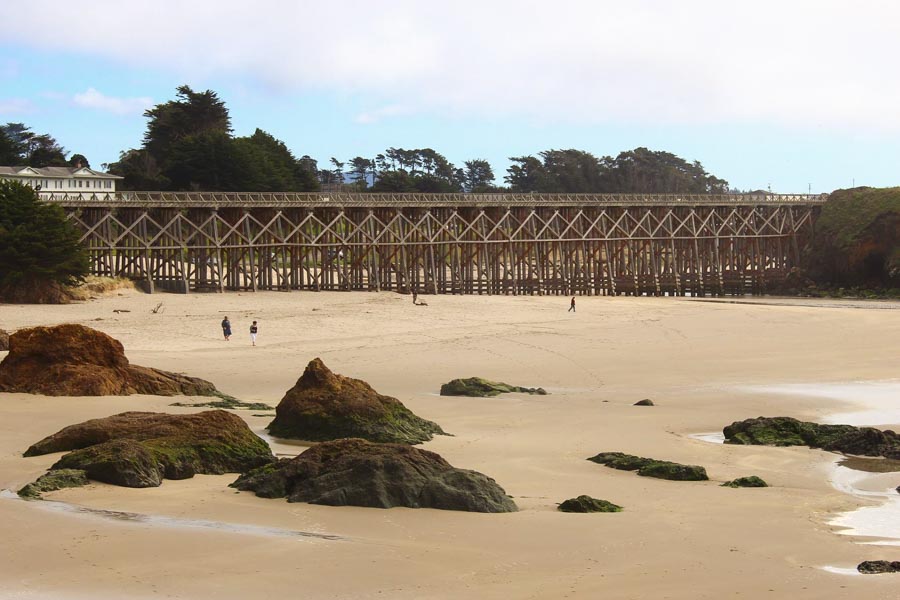 Top 15 things to enjoy around Fort Bragg and surrounding areas
1. Explore the downtown district
With a very walkable and cute downtown district with basically two parallel blocks, you can shop till you drop at all the fun art galleries, home stores and cool boutiques lining both sides of the street. Or for a nice break pop into any of the bakeries or specialty food venues along the way or even have a nice meal if you want to lounge and linger longer over a delicious meal. It's fun to window shop, look for souvenirs and have a chat with all the friendly locals and shop owners in the area.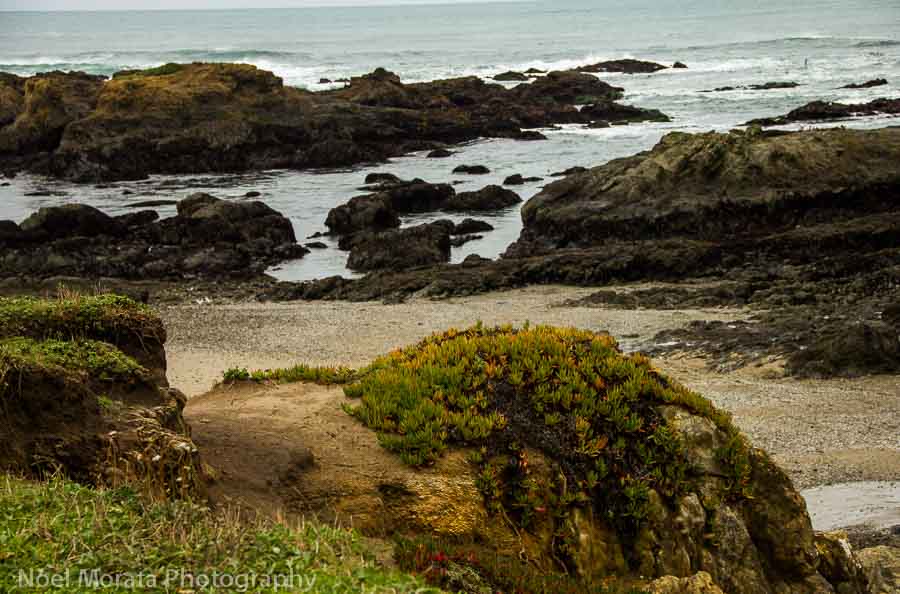 2. Go Beach combing on the various beaches
Of all the things to do in Fort Bragg, spending some time on the fun beaches to do some beach combing, looking for glass, or just enjoying nature and the rugged coastlines are simple and fun to do around town. All of these beaches are hang out beaches because the water is extremely cold, but they are perfect for having picnics, beach combing and just enjoying some of the gorgeous views in the area.
3. Treasure hunt for tumbled glass at the glass beach
A popular past time with locals and visitors alike is to explore glass beach found at the coastal trail on Noyo Headlands Park. Climb down the steep pathways to the beach area and you'll find finely tumbled glass particles that have been smoothed from the generations of time on the beach. Originally a dump site in the area that was common on the coastlines of Fort Bragg, glass bottles, headlights and other glass were continually dumped here and in time have been broken down with the rough surf and created a treasure finding spot for collectors. Other fun things to do is check out the fun tidepools to explore or if you are brave go snorkeling or diving to find some abalone or check out the underwater scene in the area.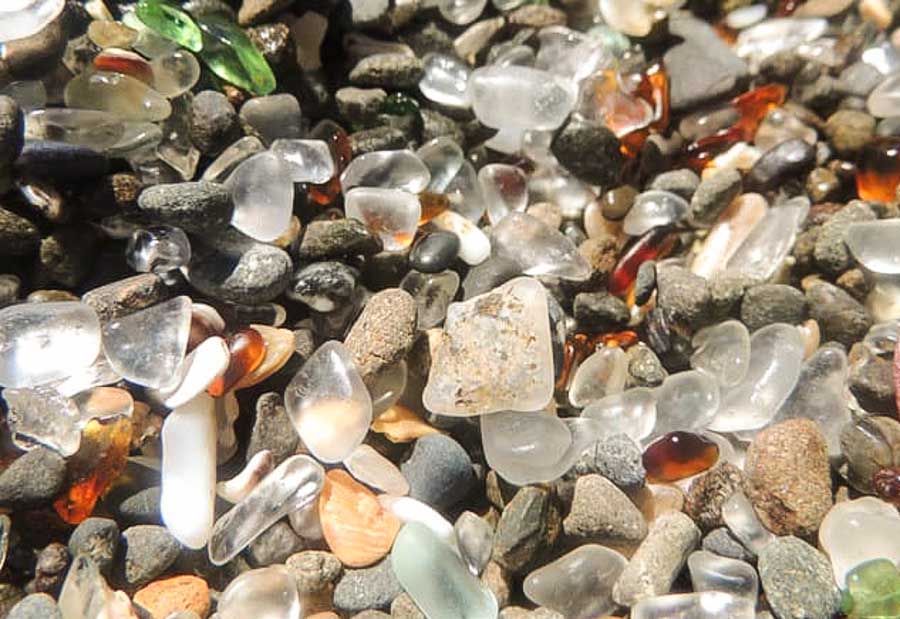 The famous glass beaches at Fort Bragg are a fun draw to the area but did you know that there is also a cool museum dedicated to tumbled glass from the area? Check out the sea glass museum and collections of the Captain Cass' sea glass collection of over 150,000 pieces of found and made things with the sea glass. Chat up the owner and he might give you more inside tips of how to find more glass treasures in the area that are worth getting to on your own.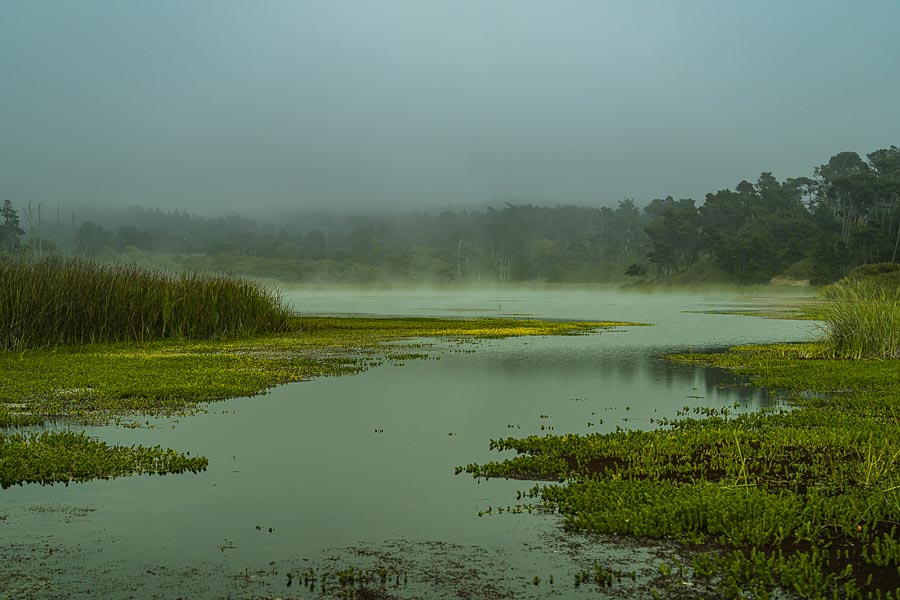 Visit the State Parks, historic monuments and coastal trails
There are quite a few parks located around and close to Fort Bragg, Ca from the forested areas to the coastlines with rugged cliffs and trails to wander around. It's fantastic to be outdoors and explore the inland forest areas to the beach and rugged coastline areas of Fort Bragg.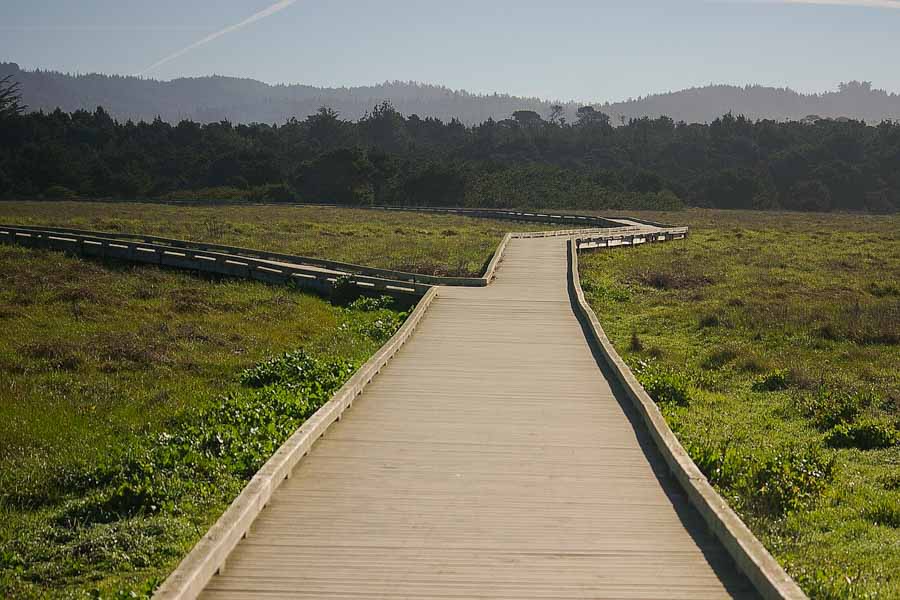 One of the best state parks in the area that combines both forested trails, fern grottoes and waterfalls to bluffs, headlands and wild coastlines with trails to explore in each of those areas. Enjoy the tidepools and look for marine life including migrating whales passing through the area. Exploring Haul road allows you to visit Cleone lake and hike, bike or jog this 10 mile path that is a popular spot for birdwatching and finding migratory and local birds in the area.
Part of the the California historic park, the Point Cabrillo Light Station sits on headland in between Fort Bragg and Mendocino with a distinctive compound that includes the lighthouse, three lightkeeper homes, a blacksmith and carpentry shop and other out buildings that are a living period museum to explore. There's even a cool 240 gallon aquarium to check out in the blacksmith shop that is cool to see and enjoy.
A fantastic trail that you can easily hike or bike through at the Noyo Headlands coastal trail that is actually part of the California coastal trail that runs throughout the state. In this section of the five mile trail, you can stroll on your own and enjoy the tide pools, coves and hidden beaches and the spectacular coastal views in the area. Parking is easy at either ends of the trail route for you to access the trail.
7. Explore Pudding Creek Beach
Explore this scenic area of Pudding Creek where it flows directly into the ocean with some small pools or lagoons that develop with the tide. You can explore the beach areas and check out the natural caves, arches and wetland areas surrounding the creek area. It's fun to beachcomb the area, have a nice picnic and explore all the areas around the beach, sand dunes areas and photograph this scenic spot of Fort Bragg.
Cool and fun things to do & attractions around Fort Bragg
This historic trestle bridge on the coastline was built in the early 1900s and used to transport local timber in the area for export. At over five hundred feet in length you can actually walk across the bridge and enjoy this unique experience on the bridge and capture it in pictures. Originally part of five trestle bridges that hauled lumber from the local mill about 10 miles inland from Fort Bragg the bridge is fun to explore and even enjoy a fantastic sunset view at Fort Bragg.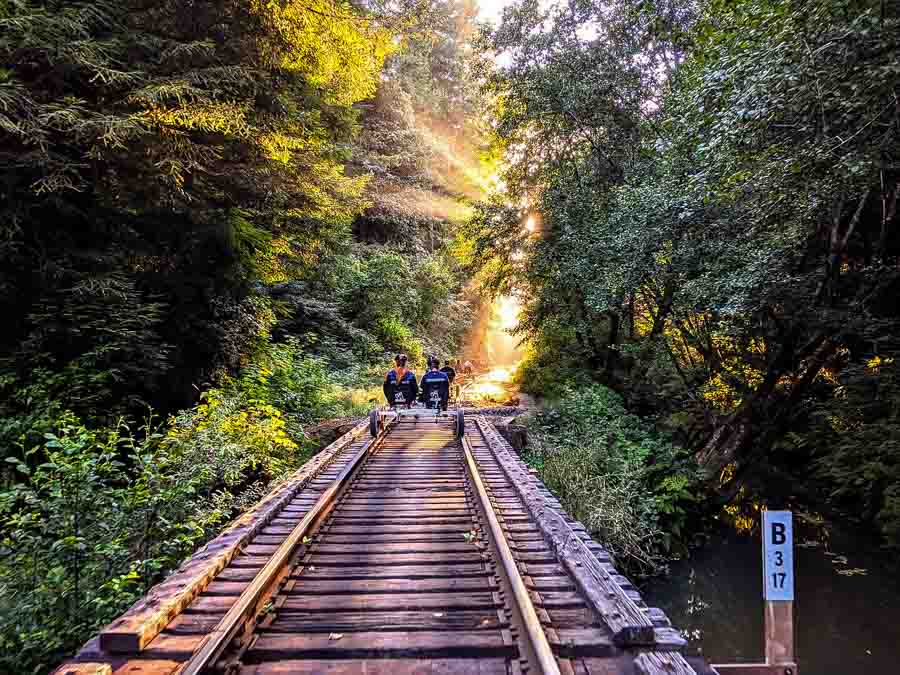 9. Go on a Railbike tour or on the Skunk Train
Operating since 1885, the skunk train is an institution in the area with a 7 mile tour through forested areas in the Pudding Creek estuary and traveling to the end at Glen Blair Station and back to Fort Bragg. Along the way you'll pass through old growth redwood forests, canyons, waterfalls, trestle bridges and and a historic part of Mendocino county. You can also do an unusual railbike tour experience on a two man type of open air bike that is self powering through real railroad tracks in the same areas covered by the Skunk train. It's a fun way to exercise and explore nature at the same time.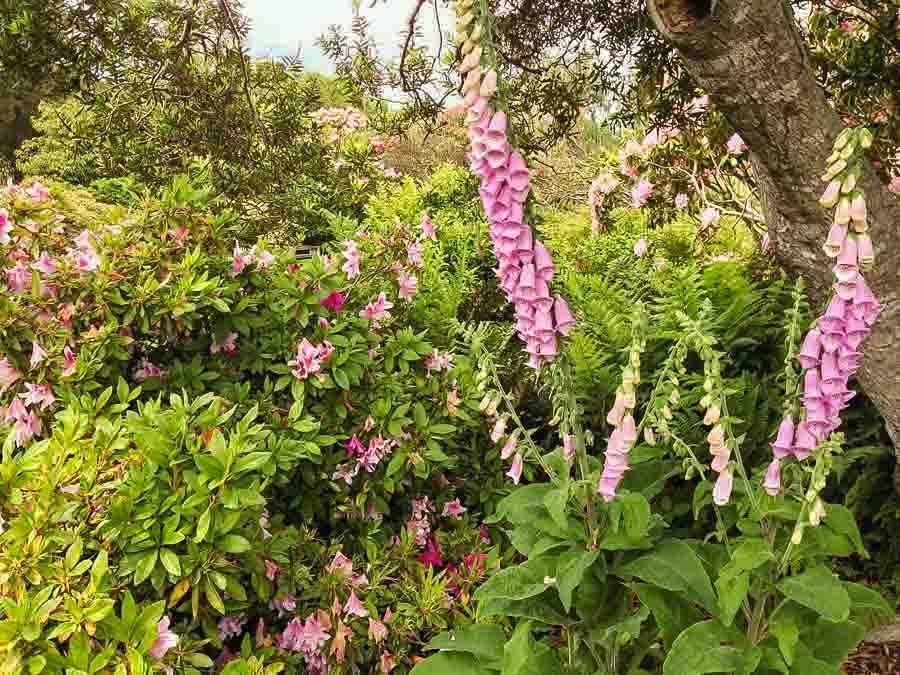 This gorgeous botanical garden combines both wild nature with wetlands, bluffs, the rugged coastline and forests along with more manicured and beautiful swaths of perennials and annuals plants with a colorful burst of foliage and flowers that thrive in this garden. The best time to enjoy the gardens is during summer to early fall when all the beds are bursting with flowers in bloom. For a change of pace you can do some of the lovely hikes through the wetlands and forest areas and then into the coastal bluffs trail for stunning views of the coastal areas.
11. Enjoy a Model Railroad Experience
This is the place to bring out the child in your with a model railroad experience that is fun and unique. The model railroad you'll find at the Mendocino Coast Model Railroad Society is a fun place to visit with over 1300 feet of track, cool town, logging mills and camp and local backdrops with model trains. Managed by local volunteer train enthusiasts love to share their passion, you'll love visiting with your family here. The visit is free with the purchase of a Skunk train or railbike experience and housed in a building close to the Skunk Train Depot.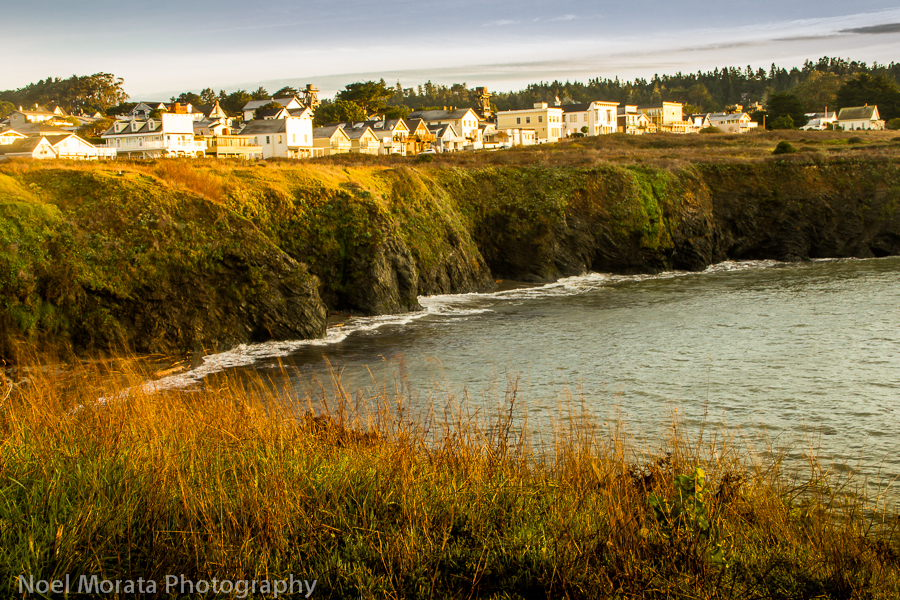 11. Explore Mendocino Town
A short drive south from Fort Bragg is the quirky art community at Mendocino town or community as it is actually designated. You can easily explore the main drags with two parallel streets full of art galleries, shops and boutique stores, delicious bakery, coffee and artisanal food shops or have a bigger meal at any of the fabulous restaurants. You can check out this post on exploring Mendocino town here for more images and details of places to explore in town and the surrounding area.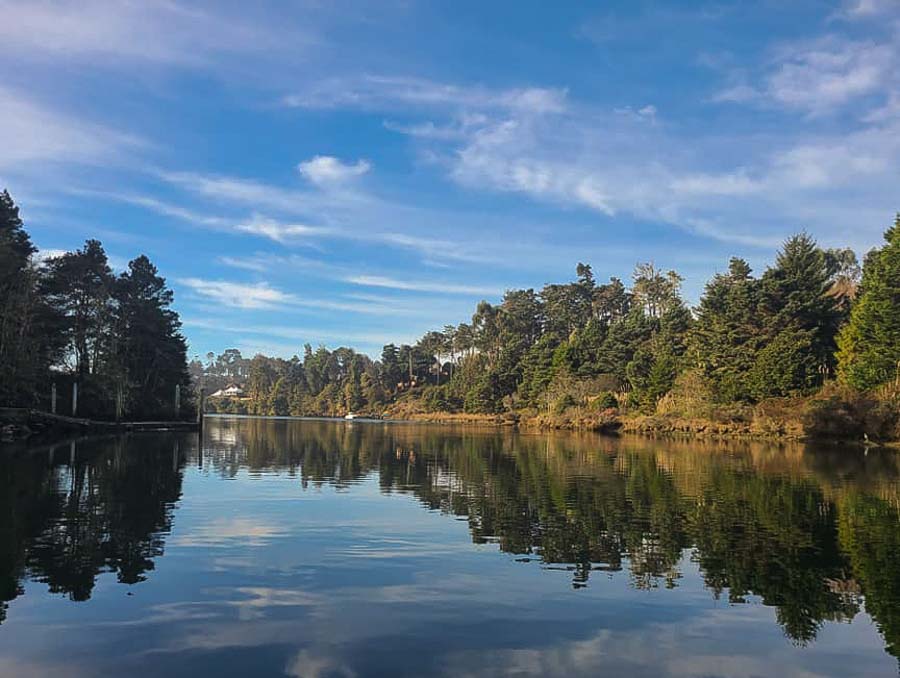 13. Go kayaking on the Noyo river
The water and kayaking is easy to do around the quiet estuary areas and the Noyo river hosted through Liquid Fusion Kayaking. A popular family friendly activity to do on the water and enjoy the views, wildlife and even some sea lions, harbor seals, otters and other marine life on the river. You can sign up for tours or just rent the kayaks on your own with tips of where to head in the right direction on your own.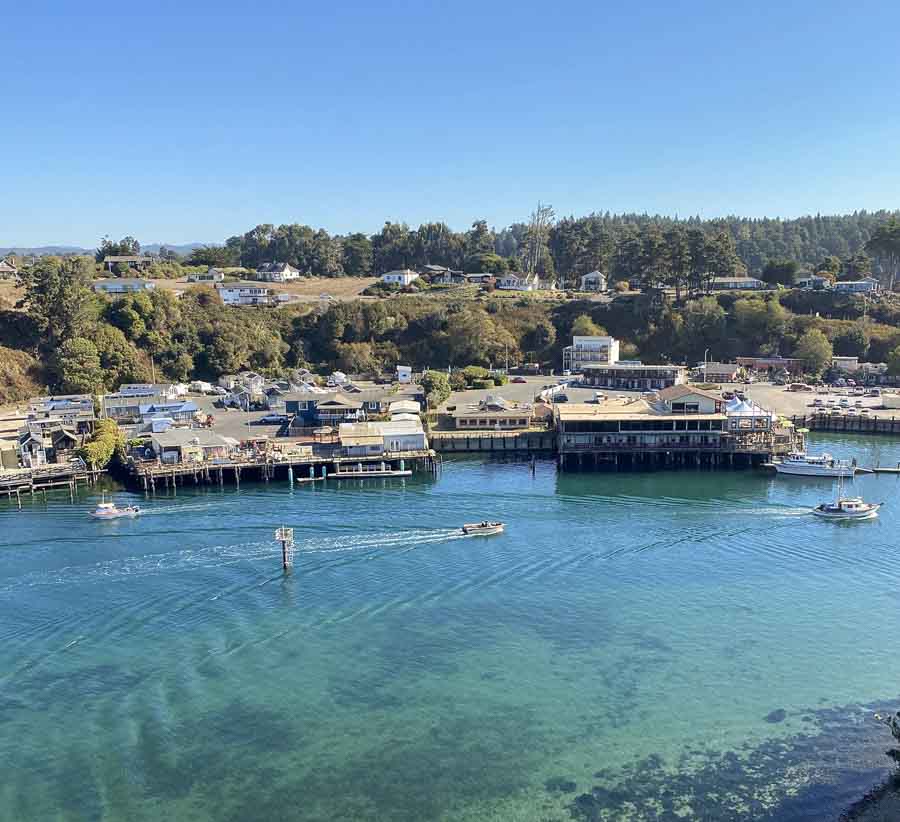 14. Explore Noyo Harbor and seafood restaurants
It's fun to explore the actual working Noyo Harbor and check out the colorful vessels and see all the activity and ships heading out to sea. It's fun to experience all the activity and actual harbor details or popping into any of the excellent seafood restaurants along the harbor area to try. Check out all these yummy places to visit and eat here in the area if you're in the mood for some good seafood now.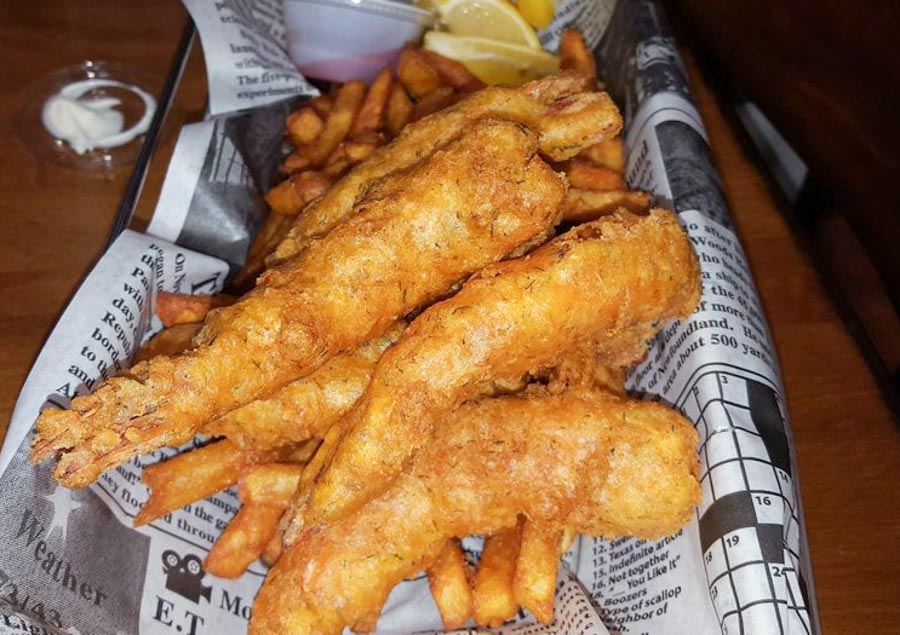 15. Have a fantastic meal at Fort Bragg
There are some fantastic bakeries, eateries and seafood places to enjoy while your visiting Fort Bragg. Take a look at some of these popular and well reviewed places that you'll really enjoy on your visit to Fort Bragg.
Noyo Harbor Inn Restaurant – focusing on local produce, seafood and simple dishes that are healthy with large portions
Noyo Fish company – family owned on the harbor specializes in fish and chips and local seafood specialties
Sea Pal Cove – local favorite for ship and chips, chowder and other seafood specialties on the menu
Casa Del Sol – latin flavors, seafood dishes and Mexican food at this local favorite spot in Fort Bragg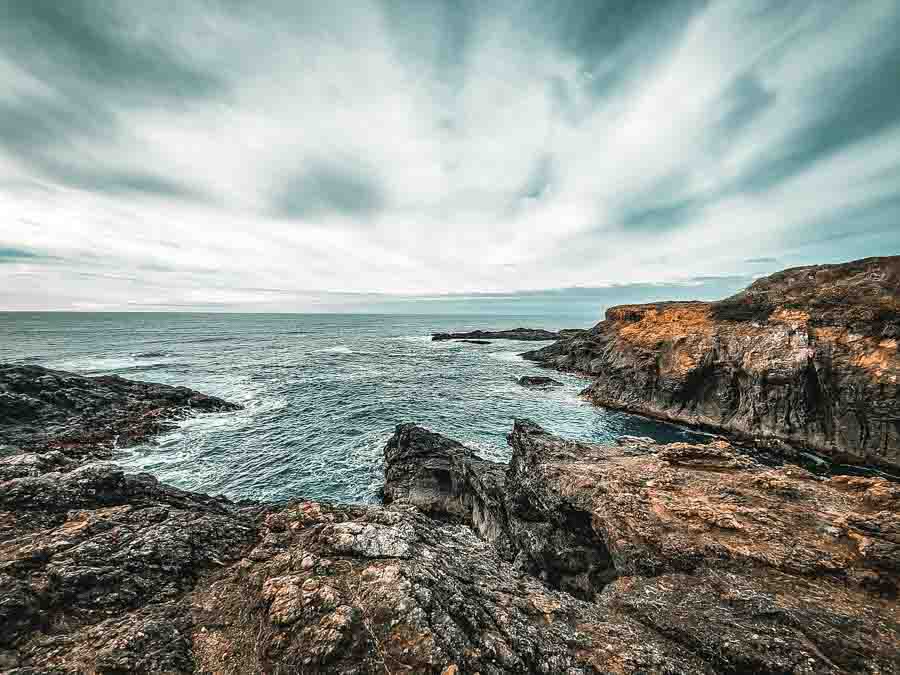 Where to stay in Fort Bragg
There's plenty of options on where to stay in the area from high end luxury to comfortable inns or Bnb style accommodations. Check out all these various places to stay below.
North Cliff Hotel – located at the entrance of Noyo Harbor, the hotel is a close walk to Pudding Creek beach with great views and access to the harbor and seafood restaurants.
Country Inn Guest House – Right on Main street and easy walking to many attractions the inn is comfortable, cozy and affordable for the downtown district.
Weller House Inn – a historic home built in 1886 and converted to an inn with unique features like a water tower observation deck, gardens and a cool main house public area.
Noyo Harbor Inn – located at Noyo Harbor, upscale with nice finishes and even fireplaces in the rooms, the inn hits all the right marks for a stay at Fort Bragg.
For reviews of the top places to stay around Fort Bragg, check out these best reviewed sites on TripAdvisor here for more details and current prices.
More inside tips to visiting Fort Bragg
When visiting Fort Bragg, here are some insider tips to enhance your experience:
Timing is key: Plan your visit during the off-peak season (typically fall or spring) to avoid crowds and enjoy better deals on accommodations and activities.
Explore the Mendocino Coast: Venture beyond Fort Bragg to discover the stunning coastal towns of Mendocino, Little River, and Elk. These charming communities offer picturesque landscapes, quaint shops, and excellent dining options.
Discover Glass Beach: Don't miss the unique Glass Beach, famous for its colorful sea glass gems. Be sure to check tide schedules and visit during low tide for the best beachcombing experience.
Ride the Skunk Train: Take a nostalgic journey through the majestic redwood forests aboard the Skunk Train. This historic railway offers scenic routes and a delightful way to appreciate the natural beauty of the area.
Visit the Mendocino Coast Botanical Gardens: Explore the breathtaking gardens spanning 47 acres with an array of vibrant flowers, coastal trails, and stunning ocean views. Look out for special events and seasonal displays.
Indulge in Fresh Seafood: Fort Bragg is renowned for its seafood. Head to Noyo Harbor or local seafood restaurants to savor delicious, freshly caught fish, crab, and other seafood delicacies.
Experience the Point Cabrillo Light Station: Take a short drive to the Point Cabrillo Light Station and admire the picturesque lighthouse. Enjoy scenic walks along the trails and keep an eye out for seals, whales, and seabirds.
Pack layers and be prepared for changing weather: The coastal climate can vary, so it's advisable to bring layers of clothing to accommodate temperature changes throughout the day.
Take advantage of outdoor activities: Engage in activities like hiking, kayaking, horseback riding, or biking to fully immerse yourself in the natural beauty of Fort Bragg and its surroundings.
Support local artisans: Fort Bragg is home to talented artists and craftsmen. Explore local galleries, studios, and shops to discover unique handmade souvenirs and support the local art community.
Remember to check for any updated travel information and specific guidelines before your visit to ensure a smooth and enjoyable trip to Fort Bragg.
Check out these other places to explore close by
Enjoyed this post – pin it for later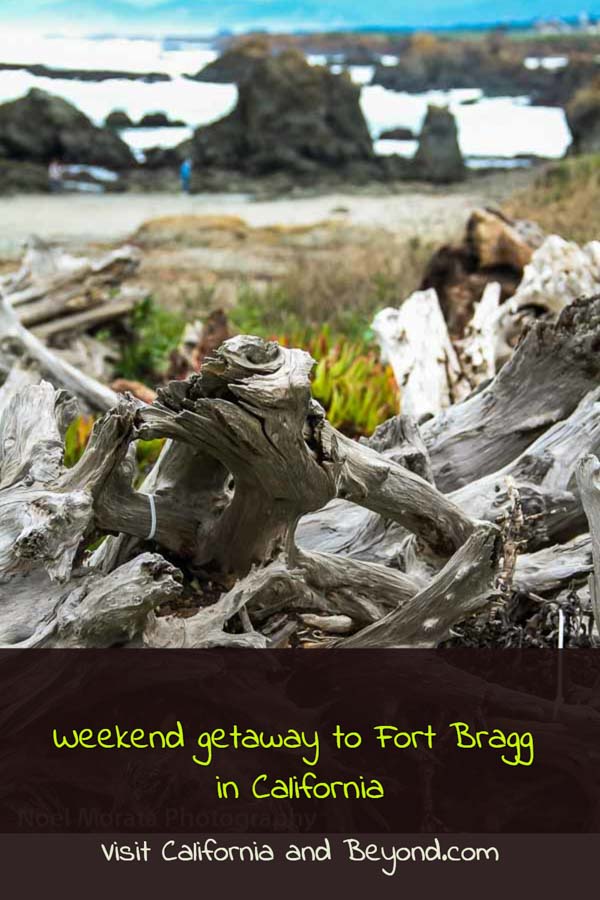 I'd like to hear from you!
If you have visited Mendocino, please share your experiences in the comments below for everyone to enjoy. Or even if you have any questions about visiting, I would be more than happy to answer them below.
Conclusion to Top 15 things to enjoy around Fort Bragg
In conclusion, the Top 15 activities in and around Fort Bragg offer an array of unforgettable experiences for visitors. Whether you're exploring the stunning coastal scenery, immersing yourself in the rich history, indulging in delicious cuisine, or enjoying outdoor adventures, Fort Bragg has something to delight every traveler. From tranquil beach walks to thrilling outdoor pursuits, cultural discoveries to culinary delights, there's no shortage of ways to make the most of your time in this charming destination. So pack your bags, embark on an unforgettable journey, and create lasting memories in Fort Bragg!"
Thanks for checking out Visit California and beyond and reading this this post on Things to do in Fort Bragg
If you enjoyed reading this post, please do share it with any of the social media buttons right below, thanks.