Marvel at the Beauty of Glass Beach at Fort Bragg: Nature's Spectacular Sea Glass Haven
Probably the most well-known glass beach in northern California is the Glass Beach at Fort Bragg. Best known for beach coming and finding the bits of tumbled glass that churned up broken bottles, car windows and parts into smooth tumbled glass and other polished materials you would love to collect. The glass beach is actually part of the Glass Beach sits in MacKerricher State Park very close to the downtown district. Instead of fine sand, you'll find small to medium sized tumbled glass mixed in with sand that ranges in greens, off white, teal, brown and even orange tumbled glass.
You'll have a field day here visiting this famous sea glass beach in California spotting the tumbled sea glass around the sand and glass beach in Fort Bragg.
Note – there have been so many visitors coming to the Fort Bragg glass beach areas here to beach comb and find glass. But please note that this is a state park and taking anything on the beach areas here is not allowed. Do so at your own risk.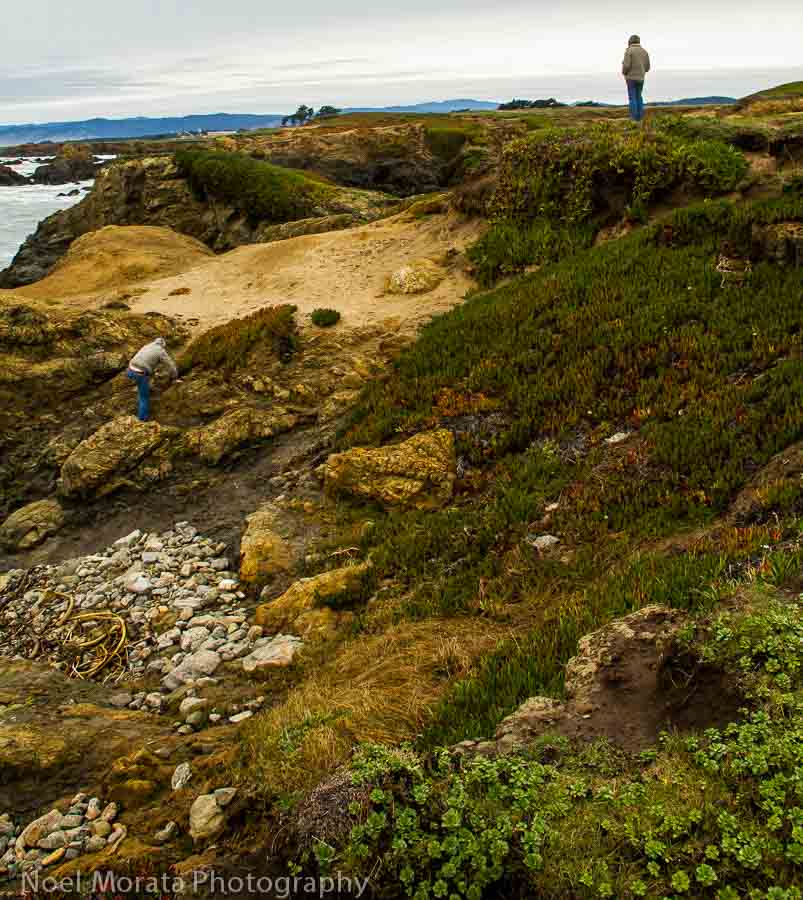 A history of Fort Bragg's Glass Beach at MacKerricher State Park
There are so many strange legends of how glass beaches end up around the famous glass beaches of the world, but the Fort Bragg glass beach history typical of smaller communities in Northern California. ' After the Great Earthquake In 1906 devasted much of Northern California communities, torn buildings, materials and garbage had to be removed. In remote Fort Bragg, the easiest solution at the time was to burn or move the garbage to the ocean and the many coves in the area which became a practice from the local community with broken bottles, ceramics, glass windows and mirrors that washed out to sea and were churned and brought back with the rough surf. Things changed in the 1960s with coastal cleanup efforts were undertaken by the local communities and the Glass beach was discovered with polished glass, ceramics and other bits found in between the tumbled stones and sandy areas.
The process of glass, ceramics and other discards turning into smooth and beautiful treasures takes decades to create from the constant churning of the waves along with the hydration process with the lime and soda leeching out from the glassware. Along with that were the other chemicals and unknowns dumped on the beach sites adding to the weathering process and producing the soft and rounded glass you'll find today around the different cove areas of the park.
With the discovery and popularity of beach combing and looking for sea glass the area brought an influx of visitors to the area to search for their own treasure finds and a lot of the glass at Glass Beach is dwindling to the quiet and not well visited cove areas that require more dedicated efforts.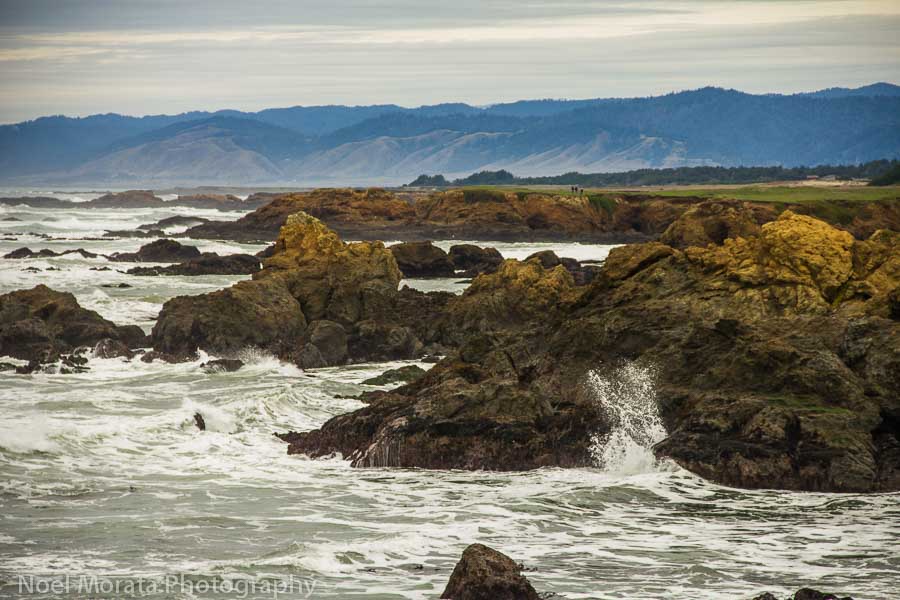 Where is the Fort Bragg Glass Beach located?
Glass can be found in the many cove areas of Mackerricher State Park in Fort Bragg. The most well known is actually called Glass Beach off Hwy 1 and West Elm Street and then on Glass Beach Drive where you can park and then take a path to down to the beach area and many coves around the beaches there.
There are several beaches that also are in the park that contain glass drifting around the many coves surrounding the State Park. You should wear sturdy shoes or even water shoes if you want to explore the rocky and wet areas around the beach.
Check out this video highlight to visiting Glass Beach
Weather and the best time to visit Fort Bragg area
60 to 70 degrees Fahrenheit (15 to 21 degrees Celsius). Winters are mild, with temperatures ranging from 45 to 55 degrees Fahrenheit (7 to 13 degrees Celsius).
The best time to visit Fort Bragg area is during the months of May to October. During this period, the weather is typically pleasant, with warmer temperatures and less fog compared to the rest of the year. It's an ideal time to explore the stunning coastline, enjoy outdoor activities, and visit attractions such as Glass Beach and Mendocino Coast Botanical Gardens.
It's worth noting that the area can experience occasional rainfall, even during the summer months. It's advisable to pack layered clothing and be prepared for changing weather conditions.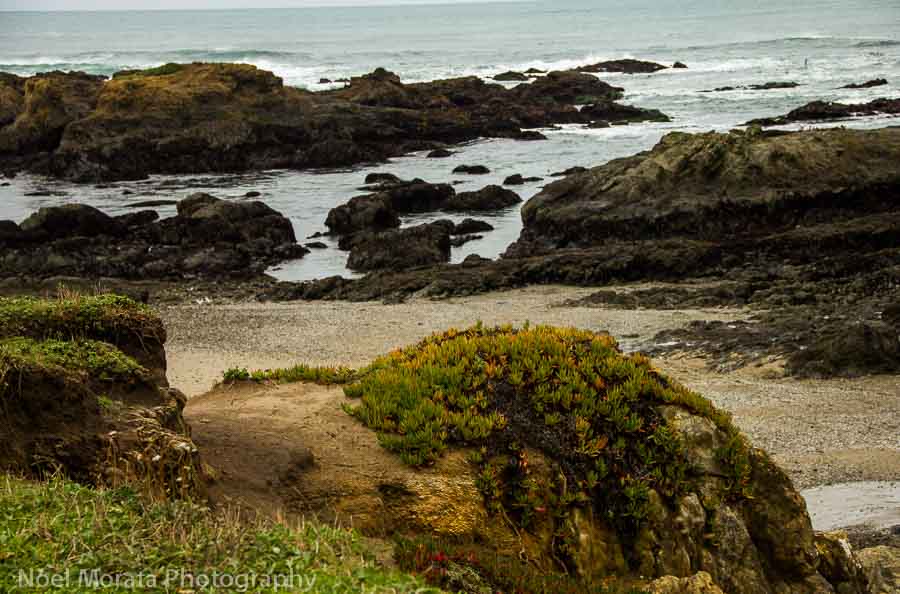 Learn more about the sea glass at the International Sea Glass Museum
Located in a small building in between Mendocino and Fort Bragg, you can visit and learn more about this fascinating glass discoveries with Captain Cass Forington, the owner who has amassed over 150,000 glass pieces collected in the area and made into some fascinating objects to also enjoy. You'll find some interesting collections of different and more exotic sea glass and crated glass into stoppers, marbles, marbles and other handmade bits from the glass. It's a fun and small museum to explore and learn more about the history of the area, ship wreck information and even ask the captain for an inside scoop to where the best spots are still around to scout for die-hard sea glass enthusiasts.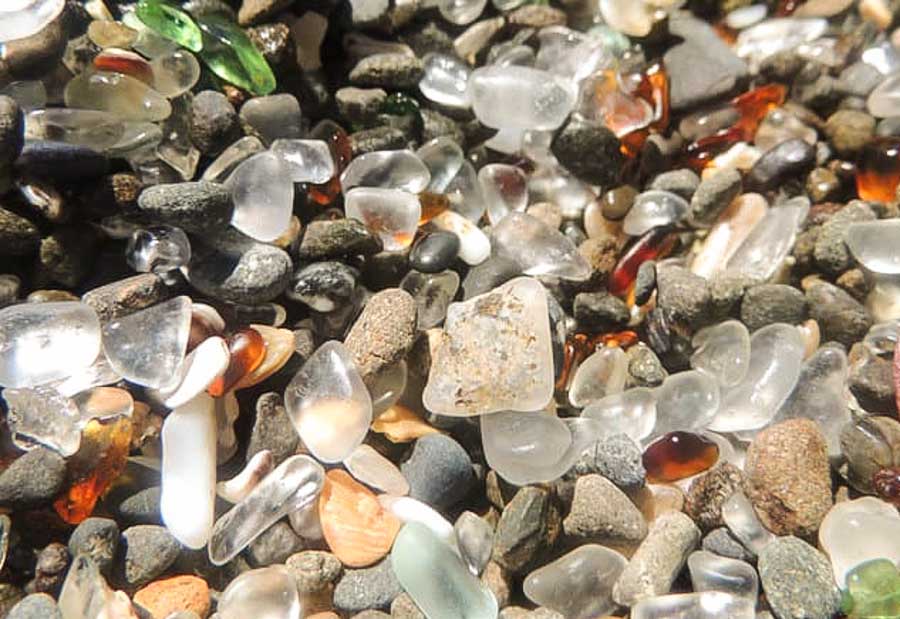 What you can find at Fort Bragg Glass Beach?
The best times to explore the area and beach comb for treasures are after high tide when the tides are changing and you might be able to find some of the tumbled pieces along the coves and exposed areas. Most of what is left from decades of visitors' beach combing the area are minute glass that is so small and almost indistinguishable from the rocks and sand in the area. Something to note is that this is located within a state park so taking any natural or found materials from the beach is considered illegal, so it's up to each individual to decide whether it is worth the risk.
Here's the truth video about the Glass beach experience
What are the typical and rare colors of sea glass found?
The most common sea glass found are white and brown which came from the typical glass bottles that were produced to make soda and beer bottles at that time frame. Next were greens and blues that came from wine bottles, medicine containers and other health related bottles. The series of pinks, oranges to light greens come from Vaseline glass, perfume bottles and other colored glass receptacles used at that time. The rarer types of glass and or ceramics pieces developed from the burning of the dump sites and creating glass melting or wrapping with other objects to interesting combinations and unusual impurities of glass and objects combined.
What else to do at MacKerricher State Park
After enjoying a stroll on the glass beach, you can enjoy the rest of your visit to MacKerricher State Park to include a nice stroll on Pudding Creek beach and even walk on top of the historic trestle wood bridge with fantastic views. The trestle bridge (which there were 5 made) brought timber from the mills inland for quick export to surrounding areas and the Bay area.
Now this landmark is a wonderful remnant that is fun to walk around and above. Views at sunset here is quite spectacular. There are several trails to explore at the park, fascinating tide pools to walk around and beautiful bluff views to enjoy around the park area that are breath taking to see and capture some nice photographs.
Exploring MacKerricher State Park and the coastal areas is a fun way to enjoy a day outdoors, experience the wildlife, views and some of the longer trails in the park area to explore.
Check out the highlights to visiting MacKerricher park below
Explore and visit attractions around Fort Bragg area
The town of Fort Bragg is also fun to explore the town, harbor and surrounding areas. Check out our post on things to do around Fort Bragg here for more ideas of outdoor fun and recreation and fun things to do around town. You might want to base your stay in the area to explore many of the beautiful beaches, state parks and other outdoor adventure and activities in the area that are one of a kind and fun to do.
Here's a visit to the Fort Bragg area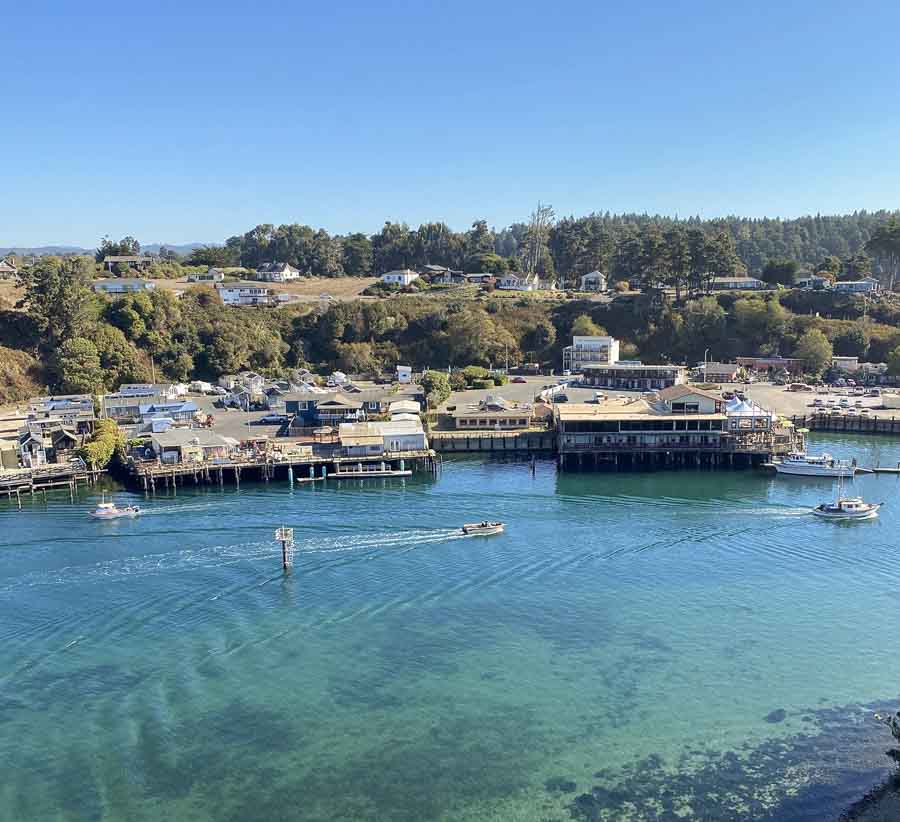 Noyo Harbor and river area
This is a real working harbor and fascinating to watch the ships come out and in with their loads for local restaurants and markets. The area is also a great spot for dining and trying out some of the local delicious seafood fish and chips, chowder and other fresh finds for the day.
Here's a fun kayaking experience around Noyo Harbor area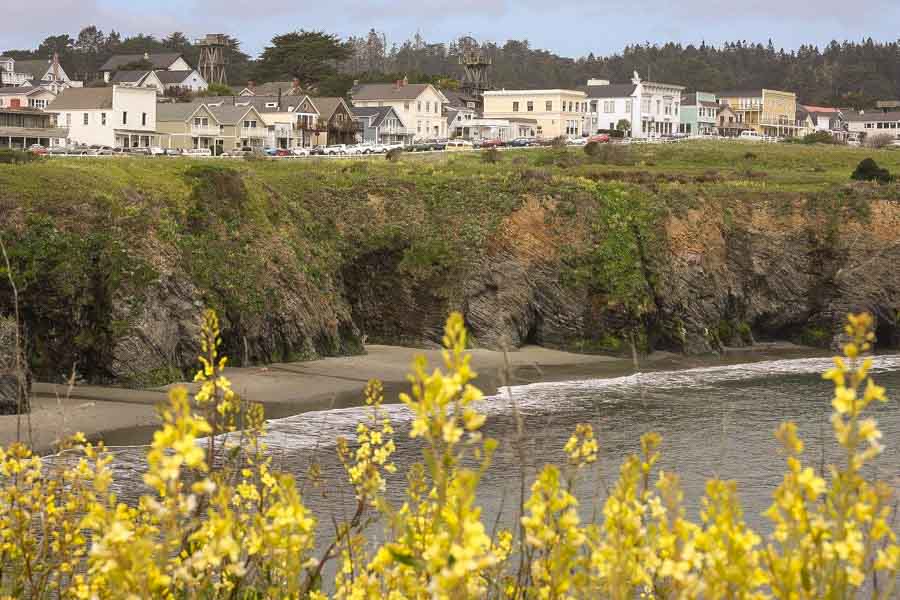 Mendocino town and surrounding areas
A nice and easy from Fort Bragg is the artsy and beautiful town of Mendocino to explore the quirky and colorful town, architectural details of the old New England inspired buildings and some of the cool gardens, art galleries and centers in town. Also exploring the coastline areas and hiking trails with gorgeous cliffs, hidden coves and scenic coastal landscapes are inspiring and worth visiting for the photo opportunities alone. Check out our post on visiting Mendocino town here for more things to do and see around this wonderful community in Northern California.
Here's a walking tour of downtown Mendocino area
Other inside tips to visiting the Glass Beach
Wear sturdy or wet water shoes to explore the rock areas and coves around the state park
Best time to explore the coves and beaches is when the tides are receding and turning to low tide and when beach combing is safer from the rough waves that frequent the area
Explore the cool tidepools, interesting marine life and fish and beautiful mollusks, crabs, colorful anemones and aquatic plants that make these fascinating little aquariums to discover
Note: Visitors aren't technically allowed to remove glass from the beach because this is part of California State Park property so proceed at your own risk.
If you are really looking for more interesting glass to find, do so at the wonderful art galleries or even the International Sea Glass museum that you can purchase without any remorse
Where to stay in Front Bragg
There are a lot of fantastic accommodations in the Fort Bragg area to base yourself while exploring the Glass Beach, historic downtown, state parks and other fun drives along the region. Here are some well reviewed places to stay in Fort Bragg area.
Surf and Sand Lodge – great location with ocean views and direct access to the beach area, clean and comfortable rooms at an affordable price range.
Ocean View Lodge – exceptional lodging, ocean front, beach access with spacious and comfortable rooms, continental breakfast and friendly service.
Shoreline Cottages – Located in a quiet park area the cottages are well priced rooms with full kitchens, dog friendly, clean and comfortable stay in the area.
Check out these other Trip Advisor hotels and inn reviews here for updated prices, availability and calendar.
Local food to try around Fort Bragg area
The Fort Bragg area boasts a variety of local culinary delights that are a must-try for any food enthusiast. Here are some delectable dishes and flavors to savor:
Dungeness Crab: As Fort Bragg is situated along the Northern California coast, it's no surprise that Dungeness crab takes center stage. Indulge in freshly caught and expertly prepared crab dishes, such as crab cakes, crab bisque, or simply steamed crab served with melted butter.
Abalone: Another prized seafood delicacy in the region is abalone. Known for its tender texture and delicate flavor, you can find it prepared in various ways, including grilled, sautéed, or as a delicious addition to seafood pasta dishes.
Mendocino County Wines: Fort Bragg and the surrounding Mendocino County are renowned for their exceptional wines. Take a wine tour or visit local wineries to sample a wide range of varietals, including Pinot Noir, Chardonnay, Zinfandel, and more. The region's unique terroir adds complexity and character to the wines.
Artisanal Cheeses: Explore the local cheese scene with a visit to cheese shops or farmers' markets in the Fort Bragg area. Sample a variety of artisanal cheeses, such as goat cheese, sheep's milk cheese, or creamy cow's milk cheese. Pair them with local fruits, honey, or crackers for a delightful tasting experience.
Organic Produce: Fort Bragg and the neighboring areas are known for their organic farming practices. Explore farmers' markets to discover a vibrant array of fresh, seasonal fruits and vegetables. From juicy heirloom tomatoes to crisp salad greens, the local produce offers a farm-to-table experience that showcases the region's agricultural bounty.
Craft Brews: Quench your thirst with locally brewed beers. Fort Bragg has a burgeoning craft beer scene, with breweries offering a wide selection of IPAs, stouts, lagers, and seasonal brews. Visit taprooms and sample the flavors of the area's craft beers, which often incorporate local ingredients and reflect the region's brewing creativity.
Artisan Breads and Pastries: Satisfy your cravings for freshly baked goods by trying the artisan breads and pastries made by local bakeries. From crusty sourdough loaves to flaky croissants and delectable pastries, these treats are perfect for breakfast or a midday snack.
Farm-to-Table Cuisine: Fort Bragg embraces the farm-to-table movement, and many restaurants in the area emphasize locally sourced ingredients in their menus. Enjoy dishes prepared with fresh seafood, seasonal produce, and locally raised meats. The culinary offerings often highlight the region's flavors and showcase the talents of local chefs.
Immerse yourself in the local food scene of Fort Bragg, savoring the flavors and culinary traditions that make this coastal region a haven for food lovers.
Enjoyed this post on Fort Bragg – pin it for later
Have you been to the Glass Beach at Fort Bragg?
If you have visited Fort Bragg's Glass Beach and surrounding attractions, please share your experiences and tips in the comments below for everyone to enjoy. Or even if you have any questions about visiting, I would be more than happy to answer them below.
Conclusion to visiting Fort Bragg and Glass Beach
In conclusion, a visit to Glass Beach at Fort Bragg is a truly awe-inspiring experience that combines the beauty of nature with the captivating allure of sea glass. As you explore the sparkling shoreline, be sure to follow the insider tips to make your visit even more enjoyable and respectful of the environment. From timing your trip during low tide to embracing the coastal charm of Fort Bragg, you'll have the opportunity to create unforgettable memories while marveling at the transformation of discarded glass into a mesmerizing display of colors. So, plan your journey, immerse yourself in the coastal splendor, and prepare to be enchanted by the magical world of Glass Beach.
Thanks for checking out Visit California and beyond and reading this this post on Glass beach at Fort Bragg
If you enjoyed reading this post, please do share it with any of the social media buttons right below, thanks.
Disclosure – this post on Glass beach at Fort Bragg may have affiliate related links to brand offers which helps our site keep operating – we appreciate any purchases through this link and your supporting This Hawaii Life.
google-site-verification: googled06c68096515dd69.html