Visit Downtown San Francisco: A Vibrant Hub of Culture, Commerce, and Innovation
Downtown San Francisco: Where urban charm meets technological prowess, this iconic district captures the essence of the City by the Bay. From its breathtaking skyline adorned with skyscrapers to its bustling streets teeming with life, this vibrant epicenter pulsates with energy. Discover a fusion of cultures, where historic landmarks seamlessly blend with cutting-edge innovation. Lose yourself in the maze of eclectic shops, savor delectable cuisines from around the world, and immerse yourself in a thriving arts and entertainment scene. Join us on an enchanting journey through the heart of downtown San Francisco, where every corner holds a captivating story waiting to be unveiled.
There's so much to see and do in downtown San Francisco from beautiful squares, places to visit from above, cable cars and of course shopping venues at famous Union Square area. We share most of our favorite gathering places, monuments and things you should see and down when your planning on visiting downtown San Francisco.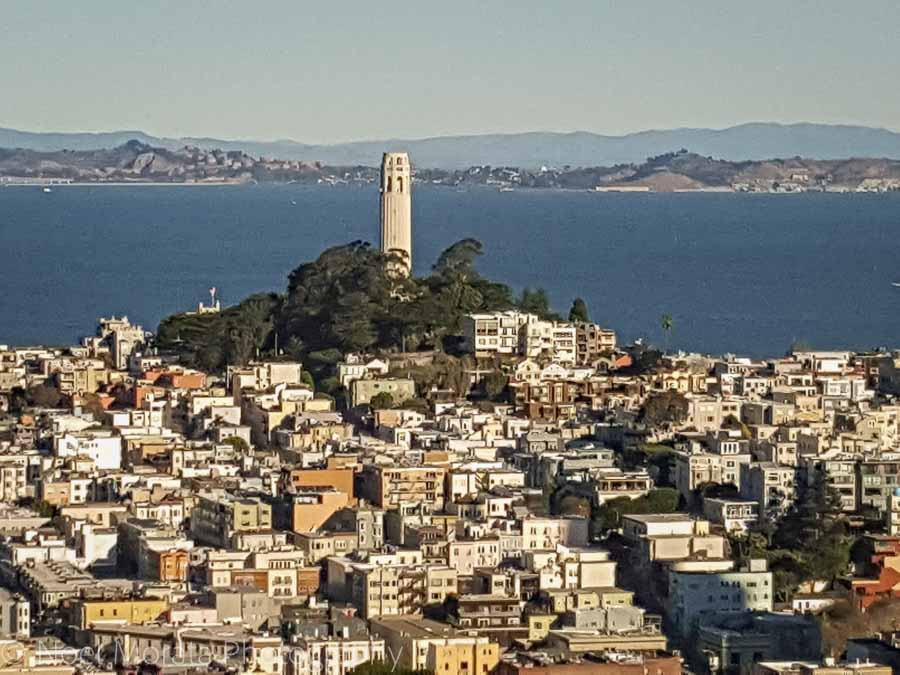 Weather and best time to visit San Francisco
Known for its ever-changing microclimates, San Francisco weather adds an element of surprise to your visit. While the city enjoys a moderate climate year-round, its iconic fog, brisk breezes, and occasional temperature fluctuations make planning crucial. Summers bring cool temperatures, with foggy mornings and milder afternoons.
Fall brings warmer and sunnier days, making it a popular time for tourists. Winter is mild but wet, with sporadic rain showers.
Spring offers pleasant weather, with blooming flowers and fewer crowds. The best time to visit San Francisco is typically from September to November when the weather is pleasant, and the city buzzes with cultural events and festivals.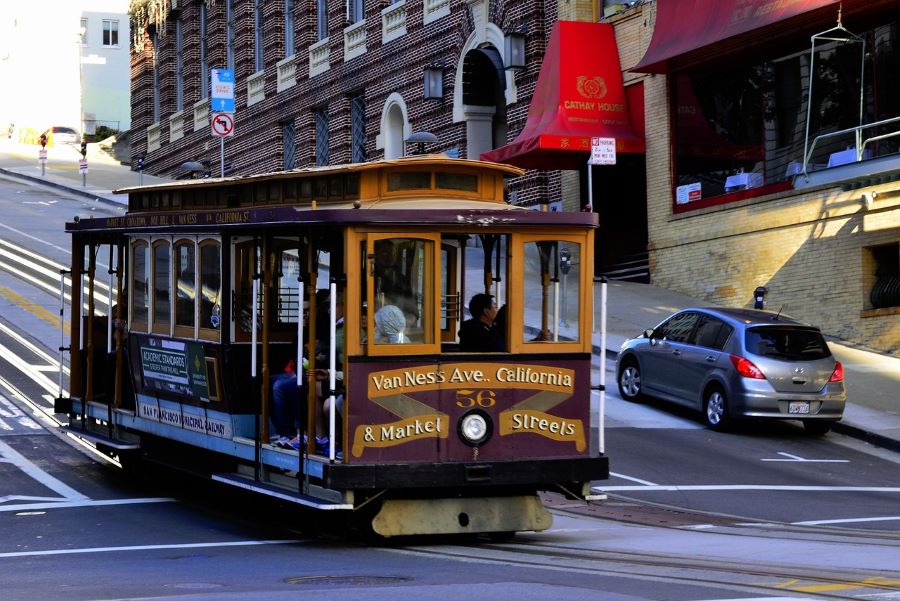 How to get around San Francisco area
San Francisco offers a variety of transportation options to explore its vibrant neighborhoods and iconic landmarks. Here's your guide on how to get around the city with ease:
Public Transportation: The Bay Area Rapid Transit (BART) system connects San Francisco with the surrounding regions, offering a convenient way to travel. Additionally, the Muni buses, streetcars, and cable cars provide extensive coverage within the city.
Ride-Sharing Services: Uber, Lyft, and other ride-sharing services are readily available in San Francisco. Simply download the app and request a ride to reach your desired destination.
Biking: With its bike-friendly infrastructure, San Francisco is a great city to explore on two wheels. Rent a bike from one of the numerous bike-sharing stations or opt for guided bike tours to pedal through the city's scenic routes.
Walking: San Francisco's compact size makes it perfect for exploring on foot. Lace up your walking shoes and wander through its charming neighborhoods, uncovering hidden gems along the way.
Cable Cars: Experience a unique mode of transportation by hopping on one of San Francisco's iconic cable cars. These vintage vehicles not only provide a fun ride but also offer breathtaking views of the city's hilly landscapes.
Ferries: Take advantage of San Francisco's waterfront location and hop on a ferry to explore destinations like Alcatraz Island, Sausalito, or Angel Island. Enjoy the scenic views while cruising across the bay.
Rental Cars: If you plan to venture outside the city or prefer the convenience of a car, renting a vehicle is an option. However, keep in mind that parking can be challenging and expensive in certain areas.
The best places to explore around San Francisco's downtown district
There's a lot of fun, historic and fun places to explore and activities to enjoy in downtown San Francisco. Check out all these fantastic places of interests and experiences you will enjoy downtown.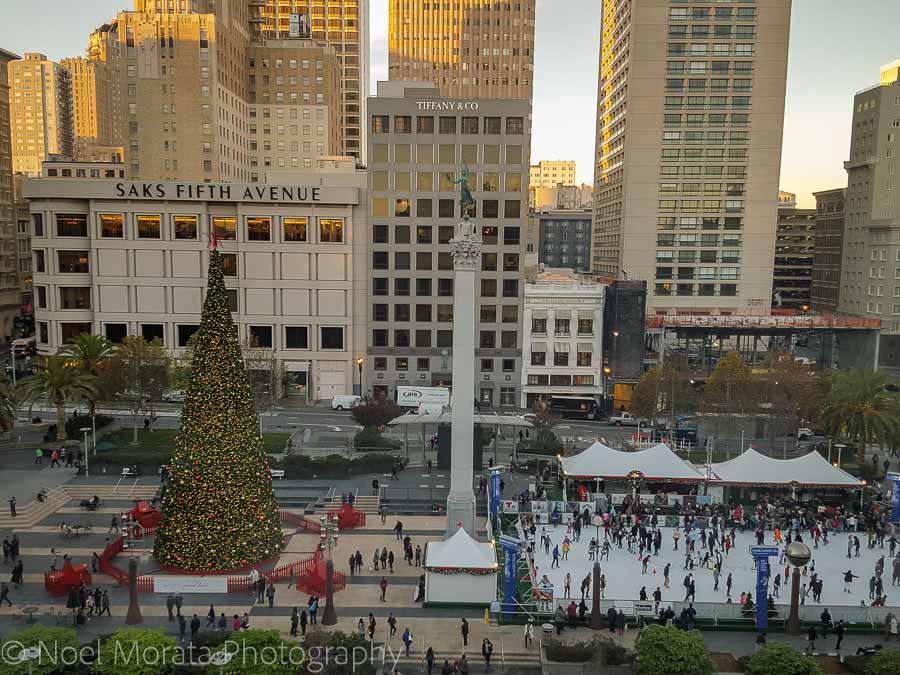 Union Square plaza and area
Nestled in the bustling heart of downtown San Francisco, Union Square Plaza stands as a vibrant and iconic destination. Renowned as a premier shopping and entertainment district, this bustling plaza is a magnet for locals and visitors alike.
Surrounded by luxury department stores, trendy boutiques, and renowned flagship stores, Union Square Plaza is a shopper's paradise. Here, you'll find an enticing blend of high-end fashion labels, designer brands, and local artisanal shops. It's the perfect place to indulge in retail therapy and discover the latest fashion trends.
Beyond its shopping allure, Union Square Plaza offers a dynamic array of cultural experiences. The plaza frequently hosts live performances, art exhibitions, and street musicians, infusing the atmosphere with a palpable creative energy. You might stumble upon a captivating street performer or witness a vibrant flash mob that adds an element of surprise to your visit.
Beyond its commercial charm, Union Square Plaza is surrounded by notable landmarks. The historic Westin St. Francis hotel, the elegant Maiden Lane, and the impressive Dewey Monument are all within walking distance, adding to the area's allure.
If you seek a moment of respite from the bustling city, Union Square Plaza itself offers a serene urban oasis. Take a seat on one of the benches, admire the beautifully manicured gardens, or simply soak in the vibrant atmosphere.
Cable Cars at Powell street
The cable cars at Powell Street embody the timeless charm of San Francisco, offering an iconic and nostalgic way to traverse the city's hilly landscapes. Step aboard these vintage vehicles, and be transported to a bygone era as you embark on a memorable journey.
Located at the heart of downtown San Francisco, Powell Street is a major hub for cable car enthusiasts. Here, you'll find the Powell-Hyde and Powell-Mason lines, which take passengers on scenic rides through the city's picturesque neighborhoods.
As the cable car ascends the steep inclines, you'll be treated to breathtaking views of the cityscape, with glimpses of iconic landmarks like the Transamerica Pyramid and the Bay Bridge. Hold on tight as the car navigates the twists and turns, and listen to the rhythmic clanging of the bells, a signature sound that echoes through the streets.
The Powell Street cable cars also pass through notable attractions, including Union Square Plaza and the historic Ghirardelli Square. Along the way, you'll witness the lively energy of the city, as pedestrians wave and smile, capturing the essence of San Francisco's friendly and welcoming spirit.
Here's a quick video on the Cable Car experience in San Francisco below
Shopping downtown San Francisco
Union Square, a central hub in downtown, boasts an impressive collection of high-end department stores and designer boutiques. Discover iconic luxury brands such as Gucci, Chanel, and Louis Vuitton, as well as renowned department stores like Neiman Marcus and Saks Fifth Avenue. Here, you can indulge in the latest fashion trends and find unique pieces that define your personal style.
As you explore the downtown area, you'll also encounter an eclectic mix of independent boutiques and specialty shops. Hayes Valley, just west of downtown, is a must-visit neighborhood for those seeking a bohemian and artsy shopping experience. Here, you'll find local designers, vintage clothing stores, and artisanal craft shops, making it the perfect place to discover one-of-a-kind treasures.
If you're a food enthusiast, don't miss the Ferry Building Marketplace located on the Embarcadero. This historic landmark houses an enticing collection of gourmet food shops, artisanal bakeries, and specialty stores. Indulge in artisanal cheeses, freshly baked bread, local wines, and other culinary delights. The marketplace also hosts a weekly farmers market, where you can immerse yourself in the vibrant flavors of San Francisco's local produce.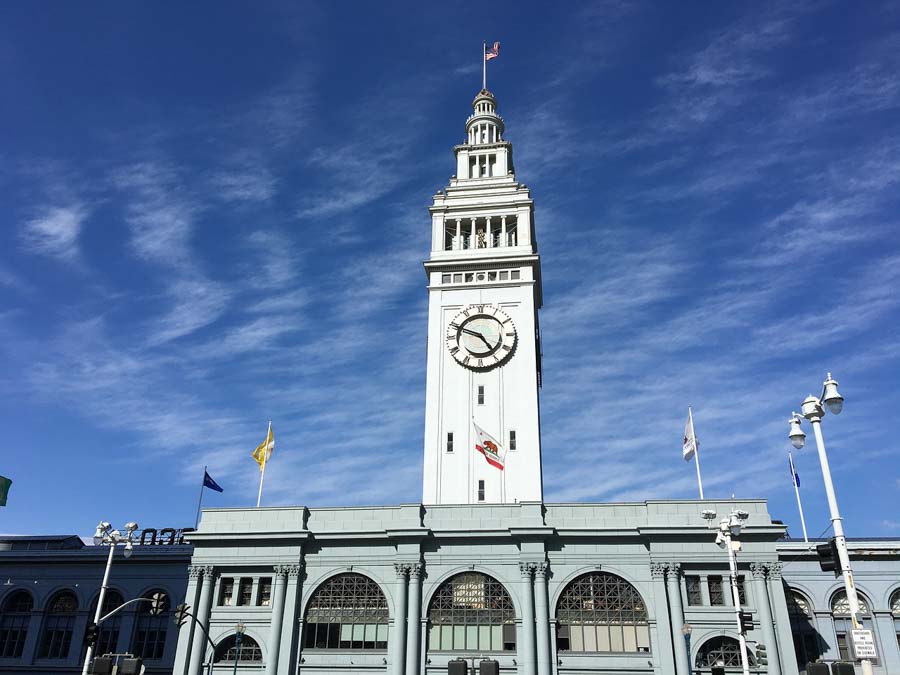 Embarcadero Center for foodies
The Embarcadero Center stands as a haven for foodies in San Francisco. With its diverse culinary offerings and vibrant atmosphere, this destination delights the taste buds and leaves a lasting impression.
From upscale dining establishments to casual eateries, Embarcadero Center caters to a wide range of palates and preferences. Whether you're in the mood for fresh seafood, international cuisine, or local farm-to-table delights, you'll find an enticing array of options to satisfy your cravings.
The center's waterfront location lends itself to exceptional seafood experiences. Indulge in the catch of the day at renowned seafood restaurants, where you can savor mouthwatering dishes featuring Dungeness crab, succulent oysters, and perfectly grilled fish. Breathe in the ocean breeze as you relish these delectable flavors, knowing that you're enjoying some of the freshest seafood in the city.
For those seeking global culinary adventures, Embarcadero Center offers a passport to international flavors. Immerse yourself in the vibrant aromas and spices of Asian cuisine, discover the rich flavors of Mediterranean fare, or savor the complex tastes of Latin American dishes. From sushi to tapas, dumplings to ceviche, the diverse range of international restaurants in the center ensures a culinary journey like no other.
Food enthusiasts looking for farm-fresh and sustainable options will find solace in Embarcadero Center's commitment to locally sourced ingredients. Visit farm-to-table establishments that showcase the bounty of Northern California's fertile lands. Enjoy organic salads, artisanal cheeses, and seasonal dishes that celebrate the flavors of the region.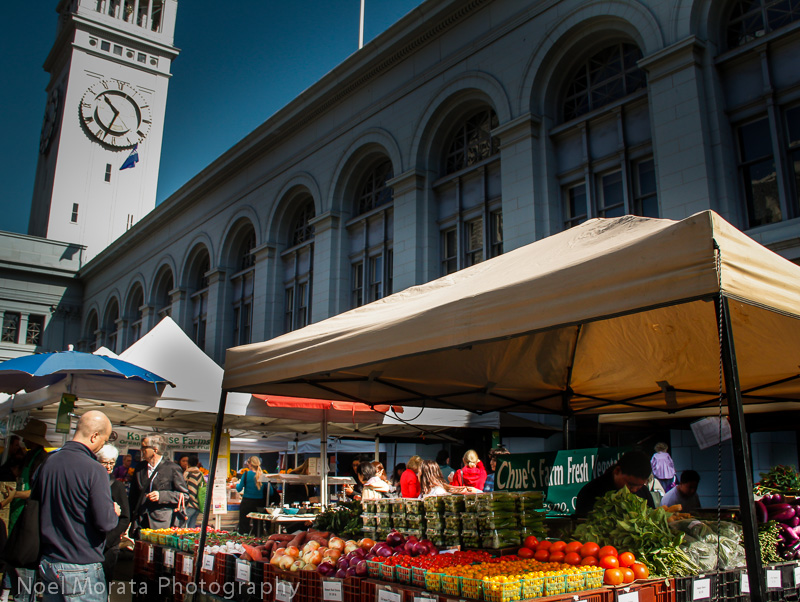 Ferry Plaza Farmers Market
The Ferry Plaza Farmers Market is a culinary haven nestled within San Francisco's iconic Ferry Building. This vibrant market is a celebration of local produce, artisanal goods, and a gathering place for food enthusiasts.
Located along the Embarcadero waterfront, the Ferry Plaza Farmers Market showcases an impressive array of fresh fruits, vegetables, herbs, and flowers sourced directly from local farmers. Stroll through the stalls and discover an abundance of seasonal and organic produce that reflects the rich agricultural heritage of Northern California.
In addition to the vibrant produce, the market also offers an assortment of artisanal food products. From artisan cheeses, freshly baked bread, and handcrafted chocolates to flavorful olive oils, small-batch jams, and gourmet sauces, you'll find a treasure trove of culinary delights to tantalize your taste buds.
Check out our post here on visiting the Ferry Plaza Farmers Market here for more information and details.
Check out this video on shopping the Ferry Plaza Farmers Market below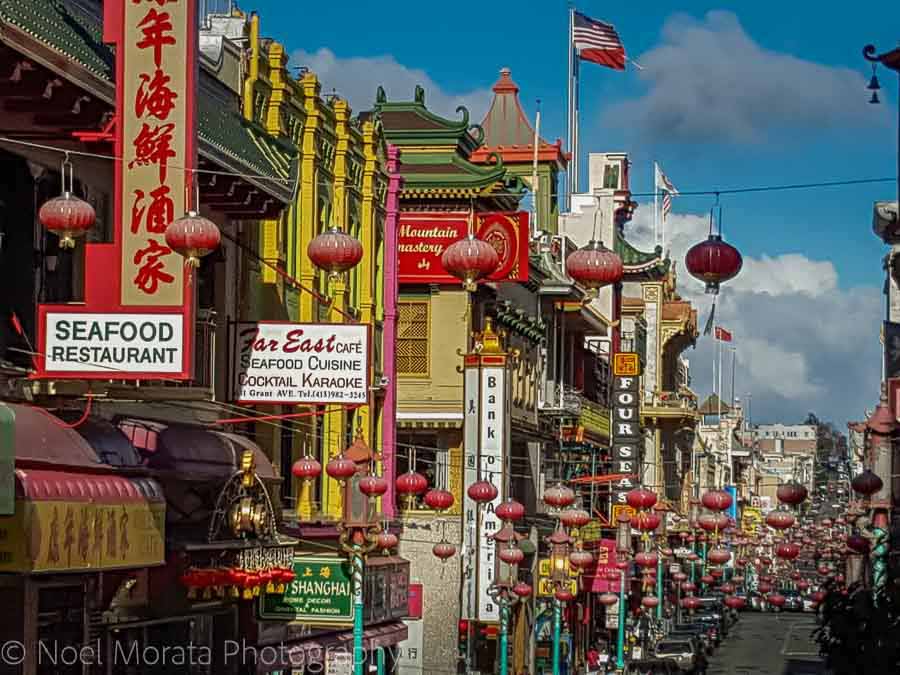 Explore Chinatown area
As you step into Chinatown, be prepared to be transported to a world of colorful pagoda roofs, bustling markets, and ornate architecture. Wander through its narrow streets adorned with vibrant lanterns and traditional Chinese signage, and soak in the ambiance that captures the essence of this unique cultural enclave.
Chinatown is renowned for its culinary delights, making it a paradise for food enthusiasts. Indulge in mouthwatering dim sum, savor flavorful Peking duck, or discover the delicate flavors of Cantonese cuisine. Visit bustling food markets and shops to explore a plethora of exotic ingredients, aromatic teas, and traditional herbal remedies.
The neighborhood is also home to several iconic landmarks that showcase the depth of Chinese history and culture. The Dragon Gate, adorned with guardian lion statues, marks the entrance to Chinatown on Grant Avenue and symbolizes good fortune and protection. Inside, you'll find the Tin How Temple, dedicated to the Goddess of Heaven, where visitors can experience the tranquility and spirituality of traditional Chinese religious practices.
Grant Avenue, the main thoroughfare of Chinatown, is lined with unique shops selling everything from Chinese antiques and decorative items to traditional clothing and herbal remedies. It's the perfect place to find souvenirs, trinkets, and gifts that reflect the rich cultural heritage of Chinatown.
For a panoramic view of the neighborhood and the city, climb the stairs to the rooftop of the Bank of America building on Washington Street. From here, you'll be rewarded with breathtaking vistas of the colorful buildings, bustling streets, and the iconic Transamerica Pyramid.
Check out this video tour of visiting San Francisco's Chinatown district below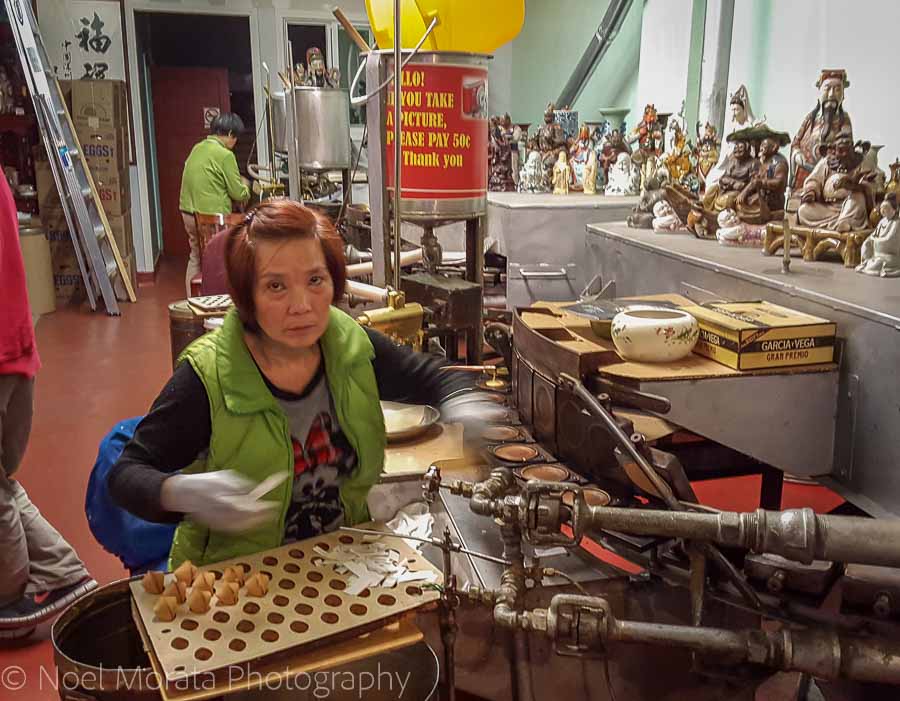 Visit the Original Fortune Cookie Factory
The Original Fortune Cookie Factory is a hidden gem within Chinatown, offering a sweet and serendipitous experience. It's a place where tradition, craftsmanship, and a touch of magic come together, leaving you with a memorable taste of San Francisco's unique cultural heritage.
Tucked away in San Francisco's Chinatown, the Original Fortune Cookie Factory stands as a charming and iconic establishment. Step inside this unassuming little shop, and embark on a delightful journey through the history and craftsmanship of these beloved treats.
As you enter the factory, be prepared for an aromatic wave of freshly baked cookies. Watch in awe as skilled artisans deftly mold and fold the thin, golden-brown batter into delicate crescents. The air fills with warmth and the sweet scent of vanilla, creating an atmosphere that is both whimsical and inviting.
Learn about the fascinating origins of the fortune cookie and its evolution into a beloved symbol of good luck and fortune. Engage with the friendly staff who are happy to share stories and anecdotes about the cookie-making process. Discover the meticulous attention to detail that goes into crafting each fortune, carefully tucked inside the crispy shell.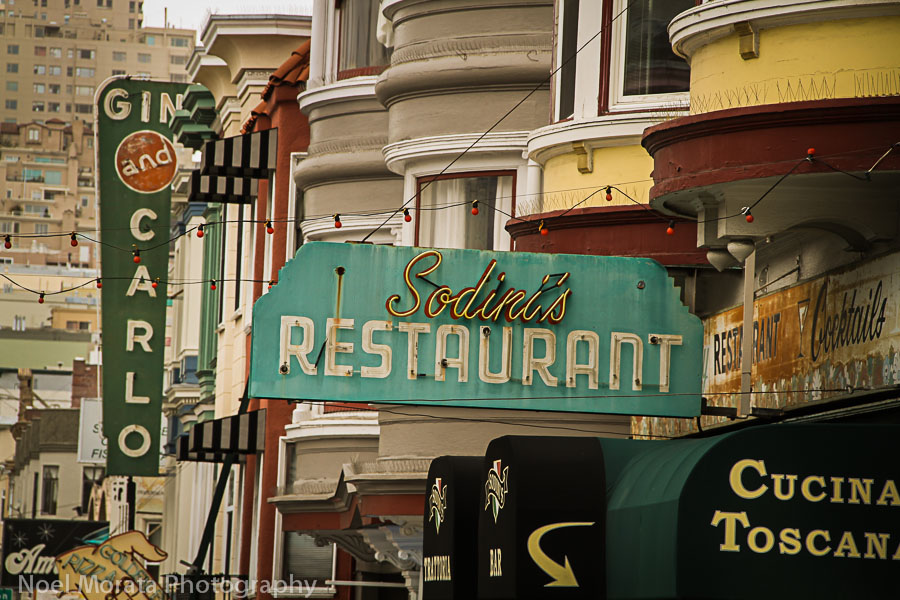 Check out the LIttle Italy/North Beach area
Located in the heart of North Beach, Little Italy in San Francisco is a vibrant neighborhood that exudes Italian charm and cultural heritage. You'll enjoy seeing all the sights, sounds, and flavors transport you to the streets of Italy.
Stroll along Columbus Avenue, the main thoroughfare of Little Italy, and immerse yourself in the lively atmosphere. Colorful facades, sidewalk cafes, and inviting trattorias line the streets, creating a sense of old-world charm. It's a place where the aroma of freshly brewed espresso mingles with the scent of simmering sauces and homemade pasta.
Delight in the culinary treasures that Little Italy has to offer. Sample authentic Italian cuisine, from wood-fired pizzas and handmade pasta to hearty dishes like lasagna and osso buco. Savor traditional cannoli, tiramisu, or gelato for a sweet indulgence that will transport your taste buds to Italy.
The neighborhood is also home to historic landmarks and cultural institutions. Visit the Saints Peter and Paul Church, a beautiful Italianate-style church that has become an iconic symbol of the neighborhood. Inside, marvel at the stunning architecture and intricate frescoes.
North Beach is also rich in literary history, having been a gathering place for writers and poets of the Beat Generation. Explore the City Lights Bookstore, a legendary independent bookstore that played a significant role in the literary and countercultural movements of the 1950s and 1960s.
Check out our post on visiting the Filbert Street steps and Coit Tower here for more information and images.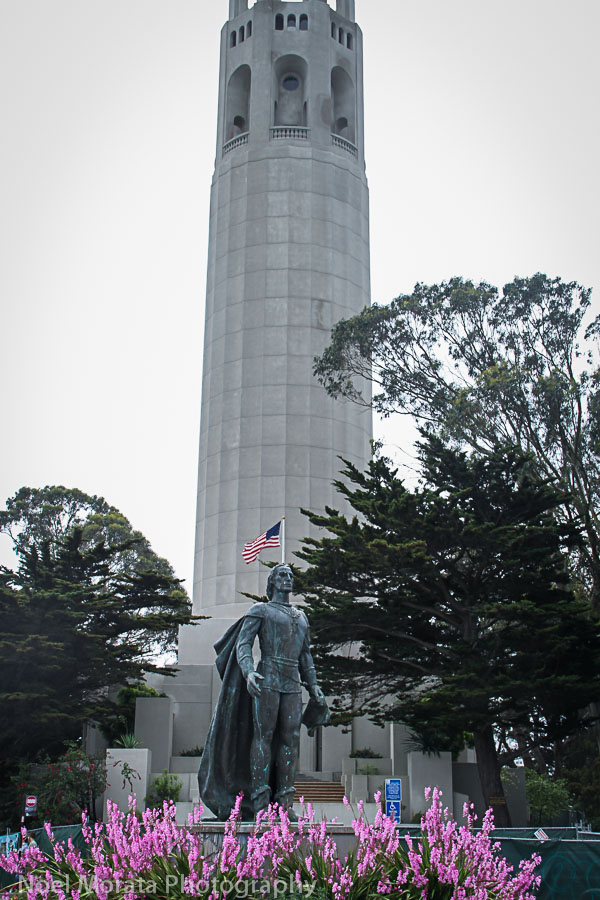 Climb up to Coit Tower
Up above North Beach, Coit Tower stands as an iconic symbol of San Francisco's skyline. Embark on a memorable journey as you make the climb to this beloved landmark, rewarded with breathtaking views and a glimpse into the city's history.
The climb up to Coit Tower begins with a walk through the enchanting streets of North Beach or the lively neighborhood of Chinatown. Follow the winding path up Telegraph Hill, and as you ascend, take in the panoramic vistas of the city's picturesque neighborhoods, the sparkling waters of the bay, and the majestic Golden Gate Bridge in the distance.
As you approach Coit Tower, check out the distinctive Art Deco design and towering height. The tower was built in 1933 and named after Lillie Hitchcock Coit, a philanthropist and avid supporter of the city's firefighters. Inside are vibrant murals created by local artists during the Great Depression. These murals depict scenes from San Francisco's history and everyday life, offering a captivating glimpse into the city's past.
Upon reaching the top, be prepared to be captivated by the unparalleled views that await you. From the observation deck encircling the tower, feast your eyes on a sweeping panorama of San Francisco's landmarks, including the Transamerica Pyramid, Alcatraz Island, and the bustling Embarcadero.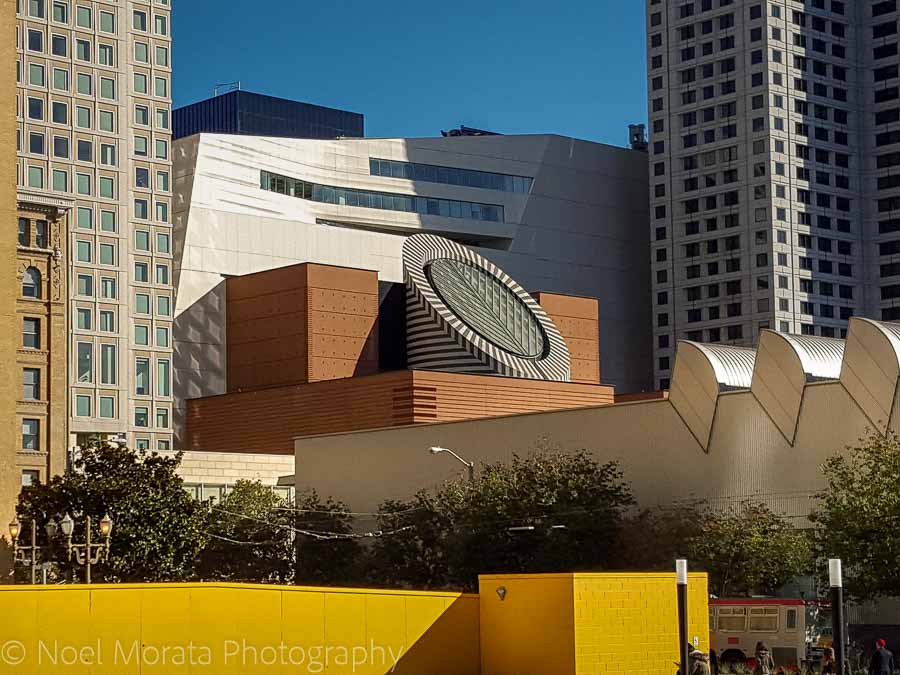 Visit the Museum of Modern Art
The Museum of Modern Art (MoMA) in San Francisco is a haven for art enthusiasts, offering a captivating journey through contemporary art. Step inside this iconic institution and prepare to be immersed in a world of artistic expression.
Located in downtown San Francisco, MoMA showcases a diverse collection of modern and contemporary artworks from around the world. From paintings and sculptures to photography, installations, and multimedia exhibits, the museum offers a comprehensive exploration of the ever-evolving art scene.
As you wander through the galleries, you'll encounter works by renowned artists such as Frida Kahlo, Jackson Pollock, Andy Warhol, and Pablo Picasso. Marvel at their creativity and artistic vision, as well as the thought-provoking pieces by emerging talents that push the boundaries of artistic expression.
MoMA also hosts rotating exhibitions that delve into specific themes, movements, or artists, providing fresh perspectives and exciting discoveries with each visit. From immersive installations to interactive displays, these exhibits offer a dynamic and engaging experience for visitors of all ages.
Check out this video of visiting Moma downtown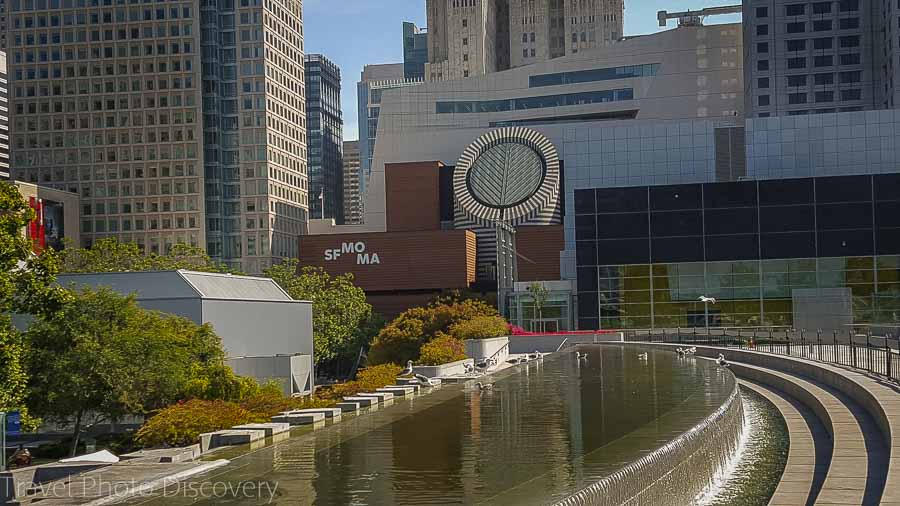 Hang out in Moscone Center
Located in downtown San Francisco, the Metreon Plaza Area is a vibrant and inviting space that offers a perfect blend of entertainment, dining, and relaxation. Whether you're seeking a fun-filled day with friends or a peaceful spot to unwind, this dynamic district has something for everyone.
Step into the lively atmosphere of Metreon Plaza, where you'll find a variety of entertainment options. Explore the Metreon, a modern entertainment complex featuring a mix of shops, restaurants, and entertainment venues. Catch the latest blockbuster at the state-of-the-art IMAX theater or challenge your friends to a game at the lively arcade.
Outside are beautiful gardens, waterfalls and fountains and lots of fantastic viewpoints of the downtown area to enjoy and relax in the garden or some of the cool bars or coffeeshops located outdoors.
Check out the views from the Sales Force Ohana observation area
Perched high atop the Salesforce Tower, the Ohana Observation Area offers visitors an unparalleled vantage point to behold the breathtaking views of San Francisco. Step into this sky-high oasis and prepare to be captivated by the city's awe-inspiring panorama.
Located on the upper floors of the iconic Salesforce Tower, the Ohana Observation Area provides a 360-degree view of San Francisco's stunning skyline, rolling hills, and the shimmering waters of the bay. Gaze out over the city's architectural marvels, including the Transamerica Pyramid, Coit Tower, and the Bay Bridge, which illuminate the skyline with their distinct silhouettes.
The observation area boasts floor-to-ceiling windows, allowing natural light to flood the space and creating a sense of openness. As you explore the area, you'll find comfortable seating areas, interactive exhibits, and informative displays that offer insights into the city's history, landmarks, and notable neighborhoods.
Whether you visit during the day or in the evening, the views from the Ohana Observation Area are nothing short of spectacular. Watch as the city comes alive with activity, witnessing the ebb and flow of traffic, the movement of ships in the bay, and the twinkling lights that transform the city into a glittering wonderland after dusk.
The Salesforce Tower, standing as the tallest building in San Francisco, provides a sense of grandeur and a feeling of being on top of the world. It's an opportunity to appreciate the city's beauty from a unique perspective and gain a newfound appreciation for its architectural wonders.
To visit the Ohana Observation Area, check for availability and make a reservation in advance, as access to the observation deck is limited. Once you're there, take your time, soak in the views, and capture the stunning scenery through your lens or in your memories.
Here are what the views look like from the Sales Force Tower below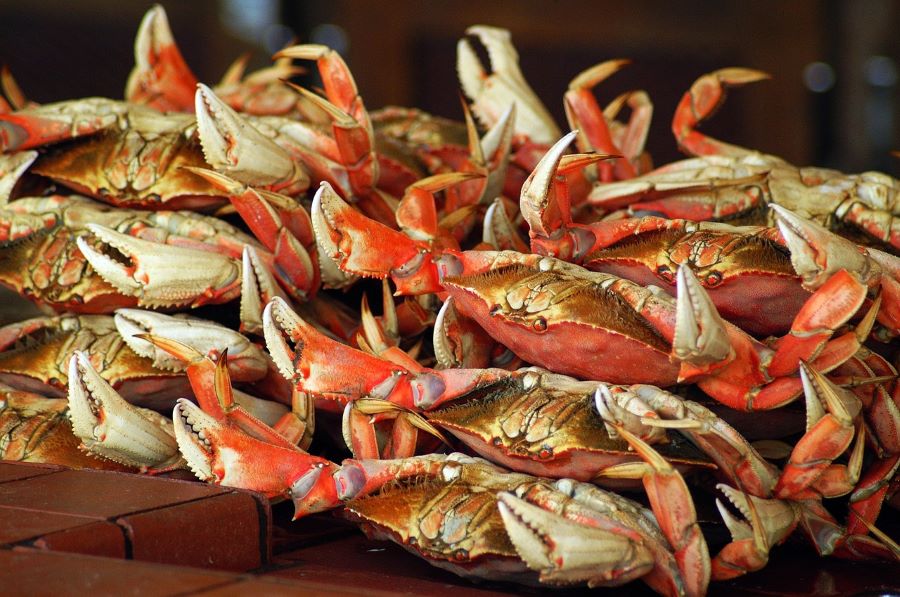 What are the local San Francisco food specialties to try in the city
With so many amazing restaurants to experience in San Francisco, you'll have no problems finding some amazing venues. But if you are looking for local food specialties from the area consider these delicious prepared dishes.
San Francisco is renowned for its vibrant and diverse food scene, offering a plethora of local specialties that capture the essence of the city's culinary heritage. When visiting, be sure to try these iconic San Francisco food specialties:
Mission Burrito: Head to the Mission District and sink your teeth into a Mission burrito. These hefty, foil-wrapped burritos are packed with flavorful fillings like marinated meats, rice, beans, salsa, and guacamole. The Mission District is famous for its taquerias, where you can find some of the best burritos in the city.
Cioppino: A seafood lover's delight, cioppino is a San Francisco classic. This hearty fish stew is made with an assortment of fresh seafood like Dungeness crab, clams, mussels, shrimp, and white fish, all simmered in a rich tomato-based broth. Savor this flavorful dish at one of the city's seafood-centric restaurants.
Sourdough Bread: San Francisco's sourdough bread is legendary. With its distinctive tangy flavor and chewy texture, it's a true culinary icon. Try a classic sourdough bread bowl filled with piping hot clam chowder or enjoy it alongside artisanal cheeses and charcuterie.
Dungeness Crab: Delight in the sweet and succulent meat of the Dungeness crab, a prized delicacy found along the West Coast. Whether you savor it in a fresh crab cocktail, as part of a seafood feast, or in a creamy crab dip, this local specialty is a must-try for seafood enthusiasts.
Ghirardelli Chocolate: Indulge your sweet tooth with the rich and decadent chocolates from Ghirardelli. Visit their flagship store at Ghirardelli Square, where you can savor a variety of chocolate treats, including their famous hot fudge sundaes.
Irish Coffee: Warm up with a classic Irish coffee at the Buena Vista Café. This iconic drink combines strong coffee, Irish whiskey, sugar, and a dollop of whipped cream. Sip this comforting beverage while enjoying the stunning views of the bay.
It's-It Ice Cream Sandwich: Cool off with an It's-It ice cream sandwich, a beloved San Francisco treat. This delightful creation features a scoop of ice cream sandwiched between two oatmeal cookies and dipped in chocolate. It's a nostalgic dessert that locals and visitors alike adore.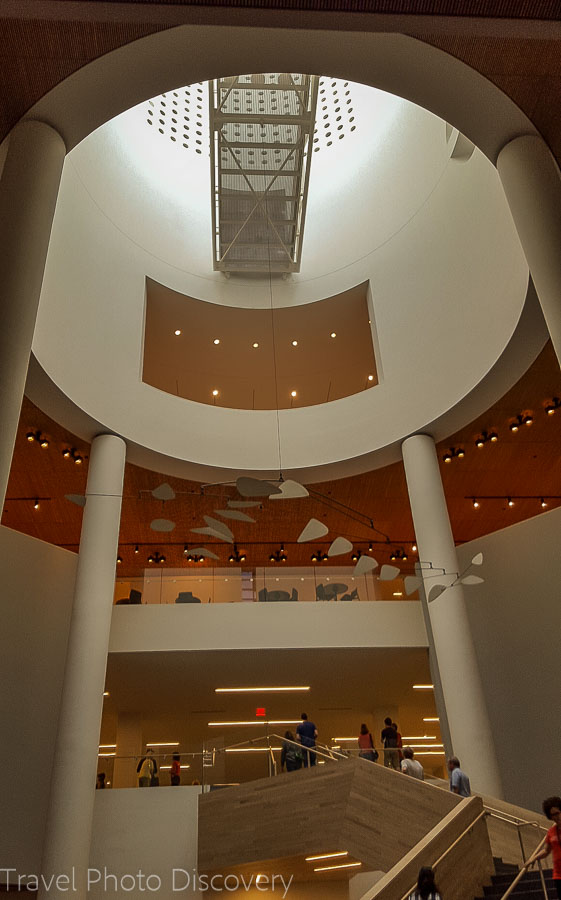 More inside tips for visiting downtown San Francisco
When exploring downtown San Francisco, consider these inside tips to enhance your visit and discover the city's hidden gems:
Embrace Public Transportation: Utilize San Francisco's efficient public transportation system. Opt for the Muni buses, cable cars, and BART subway system to navigate the city with ease. It's not only convenient but also an authentic way to experience the local vibe.
Plan for Microclimates: San Francisco's weather can vary dramatically from neighborhood to neighborhood. Layer your clothing and be prepared for temperature fluctuations. Even on a sunny day, the fog may roll in, especially near the coast. Always carry a light jacket or sweater.
Explore Neighborhoods on Foot: Downtown San Francisco is best explored on foot. Lace up your walking shoes and wander through diverse neighborhoods like North Beach, the Mission, and Nob Hill. Each offers its own distinct charm, hidden parks, and local hotspots.
Time Your Alcatraz Visit: If you plan to visit Alcatraz Island, book your tickets well in advance. The popular attraction tends to sell out quickly, especially during peak tourist seasons. Consider reserving your spot online to secure your visit.
Enjoy Happy Hour: Take advantage of the city's vibrant food and drink scene by indulging in happy hour specials. Many downtown establishments offer discounted drinks and appetizers during the late afternoon and early evening. It's an excellent way to sample local flavors and save some money.
Discover the Side Streets: While downtown's main thoroughfares are bustling, don't forget to explore the charming side streets. Often, you'll find hidden gems such as local cafes, boutique shops, and tranquil parks that offer a respite from the crowds.
Seek Local Recommendations: Engage with locals, whether it's striking up a conversation at a coffee shop or asking for recommendations from friendly store owners. Locals can offer valuable insights into lesser-known attractions, events, and dining spots that are off the beaten path.
Check for Events and Festivals: Keep an eye out for events and festivals happening during your visit. Downtown San Francisco hosts a myriad of cultural celebrations, art exhibits, street fairs, and live performances. These experiences add an extra layer of excitement to your stay.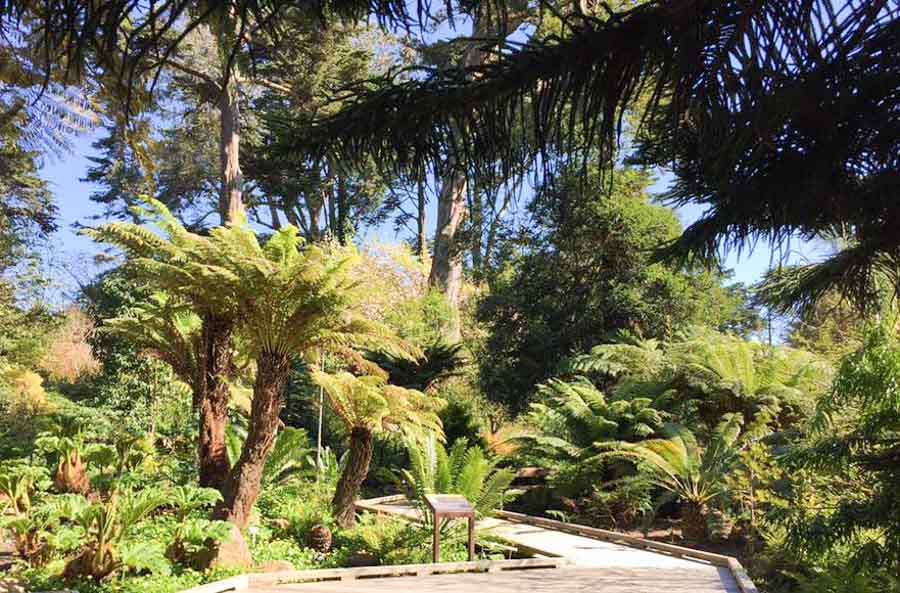 Check out our other posts to visiting San Francisco attractions below
San Francisco's Golden Gate Park
Lands End lookout point and trail
Famous streets of San Francisco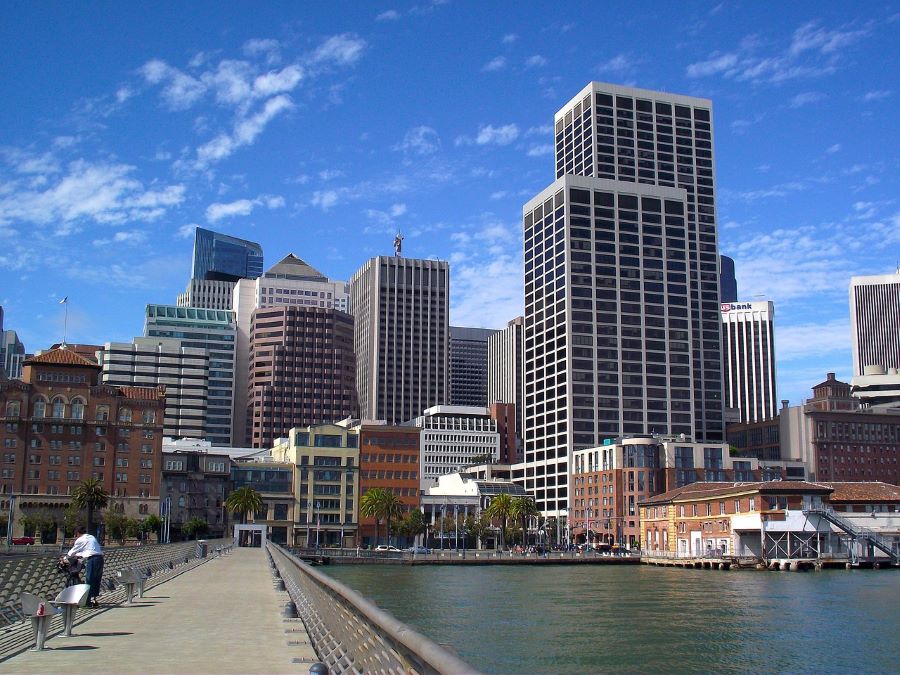 Conclusion to visiting downtown San Francisco
In conclusion, visiting downtown San Francisco is a remarkable experience that encapsulates the essence of this vibrant city. From the iconic landmarks and cultural attractions to the bustling shopping districts and culinary delights, downtown San Francisco offers a diverse and captivating variety of experiences in the historic and happening central district of the city.
Thanks for Checking out this post on Visiting California and Beyond, we hope that you enjoyed the post and if so please share it with any social media channels and bookmark the page for later.