Top Things to Do at Fisherman's Wharf: Exploring San Francisco's Vibrant Waterfront
Fisherman's Wharf in San Francisco is a popular attraction to visit along the waterfront area of the city. Discover the allure of Fisherman's Wharf, where San Francisco's vibrant bayfront comes alive. From breathtaking bay views to tantalizing seafood, this iconic destination offers an array of unforgettable experiences. Dive into the lively atmosphere as you stroll along the bustling piers, indulging in delectable clam chowder or succulent Dungeness crab.
Uncover hidden treasures at the vibrant souvenir shops, or embark on an exciting adventure by renting a bicycle and pedaling along the picturesque waterfront. Whether you're captivated by the historical charm of the iconic Ghirardelli Square or mesmerized by the playful sea lions at Pier 39, Fisherman's Wharf promises an unforgettable journey of sights, flavors, and memories waiting to be discovered.
Why visit Fisherman's Wharf in San Francisco?
Fisherman's Wharf in San Francisco offers a captivating blend of history and entertainment. Its rich maritime heritage is evident in the fresh seafood options, including clam chowder in sourdough bowls and Dungeness crab. The district is steeped in history, with historic ships, the Musee Mecanique, and easy access to Alcatraz Island via ferry. Pier 39, a bustling complex, is home to shops, restaurants, and iconic sea lions basking in the sun.
Nearby attractions like Ghirardelli Square, Aquatic Park, and scenic cruises provide plenty of opportunities for enjoyment. Fisherman's Wharf's central location also makes it an ideal starting point for exploring the rest of San Francisco's iconic landmarks.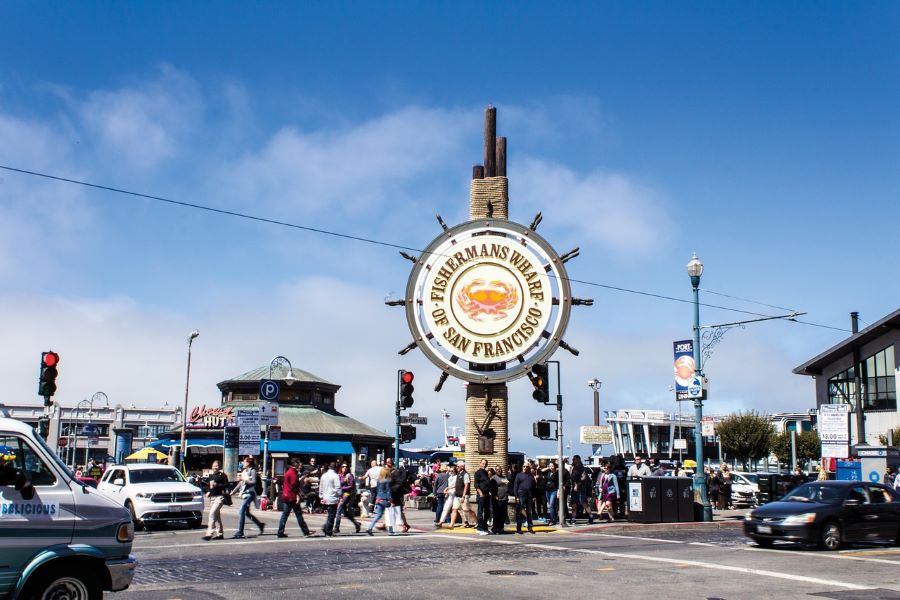 How to get to Fisherman's Wharf in San Francisco
To get to Fisherman's Wharf in San Francisco, you have several transportation options depending on your starting point. If you're arriving by air, you can take a taxi, ride-share service, or utilize public transportation like BART (Bay Area Rapid Transit) to reach downtown San Francisco.
From there, you can hop on a historic cable car from the Powell Street turnaround, which will take you directly to Fisherman's Wharf while providing a scenic journey through some of the most hilly and iconic streets of San Francisaco.
If you prefer buses, various Muni lines serve the area, including the F-Market & Wharves historic streetcar line. Additionally, you can drive and park in one of the many parking lots available near the Wharf. No matter how you choose to travel, reaching Fisherman's Wharf is convenient and accessible.
Of course another alternative is a rideshare program where you can book a ride on Lyft or Uber directly to get you there in no time.
Here's the top Things to do at Fisherman's Wharf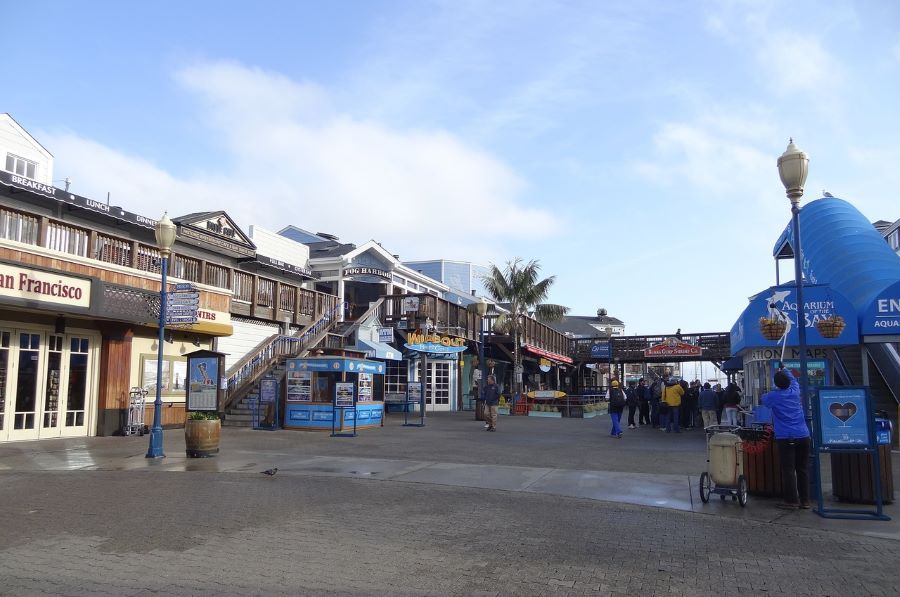 Visit Pier 39: Immerse yourself in the lively atmosphere of Pier 39, home to bustling shops, restaurants, and captivating street performers. Don't miss the chance to witness the famous sea lions basking in the sun on the floating docks.
Enjoy a Seafood Feast: Treat your taste buds to an unforgettable seafood experience. From fresh Dungeness crab to mouthwatering clam chowder served in sourdough bread bowls, Fisherman's Wharf offers a plethora of seafood delicacies that will leave you craving for more.
Take a Bay Cruise: Embark on a scenic bay cruise to admire the Golden Gate Bridge, Alcatraz Island, and the San Francisco skyline from the water. Choose from various cruise options, including sunset cruises and thrilling speedboat rides.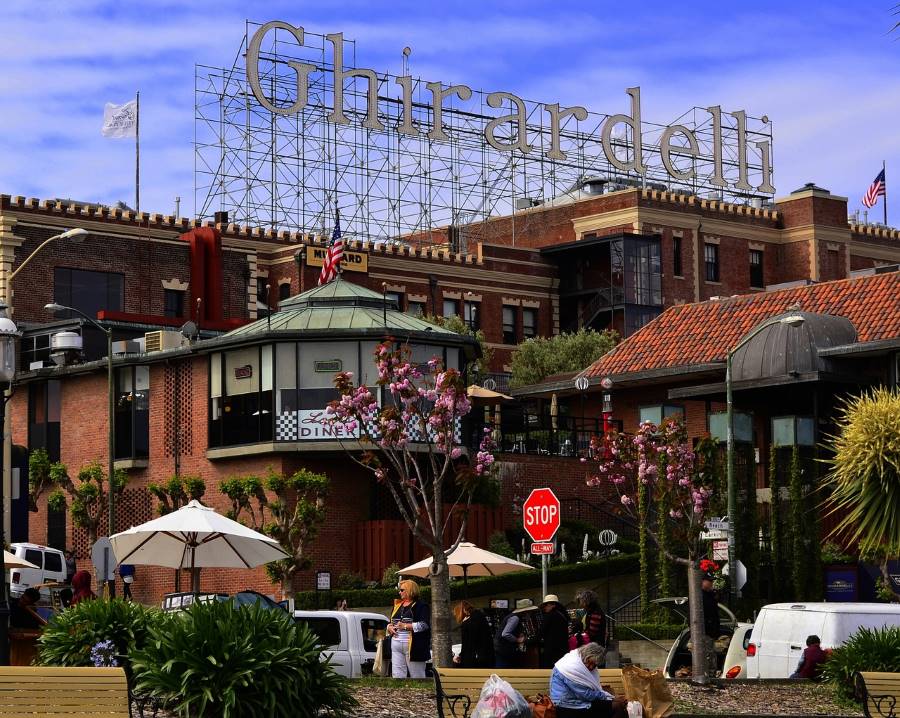 Explore Ghirardelli Square: Indulge your sweet tooth at Ghirardelli Square, where you can savor delectable chocolates and enjoy stunning views of the bay. Take a tour of the historic chocolate factory or simply relax in the square's charming outdoor plaza.
Ride the Historic Cable Cars: Hop on one of San Francisco's iconic cable cars at Fisherman's Wharf and enjoy a memorable ride through the city's steep streets. Take in the panoramic views as you traverse the hilly terrain in vintage style.
Visit the Aquarium of the Bay: Delve into the captivating underwater world at the Aquarium of the Bay. Encounter marine life native to the San Francisco Bay, including mesmerizing jellyfish, playful otters, and majestic sharks.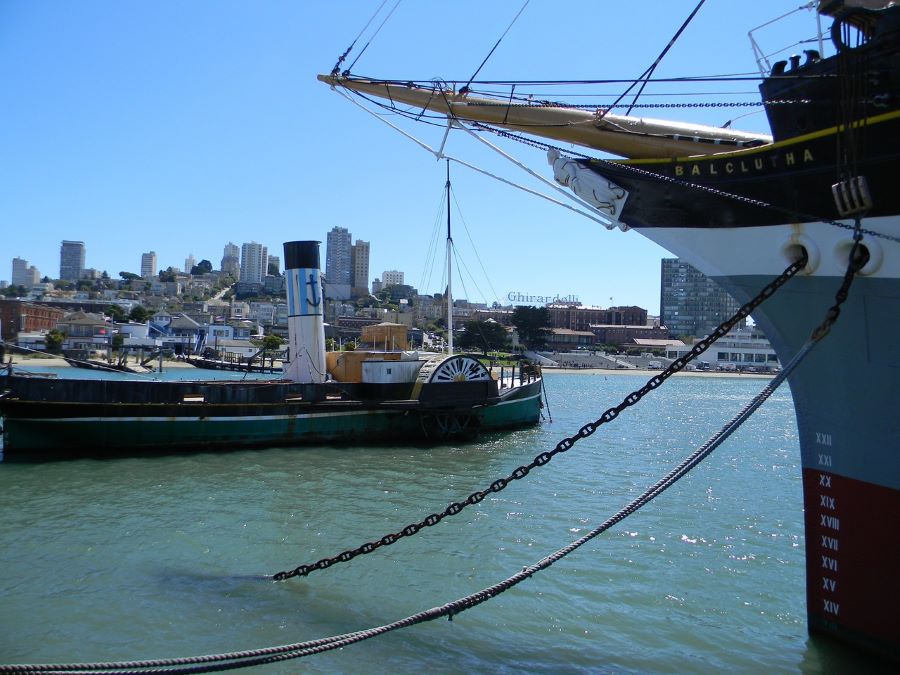 Explore Maritime National Historical Park: Discover the rich maritime history of the area at the Maritime National Historical Park. Visit the Hyde Street Pier to see a collection of historic ships and explore fascinating exhibits that bring the seafaring past to life.
Here's a quick tour of the historic ships at the Maritime Historic Park below
Ride a Bicycle along the Waterfront: Rent a bike and pedal along the picturesque waterfront, enjoying stunning views of the bay and the city skyline. Explore the scenic trails and bike paths, including the popular route to the Golden Gate Bridge.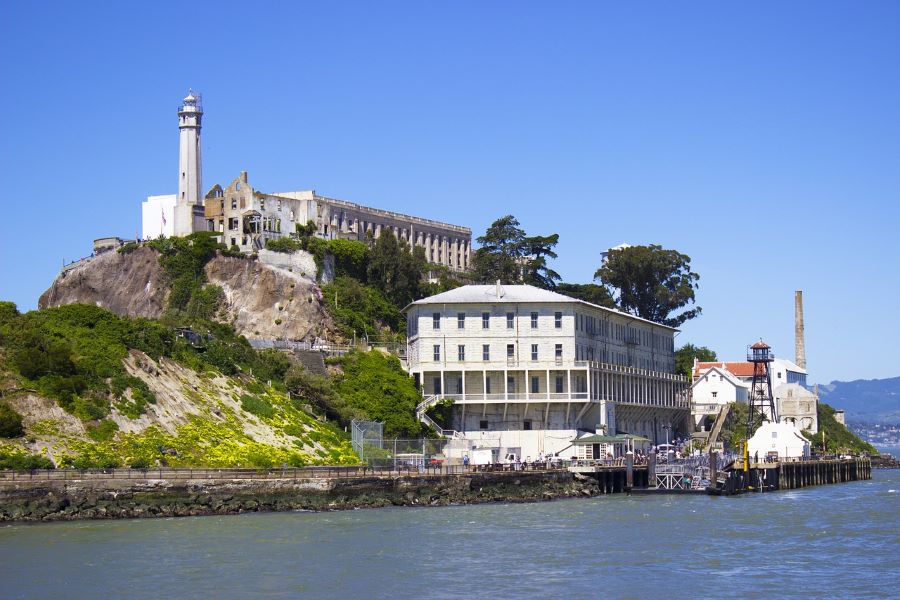 Take a short ferry ride to Alcatraz – the iconic island prison that sits out in the bay. You'll have to book tickets in advance for the short ferry ride tour to the island and have a leisurely DIY walk or even a guided tour of the island and the penitentiary. You'll be rewarded with scenic views from a water perspective and the gorgeous coastline and skyline views of the city to enjoy along with dubbed historic trivia blasted on speakers along the ferry ride over and back.
Check out our post here to visiting Alcatraz Island for more information and details.
Check out this video tour visiting Alcatraz Island below
Go Shopping: Explore the diverse range of shops and boutiques at Fisherman's Wharf, offering everything from unique souvenirs and apparel to exquisite jewelry and local artwork. Find the perfect memento to commemorate your visit.
Immerse in Historic Landmarks: Take a walk and immerse yourself in the history of Fisherman's Wharf. Discover historic landmarks like the Musee Mecanique, a vintage arcade, and the USS Pampanito, a World War II submarine turned museum.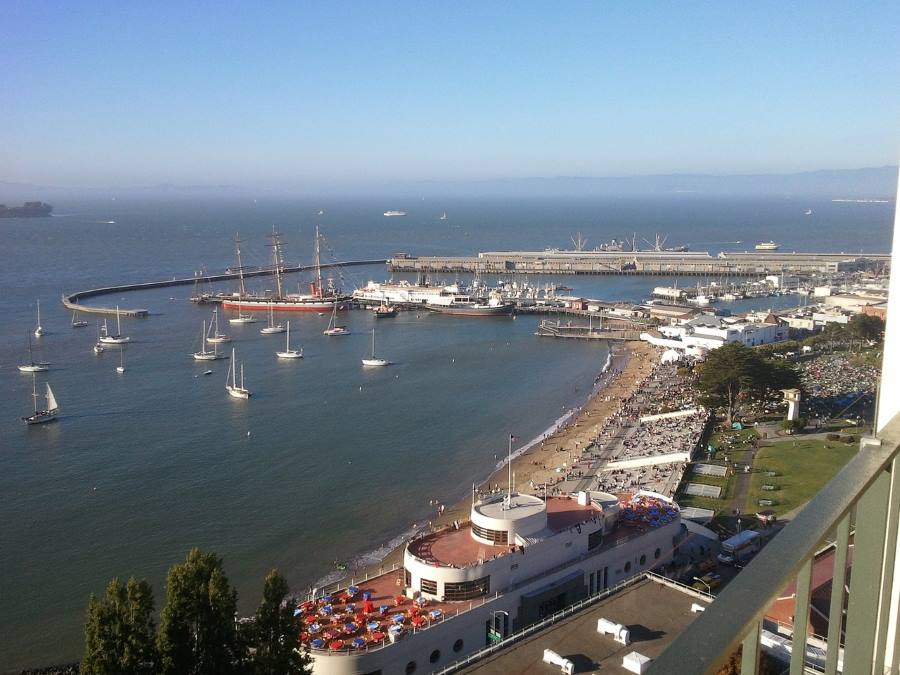 Walk around from Aquatic park to the cement wharf for catching more views of the bay and San Francisco skyline. This laidback walk through the cement piers brings you back to those fishermen that still fish off the wharf and see different views of the city from a water perspective.
Fisherman's Wharf offers an array of exciting activities and attractions for every visitor, ensuring an unforgettable experience on the vibrant San Francisco waterfront.
Check out these Fisherman's Wharf tours and excursions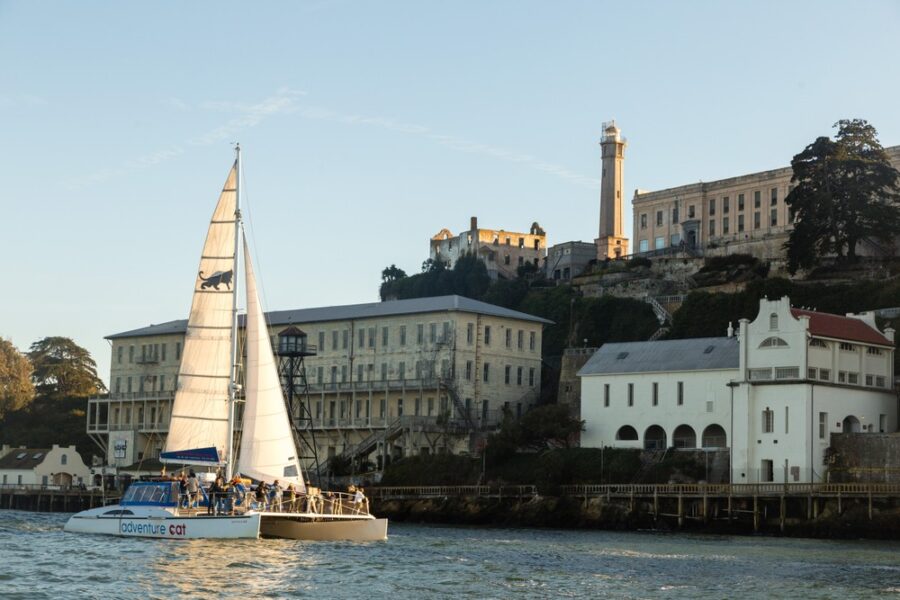 Trip Details
Double your fun on the Bay with our Sail 'n Jail package! Join an exhilarating Bay Cruise on Adventure Cat and add a separate trip to world-famous Alcatraz!
Once home to some of America's most notorious criminals, the federal penitentiary that operated here from 1934 to 1963 brought a dark mystique to the Rock. The presence of infamous inmates like Al "Scarface" Capone, and the "Birdman" Robert Stroud helped to establish the island's notoriety. To this day, Alcatraz is best known as one of the world's most legendary prisons.
Duration
1.5 Hours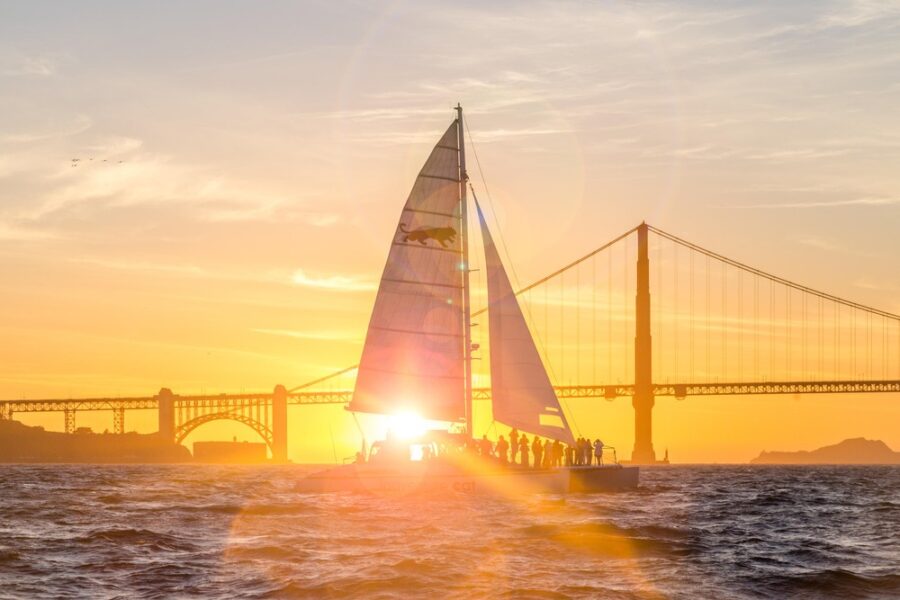 Experience the unparalleled urban beauty of San Francisco while aboard an Adventure Cat catamaran, sailing across the invigorating waters of the Pacific in San Francisco Bay. Escape the city's urban atmosphere and immerse yourself in the thrilling essence of San Francisco from a unique perspective on the sea.
Our 55′ and 65′ catamarans offer a complete 360-degree protected viewing area, allowing you to relish the stunning vistas while being shielded from the breezes. For the more daring individuals, we provide canvas trampoline nets that bring you up close and personal with the Bay, enabling you to embrace the sights in the invigorating open sea air.
During this unforgettable sail on San Francisco Bay, you will:
Cruise past the historic Alcatraz Island and Sausalito
Sail beneath the awe-inspiring Golden Gate Bridge
Glide alongside the breathtaking San Francisco city skyline
Encounter a colony of lively sea lions
Join us for an enthralling nautical adventure that grants you breathtaking views of San Francisco Bay! Our experienced captains will ensure your sail is enjoyable, educational, and fun for the entire family.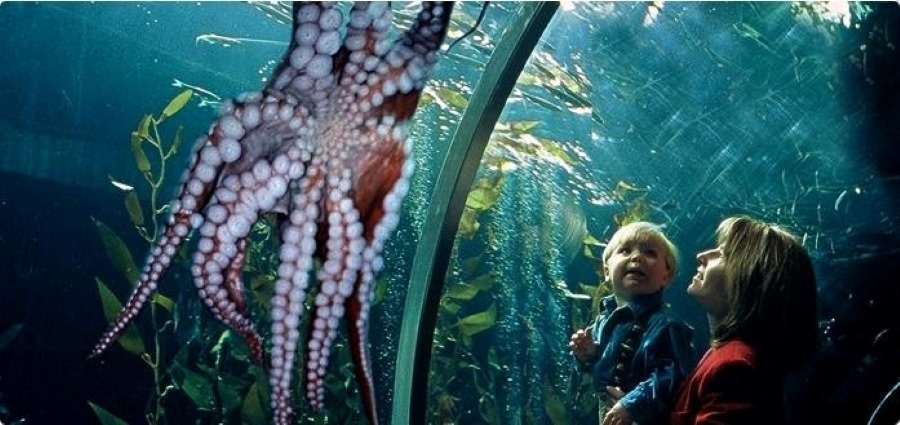 Aquarium by the Bay in San Francisco is a captivating and educational attraction that offers visitors a unique glimpse into the underwater world. Located on the iconic waterfront of San Francisco Bay, this aquarium provides an immersive experience where you can explore and discover the diverse marine life of the region.
Upon entering the aquarium, you will be greeted by a fascinating array of exhibits showcasing the rich biodiversity of the San Francisco Bay and its surrounding waters. You'll have the opportunity to observe and learn about various marine creatures, from colorful fish and playful river otters to mesmerizing jellyfish and graceful seahorses.
One of the highlights of Aquarium by the Bay is the mesmerizing underwater tunnel. As you walk through this tunnel, you'll find yourself surrounded by a panoramic view of marine life swimming all around you. It's an awe-inspiring experience that allows you to feel as if you're truly submerged in the depths of the ocean.
Throughout the aquarium, interactive displays and educational presentations provide insights into the ecosystems, conservation efforts, and the importance of preserving marine habitats. You can participate in hands-on activities, listen to informative talks, and even touch some of the marine creatures in designated touch pools, fostering a deeper understanding and appreciation for the marine world.
What are the iconic restaurants in Fisherman's Wharf to eat at?
Fisherman's Wharf in San Francisco is renowned for its delectable dining scene. Here are some iconic restaurants that are a must-visit:
The Franciscan Crab Restaurant: Indulge in fresh seafood and spectacular bay views at this iconic establishment. From their famous Dungeness crab to mouthwatering cioppino, their menu celebrates the flavors of the sea.
Alioto's Restaurant: With over 90 years of history, Alioto's is a seafood institution. Feast on classic dishes like clam linguine, seafood risotto, and their signature crab cioppino while enjoying panoramic views of the bay.
Boudin Bakery and Cafe: Savor the taste of San Francisco's famous sourdough bread at Boudin Bakery. Enjoy a variety of dishes, including their delectable clam chowder served in a sourdough bread bowl.
Scoma's Restaurant: Located on Pier 47, Scoma's has been serving fresh seafood since 1965. From their mesquite-grilled fish to their creamy seafood pastas, every dish is crafted with expertise and culinary passion.
Fog Harbor Fish House: Experience sustainable seafood dining at Fog Harbor Fish House, known for its commitment to quality and eco-friendly practices. Enjoy dishes like their award-winning clam chowder and delicious seafood platters.
Fishermen's Grotto: Established in 1935, Fishermen's Grotto is a historic restaurant offering a wide array of seafood dishes. Try their famous fish and chips, seafood pasta, or the mouthwatering crab Louie salad.
Cioppino's: Specializing in—you guessed it—cioppino, Cioppino's is a beloved spot for seafood lovers. Their hearty and flavorful seafood stew, packed with fresh fish, shellfish, and aromatic tomato broth, is a must-try.
Pier Market Seafood Restaurant: Enjoy waterfront dining at Pier Market, where you can feast on fresh seafood, including their famous crab and shrimp Louie salad, grilled fish, and delectable oysters.
Tarantino's Restaurant: This family-owned restaurant has been serving Italian and seafood dishes since 1946. Enjoy their classic Italian fare, such as pasta and risotto, alongside seafood favorites like prawns and crab.
Crab House at Pier 39: Located on the iconic Pier 39, Crab House offers a lively atmosphere and mouthwatering crab dishes. Delight in their roasted garlic crab, crab cakes, or steamed crab while enjoying views of the bay.
These iconic restaurants at Fisherman's Wharf serve up a delightful array of flavors, ensuring a memorable dining experience on your visit to San Francisco.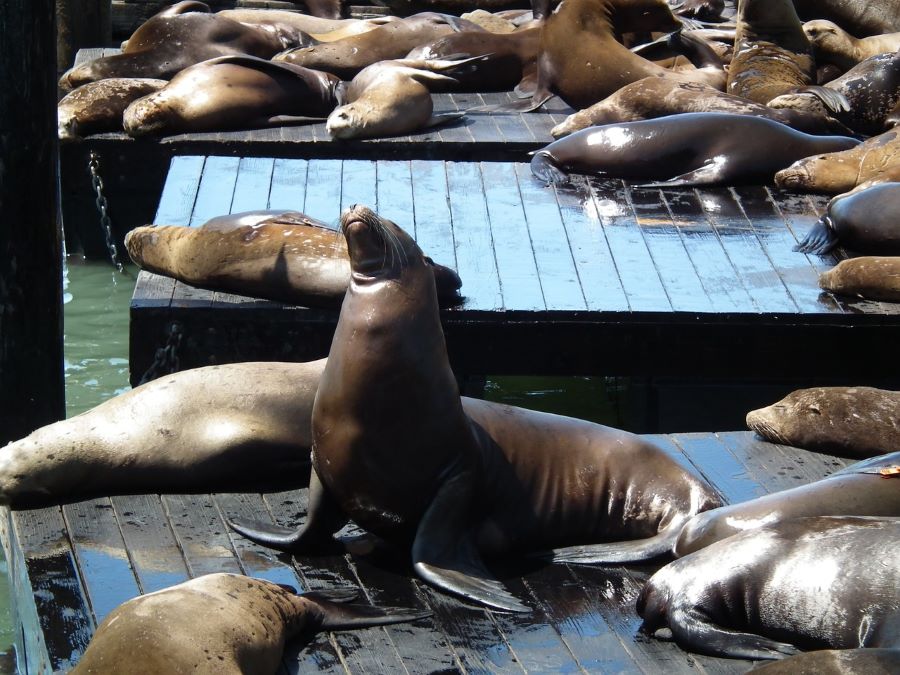 Weather and best time to visit San Francisco
San Francisco's weather is characterized by mild temperatures, fog, and a mix of sun and cool breezes throughout the year. The best time to visit depends on your preferences and what you plan to do. Here's a breakdown of the seasons:
Spring (March to May): Spring brings mild temperatures, with highs ranging from the 60s to the 70s Fahrenheit (15-25°C). It's a great time to explore the city's attractions and enjoy blooming flowers. However, be prepared for occasional rain showers.
Summer (June to August): San Francisco experiences its famous "Fogust" during summer, with cooler temperatures and frequent fog rolling in from the ocean. Highs range from the 60s to the 70s Fahrenheit (15-25°C), and evenings can be chilly. Layered clothing is recommended. Despite the fog, summer is a popular time for tourists due to school vacations and festivals.
Fall (September to November): Fall brings some of the warmest and sunniest weather in San Francisco. Highs can reach the 70s and 80s Fahrenheit (20-30°C). It's a great time for outdoor activities, and you'll also experience fewer crowds compared to the summer months.
Winter (December to February): Winters in San Francisco are mild, with average highs in the 50s and 60s Fahrenheit (10-15°C). It can be rainy during this time, but you'll still find many indoor attractions and cultural events to enjoy. It's also a good time to visit if you prefer fewer tourists and lower hotel rates.
Overall, San Francisco's weather is known for its unpredictability, so it's always a good idea to dress in layers and be prepared for temperature changes throughout the day.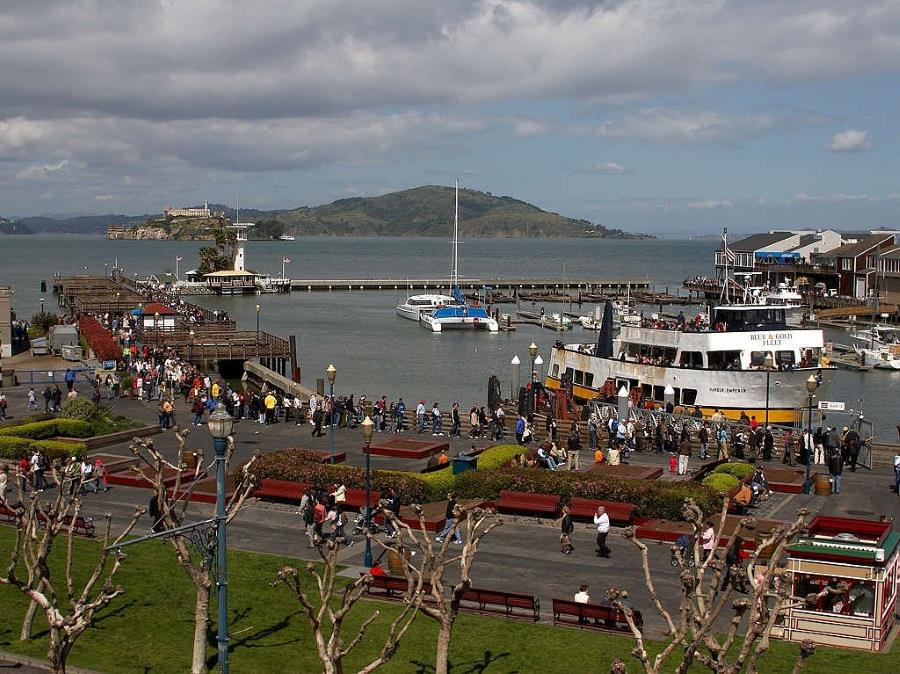 Inside tips to visiting Fisherman's Wharf in San Francisco
When visiting Fisherman's Wharf in San Francisco, here are some inside tips to enhance your experience:
Timing is Key: To avoid large crowds, visit early in the morning or during weekdays. The area tends to be busiest on weekends and holidays, especially during peak tourist seasons.
Dress in Layers: San Francisco's weather can be unpredictable, with cool breezes and temperature changes throughout the day. Dress in layers to adapt to the changing conditions and bring a light jacket or sweater.
Explore Beyond the Main Area: While the main promenade is bustling, don't be afraid to venture further into the neighborhood. Explore the side streets and alleys to discover hidden gems, local shops, and quieter dining options.
Sample Local Seafood: Seek out smaller, lesser-known seafood stands or restaurants for a more authentic and affordable seafood experience. These hidden spots often offer fresh catches and delicious dishes without the tourist markup.
Try the Local Specialties: Don't miss the chance to indulge in two of San Francisco's culinary specialties: clam chowder served in a sourdough bread bowl and fresh Dungeness crab. They are iconic to the area and must-tries while at Fisherman's Wharf.
Take Advantage of Happy Hours: Many restaurants and bars in the area offer happy hour specials during the late afternoon or early evening. It's a great way to enjoy discounted drinks and appetizers while enjoying the waterfront views.
Embrace Public Transportation: Consider using public transportation like the historic cable cars or the F-Market & Wharves streetcar line to reach Fisherman's Wharf. Parking can be limited and expensive, and public transportation allows you to skip the hassle of finding a spot.
Be Mindful of Street Performers: Fisherman's Wharf attracts numerous street performers, including musicians, magicians, and artists. If you enjoy their performances, feel free to show your appreciation, but be mindful of your belongings in crowded areas.
Visit Off-peak Hours: If you plan to visit popular attractions like Pier 39 or the Aquarium of the Bay, try going during off-peak hours, such as early morning or late afternoon, to avoid the largest crowds.
Take in the Views: Fisherman's Wharf offers stunning views of the bay, Alcatraz Island, and the Golden Gate Bridge. Take a moment to soak in the scenery, whether it's from a waterfront bench, a rooftop terrace, or during a leisurely stroll along the shoreline.
By following these tips, you can make the most of your visit to Fisherman's Wharf and create lasting memories of this vibrant San Francisco destination.
Check out these other fantastic attractions to visit around San Francisco
Looking for more inspiration to touring around the city – check out some of our favorite recommendations below.
San Francisco's Golden Gate Park
Lands End lookout point and trail
Famous streets of San Francisco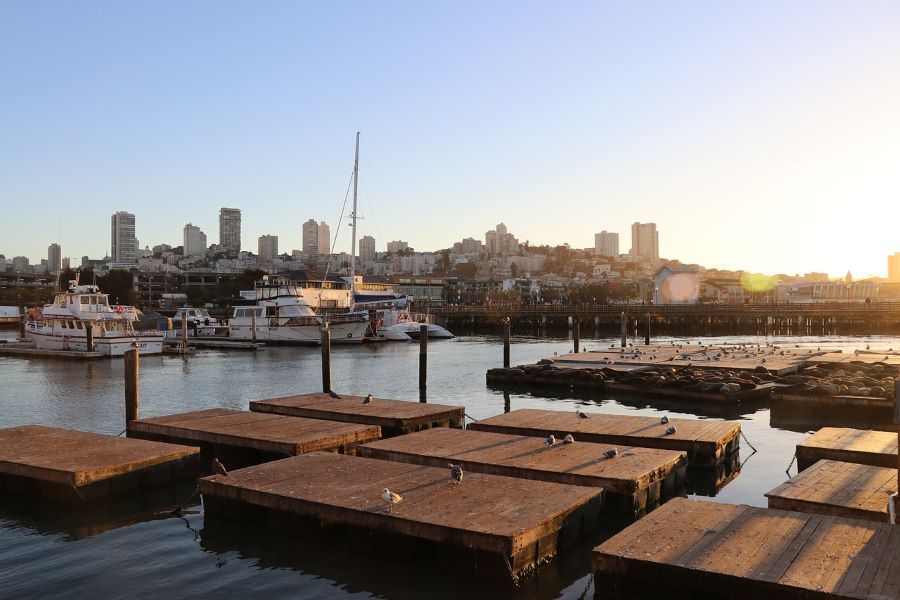 Conclusion to visiting Fisherman's Wharf in San Francisco
In conclusion, Fisherman's Wharf in San Francisco is a dynamic and captivating destination that offers a blend of culinary delights, waterfront charm, and exciting attractions. Whether you're savoring fresh seafood, exploring hidden alleyways, or basking in breathtaking bay views, this vibrant neighborhood has something for everyone. By following inside tips like visiting during off-peak hours, embracing local specialties, and venturing beyond the main area, you can enhance your experience and discover the true essence of Fisherman's Wharf.
So, immerse yourself in the lively atmosphere, indulge in delicious flavors, and create unforgettable memories in this iconic San Francisco waterfront destination.
If you like what you see, come and check out my other social media channels for more updates, including Instagram, and Pinterest
Disclosure – There are affiliates links on this posts which provide a small commission to support this site at no extra cost to you. Thank you for reading, and happy travels
Sharing is caring!