Unveiling the Magic: Exploring San Francisco at Night – A Captivating Urban Experience!
The Best views of San Francisco at night is magical. The city seems to come alive and shimmer all around the beautiful spots of the city that are lite up and seen from above, across the bay at Treasure island or at some historic landmark with the city skyline in the background. Check out all these cool night views of San Francisco below
There seems to be endless possibilities like the Bay Bridge or Golden Gate bridge lit up, walking down the lights on Broadway street or the crystal lit Conservatory of Flowers in Golden Gate Park to admire.
You'll want to explore more of the city to find these night views of San Francisco at night, fortunately we make it easy for you to find them below.
Why Tour San Francisco at Night?
The city does come alive at nighttime, and everything looks so much more different lit up and even more attractive.
Are you ready for a thrilling and unforgettable experience? Then tour San Francisco at night! This city is known for its stunning skyline, and when the sun goes down, it's transformed into a sparkling wonderland of lights. From the Golden Gate Bridge to the Bay Bridge, the views are absolutely breathtaking.
But the fun doesn't stop there! San Francisco's nightlife scene is alive and kicking, with a plethora of bars, clubs, and restaurants that are open late into the night. Imagine sipping a delicious cocktail while taking in the city's stunning views, or dancing the night away with new friends you've made on your journey.
If you're feeling adventurous, why not try a spooky ghost tour or take an evening cruise around the bay? Or perhaps you'd prefer a leisurely bike ride through the city's streets, taking in the sights and sounds of San Francisco at night.
Whatever your preference, touring San Francisco at night is a one-of-a-kind experience that you'll never forget. Just remember to stay safe and aware of your surroundings, and get ready for an exciting adventure!
Check out the best views, neighborhoods and landmarks of San Francisco at night.
You won't be limited to just skyline views of the city, there's just too many beautiful places to see around the city at night. But here are some of our favorite places to enjoy and even capture in photographs.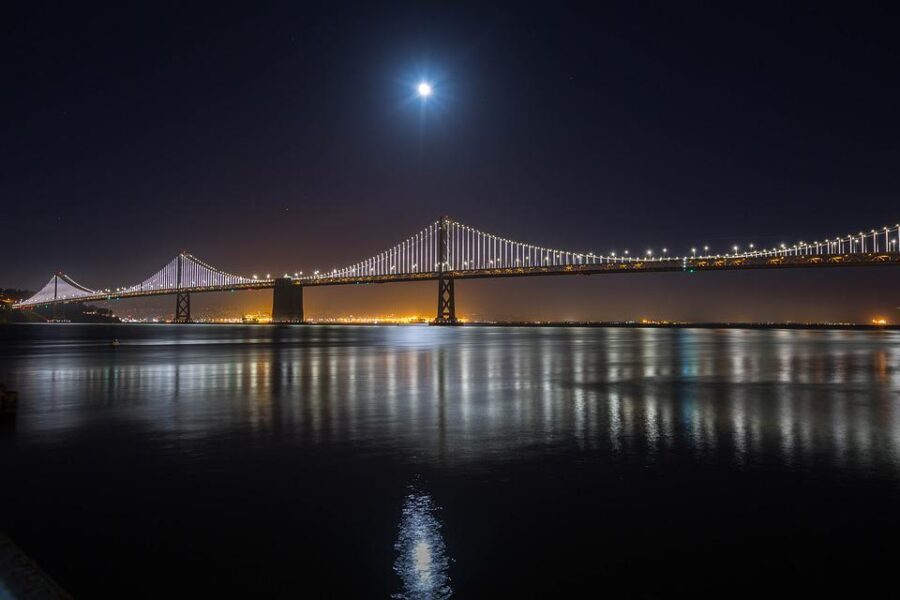 How to get around San Francisco

Navigating San Francisco, a vibrant city in California, is made easy with a variety of transportation options. Here's a guide on how to get around San Francisco:
Public Transportation: San Francisco boasts a comprehensive public transportation system operated by the San Francisco Municipal Transportation Agency (SFMTA). This includes buses, light rail trains (Muni Metro), and historic cable cars. Purchase a Clipper Card, a reloadable transit card, to conveniently pay for fares across different modes of public transport.
BART (Bay Area Rapid Transit): BART is a regional rapid transit system connecting San Francisco with other cities in the Bay Area. It's particularly useful for traveling to and from the airport (SFO) or venturing to destinations outside of San Francisco.
Taxis and Rideshares: Taxis and rideshare services like Uber and Lyft are readily available throughout the city. Simply download the respective apps on your smartphone to request a ride. Taxis can also be hailed from designated taxi stands or booked by phone.
Rental Cars: If you prefer the flexibility of driving yourself, rental cars are available at various locations in San Francisco. Keep in mind that parking can be challenging and expensive in certain areas, so it's advisable to research parking options beforehand.
Bicycles and Scooters: San Francisco offers bike-sharing services and electric scooters that can be rented for short distances. Companies like Bay Wheels, Lime, and Bird provide easy-to-use mobile apps to locate and unlock bicycles or scooters for a convenient and eco-friendly way to explore the city.
Walking: San Francisco's compact size and pedestrian-friendly streets make it an excellent city for walking. Many neighborhoods, such as Chinatown, Union Square, and Fisherman's Wharf, are easily accessible on foot. Just be prepared for the city's hilly terrain and wear comfortable shoes.
Sightseeing Tours: Consider taking advantage of sightseeing tours, such as hop-on-hop-off buses or guided walking tours, to explore the major attractions of San Francisco. These tours provide informative commentary and allow you to conveniently visit popular landmarks and neighborhoods.
Ferries : San Francisco is located near the picturesque San Francisco Bay, and ferries offer a scenic mode of transportation. You can catch a ferry to visit destinations like Alcatraz Island, Sausalito, or Angel Island, enjoying beautiful views of the city skyline and the bay.
When getting around San Francisco, it's helpful to plan your routes in advance, especially when you travel around at night and many routes are limited with public transportation or increased booking for rideshare programs.
View the Bay Bridge and Panoramic city Skyline
If you visit Treasure island in the middle of San Francisco Bay at night, you'll get two fantastic opportunities with the Bay Bridge lit up against the backdrop of the city skyline in the background.
This is a fantastic way to see the lights, traffic on the bridge and iconic landmarks lit up from a distance. Definitely worth the short drive to Treasure Island to capture some nice views and photographs of the city and also relax and enjoy those views for awhile. You'll enjoy one of the best night views of San Francisco from Treasure island looking back into the city.
Tip – park along the shoreline area and walk to find your perfect spot. The image of the Bay Bridge takes some hiking to get to this area since there is no direct parking on the road at the top.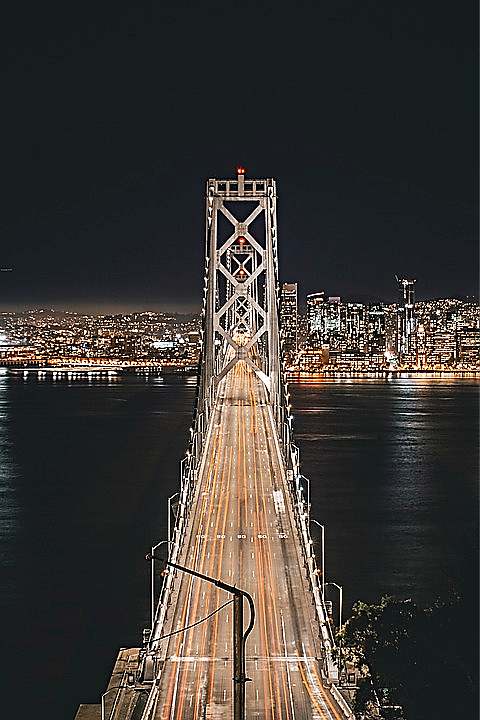 Pier 14 in the Embarcadero
Walk past the Ferry building towards the giant arrow and you'll see pier 14 jutting out into the bay towards the Bay Bridge. You can come here during the day-time for great views, but at sunset and night time, you'll get fabulous views of the city skyline plus the pier lit up.
With the Bay bridge lit up behind, you can check out the views to the bridge or the skyline with a cool and graphic skyline pattern lit up to capture from the pier.
Tip – Pier 14 is right next to the Ferry Plaza and is easy to walk to, you'll get fantastic bay bridge and city skyline views to enjoy and capture
Here's a look at the city skyline at night time from Pier 14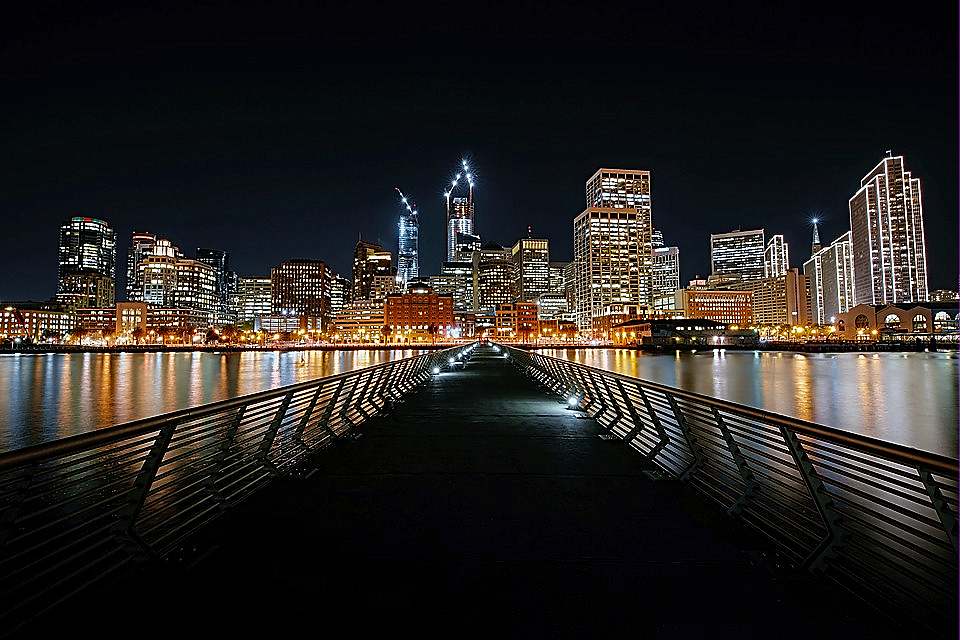 Embarcadero Area around Ferry Plaza
While you're at the Embarcadero have a stroll around and you'll find additional views and places to capture. You can take photos of the Bay Bridge lit up, the cool Arrow on the walkway and even the Ferry Plaza building and skyline in the background make interesting composition that give you a sense of place along the waterfront area.
Further down at Fisherman's wharf and Pier 39, you'll definitely get different views around the city's tourist areas of the waterfront and piers.
Tip – If you walk around the Ferry Plaza area, you'll find some great spots of the city skyline lit up to photograph
Take this 4K walking tour of the Embarcadero at night
Night time views from the top of Twin Peaks
Up on top at Twin Peaks the entire city skyline and San Francisco Bay appeal like a little jewel all lit up with all the iconic landmarks also lit up and fun to capture in photograph.
his part of Twin Peaks makes it interesting to see all the details of the city all in one spot that you can split up into different views or more panoramic captures of the entire city.
Tip – from the parking lot area there are rim trails that you can follow to get different views of the city below and photograph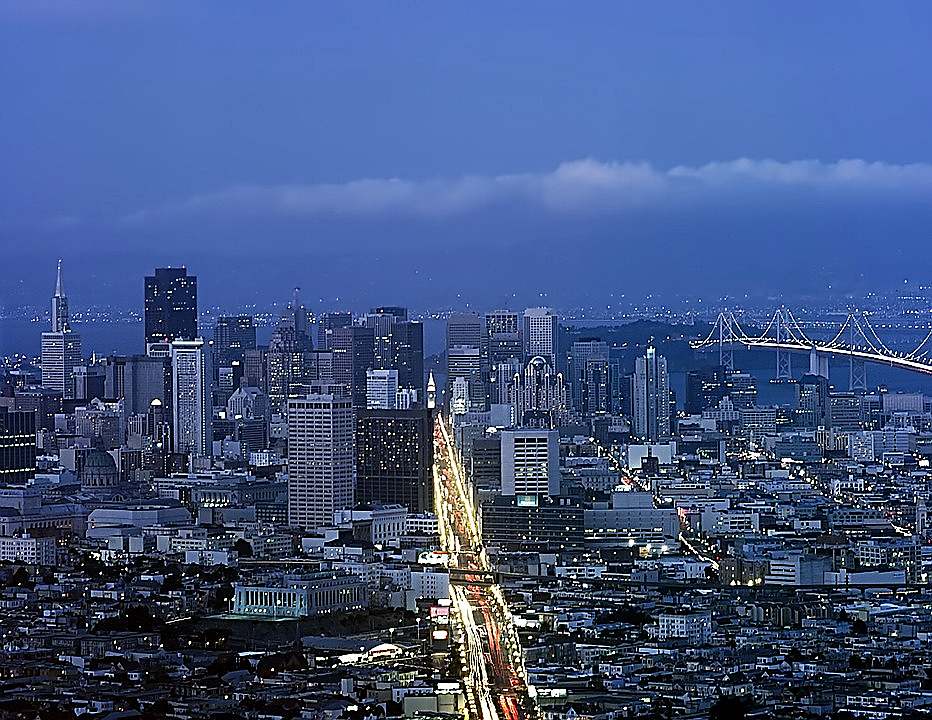 Check out this 4K tour from Twin Peaks area of San Francisco
City Hall at night time
If you visit San Francisco's city Hall downtown, it is always lit up at night and fun to walk around from different parts of the plaza area.
During special occasions and holidays, City Hall is light up in a variety of colors that match an event or holiday and changes the image of the city's main government build to be colorful and also a beacon to direct popular events and current dynamics happening today.
Tip – Walk around the front park area and you'll find nice spots to capture city hall lit up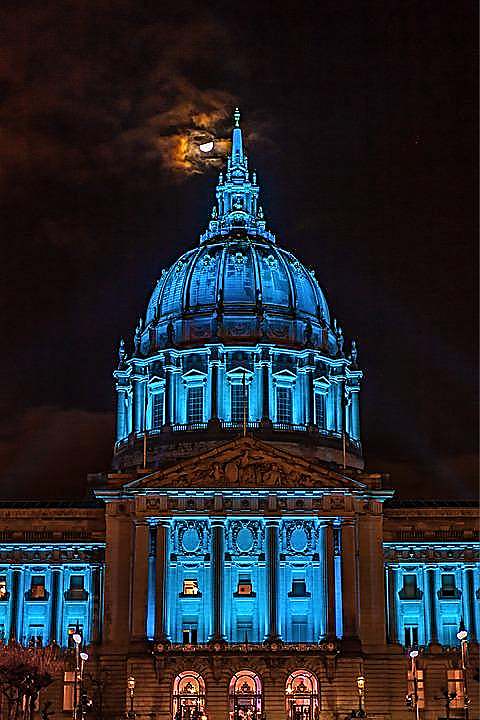 California Street with cable cars
The views from above California street looking down is fantastic night view and you'll see peek a boo views of the Bay Bridge included in this street.
You can take the best pictures from the Intersection of California and Powell street up above and if you can include a cable car coming or going, then you'll definitely capture the best night view of this street scene.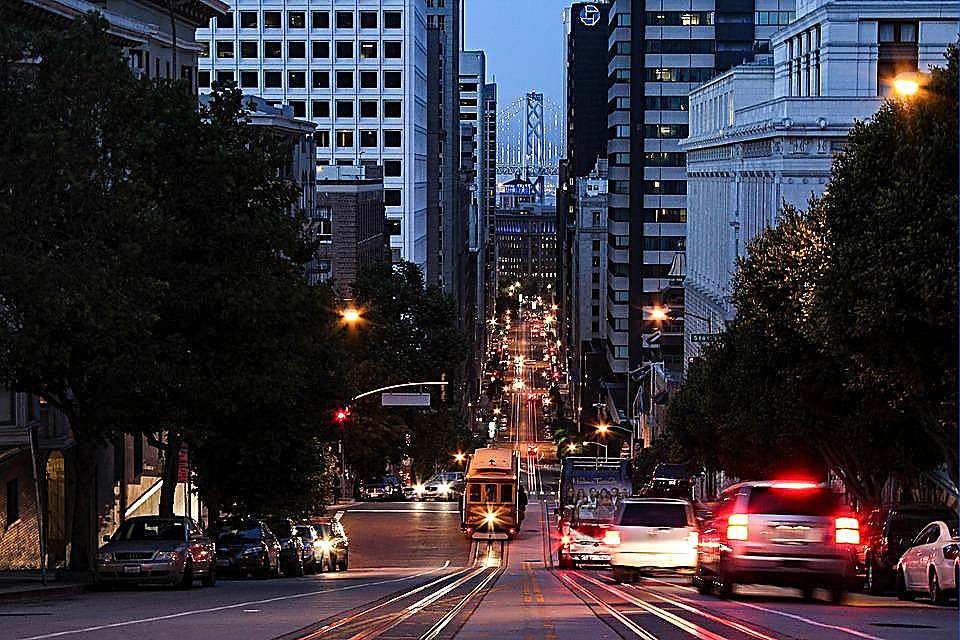 Golden Gate bridge lit at night
There are many places to capture the Golden Gate Bridge lit up at night that might be fun to explore around the bridge area. Check out the views fom Baker Beach on the beachy side looking direct to the bridge, from the bridge parking lot area for a closer look at the bridge and capturing car lights in both directions of the bridge and also right below at Fort Point looking up at the bridge and across for a unique view and perspective to capturing the bridge lit up at night-time.
Another perfect win is from Crissy Field for sunset to evening pics which is the perfect place to capture both variations to the Golden Gate bridge at night-time.
While you're at the parking lot take a look back the city lights in the distance and you'll also get some nice views and photo opportunities looking back at the city from a different vantage point.
Tip – it's hard not to take a good picture of the Golden Gate bridge, but at night it takes on a special quality lit up. Find places along the shoreline to get the best views to capture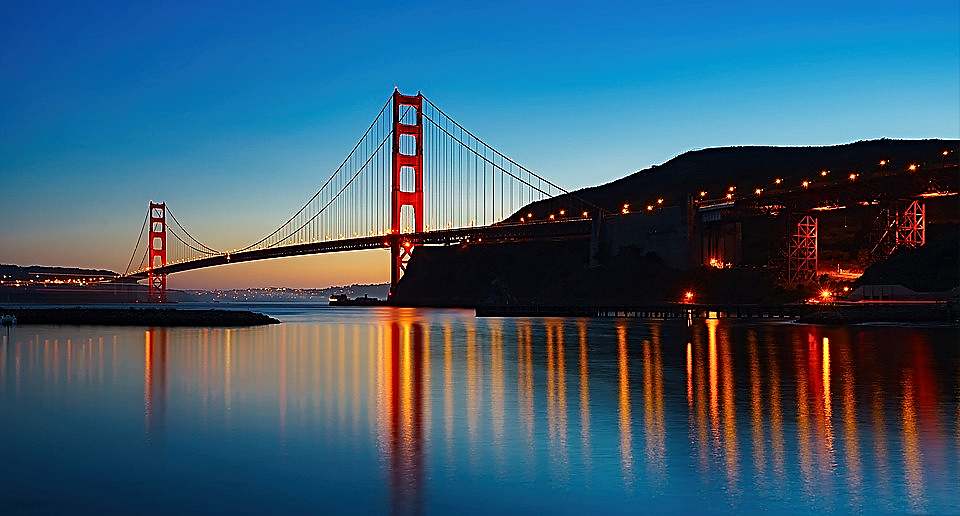 Check out this fun time lapse of the Golden Gate Bridge into night
Marin Headlands looking to San Francisco
The last exit from Marin before the Golden Gate bridge takes you to the Marin Headlands area and there are spectacular views from above that you will really enjoy at night time even with fog in the area.
The best views are a short hike to a bluff area that overlooks the bridge and city skyline in the background area.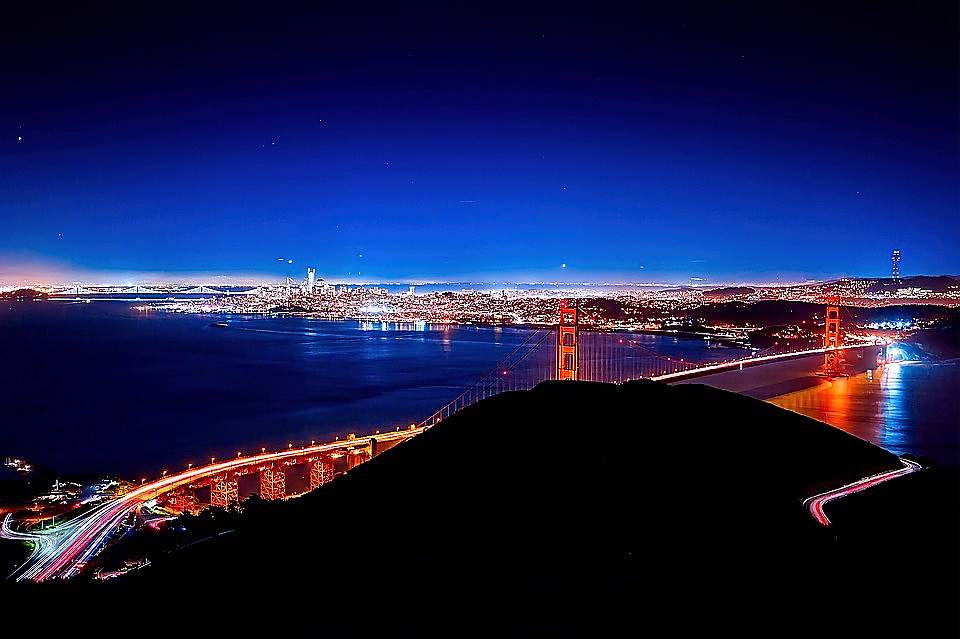 North Beach, Broadway and Telegraph area
From the top of Telegraph Hill and Coit tower, you can capture the cool city lights below around downtown to the North Beach area.
If you also walk around the North Beach area, you'll find some cool city and neon lit street scenes on Broadway and Columbus Avenue or the quiet neighborhood neighborhood of Little Italy on Grant street.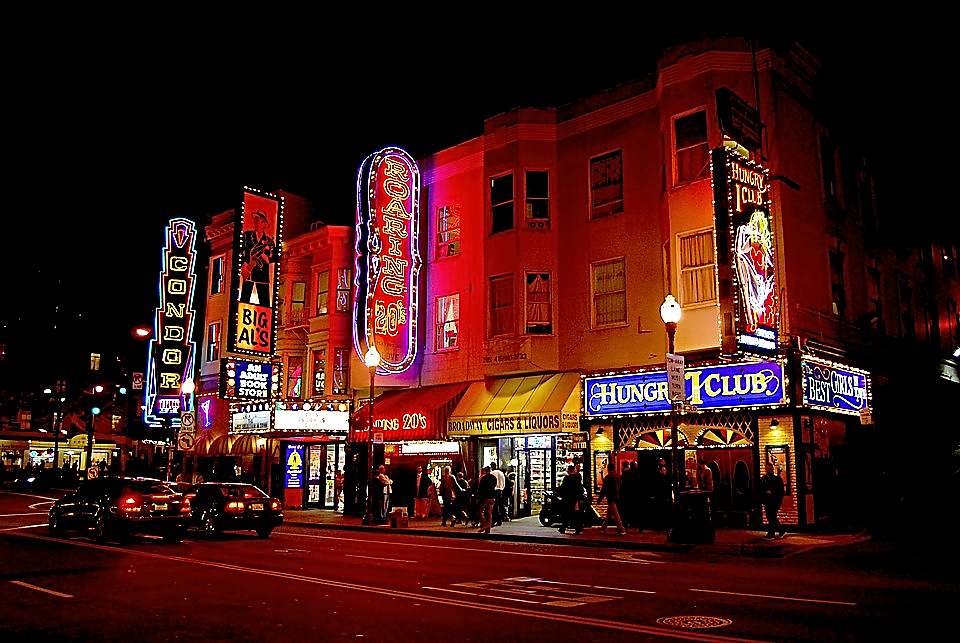 Castro Theater at night
The classic architecture and details to the Castro district are perfect to capture at night time along with the rainbow flags, walkway crossings and all the activity of the shops lit up and people walking around.
It's a great place to capture all the activity and color to this neighborhood that really says a lot about San Francisco lifestyle and night time scenes at its best.
Tip – Make sure to walk around the colorful Castro district, there's a lot of lit up storefronts and street scene imagery you can capture at night time in this fun and vibrant neighborhood.
Visit the SF ball park at night
If you come to visit a night time game, make sure to get your phone charge since there are lots of cool spots to capture around the stadium. From the cool graphic and neon back lit boards, to more coastline views, you can find a lot of fun opportunities around the stadium while you enjoy a game experience at the ball park.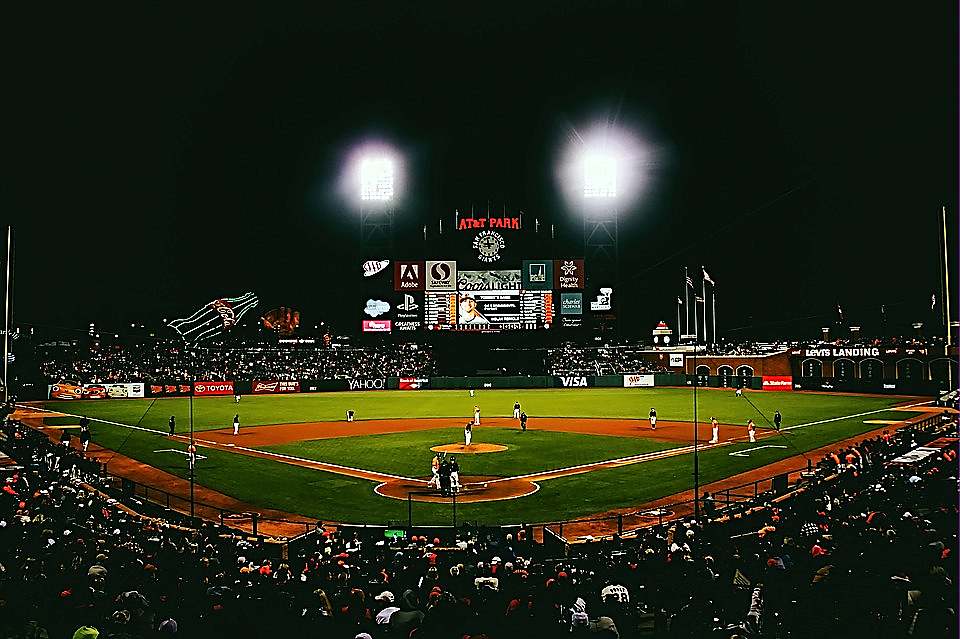 The Palace of Fine Arts
This historic treasure with its reflecting pool is the perfect spot to visit and capture some magical night scenes of this classic structure and gorgeous architectural details of the Palace of Fine Arts.
You can walk around it in a loop trail to experience every aspect of the building and seeing which parts stand out to photograph in close detail or in a bigger spread and capture of the entire site lit up at night.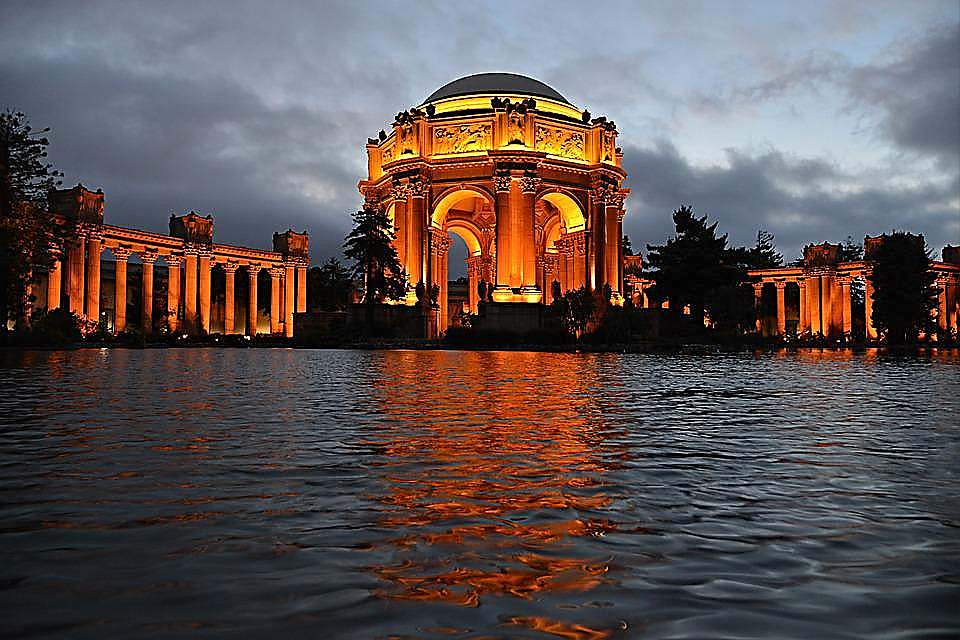 Weather and best time to visit San Francisco
San Francisco's weather can be described as mild and temperate, influenced by its coastal location. The city experiences a Mediterranean climate characterized by cool summers and mild, wet winters. Here's an overview of the weather patterns and the best time to visit San Francisco:
Summer (June to August): San Francisco's summers are often cooler compared to other parts of California. Temperatures range from 60°F (15°C) to 70°F (21°C), with occasional fog rolling in from the Pacific Ocean. It's advisable to dress in layers and be prepared for temperature fluctuations throughout the day. The summer months also tend to be drier with less rainfall.
Fall (September to November): Fall in San Francisco is typically warm and pleasant. Temperatures range from 60°F (15°C) to 70°F (21°C), gradually cooling as the season progresses. It's a great time to visit as the city experiences less fog, and you can enjoy outdoor activities without extreme heat or chilly temperatures.
Winter (December to February): San Francisco's winters are mild and wet. Temperatures range from 50°F (10°C) to 60°F (15°C). Rainfall is more frequent during these months, so it's recommended to carry a waterproof jacket or umbrella. However, winter can also bring clear and sunny days, providing opportunities for sightseeing and exploring the city's attractions with fewer crowds.
Spring (March to May): Spring in San Francisco is characterized by cool and mild weather. Temperatures range from 55°F (13°C) to 65°F (18°C). It's a beautiful time to visit as the city blooms with colorful flowers and greenery. Spring also offers the chance to witness some of the city's iconic events, such as the Cherry Blossom Festival and Cinco de Mayo celebrations.
The best time to visit San Francisco depends on your preferences and activities planned. If you enjoy mild temperatures and fewer crowds, consider visiting in the spring or fall. Summer can be a popular time, despite the cooler temperatures, but be prepared for the possibility of fog. Winter offers a more off-peak experience with the chance of rain, but you can still enjoy the city's indoor attractions, museums, and cultural events.
Final thoughts on touring at night in San Francisco
Don't miss out on the chance of a lifetime! If you haven't experienced San Francisco at night yet, what are you waiting for? With its breathtaking views, vibrant nightlife, and endless activities, it's an adventure you'll never forget.
So come on, let's go! Put on your most comfortable shoes, grab your camera, and get ready to explore the city in a whole new light. From the Golden Gate Bridge to the bustling streets of the city, San Francisco has something for everyone.
It's easy enough to walk around so many of these venues or take public transportation to get to many of these magnificent views of the city at night.
Check out all these posts on San Francisco
Famous streets of San Francisco
Enjoyed the post – Pin it for later!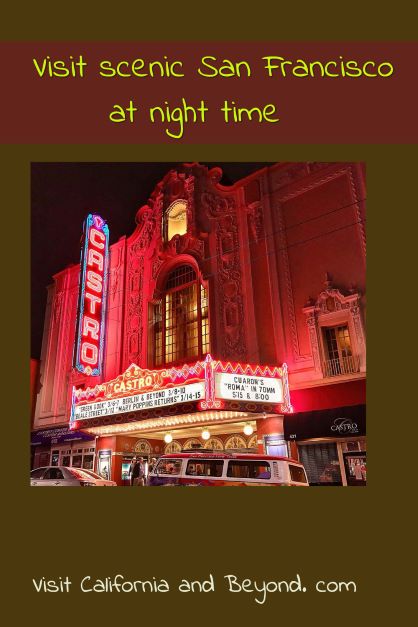 Conclusion on San Francisco at night

Experience the vibrant charm of San Francisco at night as the city comes alive with dazzling illuminated landmarks, exciting nightlife, and a diverse culinary scene. Explore panoramic views, enjoy live music venues, and indulge in late-night dining options. Remember to prioritize safety and take precautions while enjoying the captivating atmosphere of San Francisco after dark.
Thanks for taking a moment to visit San Francisco at night I hope you enjoyed the tour. If you enjoyed the post on San Francisco at night, please do share it with any of the social media buttons below or on the side of the post. Thanks so much.
Disclosure – some of the links above are to affiliate sites that are either reviews or recommendations if you book helps to keep our site running at no additional cost to you. We appreciate your supporting our website meanwhile.
Sharing is caring!