Fantastic Day trips do do from San Francisco, California
If you are visiting San Francisco and the Bay Area, there are so many fantastic places to visit just outside the city and make a perfect day trip. You'll enjoy visiting some fantastic coastal destinations, wine country exploration, Visits to State and National parks and so many other unique and one-of-a-kind places that is easy to do a road trip from San Francisco. Check out all these favorite spots and tips from other travel bloggers and journalist on the best places to do a day trip from San Francisco below.
Where should you go for a fun road trip from San Francisco?
Embarking on a road trip from San Francisco is an excellent way to traverse the diverse and stunning landscapes of Northern California. You can explore everything from the rough coastline and picturesque beaches to the undulating vineyard-dotted hills of wine country and the grandiose peaks of the Sierra Nevada mountain range.
Moreover, a road trip gives you the liberty to chart your own course and travel at your own pace, be it halting at a quaint small town, trekking through an enchanting park, or relishing local cuisine at a hidden restaurant. Ultimately, a road trip from San Francisco presents a splendid opportunity to detach from the frenzied city life and submerge yourself in the natural splendor and one-of-a-kind culture of this region.
Day trips to Northern California locations
Check out these fun and easy day trips you can do from the city. In no particular order these include: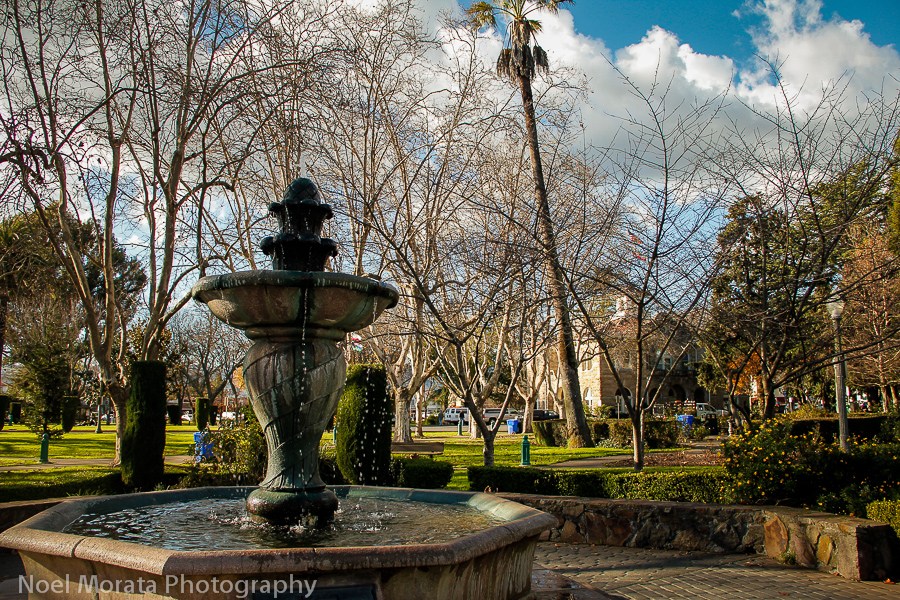 Visit Sonoma Town
Driving time – 44.7 miles and approximately 1.5 hours
A short visit to wine country and Sonoma country at the city of Sonoma is a fun day trip to do from the city with wonderful landscape to enjoy along the way. The city of Sonoma with its public downtown square is filled with fun shops and galleries, bakeries and cafes, wine bars and tasting rooms and unique boutique stores to enjoy.
Close by to Sonoma is a variety of wineries with tasting rooms for the public to enjoy, antique and collective shops and Cornerstone Galleries and unique outdoor design center and public gardens to explore along with tasting rooms located there from local vineyards.
Traveling through the iconic Valley of the Moon Road from Sonoma showcases some of the wonderful premiere wineries well known in the county and line the famous roadway to Sonoma.
Things to do around Sonoma
Explore the downtown plaza area
Visit the Cornerstone galleries, gardens and tasting rooms
Drive through the Valley of the Moon
Enjoy the local tasting rooms and wineries in the region
Where to stay – check out these top reviewed hotels and inns here for updated availability, prices and calendar.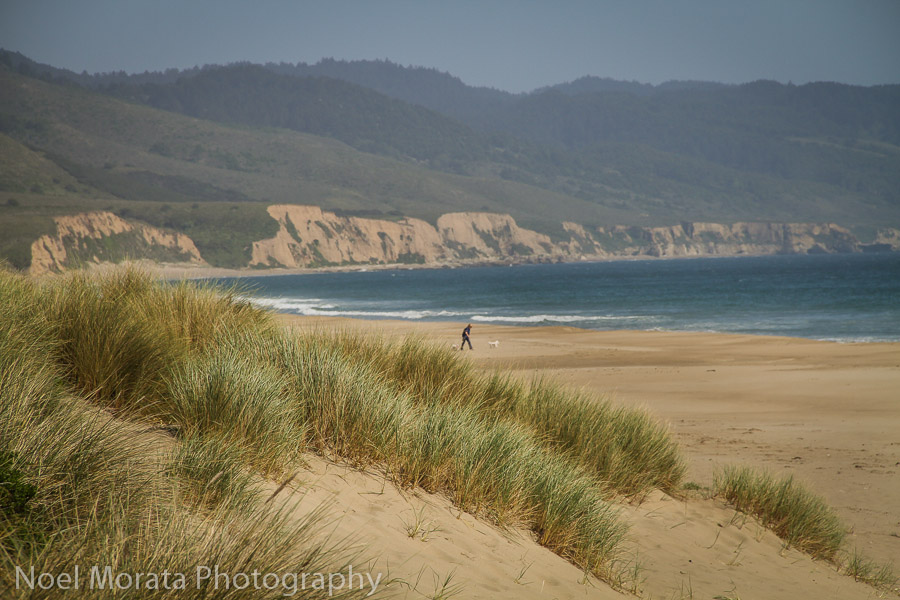 Point Reyes National Seashore
Driving time – 37.4 miles and approximately 1.2 hours
Located in Marin County and less than an hour and a half drive to this wonderful national park is a fantastic getaway to see the natural coastline areas at Point Reyes National Seashore. A fantastic national park to visit and do a road trip, check out the visitor's center and find a few good hikes to explore nature from forests and meadows, estuary areas, beaches and cliffs and the jagged coastline at the end of the park. Driving through the park and various attractions gives you a wonderful look at nature, wildlife and stunning and well-preserved coastline areas at Point Reyes.
A visit first to the welcome center will give you an idea about hikes, places of interest and even visit the small museum and dioramas at the center to explore. From there, go out and explore the gorgeous landscapes and natural beauty of this park area and visit some of the main attractions around the park. Check out my post here on visiting Point Reyes National Seashore for more inspiration and images to visiting this coastline park.
Things to do at Point Reyes National Seashore
Explore the Estuary area and local trails in the area
Visit the Point Reyes Light House
Check out the gorgeous cliff areas of Point Reyes
Visit the Alamere Falls which drops directly to the beach and ocean from the Palomarin Trailhead in Point Reyes
Where to stay – check out these top reviewed hotels and inns here for updated availability, prices and calendar.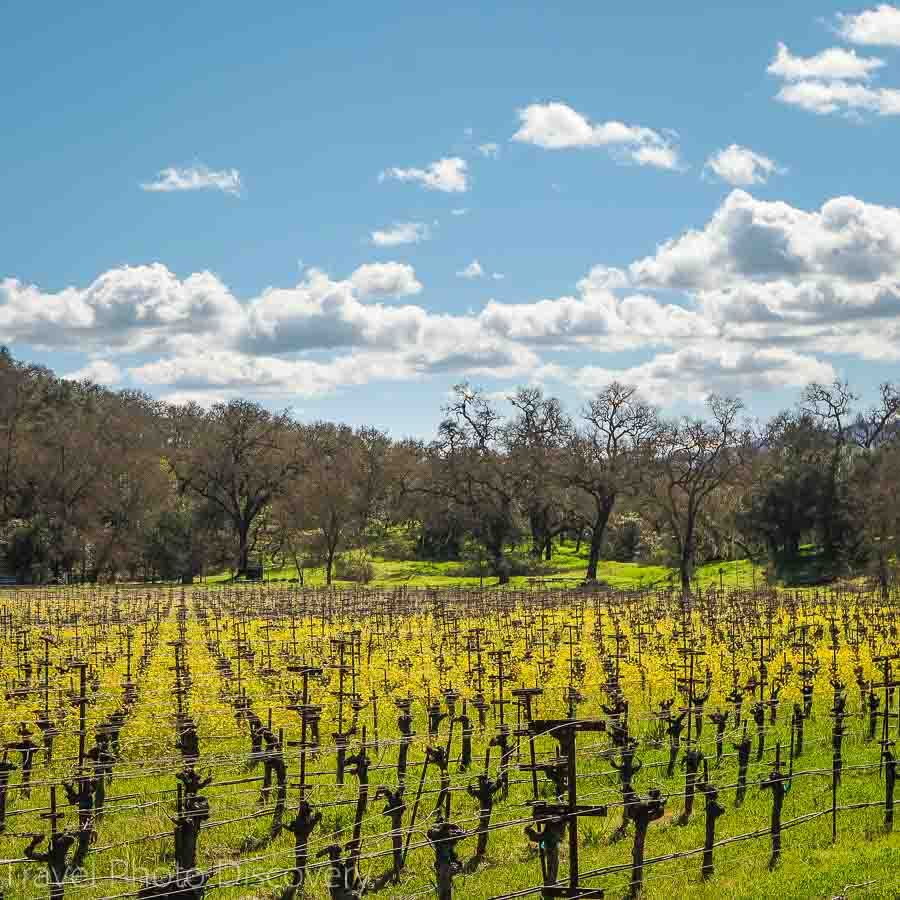 Explore Napa Valley
Driving time – 53.2 miles and approximately 1.45 hours
You don't have to be a wine lover to enjoy visiting the world-famous Napa Valley which is less than an hour and a half drive from San Francisco. Driving down the main corridor on Hwy 29 are all the famous wineries and tasting rooms of the Napa Valley. You can also explore the colorful towns like St. Helena, Calistoga, Napa and Yountville with their trendy art galleries and boutique stores, tasting rooms, bakeries, restaurants and other mom and pop shops to explore in each town. If you're into outdoor activities, you can kayak the Napa River, bike the back roads, hike along the many parks and trails or even take the famous Napa Valley Wine Train for a slow and fun train ride and meal on this scenic route along the Napa Valley.
Visiting Napa can be an easy day trip or even an overnight stay to enjoy more in-depth visits, exploring all the cool towns, visiting more wineries or even doing a spa treatment or hot springs experience in Calistoga the hot springs capital of Northern California.
Things to do in Napa Valley
Explore down through Hwy 29 with all the historic and innovative wineries and tasting rooms
Do an outdoor adventure with hiking, biking, kayaking and visit the parks and back road areas of the valley
Where to stay – check out these top reviewed hotels and inns here for updated availability, prices and calendar.
Road trip through Marin County to Point Reyes Station
Driving time – 42.6 miles and approximately 1.17 hours
If you are looking for scenic drives through rolling hills and meadows with wildflowers, forested roads and running streams and the agricultural areas of Marin County, then do this trip and visit to Point Reyes Station. There are so many fantastic places to visit on the back roads of Marin County to include: the Marin Headlands, Point Reyes National Seashore, Tomales Bay, Stinson Beach, Bolinas, Lucas Valley Road and the colorful town of Point Reyes Station.
If you plan on visiting Point Reyes National Seashore, enjoy the rest of your visit at Point Reyes Station outside of the park and a fun and colorful town basically on one main drag that has a variety of art galleries and boutique stores, bakeries, specialty shops and delicious restaurants to explore in the area. You'll love visiting this charming town and exploring the unique shops and little mom and pop stores and helping to support local business in the area.
Where to stay – check out these top reviewed hotels and inns here for updated availability, prices and calendar.
Visit to Central California destinations
Day trip to Santa Cruz
Driving time – 75.6 miles and approximately 1.25 hours
You can drive down to Santa Cruz taking the slower and scenic coastal Hwy 1 or directly through Hwy 101 to Hwy 17. Santa Cruz is spread out from the Boardwalk area, downtown section to the various beach areas. The downtown area is walkable with all different cool and unique shops, bakeries and eaters and other fun venues to explore downtown. You can do a fun drive down the coastal highway and discover some cool towns, hidden beaches and coves and gorgeous coastlines to explore. In any case a quick day trip to Santa Cruz or longer weekend will give you an opportunity to enjoy this low key and relaxed coastal community.
Things to do in Santa Cruz
Drive the Scenic West Coast Drive
Enjoy a day at the Beach Boardwalk area
Explore UC Santa Cruz and the botanical garden
Do the Roar Camp train ride in nearby Felton
Where to stay – check out these top reviewed hotels and inns here for updated availability, prices and calendar.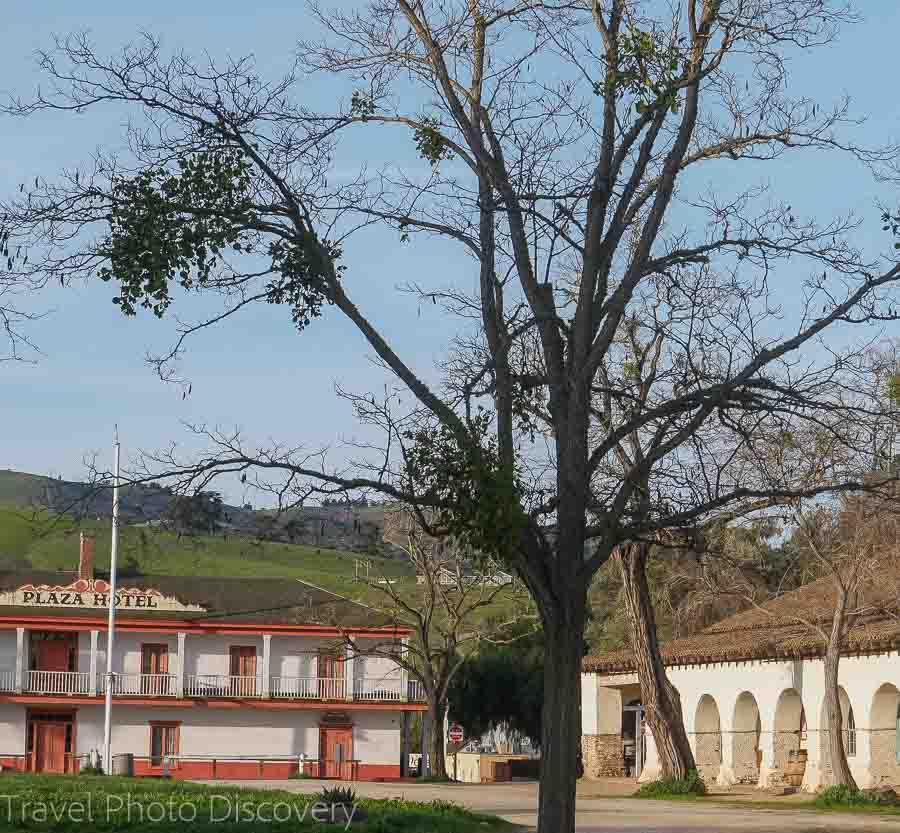 Visit to San Juan Bautista and mission
Driving time – 97.2 miles and approximately 2 hours
Located in Central California along the chain of missions that follow the historic old road or El Camino, San Juan Bautista is a sleepy town with a gorgeous mission to explore. Located in the old historic district of the town, the mission is expansive and includes an old square with historic buildings surrounding the square including hotels, stables and other public buildings that you can explore. The missionary grounds are also open to visiting and is like an old Spanish colonial settlement with a church. The entrance contains a living museum of the rooms, collections and artifacts found at the mission and adds to the history and explanations of day-to-day life at the mission. The simple and hand painted decorations in the church are wonderful to explore and see all the details, the altar and small chapels located in the church and visiting the outside grounds, plaza and gardens is also fun and checking out the vegetable gardens, gathering and cooking places and other outdoor venues around the mission.
Things to do in San Juan Bautista
Go antique shopping in the many antique shops in the downtown district
Explore the main strip of shops, art galleries and food venues
Visit the main plaza and buildings around the mission
Check out the main church and interior living museum of the mission and interior gardens
Where to stay – check out these top reviewed hotels and inns here for updated availability, prices and calendar.
Road trip and visit to Half Moon Bay
Driving time – 29.6 miles and approximately 44 minutes
From San Francisco and driving the scenic Hwy 1 coastal road is one of the most thrilling experiences of day road trips you can enjoy from the city. The route to Half Moon Bay is gorgeous with this wonderful drive that winds through cliffs, scenic coastlines, meadows and rolling hills with beautiful hidden beaches that invite you to visit and linger. You can easily stop anywhere along the road with a nice lookout point or visit some of the beaches, tidepools or famous surf spots along the Hwy1 drive down the coast to Half Moon Bay.
The small downtown area of the city is really sweet, quite and inviting to explore with art galleries, boutique stores, delicious bakeries and wonderful restaurants serving local food favorites from the area. You'll enjoy visiting the downtown area which is basically one long street with local shops and dining venues, little gardens and seating areas, more tasting rooms and other fantastic shops to visit and support local business in the area.
You can easily continue your trip down the coastal road, or return back to the city by driving inland through Hwy 92 to connect back to Hwy 101 and return to San Francisco. Along the way you can visit fun garden shops and nurseries, pumpkin patches and shops and views to the gorgeous reservoir you'll pass through along the way.
Where to stay – check out these top reviewed hotels and inns here for updated availability, prices and calendar.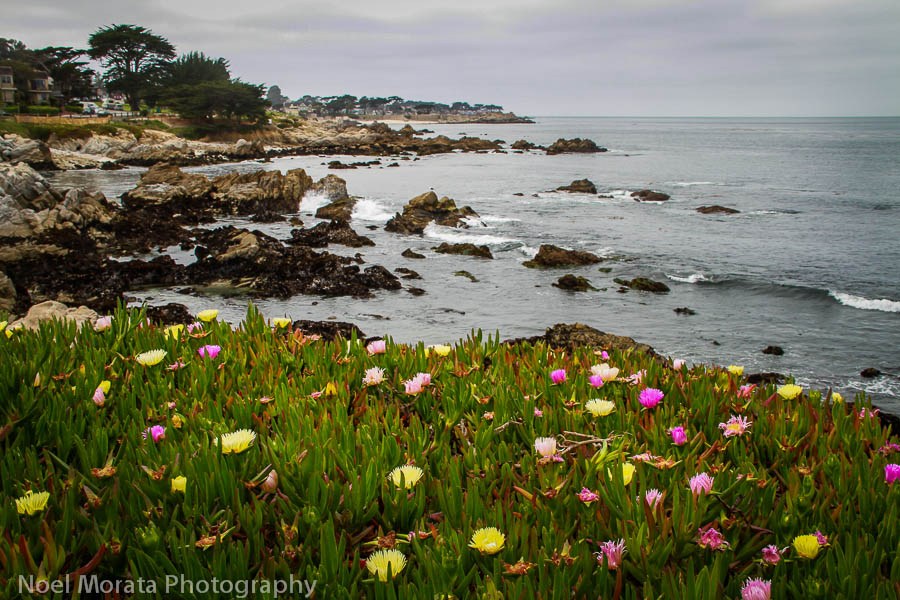 Visit to Monterey
Driving time – 118.7miles and approximately 2.45 hours
A longer day trip that can be extended into a weekend and longer getaway stay, Monterey and the coastal areas are exciting to explore. The historic old capital of California you can visit historic sites like the Cannery, Fisherman's Wharf, Spanish Colonial Monterey, and the coastal areas of Pacific Grove, the 17 Mile drive and further into Carmel by the Sea. Being outdoors in Monterey is where it's at and doing some sport activity on the water is the best experience to enjoy the coastline here whether your biking or hiking on the trails, kayaking on the water or even snorkeling or diving to see the undersea areas with kelp beds and the local marine life in action.
Top things to see in Monterey
Visit the famous Monterey Bay Aquarium next to Cannery Row
Check out the historic Monterey Cannery Row, now a popular tourist area
Dine and explore the Fisherman's Wharf area
Visit old Spanish Colonial Monterey in the historic district
Walk the many coastal trails facing Monterey bay, an easy one is from Monterey to Pacific Grove Area
Where to stay – check out these top reviewed hotels and inns here for updated availability, prices and calendar.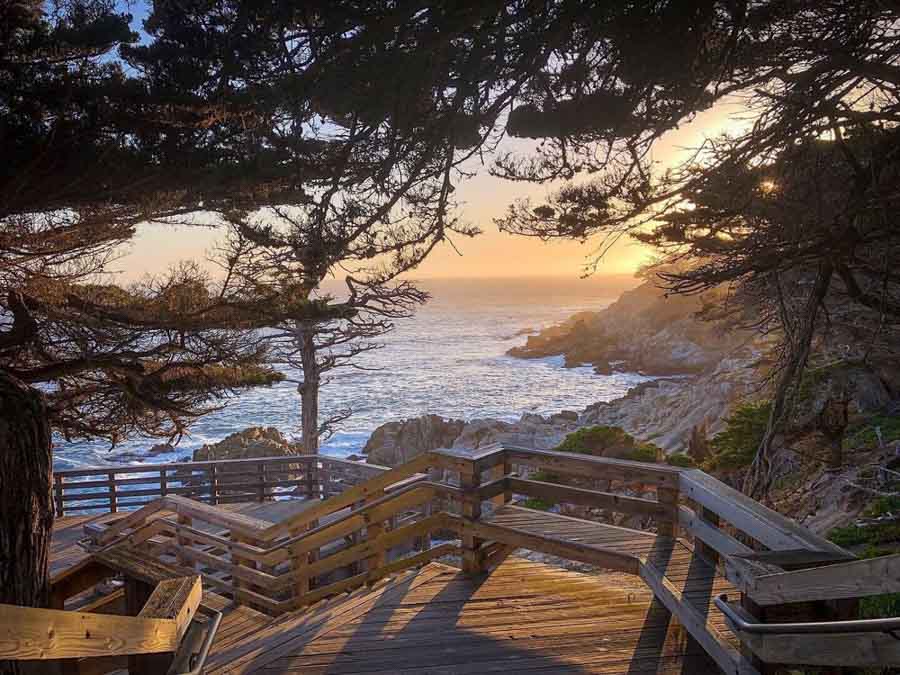 A visit to Carmel by the Sea
If you are looking for the best day trips from San Francisco, you should not miss Carmel by the Sea. Located just 116 miles from San Francisco, Carmel is a charming US town in Monterey County with a laidback vibe and surrounding gorgeous scenery. You can drive through the scenic down 101, enjoy the scenic vistas along the road hugging the coast and it will take around 2-3 hours to reach Carmel.
You are welcome to Carmel at any time of the year. However, August through October are the best times to visit Carmel. During this time, Carmel is warm and the skies are likely to be clear. From the Spanish-inspired architecture to unique boutique shops, great restaurants, and cute fairytale cottages, there are plenty of things to do in Carmel.
Carmel is famous for its less crowded beaches unlike Malibu, Coronado, or Santa Monica. But during summer weekends, it might be little crowded because locals also prefer this beach. The magnificent stretch of white sand beach and the clear blue waves beach at the end of Ocean Avenue looks incredibly beautiful. If you are a dog owner, this beach is ideal for you and your beloved pooch as the beach is pet-friendly.
Outdoor enthusiasts can explore the scenic hiking trails in Point Lobos State Reserve. One thing that you should never miss is driving through 17 miles scenic drive. This drive features 17 remarkable stops. If you don't have much time, make sure to stop at the Lone Cypress and the Del Monte Forest. If you are hungry, stop at Hog's Breath Inn and try their unique cocktails, chilaquiles, and avocado toast.
Where to stay – check out these top reviewed hotels and inns here for updated availability, prices and calendar.
Trijit with Budget Travel Buff.com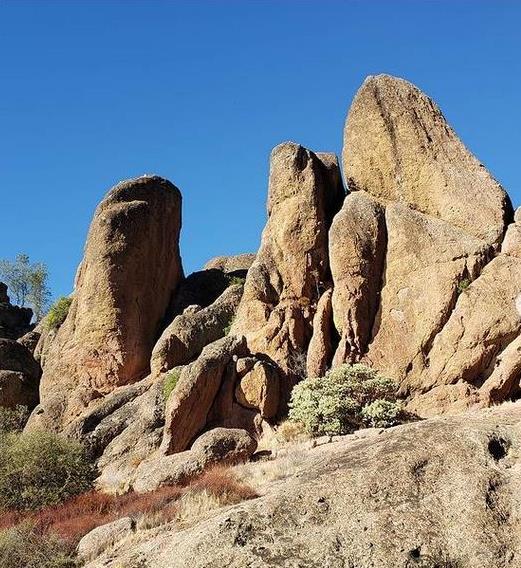 Pinnacles National Park
Driving time – 127.9 miles and approximately 2.4 hours

Located just two hours south of San Francisco, Pinnacles National Park is a beautiful park to visit and explore. It is the smallest, as well as the newest, national park in California, having just received its designation in 2013.

Pinnacles gets its name from the beautiful, towering rock formations that jut from the landscape, formed by a volcano more than 20 million years ago. Today, the park boasts more than 30 miles of hiking trails, so you can explore the rocks as well as caves, chaparral, fields, forests, and beautiful wildflowers in the springtime. Many of the hiking trails intersect, allowing you to customize the length and difficulty level of your hike.

In addition to hiking, Pinnacles National Park is a great place for wildlife viewing. The park's most sought-after resident is the California Condor, with their magnificent nine-foot wingspan. Other native species include turkey vultures, hawks, bats, kangaroo rats and golden eagles.

Note, Pinnacles has two entrances – one to the west and one to the east – and they aren't connected by roads. The west side of Pinnacles National Park is more remote and popular with day trippers looking to hike or rock climb. The east side offers more services and is home to the park's pool and campground, but tends to get a lot busier! In fact, plan to arrive early if you are visiting the east side for the day; parking fills up early and you'll have to walk or take a shuttle to get to the main trailheads otherwise.
Where to stay – check out these top reviewed hotels and inns here for updated availability, prices and calendar.
Gwen with California Family Travel
Visit to Eastern California destinations
Explore the capital at Sacramento
Driving time – 87.9 miles and approximately 2.4 hours
Sacramento is the capital of California and one of the top bucket list places in the state where you can dive deep into Cali's history and explore a city with a more small-town feel. Sacramento is the perfect day-trip distance from San Francisco, and it is super easy to catch one of 14 daily buses to Sacramento from SF, and arrive in under two hours.
Sacramento is a downright museum mecca, and you can pick from the California State Capitol Museum, the California State Railroad Museum, the California Automobile Museum, or simply the California Museum! Each of these is worth at least a half day of exploring and learning, depending on which subjects you are most interested in.
Several of these museums are located in Old Sacramento Historic Park, which celebrates the city's connection to the Gold Rush, and preserves the business district which bustled in 1850s Sacramento. While wandering through the saloons and gift shops in Old Sacramento, you can't miss a stop at Danny's Mini Donuts for delicious little bites of funnel cake-style donuts. One of the best dining experiences is nearby on the Delta King, a restored riverboat on the Sacramento River. The hotel and restaurant onboard the Delta King both offer some of the best views of Tower Bridge!
Moving east from Old Sacramento, you'll reach downtown and pass by the California State Capitol Park. As you walk around, keep an eye out for some insta-worthy wall murals – some of the best ones are along 12th Street, including a bubblegum pink wall if you're feeling basic!
Midtown Sacramento is possibly the most hip area of the city, known for trendy dining, vintage shopping, and excellent nightlife. If you're around on Saturday morning, stop by the Midtown Farmers Market for fresh produce or local baked goods. You can catch a comedy show or live music at one of the best Midtown haunts for after-hours fun, Harlow's Restaurant and Nightclub, to round out a full day of exploring the best of Sacramento.
Where to stay – check out these top reviewed hotels and inns here for updated availability, prices and calendar.
Mary with Bucketlist Places.com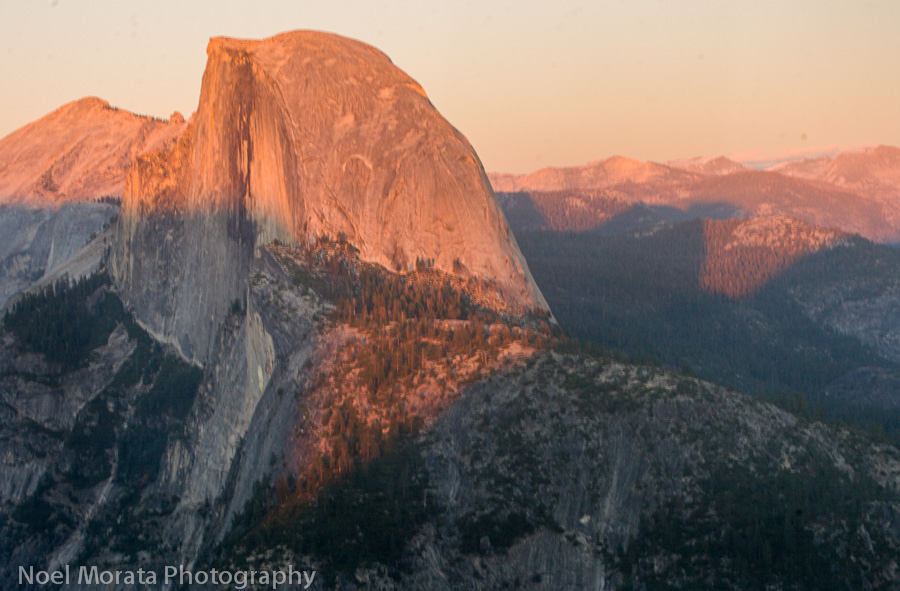 Visit to Yosemite
Driving time – 167 miles and approximately 3 1/2 to 4 hours
A road trip to iconic Yosemite National park is always a favorite trip from San Francisco that you can do on a tour or on your own. The three hour road trip goes through scenic towns, rolling hills to hill country and beautiful landscape to cover along the way to Yosemite and then into dense forests of pines and local evergreens. When you reach the valley area of Yosemite, it is all breathtaking to drive through and see all the major monuments that just pop out in a big way from the valley floor. Check out some of our tour highlights to visiting Yosemite here for more images and inspiration to visiting the park. The park is easy to just drive around and park at the various attractions and hike to that site. There are also plenty of fantastic hikes to explore around the park area from easy to more challenging hikes that climb up the valley floor to waterfalls and other iconic sites around the park area.
Things to see in Yosemite Valley
Check out all the iconic landmarks and historic sites around Yosemite Valley below
Walk up to Yosemite Falls
Discover the Yosemite Village galleries and museums
Hike to Tenaya Lake and monuments
Drive and panoramic views from the Inspiration Point loookout
Scenic road trip up to Glacier Point
Yosemite Valley floor views of Yosemite Falls, El Capitan, Half Dome and Glacier Point.
Where to stay – check out these top reviewed hotels and inns here for updated availability, prices and calendar.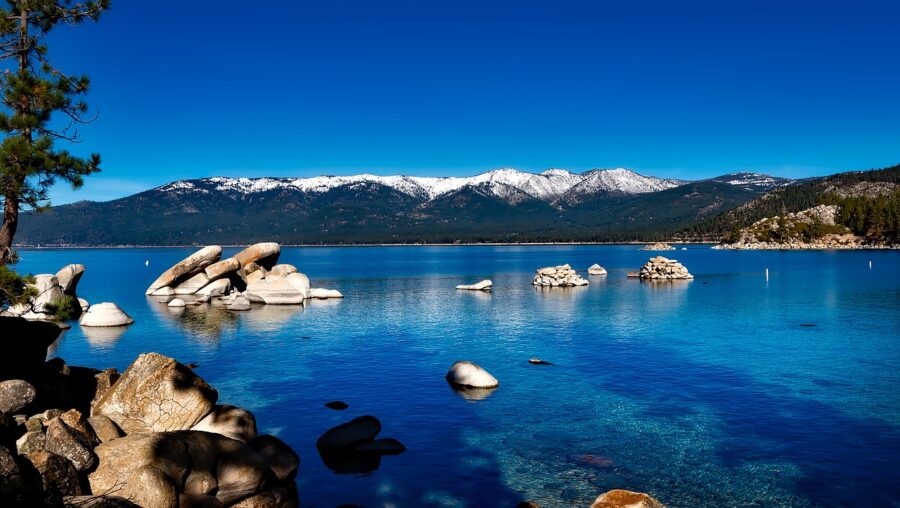 A nice road trip and getaway to Lake Tahoe
Driving time – 199.4 miles and approximately 4.30 hours
One of the most popular getaways for San Francisco and the greater Bay Area, Lake Tahoe is a fun weekend destination that everybody loves. Being outdoors and in nature is what it is all about at Lake Tahoe whether you kayak, boat, sail or just bike and hike along the shoreline and many trails in the lake area. Summer time involves being outdoors and exploring or just having a lazy day on the beach or hidden spot around the lake. Winter time is more active with skiing, cross country, snow mobile or even inner tube fun at the many ski resorts and other snow venues around the lake area.
Things to do around Lake Tahoe
Do the Loop trail around the entire lake
Spend your coins or dollars over the stateline at the many casinos on the Nevada side
Take the gondola ride up Heavenly valley and enjoy the views and hiking trails in the area
Winter time fun at the many ski resorts and winter venues like ice skating, snow shoeing or even solitary Cross Country routes in more remote areas of the lake countryside.
Where to stay – check out these top reviewed hotels and inns here for updated availability, prices and calendar.
More inside tips of doing a day trip from San Francisco
Here are some inside tips for making the most of a day trip from San Francisco:
Plan Ahead: Research your destination and plan your itinerary in advance. Consider factors like opening hours, admission fees, and any special events or festivals happening at your chosen destination.
Use Public Transportation: San Francisco has an extensive public transportation system, including buses, trams, and ferries. Opting for public transit can save you time and money, especially when visiting popular destinations like Muir Woods or Sausalito.
Arrive Early: If you're visiting a popular attraction, such as Alcatraz Island or the wine country, aim to arrive early in the day to beat the crowds and make the most of your time.
Pack Essentials: Be prepared for a variety of weather conditions. San Francisco's weather can change quickly, so bring layers, comfortable shoes for walking, sunscreen, and a reusable water bottle.
Travel Light: Leave unnecessary items at your accommodation or in your vehicle to make your day trip more comfortable. A small backpack is handy for essentials like snacks, water, a camera, and a jacket.
Try Local Food: Take the opportunity to sample local cuisine at your destination. Whether it's clam chowder in a sourdough bread bowl at Fisherman's Wharf or wine tasting in Napa Valley, savoring local flavors is part of the experience.
Respect Nature: If your day trip involves outdoor activities, respect the environment by following Leave No Trace principles. Pack out what you pack in, stay on designated trails, and avoid disturbing wildlife.
Stay Informed: Check for any road closures, construction, or traffic updates before heading out on your day trip. Websites, apps, and GPS navigation can help you navigate efficiently.
Download Maps: Download offline maps or use navigation apps like Google Maps to ensure you don't get lost, especially in areas with limited cell service.
Time Management: Prioritize the must-see attractions at your destination and manage your time accordingly. It's better to thoroughly enjoy a few key spots than to rush through many.
Safety First: Be aware of your surroundings and exercise caution, especially in unfamiliar areas. Keep your belongings secure, stay hydrated, and be mindful of local safety guidelines.
Flexibility: While planning is important, be open to serendipitous discoveries. Sometimes the best experiences on day trips come from unexpected stops or interactions with locals.
Photography Tips: Capture memorable moments by taking photos during the golden hours of sunrise or sunset. San Francisco's iconic landmarks, such as the Golden Gate Bridge, can be especially photogenic during these times.
Travel Insurance: Consider purchasing travel insurance for peace of mind in case of unexpected events or emergencies during your day trip.
By following these insider tips, you can make the most of your day trip from San Francisco, ensuring a memorable and enjoyable experience.
If you enjoyed this post, please do check out these San Francisco posts
San Francisco Botanical Garden
Famous streets of San Francisco
Filbert Steps in San Francisco
Enjoyed the post – pin it!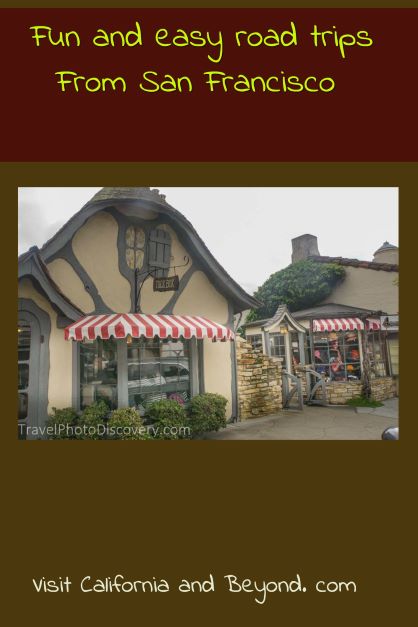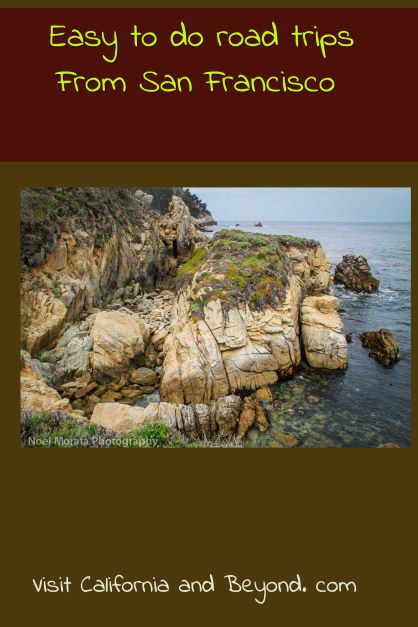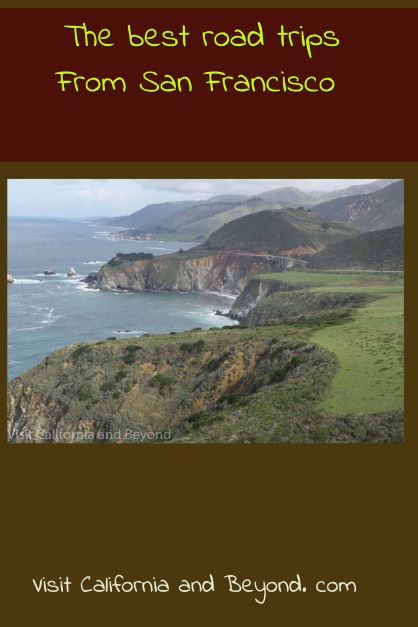 Final thoughts?
A journey on the road from San Francisco presents an opportunity to embark on an unforgettable adventure through the breathtaking landscapes and diverse regions of Northern California. The liberty to explore at your own pace and discover hidden gems makes a road trip the perfect way to detach from city life and fully immerse yourself in the natural beauty and distinct culture of the area.
Whether you are seeking adventure, relaxation, or simply a change of scenery, a road trip from San Francisco is an experience that you do not want to miss out on.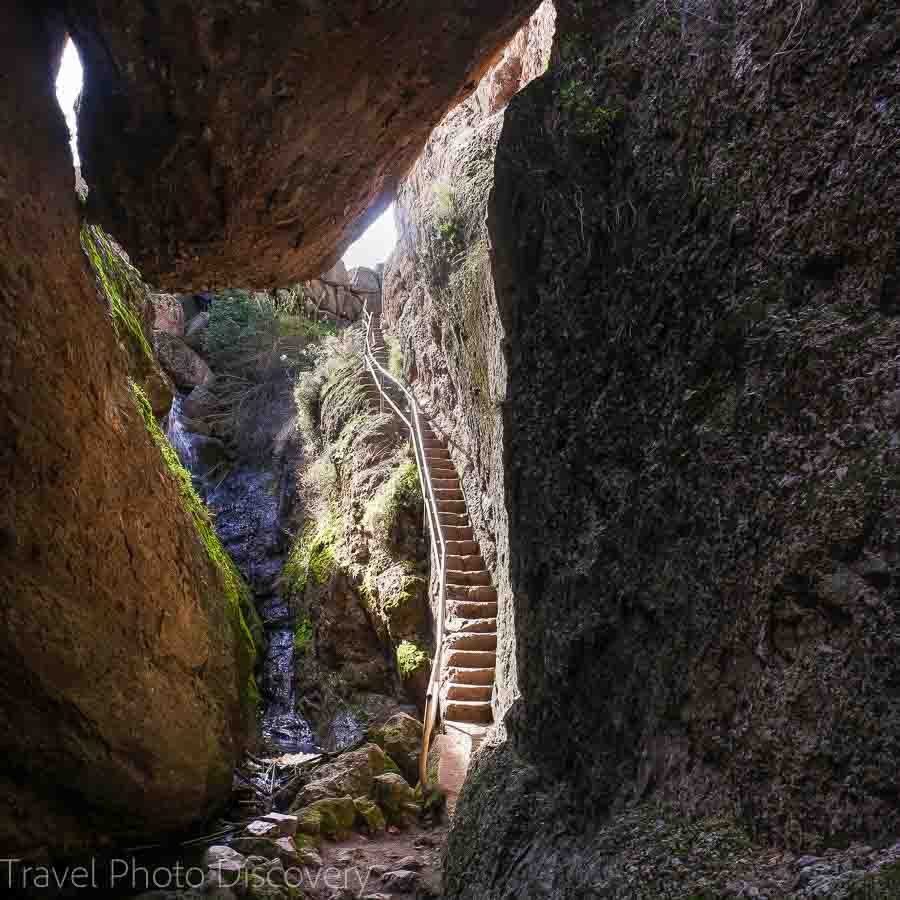 Conclusion on Road trips from San Francisco
Thanks for visiting today and checking out this post on road trips from San Francisco, if you enjoyed the images and post, could you please share it with any of the social media buttons located around the post.
Disclosure – There are affiliates links on this posts which provide a small commission to support this site at no extra cost to you. Thank you for reading, and happy travels