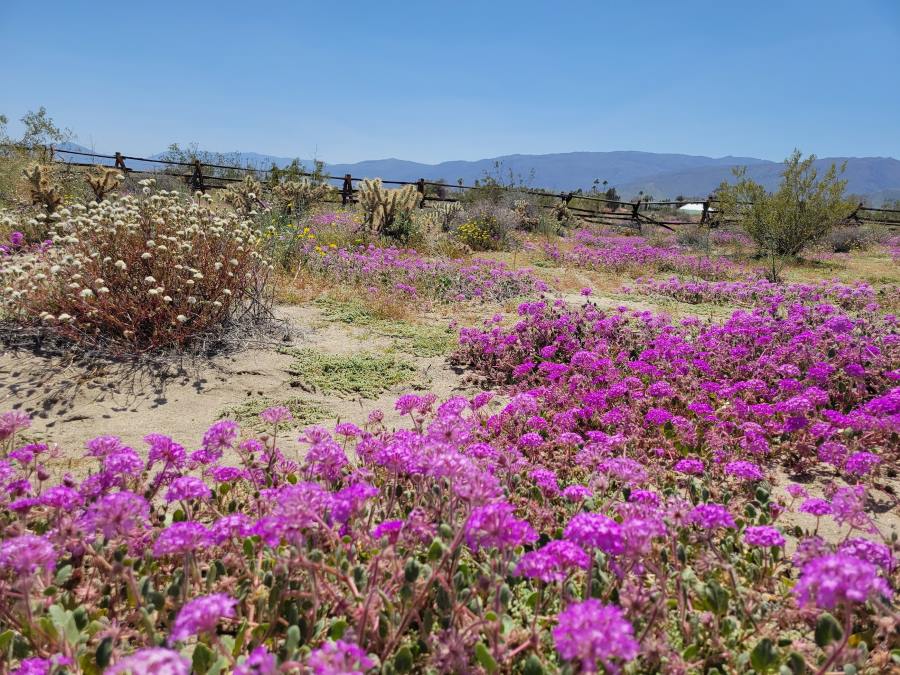 Anza-Borrego State Park: A Desert Wonderland of Natural Beauty and Outdoor Adventure
Dive into a breathtaking desert escape that transports you to a world of rugged beauty and limitless adventure. This hidden gem in Southern California awaits, with its sprawling landscapes adorned by vibrant wildflowers, towering palm canyons, and ancient petroglyphs. Embark on thrilling hikes through hidden slot canyons, witness awe-inspiring sunsets that paint the sky in hues of gold and crimson, and stargaze under a blanket of shimmering constellations. Discover the rich biodiversity, from elusive wildlife to blooming cacti. Anza Borrego State Park promises an unforgettable journey, where nature's wonders come alive at every turn.
Visiting in springtime when the desert floor is literally covered with wildflower blooms of bright yellows, blues, whites and oranges truly dazzles and makes the trip to the desert worth the lonely drive to this area.
Why Visit Anza Borrego State Park?
Anza-Borrego Desert State Park, California's largest state park, offers a captivating desert experience. Its expansive 600,000-acre landscape showcases stunning desert scenery with rugged canyons, vibrant wildflower superblooms in rainy years, and exceptional stargazing under clear desert skies. Outdoor enthusiasts can explore a network of hiking trails, observe unique desert flora and fauna, and enjoy the peaceful solitude of the desert. The park also features cultural and historical sites, making it a well-rounded destination for nature lovers and history buffs alike. With its mild winter climate and opportunities for camping, Anza-Borrego invites visitors to escape into the serene beauty of the desert landscape and connect with nature.
Anza-Borrego's allure lies in its diverse offerings, from hiking and stargazing to cultural exploration and wildflower spectacles. It's a place where you can immerse yourself in the tranquility of the desert, learn about its unique ecosystems, and enjoy the solitude of one of California's most remarkable natural treasures. Whether you seek adventure, a break from city life, or a chance to witness the desert's vibrant wildflower displays, Anza-Borrego Desert State Park is a captivating destination that invites you to experience the extraordinary beauty of the desert landscape.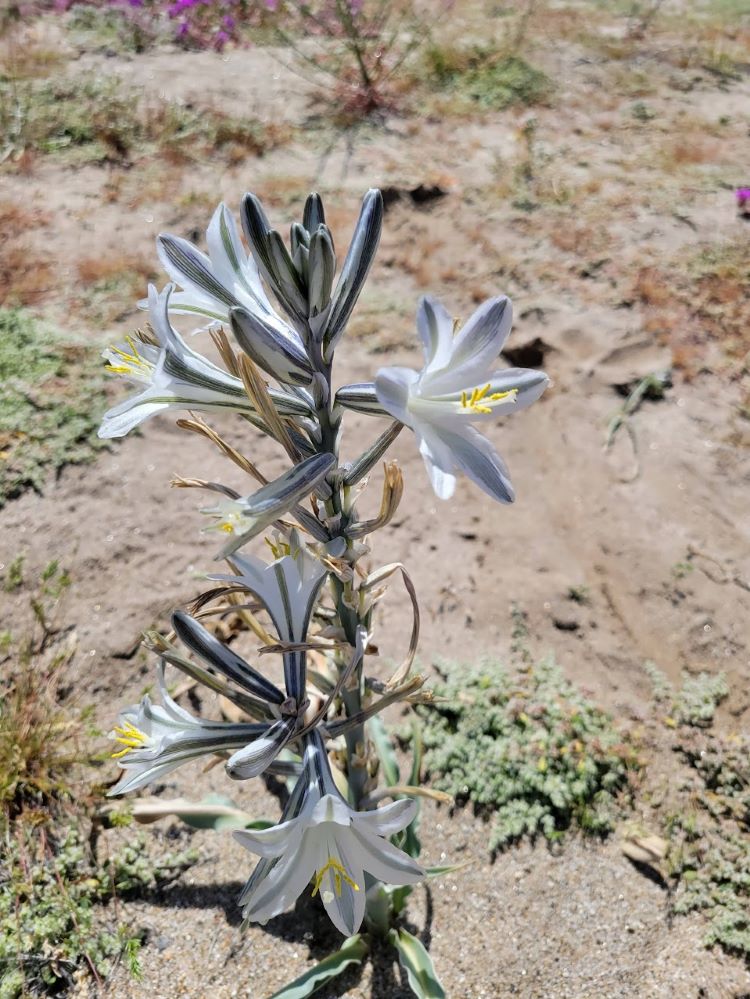 A little history about Anza Borrego State Park

Anza Borrego State Park holds a rich history that dates back thousands of years. The area has been inhabited by indigenous people for at least 10,000 years, with evidence of human presence found through archaeological sites and ancient rock art.
During the 18th century, Spanish explorers ventured into the region, led by Juan Bautista de Anza, who traversed the desert on an expedition to establish a land route from Mexico to California. The park's name honors both Anza and the Spanish word for "sheep" (borrego), as the region was known for its populations of desert bighorn sheep.
In more recent history, the park was established in 1933, becoming California's largest state park. It encompasses over 600,000 acres of pristine desert landscapes, making it a haven for outdoor enthusiasts, nature lovers, and those seeking solitude amidst the rugged beauty.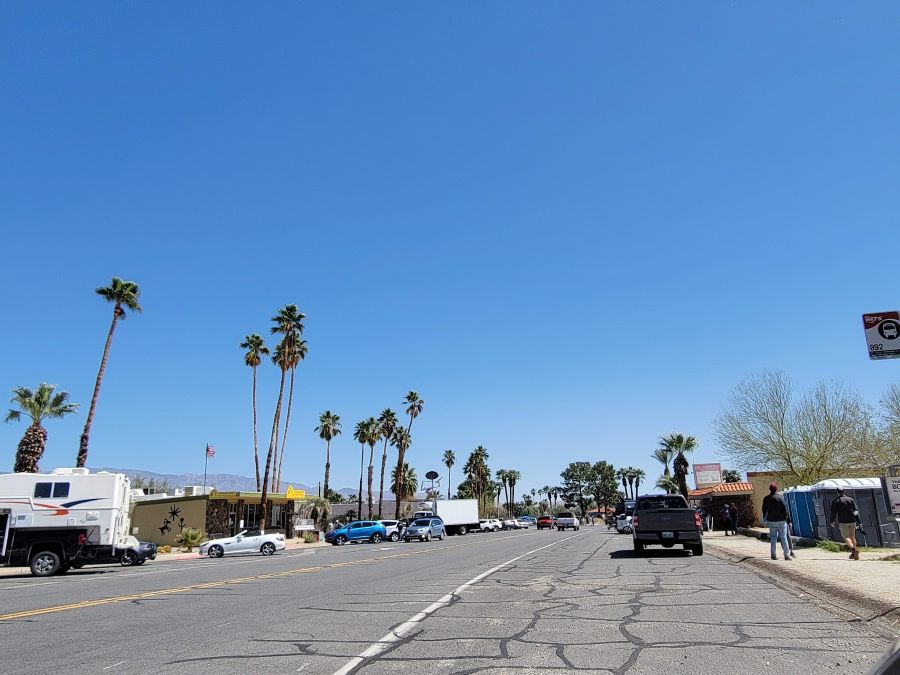 Best things to see at Borrego Springs
Borrego Springs, a charming desert town located near Anza Borrego State Park, offers a variety of attractions and points of interest to explore:
Galleta Meadows Sculptures: One of the town's most captivating features is the collection of larger-than-life metal sculptures scattered throughout the desert landscape. These magnificent artworks depict prehistoric creatures, historical figures, and mythical beings, adding an element of wonder and whimsy to the area.
Anza Borrego Desert State Park Visitor Center: Stop by the visitor center to gather information about the park, including trail maps, wildlife guides, and current park conditions. Exhibits and educational displays offer insights into the park's geology, ecology, and cultural history.
Stargazing: Borrego Springs is renowned for its exceptional stargazing opportunities. The town has implemented measures to minimize light pollution, making it an ideal location to marvel at the night sky. Consider joining a stargazing tour or simply find a peaceful spot to admire the constellations above.
Borrego Palm Canyon: Just a short drive from town, Borrego Palm Canyon is a picturesque oasis nestled within Anza Borrego State Park. Follow the hiking trail to witness the beauty of towering California fan palms, flowing streams (seasonal), and the chance to spot desert wildlife.
The Springs at Borrego RV Resort and Golf Course: If you're looking for a place to relax and unwind, consider visiting The Springs at Borrego. This resort offers luxurious amenities, including hot mineral springs, a golf course, and stunning views of the surrounding desert landscape.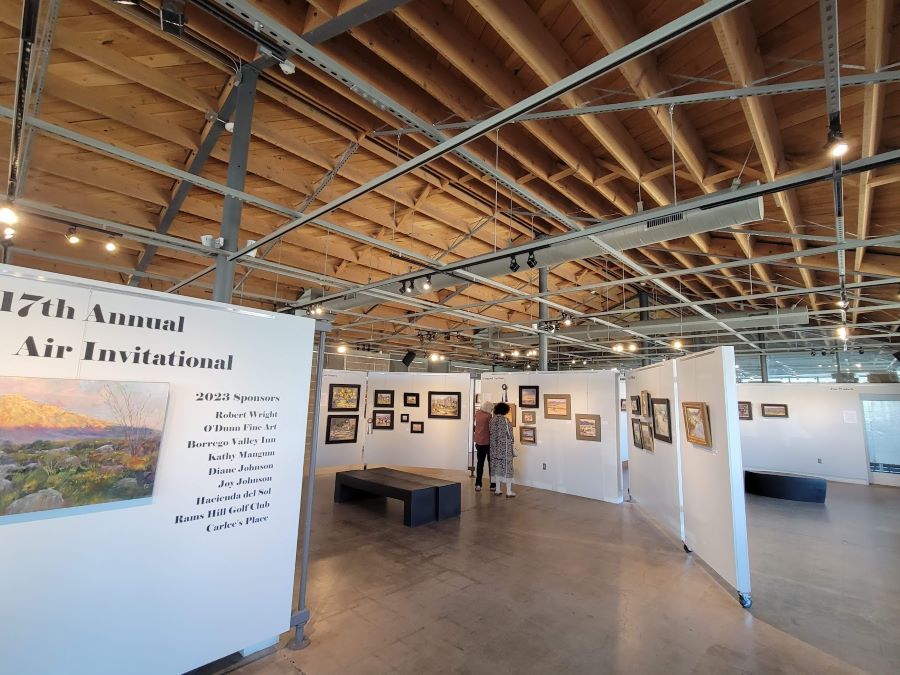 Anza-Borrego Desert Natural History Association: Visit the association's bookstore, located in Borrego Springs, to browse a wide selection of books, guides, and educational materials about the desert, flora, fauna, and cultural history of the region.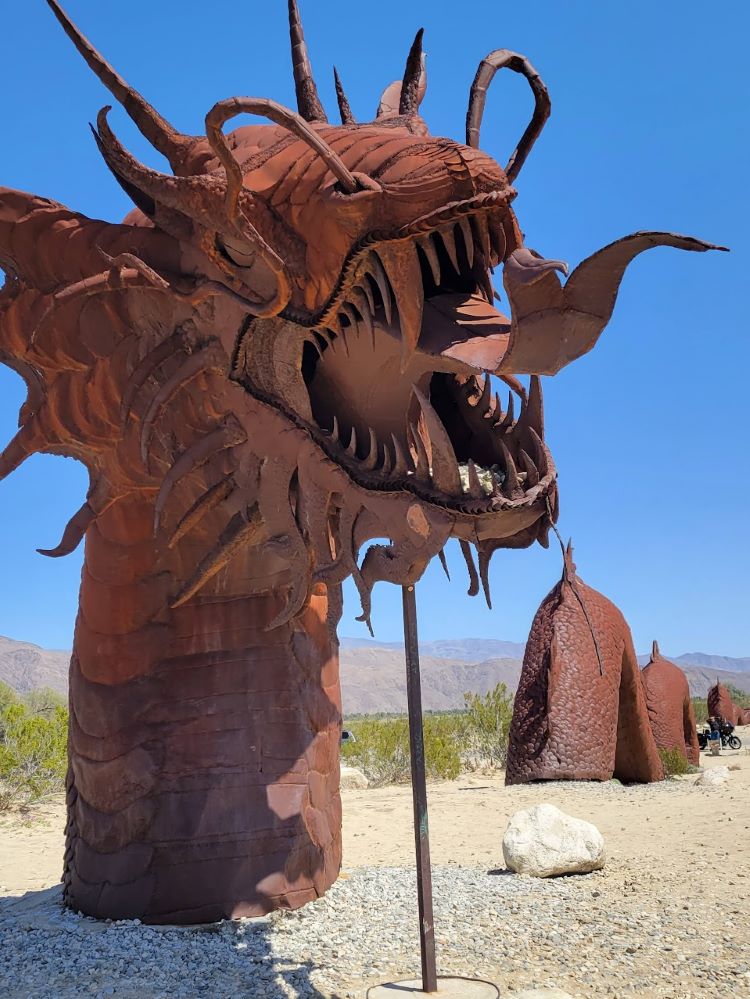 Who is the artist behind the Galleta Meadows Sculptures
The artist behind the captivating Galleta Meadows Sculptures in Borrego Springs is Ricardo Breceda. Ricardo Breceda, a renowned sculptor, is known for his remarkable metal artworks that depict various creatures, including prehistoric animals, dinosaurs, mythical beings, and historical figures. His sculptures have become an iconic feature of the Borrego Springs area, attracting visitors from far and wide to marvel at the incredible craftsmanship and artistic vision displayed in these larger-than-life creations.
Learn more about the Galleta Meadows Sculptures
Here's a quick video exploring the over 100 metal sculptures at the Galleta Meadows area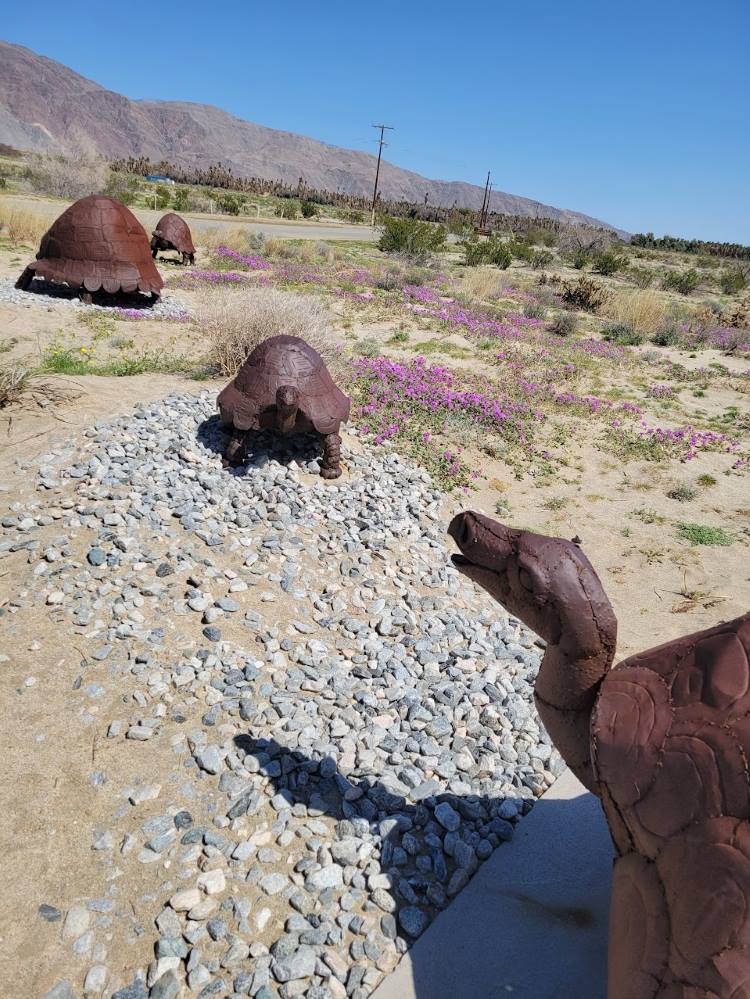 Weather and best time to visit Anza Borrego State Park
The weather in Anza Borrego State Park varies throughout the year, making certain seasons more favorable for visiting. The best time to explore this captivating desert park is during the cooler months, from late fall to early spring. During this period, temperatures range from comfortable highs in the 60s to 70s Fahrenheit (15-25 degrees Celsius) and cooler evenings.
It's an ideal time for outdoor activities like hiking, camping, and wildlife spotting. Be aware that summers can be scorching hot, with temperatures soaring above 100 degrees Fahrenheit (38 degrees Celsius), making it less suitable for extensive outdoor adventures. Plan your visit accordingly to make the most of Anza Borrego's natural wonders while enjoying pleasant weather conditions.
How to get to Anza Borrego State Park
Getting to Anza Borrego State Park is relatively straightforward, and there are a few options available:
By Car: The most common way to reach the park is by car. From the west, take Highway 78 or Interstate 8, depending on your starting point, and head east. Once you're in the vicinity, follow the signs for Anza Borrego State Park, which will lead you to the park's various entrances.
From Palm Springs area do the following:
Start by heading east on CA-111 E/E Palm Canyon Drive from Palm Springs.
Continue on CA-111 E for approximately 10 miles.
Merge onto CA-86 S toward El Centro.
Follow CA-86 S for about 46 miles.
Take the exit toward Borrego Springs Road/County Hwy S22.
Turn left onto Borrego Springs Road/County Hwy S22 and continue for approximately 15 miles.
By Plane: If you're flying in, the nearest major airports are San Diego International Airport (approximately a 2-hour drive) and Palm Springs International Airport (approximately a 1.5-hour drive). From the airport, rent a car and follow the driving directions mentioned above.
By Bus: There are limited public transportation options to the park. However, you can take a bus to nearby towns like Borrego Springs or Julian and then arrange for a taxi or shuttle service to take you into the park.
Regardless of the mode of transportation, it's recommended to have a map or GPS navigation system handy to navigate the park's expansive territory and locate specific areas of interest.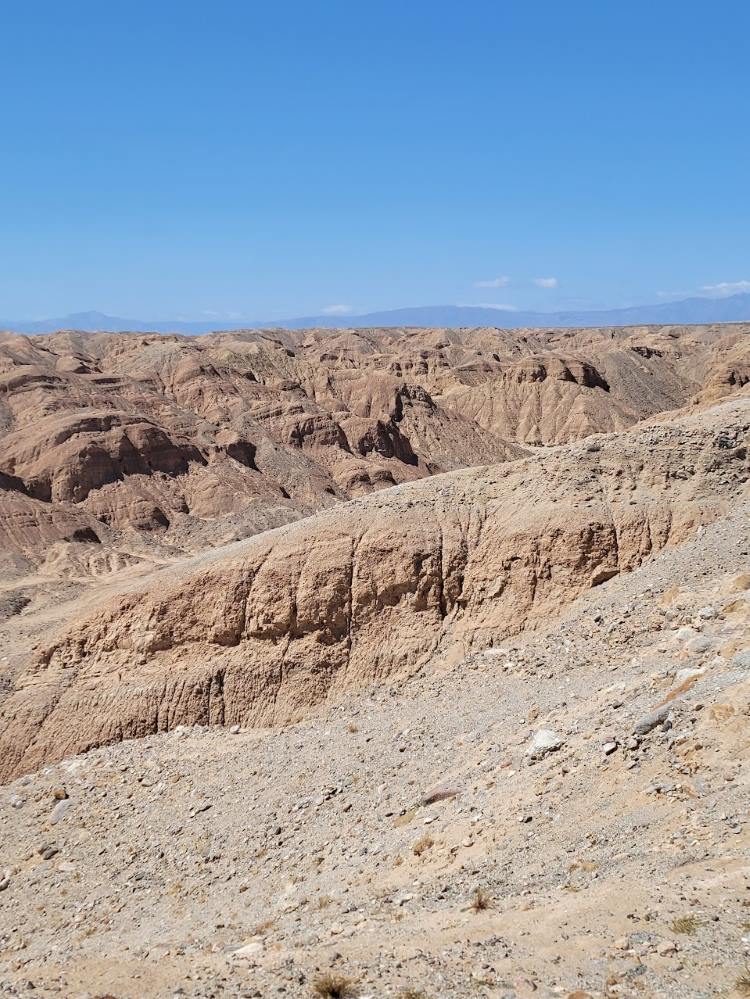 More inside tips to visiting Anza Borrego State Park
Here are some inside tips to enhance your visit to Anza Borrego State Park:
Plan Ahead: Before your trip, research the park's attractions and trails to prioritize what you want to see and do. Check for any closures, road conditions, or permits required for certain activities.
Desert Safety: The desert environment can be harsh, so come prepared. Bring plenty of water, sun protection (hats, sunscreen), and appropriate clothing for the weather. Inform someone about your plans and expected return time, especially if you're embarking on longer hikes or exploring remote areas.
Wildflower Spectacle: If you're hoping to witness the breathtaking wildflower blooms, timing is crucial. Keep an eye on the park's website or contact the Visitor Center for updates on bloom forecasts, which typically occur from February to April, depending on rainfall.
Night Sky Stargazing: Anza Borrego is a designated International Dark Sky Park, offering exceptional stargazing opportunities. Bring a telescope or simply enjoy the awe-inspiring night sky. Check the park's calendar for guided stargazing events.
Wildlife Encounters: The park is home to diverse wildlife, including bighorn sheep, desert tortoises, and various bird species. Be respectful and observe animals from a distance to avoid disturbing their natural behavior. Binoculars and a camera with a zoom lens can enhance your wildlife viewing experience.
Ranger Programs: Take advantage of ranger-led programs and guided hikes to learn more about the park's history, geology, and natural wonders. Check the park's schedule for the latest programs and activities.
Camping Options: Anza Borrego offers camping opportunities, including developed campgrounds and primitive backcountry camping. Make reservations in advance for popular camping spots, especially during peak season.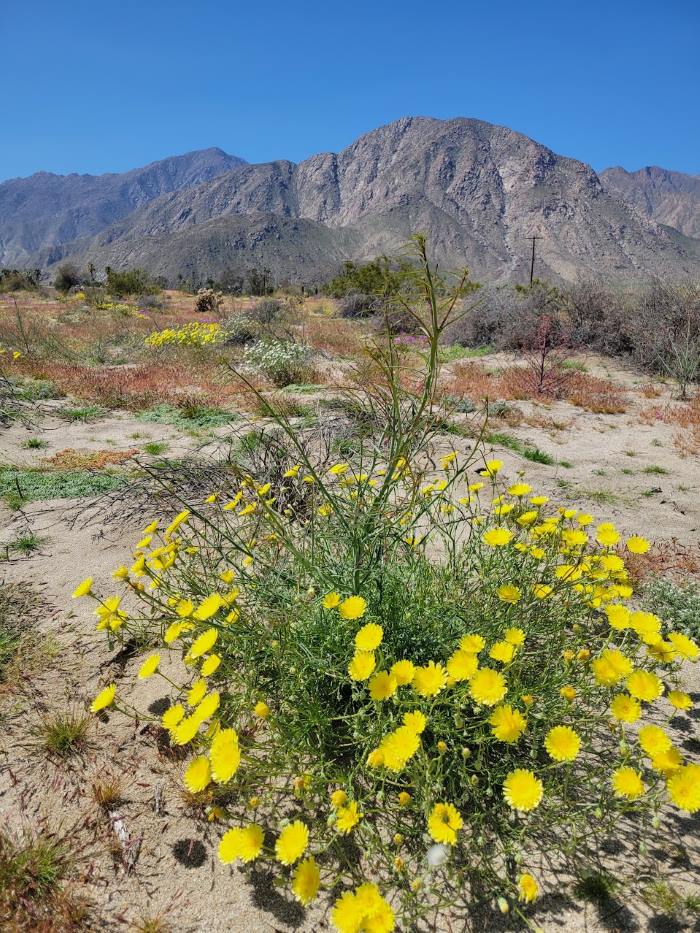 Here's a quick video tour of a superbloom event at Anza Borrego below
Details to visiting Anza Borrego State Park
Address: 200 Palm Canyon Drive Borrego Springs, CA 92004 United States
Hours and admission:
The visiting hours for Anza-Borrego Desert State Park typically vary based on the season. The park is generally open from sunrise to sunset throughout the year. However, it's always a good idea to check the official park website or contact the park office directly for the most up-to-date information on visiting hours.
As for admission, Anza-Borrego Desert State Park is a California state park that charges a per-vehicle fee for day use. As of my knowledge cutoff in September 2021, the day use fee for private vehicles was $10. However, it's important to note that fees may have changed since then. I recommend checking the official park website or contacting the park office for the current admission fees and any possible discounts or passes that may be available.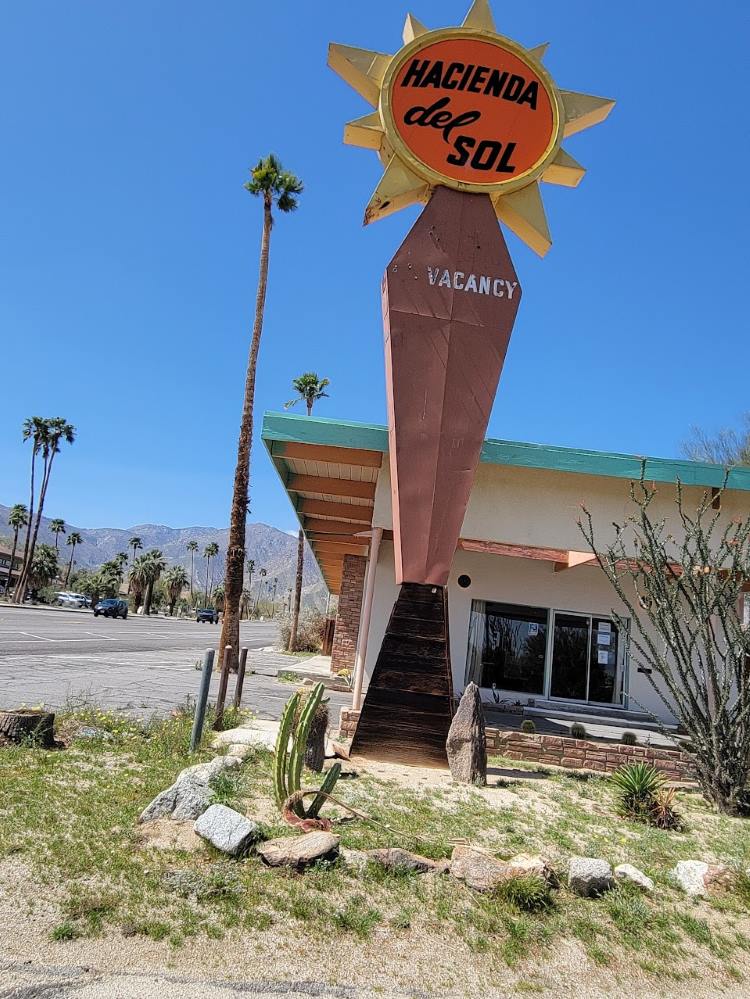 Places to stay around Borrego Springs
There are several hotels in and around Borrego Springs that offer comfortable accommodations and a range of amenities. Here are descriptions of some popular hotels:
La Casa Del Zorro: Nestled in the heart of Borrego Springs, La Casa Del Zorro is a luxurious resort known for its Spanish-style architecture and upscale amenities. The hotel features spacious guestrooms and suites, multiple swimming pools, tennis courts, a spa, and fine dining options. Guests can enjoy the beautiful desert views and relax in the tranquil surroundings.
Borrego Springs Resort & Spa: This resort offers a blend of modern comfort and desert charm. Situated near the Borrego Springs Golf Course, it boasts well-appointed rooms and suites with scenic views. The resort features a spa, a swimming pool, a fitness center, and an on-site restaurant. Golf enthusiasts will appreciate the proximity to the 18-hole championship golf course.
Palm Canyon Hotel & RV Resort: Located on the edge of Anza Borrego State Park, Palm Canyon Hotel & RV Resort offers a range of accommodations, including hotel rooms, casitas, and RV sites. The property features a swimming pool, hot tubs, a clubhouse, and an outdoor fire pit area. It provides a relaxed atmosphere with easy access to hiking trails and natural attractions.
Where to eat around Anza Borrego State Park
If you're looking for places to eat around Anza-Borrego State Park, here are some options of local places to visit and enjoy a good meal:
Kesling's Kitchen: Located in Borrego Springs, Kesling's Kitchen offers a variety of delicious meals including burgers, sandwiches, salads, and Mexican dishes. They also have vegetarian and gluten-free options.
Carlee's Place: This family-owned restaurant in Borrego Springs serves American and Mexican cuisine. You can enjoy dishes like burgers, steaks, tacos, and enchiladas. They also have a bar if you'd like to grab a drink.
The Palms at Indian Head: Situated within Indian Head Ranch, The Palms is known for its stunning views and upscale dining experience. They offer a diverse menu featuring dishes like steak, seafood, pasta, and vegetarian options.
Red Ocotillo: Located in Borrego Springs, Red Ocotillo is a popular spot for breakfast and lunch. They serve a range of dishes including omelets, pancakes, sandwiches, and salads. They also have vegetarian and vegan options.
La Casa del Zorro: This resort in Borrego Springs houses a restaurant called Butterfield Room, which offers upscale dining in an elegant setting. They serve a variety of gourmet dishes prepared with locally sourced ingredients.
Carmelita's Mexican Grill & Cantina: If you're in the mood for Mexican cuisine, Carmelita's is a good choice. Located in Borrego Springs, they serve traditional Mexican dishes such as tacos, enchiladas, and fajitas. They also have a full bar.
Rams Hill Golf Club: If you enjoy golf, Rams Hill Golf Club offers a restaurant with scenic views of the golf course and surrounding desert. They serve breakfast and lunch, including sandwiches, salads, and burgers.
Check out these other places and attractions nearby in Southern California
Day trip from Palm Springs to Joshua Tree National Park
Cabot Museum in Desert Hot Springs
Indian Canyons at Palm Springs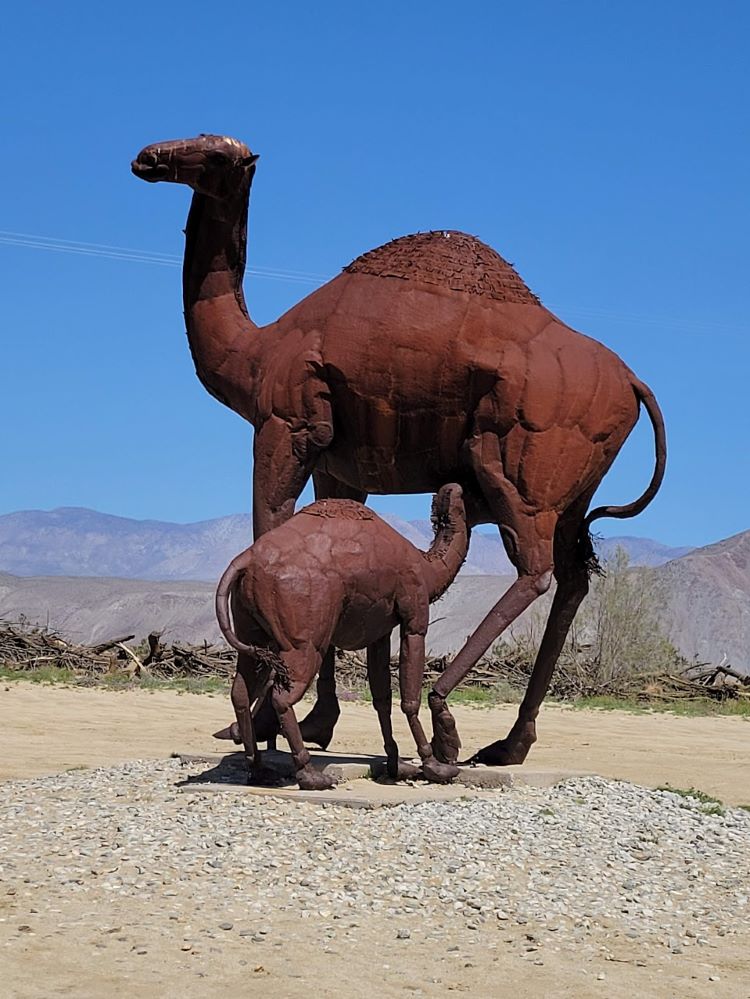 Conclusion to visiting
Anza Borrego State Park
In conclusion, a visit to Anza Borrego State Park promises an unforgettable experience in the heart of Southern California's desert landscape. From stunning wildflower blooms to towering palm canyons and hidden slot canyons, this hidden gem offers a plethora of natural wonders to explore.
By planning ahead, respecting the desert environment, and taking advantage of insider tips, you can make the most of your visit. Whether you're hiking, camping, stargazing, or immersing yourself in the park's rich biodiversity, Anza Borrego State Park will captivate you with its rugged beauty and abundant outdoor adventures. So pack your bags, embrace the desert's allure, and embark on an incredible journey through Anza Borrego's remarkable landscapes.
Thanks for checking out this post on Anza Borrego State Park, it really should be on your list of worthwhile places to around the state and adventure filled with inspiring places to tour.
Hope that this post has been helpful to planning your visit to the city and if so, please do share it with any of the social media channels and buttons located below.
Disclosure – some of the links above are to affiliate sites that are either reviews or recommendations if you book helps to keep our site running at no additional cost to you. We appreciate your supporting Visit California and Beyond.