Explore the Majestic Indian Canyons at Palm Springs: An Oasis of Natural Splendor
Indian Canyons at Palm Springs awaits to be explored, nestled in the heart of Palm Springs. With towering palm trees, clear streams, and striking rock formations, it is a haven for hikers, nature enthusiasts, and those seeking a respite from urban life. Whether you want a serene desert walk or an adventure to a scenic waterfall, Indian Canyon offers it all.
Visiting Indian Canyons in my experience was a fantastic look at this historic site to learn a little of the history and culture while admiring some of the breathtaking views and oasis like nature of this amazing area.
Why visit Indian Canyons at Palm Springs?
Visiting Indian Canyons in Palm Springs offers a unique blend of natural beauty, cultural significance, and recreational opportunities. The canyons boast breathtaking landscapes, from lush palm oases to rugged desert terrain, providing a striking contrast to the urban surroundings of Palm Springs. Whether you're an avid hiker, history buff, or nature enthusiast, there are compelling reasons to explore this area.
One highlight is the diverse hiking trails catering to different skill levels. These trails allow you to immerse yourself in the desert ecosystem, encounter indigenous flora and fauna, and relish scenic vistas. Additionally, Indian Canyons holds deep cultural and historical value as the ancestral land of the Agua Caliente Band of Cahuilla Indians. Exploring ancient petroglyphs, bedrock mortars, and other artifacts offers insights into the region's Native American heritage.
The palm oases within Indian Canyons are not only visually captivating but also serve as refreshing oases in the desert, providing shade and a habitat for wildlife. Beyond its natural beauty and cultural significance, Indian Canyons is a great place for photography, relaxation, and contributing to conservation efforts. So whether you seek a peaceful retreat, educational experience, or an escape from the desert heat, Indian Canyons has something to offer every visitor.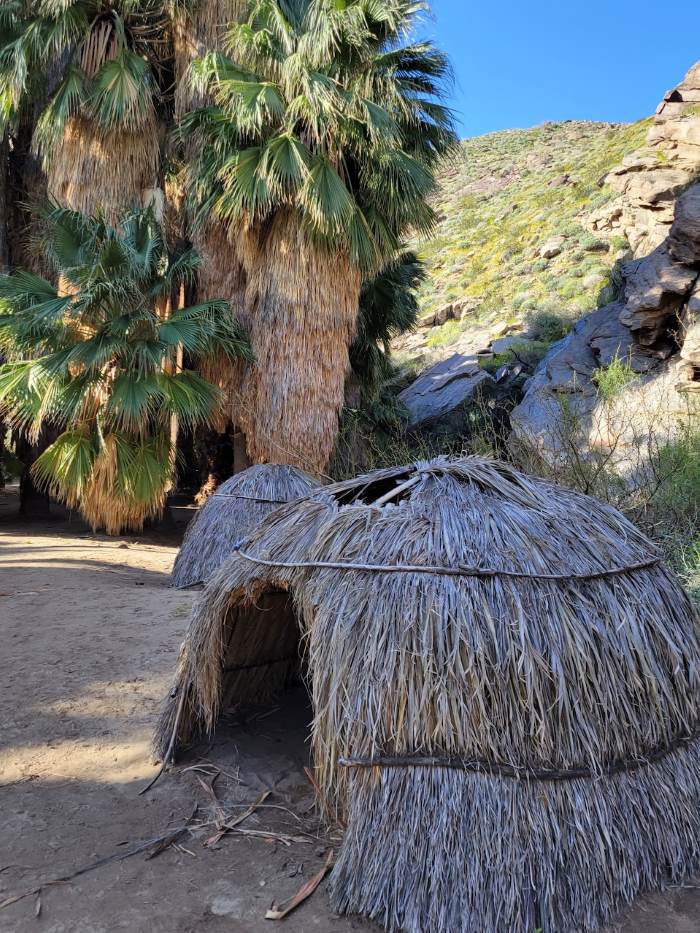 A little background and history to Indian Canyons
For thousands of years, Indian Canyons has been a significant site for the Agua Caliente Band of Cahuilla Indians, who hold a deep spiritual connection to the land. The canyon was once a crucial source of food, water, and shelter for the tribe.
In the early 1900s, the Agua Caliente Band of Cahuilla Indians began to develop Indian Canyons as a tourist destination, constructing hiking trails, picnic areas, and other facilities for visitors to enjoy. Today, Indian Canyon remains a culturally significant site for the Cahuilla people, and it continues to attract tourists who wish to explore the stunning natural beauty of Palm Springs.
Talk to the rangers at the Visitor's Center
When you visit, go to the visitor's center and talk with some of the rangers who are very knowledgeable about the rich history and culture of the native people here along with some popular trails and vista points to explore.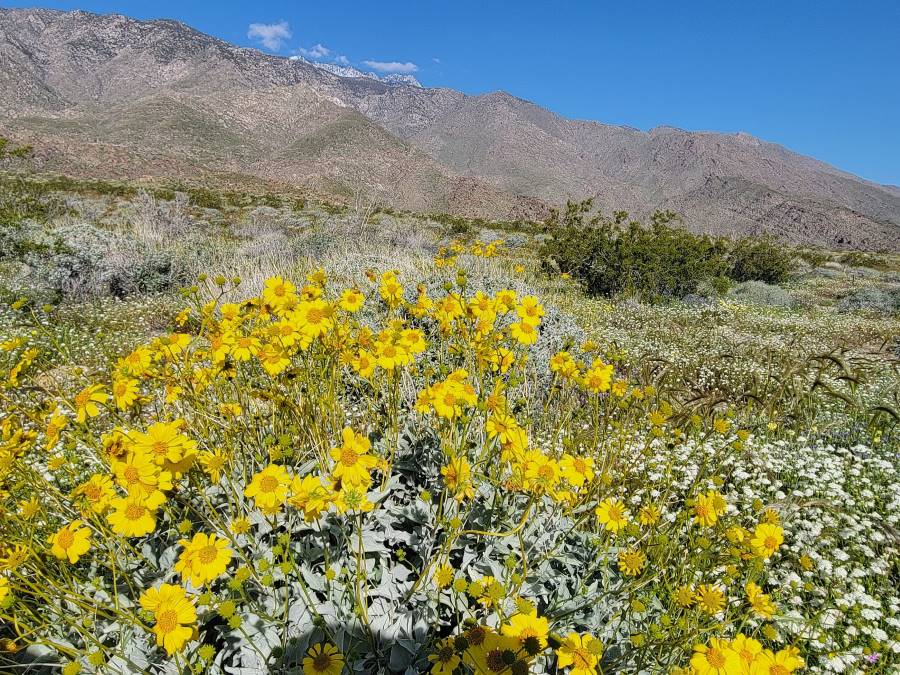 How to get to Indian Canyons
Situated in Palm Springs, California, USA, Indian Canyons is easily accessible by car from downtown. To get there, head east on Tahquitz Canyon Way, turn left onto South Palm Canyon Drive, and drive straight for approximately 5 miles until you see the entrance to Indian Canyon on your right. Once you arrive, simply follow the signs to the parking area and embark on your exciting adventure in this awe-inspiring natural wonder.
The best time to visit Indian Canyons
For optimal hiking conditions, it's recommended to visit Indian Canyons during the fall, winter, or early spring when the weather is mild and comfortable. The busiest time to go is between October and April, while the scorching summer months can make it difficult to hike and explore, with temperatures often exceeding 100°F (38°C).
However, if you plan to visit during the summer, aim for early morning or late afternoon when the heat is less intense. Not only will you avoid the intense heat but the crowds lining up at the entrance will be faster if you make this your first visit in the morning timeframe.
No matter the season, remember to bring sunscreen, plenty of water, and suitable attire for the weather.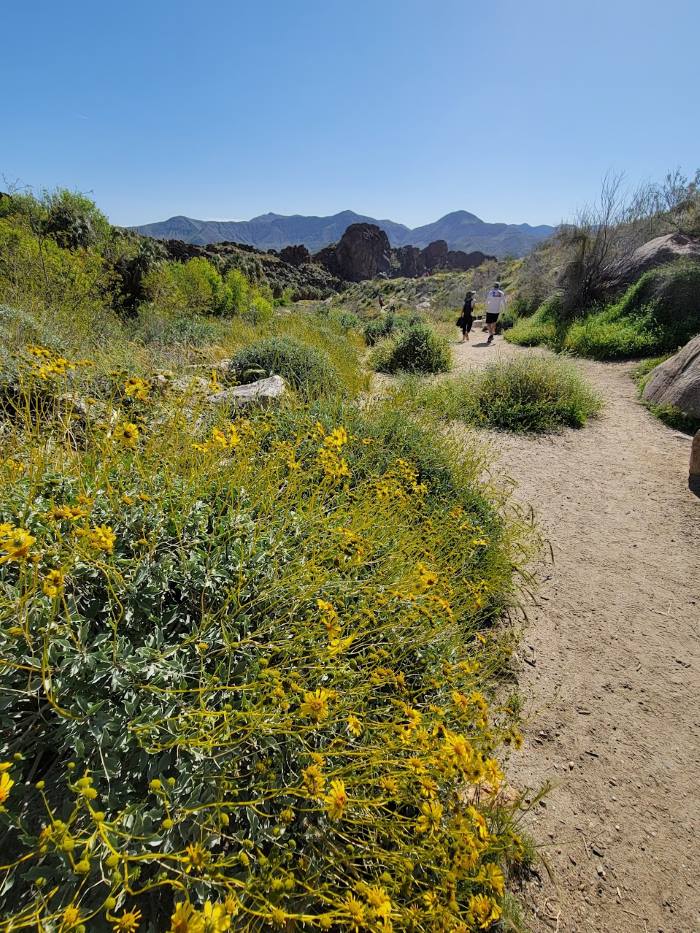 Wildflower season at Indian Canyons
Indian Canyon is home to a variety of wildflowers that bloom throughout the year, but the peak season for wildflowers is typically from February to April. During this time, visitors can see a colorful display of wildflowers throughout the canyon, including desert marigold, chuparosa, and sand verbena, among others. The exact timing and intensity of the wildflower season can vary from year to year depending on factors such as rainfall and temperature, so it's always a good idea to check the current conditions before planning a visit. Many visitors to Indian Canyon come specifically to see the wildflowers and enjoy the stunning natural beauty of the area during this special season.
Wildflower season is gorgeous at Indian Canyons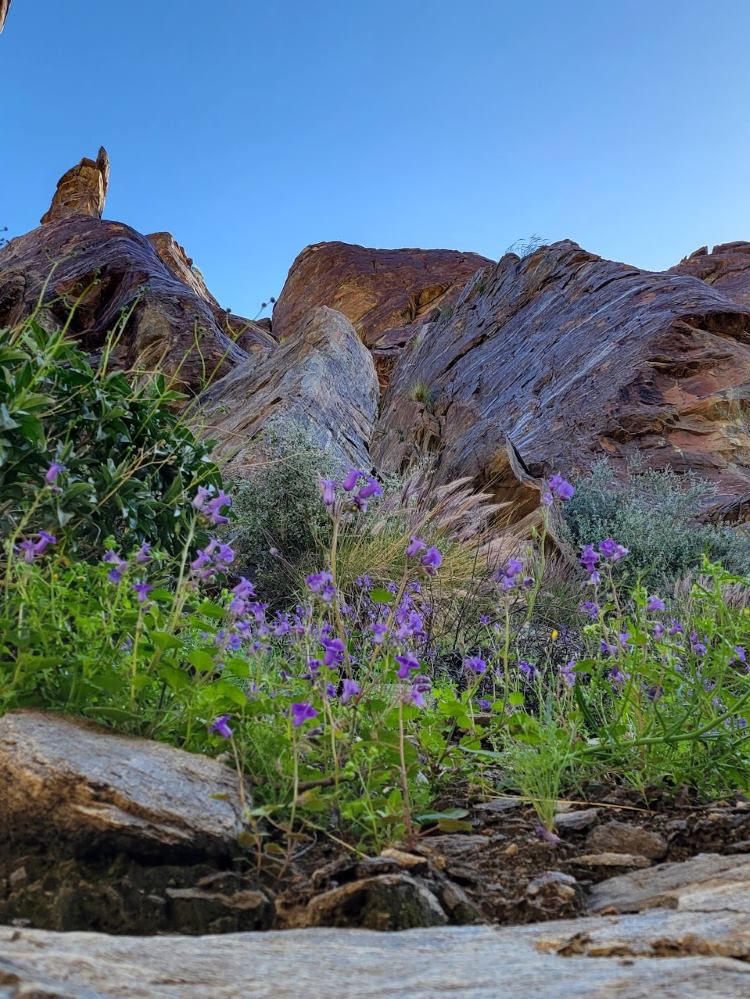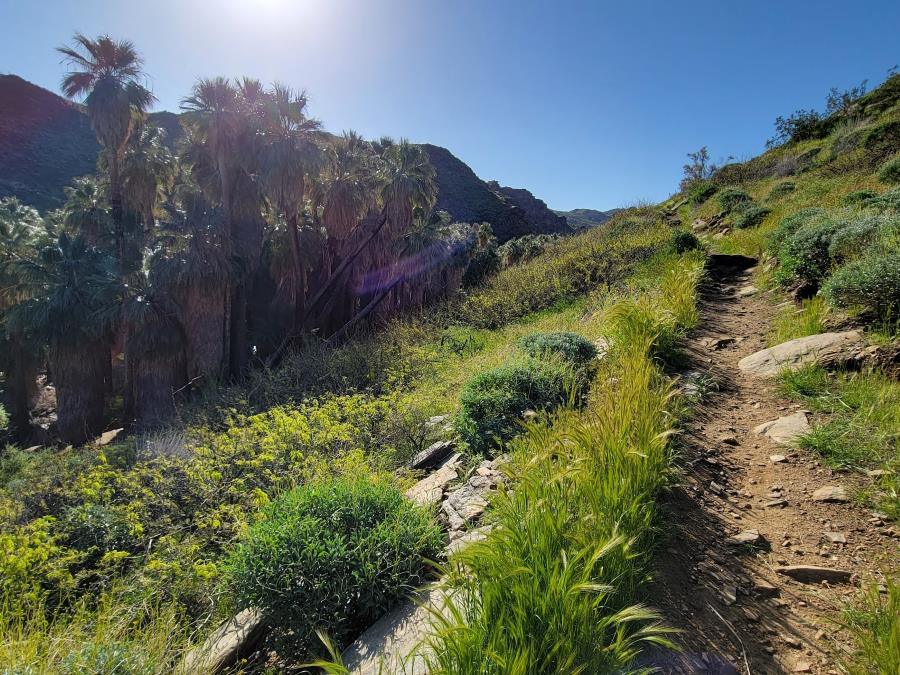 Best Palm Springs hikes at Indian Canyons
Indian Canyons has a variety of hiking options for all levels of experience and fitness. Below are some of the top trails to explore:
Andreas Canyon Trail: This trail is moderately easy and showcases beautiful views of palm trees and rocky formations.
Palm Canyon Trail: A more challenging trail that leads to a mesmerizing waterfall and provides stunning views of the canyon.
Murray Canyon Trail: A demanding hike that rewards hikers with breathtaking views of the San Jacinto Mountains and the canyon's natural beauty.
Victor Trail: This is a relatively easy hike that offers spectacular views of the valley floor and surrounding mountains.
Crossing some water features while hiking Indian Canyons trails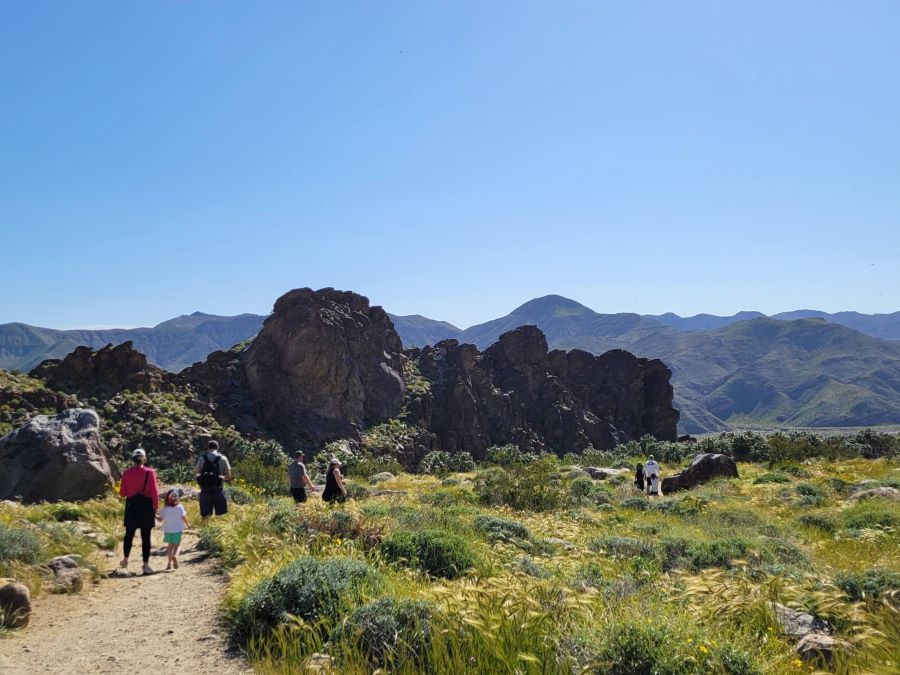 Some tips before you visit Indian Canyons
Here are some tips to help you make the most of your visit to Indian Canyon:
Plan ahead: Check the weather forecast and pick the best time to visit. Bring enough water, sunscreen, and clothing suitable for the season.
Buy tickets in advance: Purchase your tickets online to avoid waiting in long lines at the entrance.
Respect the environment: Stay on designated trails, do not disturb plants or wildlife, and carry out all trash.
Follow safety guidelines: Be aware of your surroundings, watch your step on rocky terrain, and keep a safe distance from wildlife.
Learn about the history and culture: Take time to explore the cultural exhibits and learn about the Cahuilla people's history and connection to the land.
Be prepared for hiking: Choose a trail that matches your fitness level and bring comfortable shoes, a hat, and a backpack with snacks and other essentials.
Get there early: long checkin times create delays to visiting so get there early before the gate opens and you will be ahead of all the crowds visiting.
Remember to bring enough water, sunscreen, and suitable clothing for the weather, no matter which trail you choose to explore.
By following these tips, you can have a safe and enjoyable visit to Indian Canyon while respecting the environment and the culture of the Cahuilla people.
Other parks and recreational areas to visit close by include:
There are several other parks and recreational areas close to Indian Canyons in Palm Springs that you may want to consider visiting:
Joshua Tree National Park: Located about an hour's drive from Palm Springs, Joshua Tree National Park is famous for its unique desert landscapes, rock formations, and, of course, its namesake Joshua Trees. It offers excellent hiking, rock climbing, stargazing, and photography opportunities.
Tahquitz Canyon: This nearby canyon features a beautiful waterfall and a hiking trail that leads to it. It's a relatively short but rewarding hike, and you can learn about the cultural significance of the area to the Agua Caliente Band of Cahuilla Indians.
San Jacinto State Park: Take the Palm Springs Aerial Tramway to reach the top of Mount San Jacinto, where you'll find cooler temperatures and a variety of hiking trails. The panoramic views from the summit are stunning.
Coachella Valley Preserve: This preserve is known for its unique Thousand Palms Oasis Preserve, offering serene palm-lined trails and opportunities for birdwatching and wildlife viewing.
Indian Wells Canyon: Located to the southeast of Palm Springs, this canyon offers more hiking options in a beautiful desert setting, with the chance to explore diverse plant life and geology.
Check out these other posts visiting Palm Springs
If you are visiting the Palm Springs area, check out these other fun attractions and places to visit in the area.
Cabot Museum at Desert Hot Springs
Explore these top attractions in Palm Springs
Palm Springs References
If you are planning on visiting Palm Springs area and this museum check out their websites
Final thoughts
You'll love visiting Indian Canyon and learning more about the indigenous people that lived in this amazing environment. Try to get to the park early so you avoid the long wait times checking in and getting ahead of the crowds at all the spectacular vista points and attractions around the park. Give yourself plenty of time to enjoy the outdoors and nature here – it is worth spending a lot of time here before it gets to hot outside.
Conclusion to Visiting Indian Canyons at Palm Springs
In conclusion, a visit to Indian Canyons is an opportunity to experience the natural beauty and rich cultural heritage of Palm Springs. With its diverse range of hiking trails, stunning rock formations, and towering palm trees, Indian Canyon has something for everyone. So why not pack your bags and immerse yourself in this breathtaking oasis? By following the tips and recommendations we've provided, you'll have an unforgettable adventure and gain a deeper appreciation for the history and culture of the Cahuilla people. Start planning your trip today and get ready to explore the wonders of Indian Canyon!