Visit California's national and state parks and other historical monuments and treasures
With so much amazing landscape, historic monuments and places to visit around California, there's so much inspiration places to see and experience around the state. I've asked these travel bloggers and writers to share their favorite national parks and monuments, state parks and other historic places to visit around the state for your inspiration. Hopefully this will inspire you to visit some of California's stunning landscapes and historic monuments soon!
National Parks and Monuments in California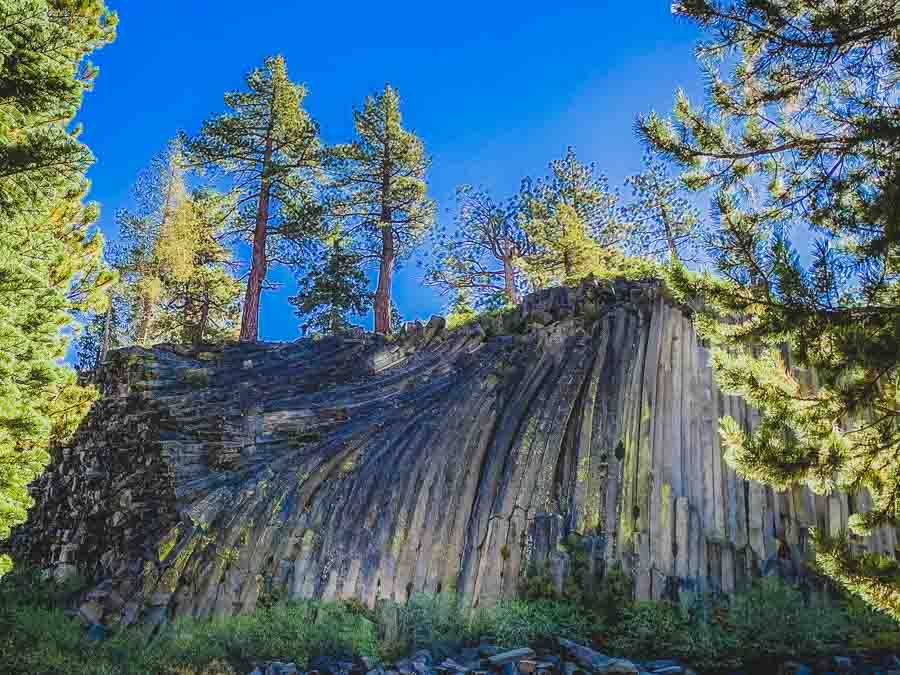 A visit to Devils Postpile in the Eastern Sierras
Devils Postpile is an amazing geological formation of basalt columns that reach more than 60 feet into the sky. A rare geologic sight, Devils Postpile is remarkable for its symmetry and gentle curves. And it's set against the breathtaking mountain scenery of the Mammoth area in California.
To reach Devils Postpile, drive or ride the shuttle about a half hour from Mammoth Mountain Village. The National Park Service runs this monument and provides a parking lot and information building. It's an easy hike of just less than a mile to the monument.
After standing at the bottom of the columns, take the short path that winds up above them. Walk on the flat tops of the columns and take in the view of the surrounding pine-covered hills.
Be sure to check the National Park website before you go, as the monument sometimes closes for fire danger.
After you have marveled at the postpile, you can continue to explore more than eight miles of trails near the monument. The most popular is the hike to Rainbow Falls, which is five miles out and back. The hike to Minaret Falls is another option, covering about a half mile and crossing a creek to a small waterfall.
One more way to enjoy your time at Devils Postpile is to hike the Agnew Wildflower Loop. This meadow trail takes you through fields of wildflowers. And you can enjoy a picnic at the tables placed at the edge of the meadow.
Plan for a morning or go for an entire day if you want to hike. A visit to Devils Postpile will certainly be memorable!
Sharon Odegaard with Exploring Our World
Check out where to stay here around Devil's Postpile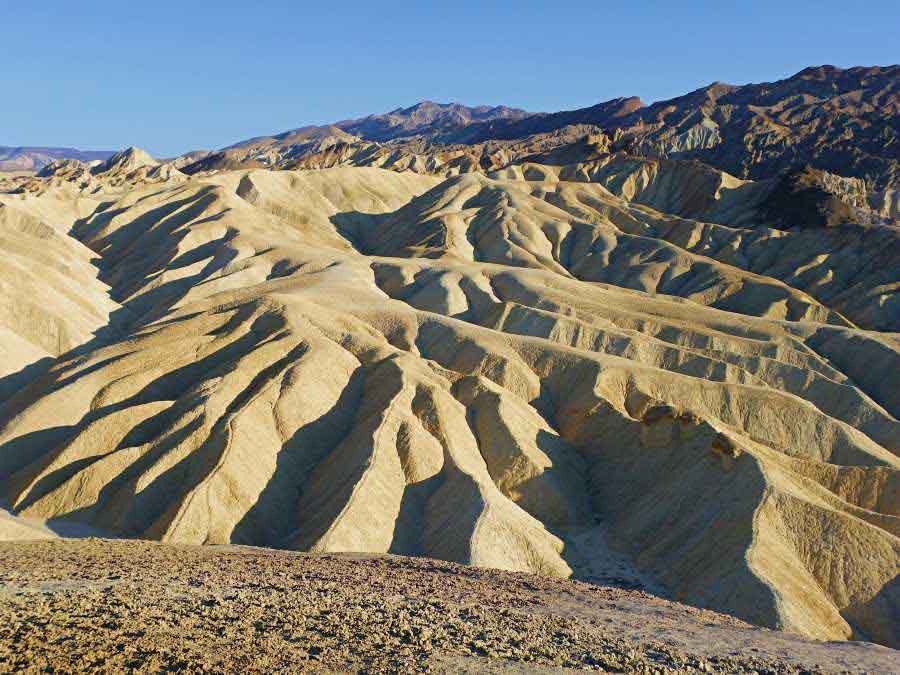 Death Valley National Park
Death Valley sounds ominous but is actually one of the most fascinating national parks in the state – and country. It is a land of superlatives. It is the hottest place on the planet, the lowest point in North America and also the driest place in the United States.
However, if you visit in winter, temperatures are actually very pleasant, and the park has several beautiful desert micro-environments to explore. One of the highlights of the park are the large sand dunes at Mesquite Flats. The best time to visit is first thing in the morning, when the light is perfect for photos. There is no set trail – you can just start walking until you are surrounded by dunes.
If you want to stand at the lowest place in North America, head to Bad Water Basin. There are enormous salt flats that you can also head out into, though you should take lots of water if you do.
One of the most popular places to visit is Zabriskie Point, a beautiful area of golden-colored badlands that is easily accessible from a roadside parking lot. You can also head down into the badlands and hike to Golden Canyon. There are several other canyons to explore, including the beautiful Mosaic Canyon and Marble Canyon, both of which are named after the unusual stone formations there.
The main place to stay in the national park is Furnace Creek. There you will find a luxury hotel, a family-style inn, and campgrounds, along with restaurants and a small store.
James Ian from Parks Collecting
Check out where to stay here around Death Valley National Park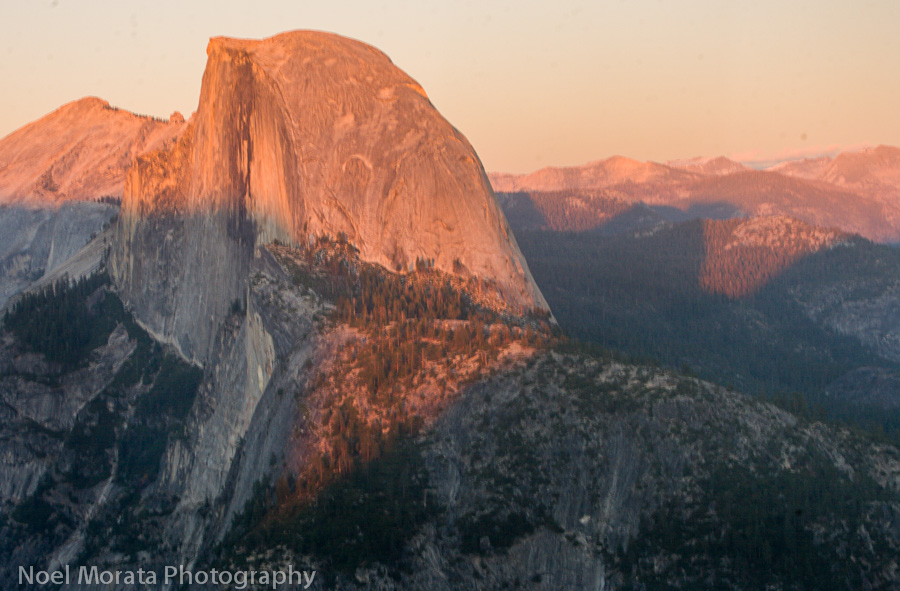 Visit to Yosemite National Park
If you are considering planning a trip to Yosemite, then you might be wondering what you could do there. Yosemite is over 3,072 square miles it is not surprising that many visitors feel overwhelmed. One of the great things about Yosemite is that many of the main attractions are in and around the Valley.
El Capitan, Yosemite Falls, Tunnel View and Half Dome are just some of the places you should stop to take in the view as well as a photo opportunity. If you don't have long, then you could drive to most of them and fit them into a one or two-day itinerary.
Even the trail to Lower Yosemite Falls only takes thirty minutes and it is an easy hike. Just remember that Yosemite Falls is due to the melted snow so if you want to see it in all its glory you need to visit around the end of April until June. After then the water starts to dry up.
If you want to experience more of the park and have a couple of hours to spare, consider taking a hike around Mariposa Grove. The giant trees are hundreds of years old and are a spectacular sight.
After you have explored the park, head to Curry Village for a quick bite or Ahwahnee Hotel for a more formal meal. This formal restaurant also requires you to wear formal clothes. The restaurant has large windows so you have beautiful views while you sit and relax after a day of adventure in Yosemite.
Diana with Travel Mad Mum.com
Check out where to stay here around Yosemite National Park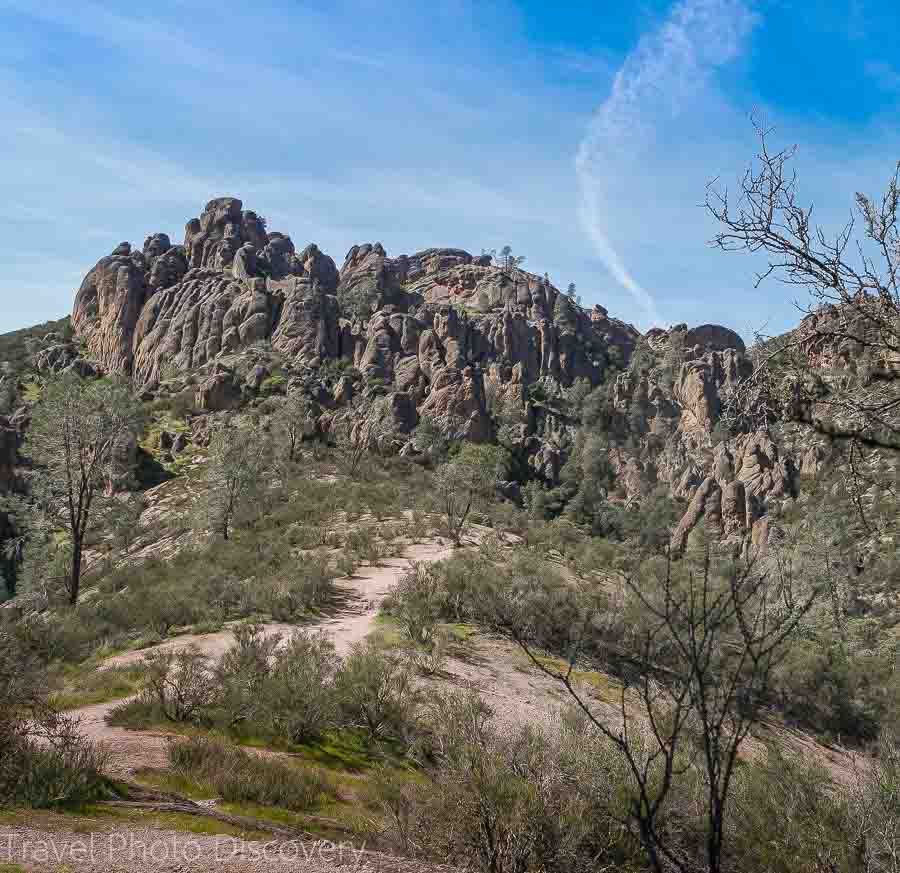 Pinnacles National Park
Located in Central California the topography of Pinnacles National Park is very strange and unusual from the mostly agricultural areas and rolling hills in the area. But the historic site was formed with major earthquakes that shifted and created massive uplifting and unusual formations from this ancient site that now is a haven for outdoor enthusiasts to hike and explore the gorgeous rock formations, hidden caves and majestic peaks of the park.
First stop is the visitors center to grab a map, talk to the rangers about what's open and fitting your time frame and endurance along with seeing some of the artifacts and collections in the museum area. You can see that Pinnacles is definitely outdoors and hiking oriented with many trails that start from the bottom and wind through all the scenic areas and gorgeous landscape in the area with beautiful views around the park. Check out this post on visiting Pinnacles and the main hiking trails to consider for your inspiration to visiting this wonderful park area.
Noel with Visit California and Beyond
Check out where to stay here around Pinnacles National Park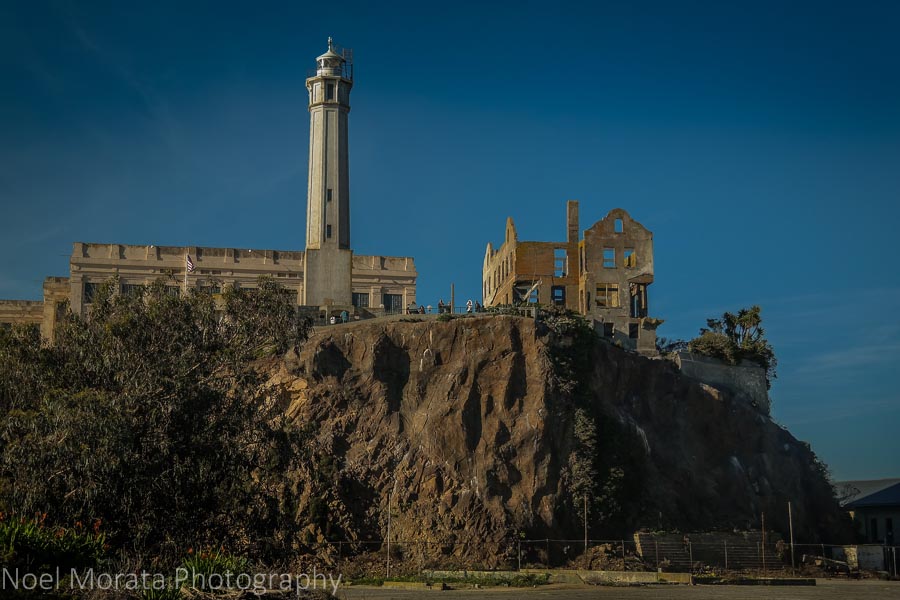 Alcatraz National Historic Landmark in San Francisco
Alcatraz is a historic site in San Francisco, California that was once home to some of the most notorious prisoners in history. The history behind Alcatraz and what it has become today make this destination a must-see for any traveler.
Alcatraz was originally designed in 1850 to be a military fortress with the purpose of protecting San Francisco Bay. Because of its secluded location, Alcatraz was first used as a military prison to hold prisoners of war. In 1933, the US Department of Justice acquired Alcatraz and turned it into a federal prison.
Alcatraz ended up holding some of the most notorious prisoners in US history, including Al Capone, George "Machine Gun" Kelly, and Mickey Cohen. The prison claims that no prisoners successfully escaped during the prison's operating years, though there were a few attempts, including five prisoners who are presumed to have drowned.
Today, Alcatraz is one of the most popular attractions in San Francisco. If you're planning on a weekend getaway to the city, you'll want to make sure to add Alcatraz to your itinerary. During your visit, you can learn more about the history of the famed prison as well as about life for the inmates and guards who resided on "The Rock."
It's recommended that you purchase your tickets in advance of your visit – same-day tickets may not be unavailable. You can purchase your tickets through Alcatraz City Cruises, the only company contracted by the US National Park Service to sell Alcatraz tickets.
Sydney with A World in Reach
Check out where to stay here around San Francisco City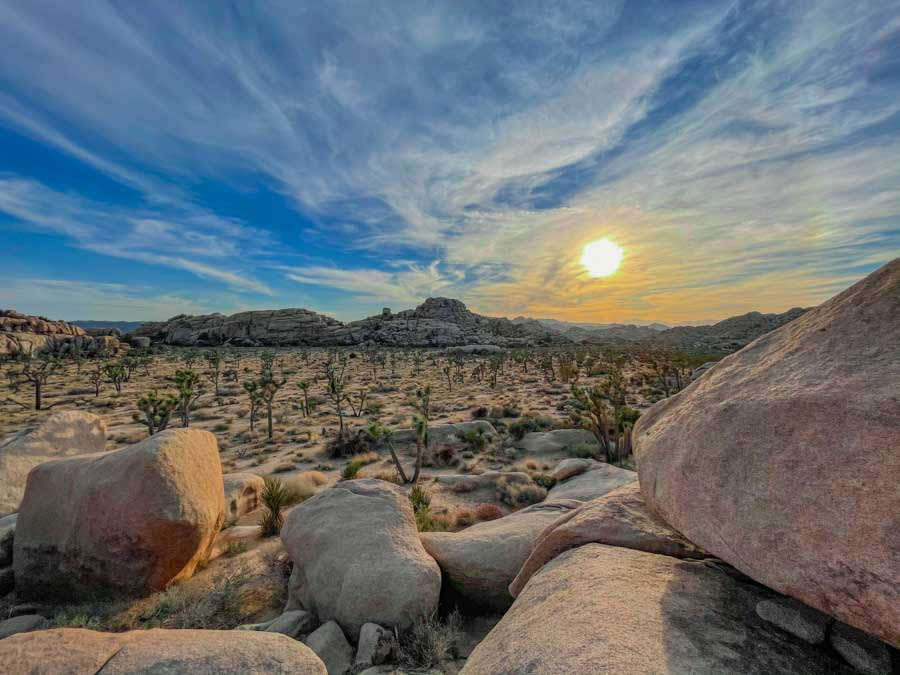 Joshua Tree National Park
Joshua Tree National Park is a vast protected area in southern California. It's characterized by rugged rock formations and stark desert landscapes. Named for the region's twisted, bristled Joshua trees (which actually aren't trees at all), the park straddles the cactus-dotted Colorado Desert and the Mojave Desert. It's a great stop for outdoor adventurers, nature lovers, and anyone looking for unique experiences. The Park has over 800 species of plants- which are largely endemic to the Mojave Desert. There are plenty of opportunities for hiking, mountain biking, rock climbing, and camping. If it's luxury you are after, the surrounding town of Joshua Tree and nearby Palm Springs, offer countless luxury resorts and exquisite desert oases perfect for those looking to get away from it all.
Start a visit to Joshua Tree National Park through Cottonwood Springs Road, and head to the Cholla Cactus Garden for a spectacular sunrise. Next, get some hiking in before it gets too hot and crowded. Arch Rock Nature Trail is one of the best scenic hiking routes in the park. Make sure to find Heart Rock and Arch Rock while enjoying the massive boulders along the trail. Other great hiking areas include Jumbo Rocks (Skull Rock) and the Hall of Horrors. Finally, make sure to stop by Keys View for an impressive panoramic view of the Coachella Valley. You can see Mount San Jacinto and Palm Springs on a clear day.
There is nowhere to buy food inside the park, but the nearby town of Joshua Tree has many restaurants and a few breweries perfect for escaping the crowds and cooling off. Head out of the park through the Joshua Tree exit/entrance but make sure to stop along Park Blvd. to pose with the best-looking Joshua Trees the park has to offer.
The town of Joshua Tree has many museums and art displays that are certainly worth a visit. The World-Famous Crochet House, Noah Purifoy Outdoor Desert Art Museum, and The Joshua Tree Art Gallery, to name a few. In addition, there are dinosaur sculptures right off of Highway 62 and Pioneertown; a wild west movie set, is 25 mins away. Although the experience was underwhelming for me, many tourists love the old west vibes.
Head back into the park in the late afternoon through the Twentynine Palms entrance (the Joshua Tree entrance is always packed) and stay for a sunset overlooking thousands of Joshua Trees at Barker Dam trail or, if you can find parking, watch the sun go down at Keys View overlook. Stay longer if you love stargazing or night photography. Joshua Tree National Park has some of the darkest skies in the US. The east side of the park, with less light pollution, is particularly spectacular for enjoying the night sky and capturing the Milky Way during certain times of the year.
Dedicate at least a full day exploring this natural beauty and make sure to start early to avoid the crowds and the intense desert heat. With everything, Joshua Tree has to offer, this park makes a great day trip or pit stop on any southern California road trip.
Samantha with Seeing Sam.com
Check out where to stay here around Joshua Tree National Park
California's Historic sites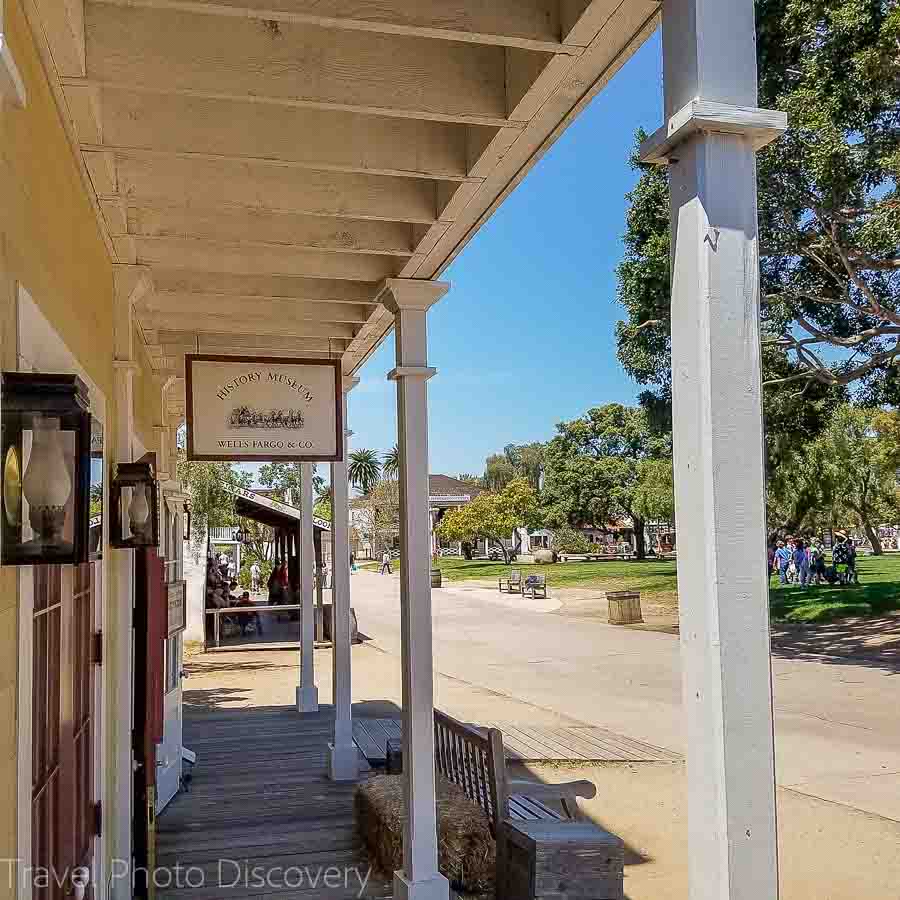 Old Town San Diego
Old Town San Diego is a historic site located in San Diego. This tourist attraction is a great place to spend a few hours or even an entire day!
There are so many things to do in Old Town San Diego. At the historic site there are over ten museums. Each of these museums focus on the early settlement of San Diego. Some of them are as simple as a quick walk-through others take a little more time to explore. The Mormon Battalion Museum is a favorite!
One of the best things to do at Old Town San Diego is eat. Old Town has some of the best Mexican food in California. There are many choices. Many restaurants offer homemade tortillas to go as well. You might be surprised, but Old Town also offers the best sushi in San Diego. There are some top-rated restaurants in Old Town.
There are also a lot of fun shopping options and live entertainment in Old Town. Authentic jewelry and Mexican attire are some of the best things to check out. The best time to visit is during special events such as Cinco de Mayo and the Day of the Dead.
Old Town is a cultural experience you do not want to miss!
Lisa with Planningaway.com
Check out where to stay here around Old Town San Diego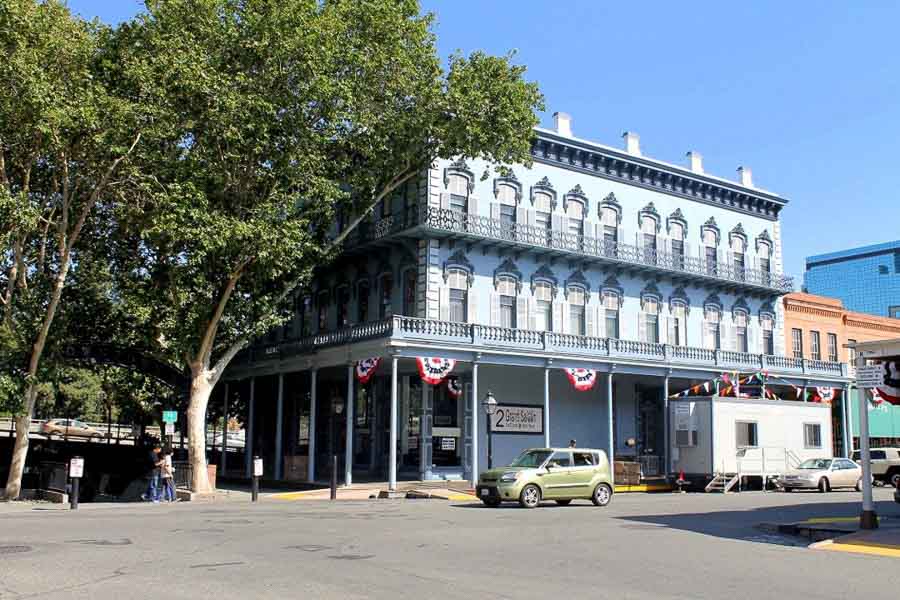 Old Sacramento State Historic Park
Old Sacramento facing the Sacramento River both a historic state park and a national historic landmark that was restored in the 1960s and developed into a tourist attraction. Situated next to the Sacramento River, Old Town was established with a way for transport from the Sacramento area to the coastal areas. With constant flooding in the area, most of the town was built up on boardwalks and post and pier and the streets were elevated and raised a level above the river area. All the buildings date back from the early 19th century and have gone through several phases of reconstruction and development to turn this into a popular tourist destination that draws over 5 million visitors annually.
Popular annual events like the Gold Rush Days, Sacramento Music Festival, the Music and Dance Festival and St. Patrick's Day Parade draw in more visitors to the area to explore the Old Town district along the visiting the Sacramento river and old Depot and Railroad Museum which is all part of the Historic park district.
Noel with Travel Photo Discovery
Check out where to stay here around Old Town Sacramento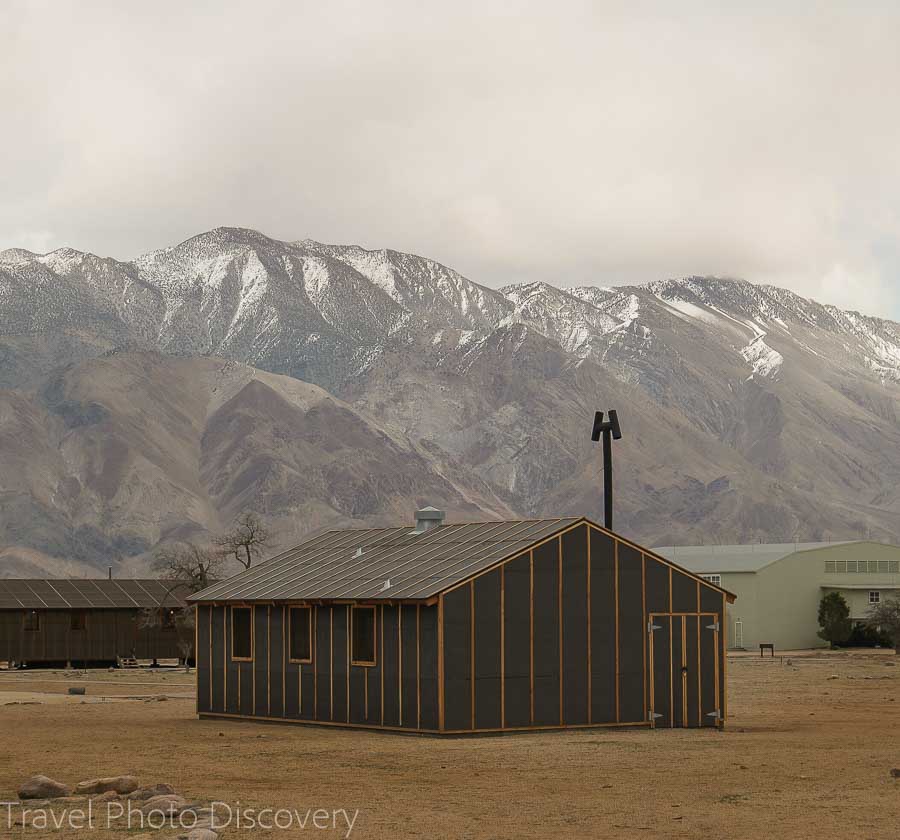 Manzanar National Historic Monument
Located in a desolate area on the eastern slopes of the Sierras, the Manzanar National HIstoric Monument details the internment for Japanese Americans during World War 2. A museum, housing barracks, gardens and monuments details the daily life and how these Japanese Americans were held at these internment camps with photographs, collections and dioramas of how difficult life was like during this timeframe. The Camp called Tar Paper City was basically that as the outer skin of the poorly made barracks for families to live in extreme hot and cold conditions in this solitary environment. It really is a true testiment to how Americans were treated during time of war even though their skin and heritage were of a different color and nationality.
Noel with Travel Photo Discovery
Check out where to stay here around Manzanar and Lone Pine area
California State Parks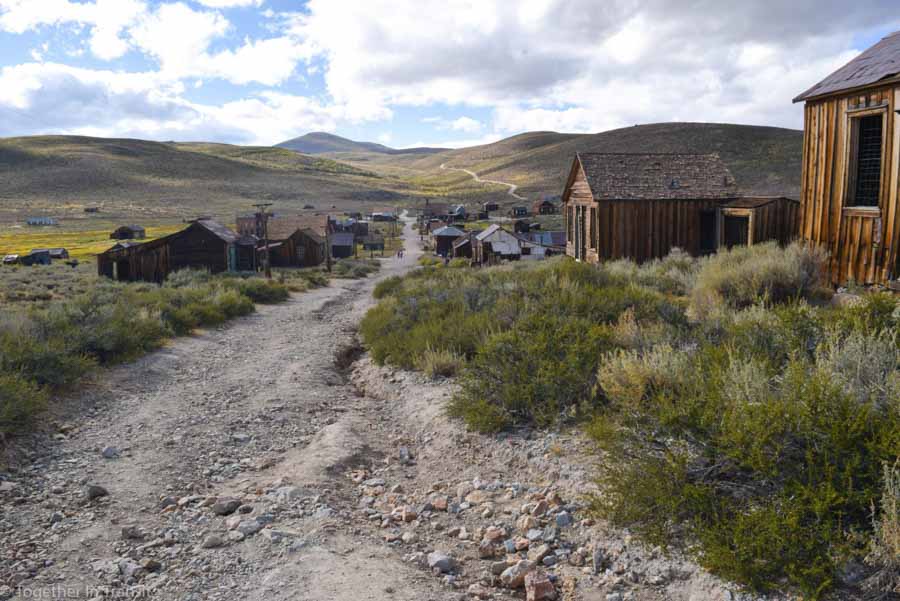 Visit to Bodie State Park
If you are looking for a state park to visit in California, Bodie State Park is an interesting place for your time. Located 4 hours North from Death Valley National Park and 5 hours from San Francisco, it's nice to stop at on a road trip around California. Check the main site for opening times, as Bodie state park is fully open all year round but has different times for summer and winter.
This historical mining town is a unique place to visit for many reasons, as it's like going back in time that to a ghostly location. Start at the main street where there is the old church, local abandoned shops and a museum. Here you can buy a map to fully explore on your own the whole state park. It's worth spending at least 3 hours here to truly take it all in.
I personally visited Bodie State Park in late September, and found it very fascinating. At the high elevation it's good to be aware that it can get rather cold with low temperatures. If you visit around the same season, make sure to dress prepared for exploring. It's mostly suitable for those to explore by foot too, as this old mining town was not historically built for those with a wheelchair. So, keep in mind most pathways are on dirt tracks with stones.
Written by Zoe from Together in Transit
Check out where to stay here around Bodie State Park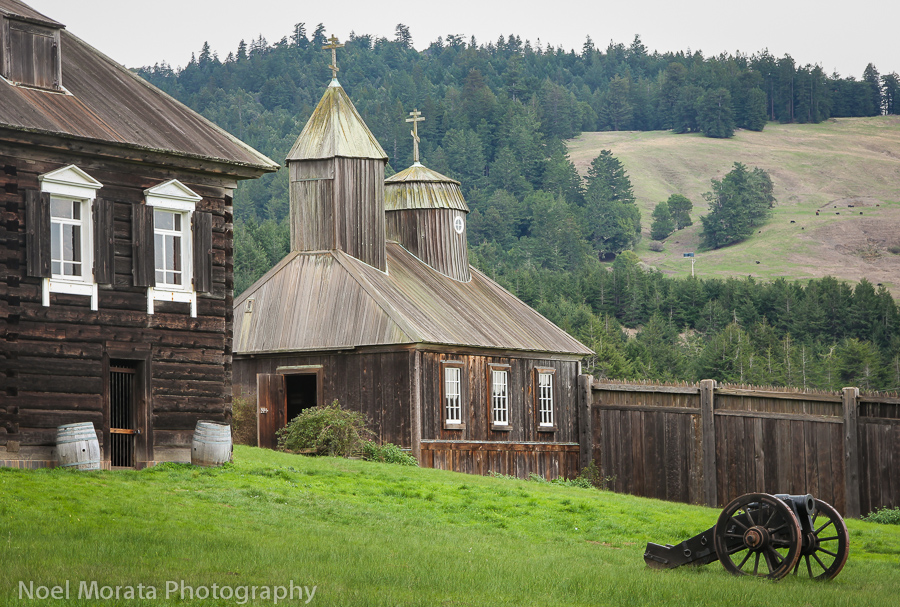 Fort Ross State Historic Park
Located on the beautiful and rugged Sonoma coastline, the Fort Ross State HIstoric Park is a fascinating place to discover this Russian fort and trading center that commanded the California Coastline. Established as a trading settlement, fort and place to get provisions for Russian forays into the pelt and fur trade all the way up to Alaska, Fort Ross was one of the most active places to supply all the fur activity and shipments back to Russia along with establishing a presence in Northern California that they had control over.
Fort Ross was significant and solidly protected with a strong presence and all the basic structure and landing access from the coastline with various ships that sailed through the area and stopping for provisions or trade with local growers, trappers and other essential needs. It's a fascinating look at how the fort operated and traded with Indian nations other countries and individuals during this early time frame of California's early history,.
Noel with Travel Photo Discovery
Check out where to stay here around Fort Ross area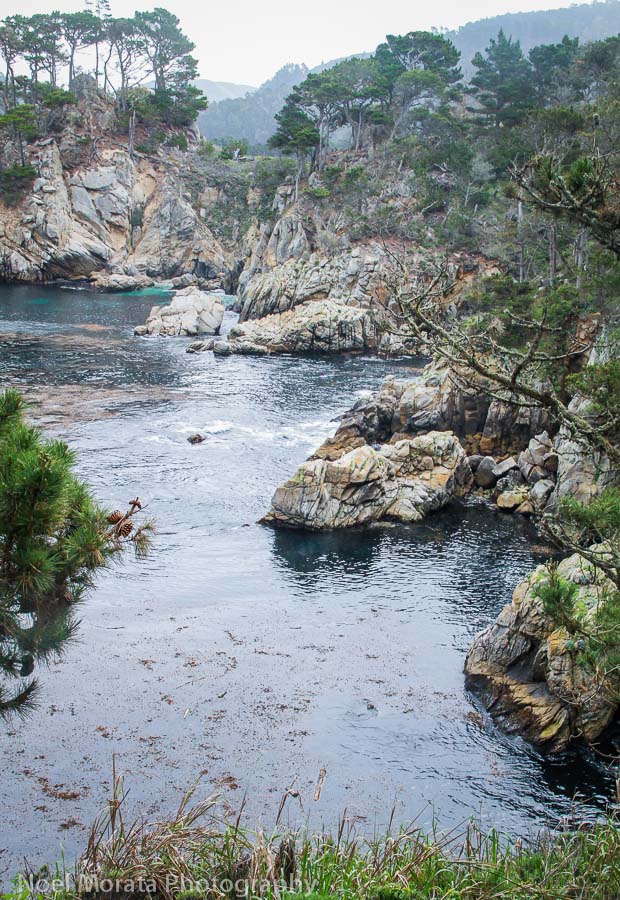 Point Lobos State Natural Reserve
A short drive from Carmel along Highway one the Point Lobos State Natural Reserve is a beautiful coastal park with rugged terrain and jagged rocks and outcrops that make this a visually stunning area to explore. The hiking trails throughout the coastline highlight the stunning scenery with hidden coves and beaches. dramatic cliffs and rocky landscapes, wildflower meadows and dense forested areas that really inspire you to check out all the wonderful scenery here.
Point Lobos is worth a visit or longer exploration into the magnificent landscapes, beautiful trails and viewing the marine life and wildlife in the park system. If your bold enough to get into the cold waters, there's fantastic beaches to hang out, snorkel or do easy watersports like kayaking or SUP when the tides and ocean waters are quiet along the shoreline. An easy day trip from Carmel or Monterey, Point Lobos is also an easy stop along the way on a road trip to Big Sur area.
Noel With Visit California and Beyond.
Check out where to stay here around Point Lobos area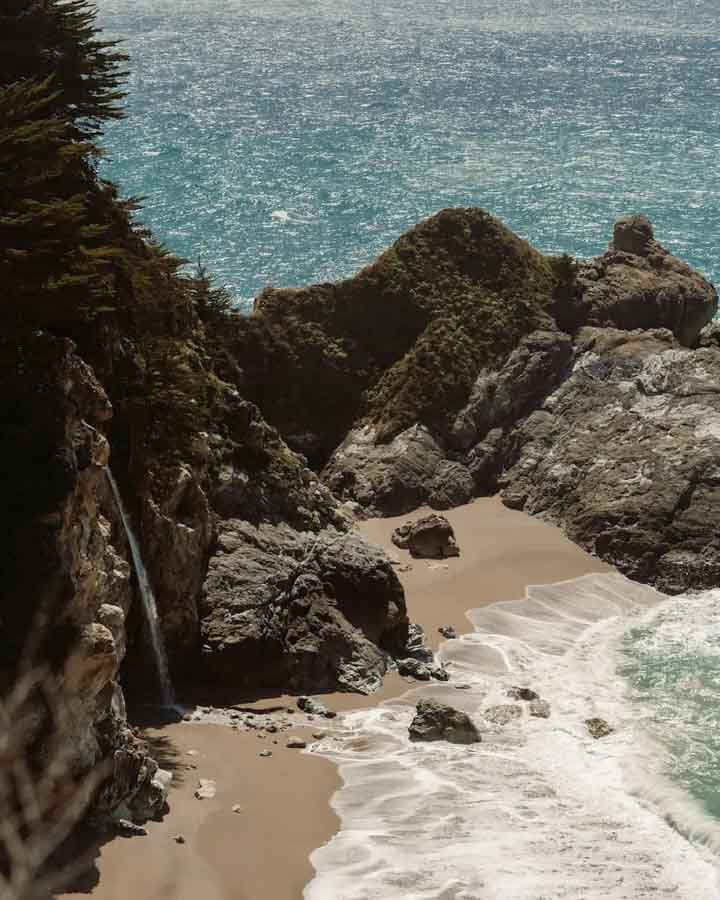 McWay Falls at the Julia Pfeiffer Burns State Park

No road trip through California's stunning Big Sur is complete without a stop at McWay Falls, an 80-foot waterfall that plunges into the ocean and is a jewel in the Pfeiffer Burns State Park in Big Sur. McWay Falls is easily one of the most photographed in the state, and for good reason. The waterfall empties straight into a pristine cove brushed by the Pacific Ocean's turquoise waters.
While you can't hike down to the falls for safety reasons, the view from the top is worth the stop alone. You can park your car nearby, and the trail to the overlook is quick and easy. Keep in mind that the viewing platform is kind of a tight space, so you may have to wait around to get the perfect shot of the falls.
After seeing the falls, you should continue exploring Julia Pfeiffer Burns State Park, where you can take another trail to the smaller Canyon Falls. Don't forget to check out Big Sur's other notable attractions, such as the picture-worthy Bixby Bridge and the purple-sanded Pfeiffer Beach. Driving along Big Sur is an adventure in and of itself. Every twist and turn boasts scenic views.

Carmel is a great base for your Big Sur adventure. The charming town has plenty of hotels and inns to choose from, as well as wine bars, restaurants and shops.
Check out where to stay here around Big Sur area
Conclusion on Visiting California's National & State parks and historic sites
California's outdoor attractions and historic sites are one of those places that once you set your foot in, you're taken by the thrill of the activities and attractions in many state and national parks and the gorgeous landscapes around the entire state. Travel destinations don't come better than this.
That's all for the Visit California and Beyond! Do tell us if you found the post helpful and drop in any questions in the comments section below.
Disclosure – Some links in this article on California's National parks, State parks and historic sites are affiliates which provide a small commission to support this site at no extra cost to you. Thank you for reading, and happy travels